There will be at least five abortion-related ballot measures in 2022, including the first two ballot measures to provide explicit state constitutional rights related to abortion. On June 27, the California State Legislature passed a constitutional amendment, bringing the total to five – the most on record for a single year. Before 2022, the highest number was four measures in 1986. Since 1970, there have been 47 abortion-related ballot measures.
California, Kansas, Kentucky, Montana, and Vermont have certified ballot measures for 2022.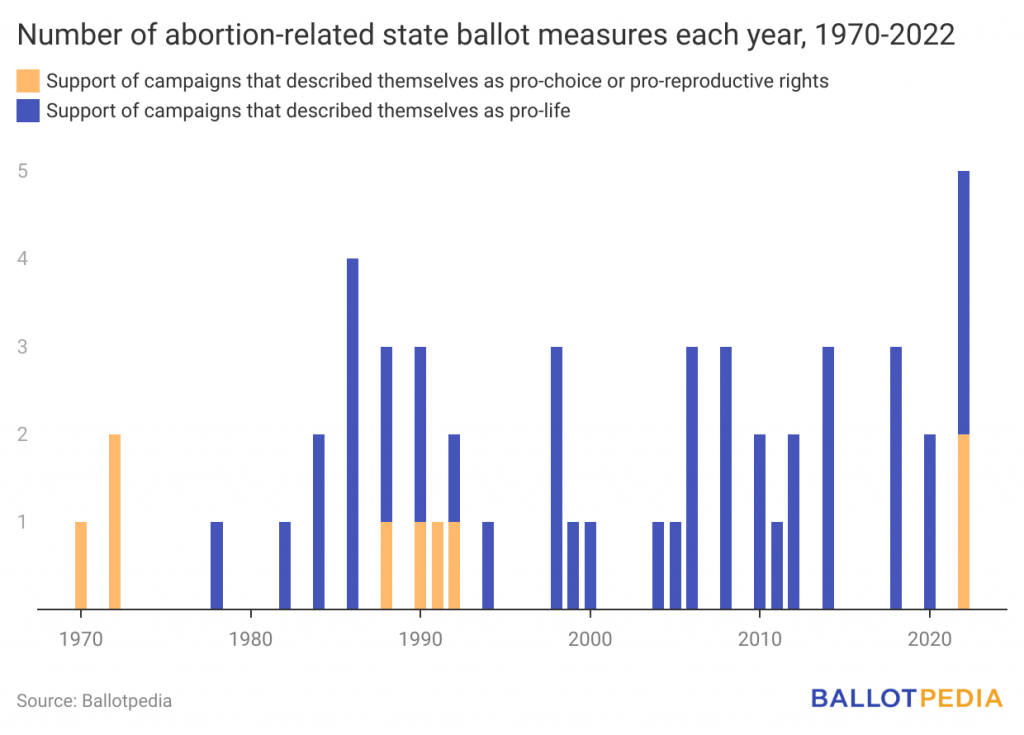 Campaigns respond to the Supreme Court and Dobbs v. Jackson Women's Health Organization
Voters in California and Vermont will be the first to decide on ballot measures to establish state constitutional rights to abortion. Votes on these measures follow Dobbs v. Jackson Women's Health Organization, which held that the U.S. Constitution does not confer a right to abortion and overruled Roe v. Wade and Planned Parenthood v. Casey.
In Vermont, Proposal 5 would provide that "an individual's right to personal reproductive autonomy is central to the liberty and dignity to determine one's own life course" and cannot be infringed unless justified by a compelling state interest. Proposal 5 was first proposed in 2019. Eileen Sullivan, communications director for the Planned Parenthood Vermont Action Fund, cited changes in the U.S. Supreme Court's membership as background for Proposal 5. Sullivan said, "Justice [Anthony] Kennedy's retirement prompted action in Vermont, so that these rights in Vermont would be protected no matter what happens in Washington, D.C." Vermont Right to Life, which registered to oppose Proposal 5, responded following the Supreme Court's decision, saying, "Extremist proponents of abortion rights in Vermont will use the Supreme Court decision to attempt to rally support for passage of Proposal 5."
In California, a constitutional amendment would provide that the state cannot "deny or interfere with an individual's reproductive freedom in their most intimate decisions," including the decision to have an abortion or to choose or refuse contraceptives. Gov. Gavin Newsom (D), Senate President Toni Atkins (D-39), and Assembly Speaker Anthony Rendon (D-63) issued a joint statement calling for an amendment on May 2, 2022, following the leak of a Dobbs order draft. "We know we can't trust the Supreme Court to protect reproductive rights, so California will build a firewall around this right in our state constitution," read the statement. The California Catholic Conference responded to the government officials' statement, saying, "This will destroy lives, families, and significantly limit the ability of the Catholic Church in California to protect the unborn."
In Kansas and Kentucky, voters will decide on constitutional amendments to provide that state constitutions cannot be interpreted to establish a state constitutional right to abortion. These types of amendments are designed to address previous and future state court rulings on abortion that have prevented or could prevent legislatures from passing certain abortion laws. In Kansas, the amendment is on the ballot for Aug. 2, 2022. In Kentucky, the amendment will be on the general election ballot in November.
In Kansas, the campaign Value Them Both praised the ruling, "Today's decision on Dobbs v. Jackson emphasizes the importance of our democracy, restoring the power to the states to decide how and if they are going to place limits on the abortion industry." The campaign added that, since the Kansas Supreme Court has found that the state's Bill of Rights provides a right to abortion, "The U.S. Supreme Court restored the people's ability to come to individual consensus on abortion limits — but not in Kansas. As it stands today, unelected judges in Kansas are the ones who will decide the fate of abortion limits." Kansans for Constitutional Freedom, the opposition campaign, stated, "The Supreme Court has voted to strike down Roe v. Wade. … We must keep fighting for the people in Kansas who are counting on us to defeat the constitutional amendment. Don't leave the future of abortion rights in Kansas to chance."
In Kentucky, the support campaign, Yes for Life, stated, "By overturning Roe v. Wade, the U.S. Supreme Court remedied one of the darkest decisions in its history and sent a clear message for life. Kentuckians can vote on November 8th to make our Constitution unequivocally prolife. By voting Yes for Life, we can ensure there is no right to an abortion or the funding for abortions in Kentucky's Constitution." Protect Kentucky Access, the opposition campaign, responded, "Deciding whether or not to have an abortion is a medical decision that should be made between patients and their providers—not one to be made by the government alone. We can still turn back this terrible tide if we act together by defeating Question 2."
Voters in Montana will also decide on an abortion-related ballot measure. LR-131 would provide in state law that infants born alive at any stage of development are legal persons. LR-131 would also require medical care to be provided to infants born alive after an induced labor, cesarean section, attempted abortion, or other methods.
Campaigns seeking the ballot in three additional states in 2022
With five abortion-related measures set for the ballot this year, 2022 will feature the most for a single year. However, campaigns for three citizen-initiated measures are active in Arizona, Colorado, and Michigan, meaning the number of measures could increase to six or more.
In Arizona and Michigan, citizen-initiated constitutional amendments would provide that "Every individual has a fundamental right to reproductive freedom …", including abortion and "decisions about all matters relating to pregnancy." Signatures are due in Arizona on July 7 and in Michigan on July 11.
In Colorado, the campaign Colorado Life Initiative is collecting signatures for an initiative to prohibit abortion in the state, except to save a woman's life, for ectopic pregnancies, and to remove a fetus that is no longer alive. Signatures are due in Colorado on August 8.

Additional reading: