The ballot language for the 140 statewide ballot measures on the ballot in 38 states in 2022 is written at an average reading level of 19 (graduate school reading level), up from 18 in 2021. Ballotpedia identified 66 measures with a ballot summary that was set to appear alongside the ballot question on the ballot. The average grade level for ballot summaries was 18 years of education.
Ballotpedia's readability report analyzes what level of education voters would need to understand the ballot titles and summaries of statewide ballot measures using Flesch Reading Ease (FRE) and Flesch-Kincaid Grade Level (FKGL). A readability score produces a score equivalent to the estimated number of years of U.S. education required to understand a text. Measurements used in calculating readability scores include the number of syllables, words, and sentences in a text. Other factors, such as the complexity of an idea in a text, are not reflected in readability scores.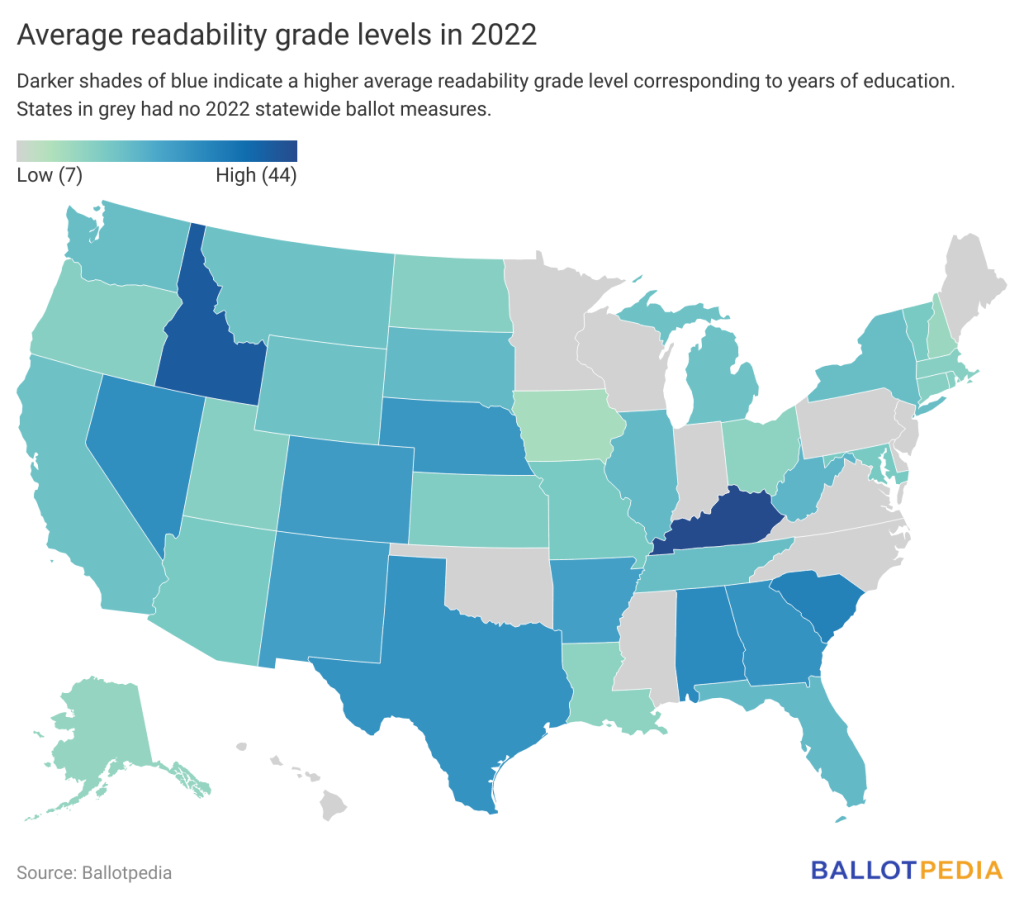 Here are some highlights from the annual report:
Title and summary grades
In 2022, the measure with the highest grade level score was Kentucky Amendment 1 with a title grade level of 64. The average ballot title grade for all measures in a single state averaged together ranged from 7 in Iowa to 44 in Kentucky.
Thirty-six (36) measures had ballot summaries with a grade level score greater than the ballot title, with differences ranging from 1 year to 16 years.
Citizen-initiated measures received an average title grade of 17 years of education, and referred measures received an average title grade of 20 years. The average ballot title grade was highest for ballot titles written by initiative proponents (21) and state boards (20). The three automatically referred constitutional convention questions, which take their ballot titles directly from the state constitution, had the lowest title grade by author at 9.
Word count
The average ballot title word count was 66 words. The ballot measure with the longest ballot title was Tennessee Constitutional Amendment 2, with 456 words. The ballot measure with the shortest ballot title was Florida Amendment 2, which would abolish the state's Constitution Revision Commission, with five words.
Historical readability scores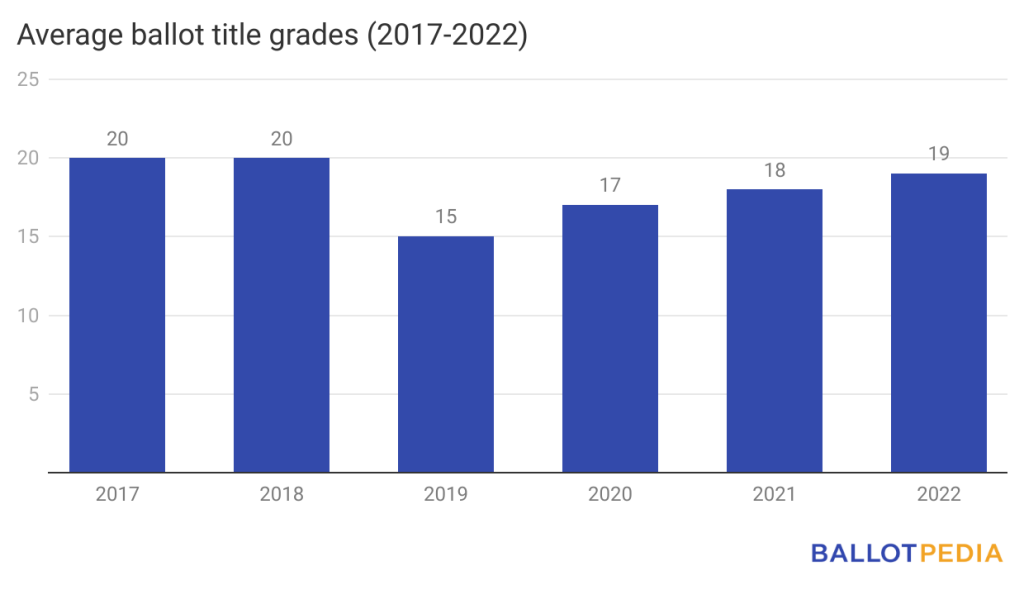 Ballotpedia has conducted an annual readability report since 2017. Between 2017 and 2022, the average title grade was 18 years of education. The year with the lowest ballot title grade was 2019 with 15 years of education, and the years with the highest were 2017 and 2020 with 20 years of education. The average ballot summary grade was lower than the ballot title grade for every year except 2019, where both were 15 years of education.
Additional reading: