The New York legislature passed a constitutional amendment on Tuesday, Jan. 24, that would prohibit the denial of rights to an individual based on ethnicity, age, sex, gender identity, reproductive status, and other characteristics. By passing this measure, the amendment was certified for the ballot in New York. It will go to voters on November 5, 2024.
Gov. Kathy Hochul (D) said, "Here in New York, we will continue to take bold measures to protect the rights of New Yorkers, and I applaud the New York State Legislature for taking another crucial step toward enshrining the Equal Rights Amendment into the state constitution. Last year, I was proud to convene an Extraordinary Session of the legislature that led to first passage of this historic amendment, and I am grateful the amendment is on its way to being presented to voters next year."
The amendment first passed both chambers of the legislature in July 2022, and it passed both chambers again during the current legislative session. In New York, for a constitutional amendment to go to the ballot, the amendment must pass each chamber during two successive legislative sessions.
"As other states take extreme measures to stymie progress and roll back reproductive rights, New York will always lead the way to combat discrimination in all forms and protect abortion access," continued Gov. Hochul.
The amendment would add language to the Equal Protection Clause in the New York State Constitution. The Equal Protection Clause currently prohibits the denial of rights to an individual based on race, color, creed, or religion. The amendment would expand the definition to include prohibiting the denial of rights to an individual based on their "ethnicity, national origin, age, [and] disability," as well as their "sex, including sexual orientation, gender identity, gender expression, pregnancy, pregnancy outcomes, and reproductive healthcare and autonomy."
Senate Majority Leader Andrea Stewart-Cousins (D) said: "The amendment we're passing today attempts to achieve what America has failed to do for generations: guarantee constitutional protections for individuals on the basis of sex, orientation, or background from implicit or explicit discrimination. We're also enshrining a constitutional right to abortion and contraception to help ensure that our rights remain untouched by the federal court's recent action."
Assembly member David DiPietro (R), who opposed the amendment, said: "The passage of the equality amendment would result in the further erosion of religious liberty for New Yorkers whose faith, traditions teach that abortion, homosexuality and/or transgenderism are immoral and could subject many faith-based charities and schools to catastrophic liability."
Following the Dobbs v. Jackson Women's Health Organization U.S. Supreme Court case, which held that the U.S. Constitution does not confer a right to abortion, several states amended their constitutions. In 2022, voters in California, Michigan, and Vermont approved of a state constitutional right to an abortion. Meanwhile, voters in Kansas and Kentucky rejected amendments that provided that state constitutions cannot be interpreted to establish a state constitutional right to abortion. There were a total of six ballot measures addressing abortion in 2022—the most on record for a single year.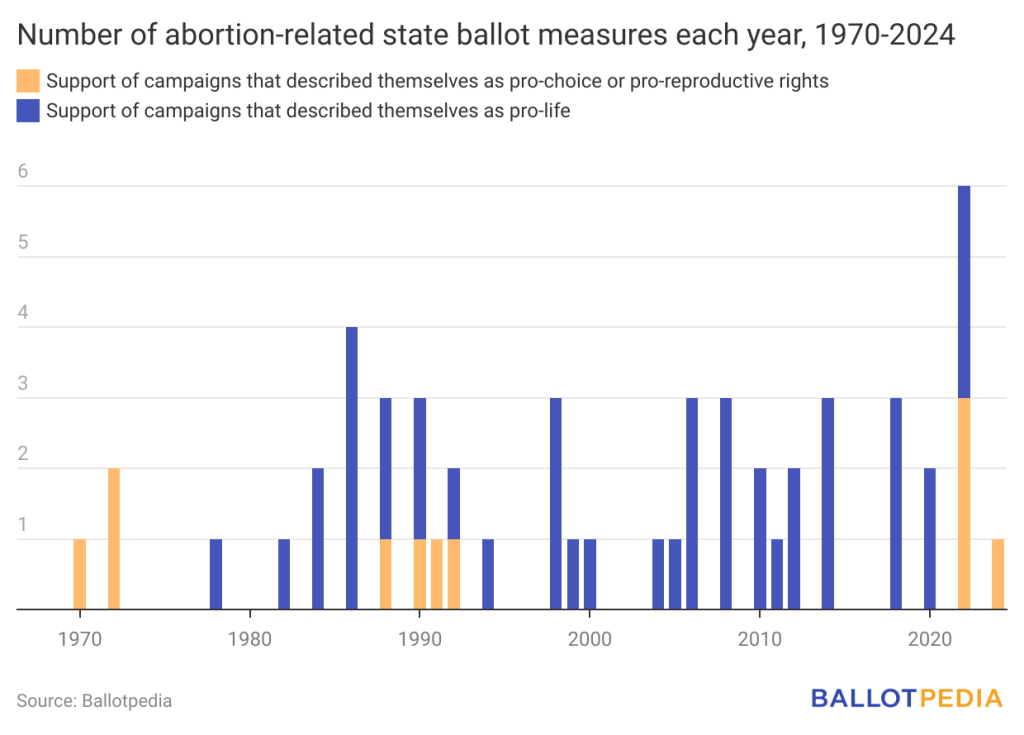 Currently, three of the states that passed measures in 2022—California, Michigan, and Vermont—are the only states where the state constitution explicitly provides the right to an abortion. Four states—Alabama, Louisiana, Tennessee, and West Virginia—have passed constitutional amendments that provide that state constitutions cannot be interpreted to establish a state constitutional right to abortion.
The amendment will go on the ballot for New York voters in 2024. From 1985 to 2022, 30 constitutional amendments have gone on the ballot in New York. Twenty-one (70%) of them were approved and nine (30%) were defeated.

Additional reading: