Here's what's in store for you as you start your day:
Thirty governors have given their State of the State addresses so far
Pennsylvania House adjourns, package of constitutional amendments won't appear on the May ballot
Subscribe to Hall Pass to stay up to date on school board politics and education policy
---
Have a minute and an opinion? Take our 2023 reader survey!
---
Thirty governors have given their State of the State addresses so far
Happy February! President Joe Biden (D) is scheduled to give his annual State of the Union address to Congress on Feb. 7. Meanwhile, governors are busy giving their State of the State addresses.
As of Jan. 29, 30 governors—14 Democrats and 16 Republicans—have discussed their state's condition to legislators and laid out their priorities and goals for the year ahead. Eight more governors are scheduled to deliver their addresses between now and March 7.
All 50 state constitutions mandate that the governor give an annual (or regular) report to the legislature on the state's condition.
Four of the governors who have delivered their addresses—Katie Hobbs (D-Ariz.), Josh Green (D-Hawaii), James Pillen (R-Neb.), and Joe Lombardo (R-Nev.)—were first elected in November and gave their annual report for the first time. The 26 other governors who addressed their legislatures are returning incumbents.
We analyzed State of the State transcripts and created word clouds of the most common words in Democratic and Republican addresses. While some words like "state" (used 1029 times), "people" (415) and "work" (357) feature prominently in both Democratic and Republican addresses, there are differences. The average length of all addresses so far is 4,869 words.
Democratic speeches averaged about 4,394 words. The words "housing" (used 158 times), "families" (145) and "health" (145 times) were among the most frequently used.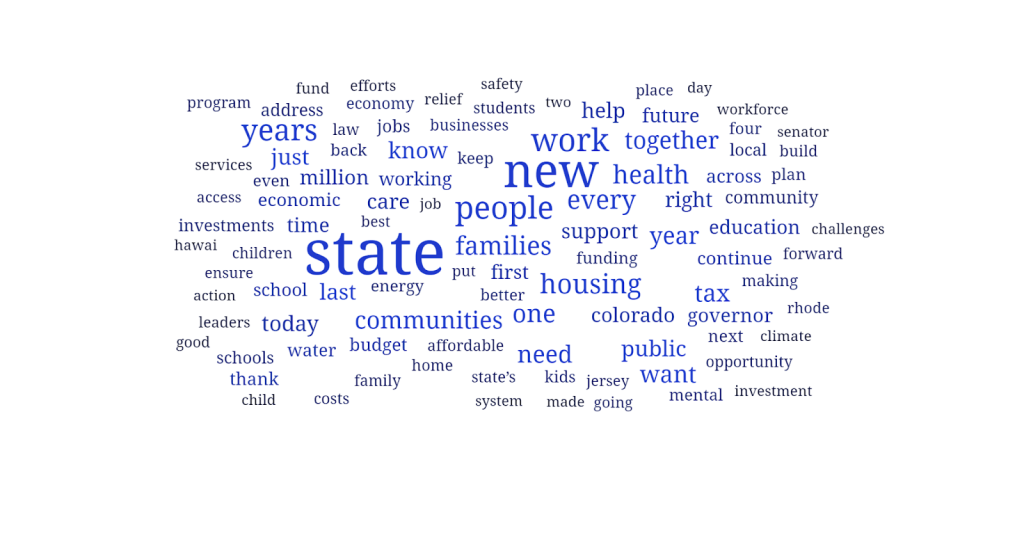 Republican addresses averaged 5,285 words. The words "million" (used 207 times), "tax" (174), and "school" (172) were among the most commonly used. 
We track SoS addresses every year. To see a list of all current and previous addresses, click on the link below. 
---
Pennsylvania House adjourns, package of constitutional amendments won't appear on the May ballot
The Pennsylvania House of Representatives adjourned on Jan. 24, 2023, affecting a package of three constitutional amendments that could have appeared on the ballot in May.
According to the Pennsylvania Department of State, the General Assembly had until Jan. 27 to pass the amendments. The state constitutional deadline to pass and advertise the proposed amendments is Feb. 16. Since the House isn't expected to reconvene until Feb. 27, the earliest the amendments could appear on the ballot is the Nov. 7 general elections.
The Legislature passed the three amendments in the previous legislative session. Pennsylvania is one of 13 states with a two-session requirement for legislatively referred constitutional amendments to appear on the ballot (in four of those states, an amendment that receives a supermajority in the first round can bypass the second).
Historically, the two-session requirement has made it less likely an amendment will appear on the ballot. Between 2010 and 2022, 37.7% of constitutional amendments in the 13 states that require two legislative sessions or a supermajority did not make the ballot because they failed during the second session. When party control of the legislature changed between sessions in this same time period (as happened on Nov. 8 in Pennsylvania), 79% of constitutional amendments (11 out of 14) failed in the second session.
In 2015, for example, the Republican-controlled Nevada Legislature approved five constitutional amendments for the first time. Democrats controlled the Legislature during the next session in 2017, and four of the five constitutional amendments did not even receive a floor vote. You can read about other recent examples here.
The first Pennsylvania amendment, introduced as House Bill 14 (HB 14), would create a two-year period for individuals to file civil suits regarding childhood sexual abuse that otherwise exceeded the statute of limitations. HB 14 passed both chambers in March 2021.
The other two amendments were part of a package of five amendments, known as Senate Bill 106 (SB 106), that passed in July 2022. Two of these amendments—one requiring individuals to present an ID when casting their ballot, and another allowing the Legislature to pass veto-proof concurrent resolutions to disapprove of regulations—were packaged with the amendment regarding child sexual abuse lawsuits as Senate Bill 1 (SB 1).
SB 1 passed the Senate on Jan. 11, 2023. Twenty-eight senators, 27 Republicans and 1 Democrat, voted for the package, while 20 senators, all of them Democrats, voted against it (one Democrat did not vote). The process came to a stalemate in the House.
The Democratic Party currently controls the governor's office, while the Republican Party controls the state Senate. There are 101 Republicans and 99 Democrats in the House—and three vacancies. Voters in three Pittsburgh-area districts will head to the polls on Feb. 7 to fill those vacancies and determine partisan control of the chamber.
Click the link below to read more about Pennsylvania's 2023 measures.
---
Subscribe to Hall Pass to stay up to date on school board politics and education policy
Hall Pass is a weekly newsletter that keeps you informed about the conversations driving school board politics and education policy. New editions reach your inbox Wednesday afternoons.
Here's a sample of what you can expect to find in this week's edition, which comes out the afternoon of Feb. 1 (today!).
On the issues: On Jan. 12, the Florida Department of Education rejected an AP African American studies course from being taught in its current form in K-12 schools. In this section, we take a look at different perspectives regarding that decision.
Election calendar: School board elections will take place throughout 2023. We look at which states are holding elections in the coming weeks and months. The first statewide school board primaries will happen on Feb. 14 in Oklahoma. In next week's edition, we'll walk you through our comprehensive coverage of every district holding primaries in the Sooner State.
Only 240 school districts are governed by boards with more than 10 members—Chicago Public Schools will soon be one of them: Chicago is holding a mayoral election on Feb. 28, and education has been a central issue. Currently, the Chicago mayor appoints the seven-member board. A 2021 state law will expand the board to to 21 elected members in the coming years. We look at the politics and dig into research we conducted last year on the country's more than 14,000 members to see how common 21-member boards are (not very!).
Each edition also features survey responses from school board candidates and a trove of links to the latest research and news in the world of education.
Click below to subscribe!