Former U.N. Ambassador and South Carolina Governor Nikki Haley (R) announced on Feb. 14 that she was running for president of the United States. In a video, she said, "It's time for a new generation of leadership to rediscover fiscal responsibility, secure our border, and strengthen our country, our pride, and our purpose." The announcement made Haley the third noteworthy candidate for president, along with former President Donald Trump and former Montana Secretary of State Corey Stapleton.
On the Democratic side, former President Joe Biden (D) has not yet made an official announcement regarding whether he intends to run for a second term.
At this point in the 2020 cycle, twelve noteworthy candidates had announced their campaigns:
January 20, 2017: Donald Trump (R)
August 10, 2017: John Delaney (D)
November 6, 2017: Andrew Yang (D)
January 1, 2019: Tulsi Gabbard (D)
January 12, 2019: Julián Castro (D)
January 15, 2019: Kirsten Gillibrand (D)
January 21, 2019: Kamala Harris (D)
January 23, 2019: Pete Buttigieg (D)
January 28, 2019: Marianne Williamson (D)
February 1, 2019: Cory Booker (D)
February 9, 2019: Elizabeth Warren (D)
February 12, 2019: Amy Klobuchar (D)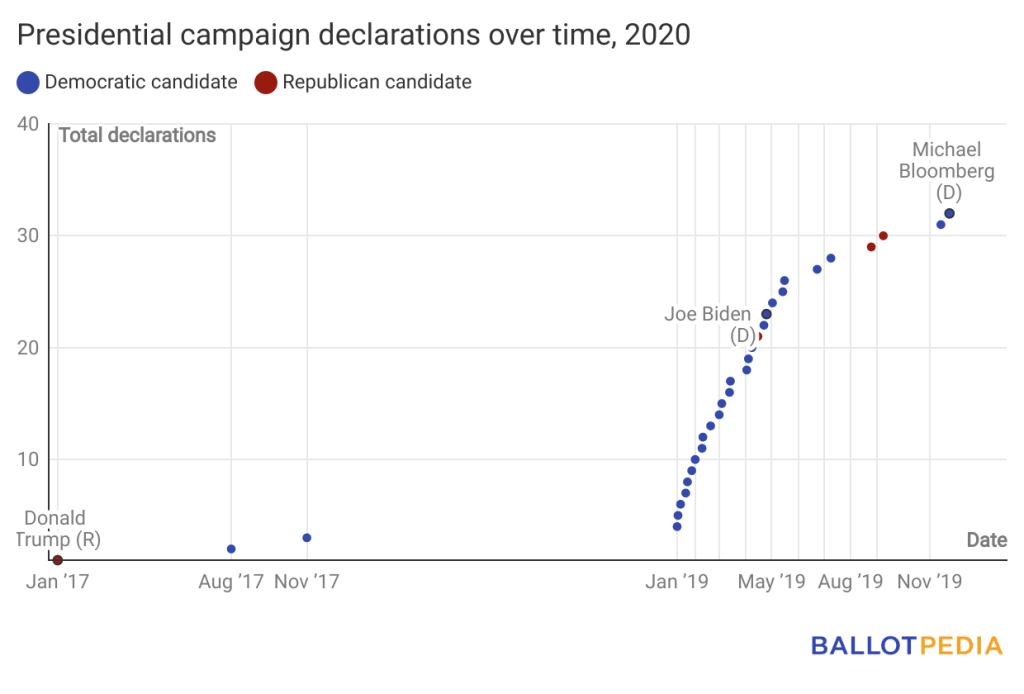 Headlines at this time in the 2020 cycle included campaign visits to several early primary states from declared candidates. Gillibrand visited New Hampshire and South Carolina, Gabbard visited Iowa, and Harris visited Nevada. The Democratic National Committee (DNC) also announced the polling and fundraising thresholds for primary debate participation.
On the Republican side, Trump held his first campaign rally of the year in El Paso, Texas, and former Massachusetts Governor Bill Weld (R) launched an exploratory committee to challenge Trump. Weld ultimately launched a campaign on April 15, 2019, and ended his campaign a month later.
At this point in the 2016 cycle, no candidates had announced campaigns for the presidency. However, the DNC announced it had selected Philadelphia as the national convention host city. The city had last hosted the Republican National Convention in 2000 when George W. Bush won his party's nomination. The other 2016 finalists were New York City and Columbus.