In 2022, campaigns supporting and opposing the seven ballot measures that appeared on the general election ballot amassed $724.8 million in contributions. This is an average of $103.5 million per measure, which is the highest average for California ballot measures between 2016 and 2022.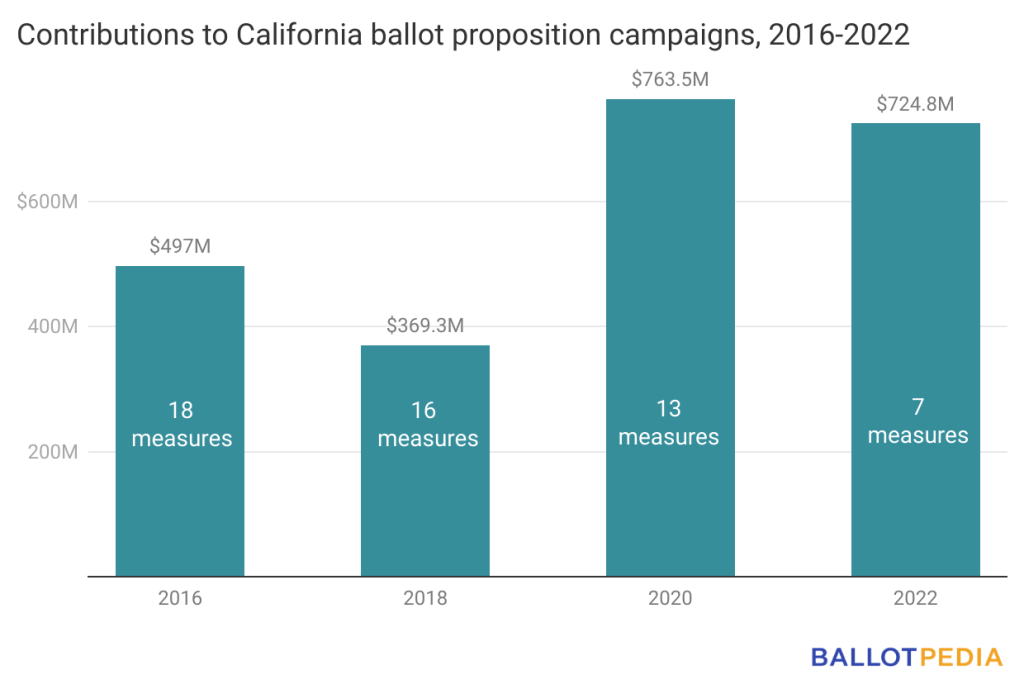 In 2022, the most expensive ballot measures were Proposition 26 and Proposition 27, with supporters and opponents receiving a combined $463.4 million. They are also the most expensive ballot measures in California from 1999 to the present. Both measures, which related to sports betting legalization, were defeated in November. Behind Propositions 26 and 27, campaigns surrounding Proposition 22, a 2020 measure related to app-based drivers and labor regulations, raised a combined total of $224.2 million.
The most expensive campaign was in support of Proposition 27, which received $169.1 million. The top donors to the committee were FanDuel ($35.0 million) and DraftKings ($34.1 million). Opposing campaigns raised a combined total of $249.3 million. The top donors were the San Manuel Band of Mission Indians ($103.1 million) and Federated Indians of Graton Rancheria ($31.9 million).
Committees supporting and opposing Proposition 26, which was the American Indian-sponsored sports betting measure, received $177.2 million.
The next most expensive ballot measure in 2022 was Proposition 29, which was defeated and related to dialysis clinic requirements. The PAC registered to support the measure received $7.9 million from SEIU-UHW West. The opposition PAC received $74.6 million in contributions. The top donors were DaVita, Inc. ($52.7 million) and Fresenius Medical Care ($27.3 million).
The year with the least amount of contributions between 2016 and 2022 was 2018 when $369.3 million was raised to support or oppose 16 ballot measures. The average amount raised per measure was about $23.1 million.
Campaigns behind the seven ballot measures that have qualified for the 2024 ballot in California have raised $101.3 million as of the latest campaign finance filings which covered through December 31, 2022.

Additional reading: