Welcome to the Monday, March 27, Brew.
Here's what's in store for you as you start your day:
New Jersey's statewide filing deadline is today
Our Election Administration Legislation Tracker helps you stay informed about your state's election-related bills
Both Denver City Council District 5 candidates have completed Ballotpedia's Candidate Connection survey
---
New Jersey's statewide filing deadline is today
New Jeresy is one of a handful of states holding statewide elections this year. The primaries are June 6 and general elections are on Nov. 7. The filing deadline for the primary elections is March 27—today!
All districts in both chambers of the state legislature are on the ballot. Ballotpedia is also covering elections for county positions in Essex and Hudson counties, as well as school board elections Jersey City and Newark.
Let's dive in and explore New Jersey's 2023 elections.
State legislature
New Jersey is one of four states—along with Mississippi, Virginia, and Louisiana—holding legislative elections in 2023. All 120 districts are up for election—40 in the Senate and 80 in the General Assembly.
New Jersey has a Democratic trifecta—Democrats control both chambers of the legislature and the governor's office. Democrats hold a 25-15 Senate majority and 46-34 majority in the General Assembly. New Jersey has had a Democratic trifecta since Gov. Phil Murphy (D) took office in 2018. New Jersey had a divided government between 2010 and 2018 because Chris Christie, a Republican, was governor. In 2019 and 2021, Republicans picked up two and six seats in the General Assembly, respectively. In 2021, Republicans picked up one seat in the Senate.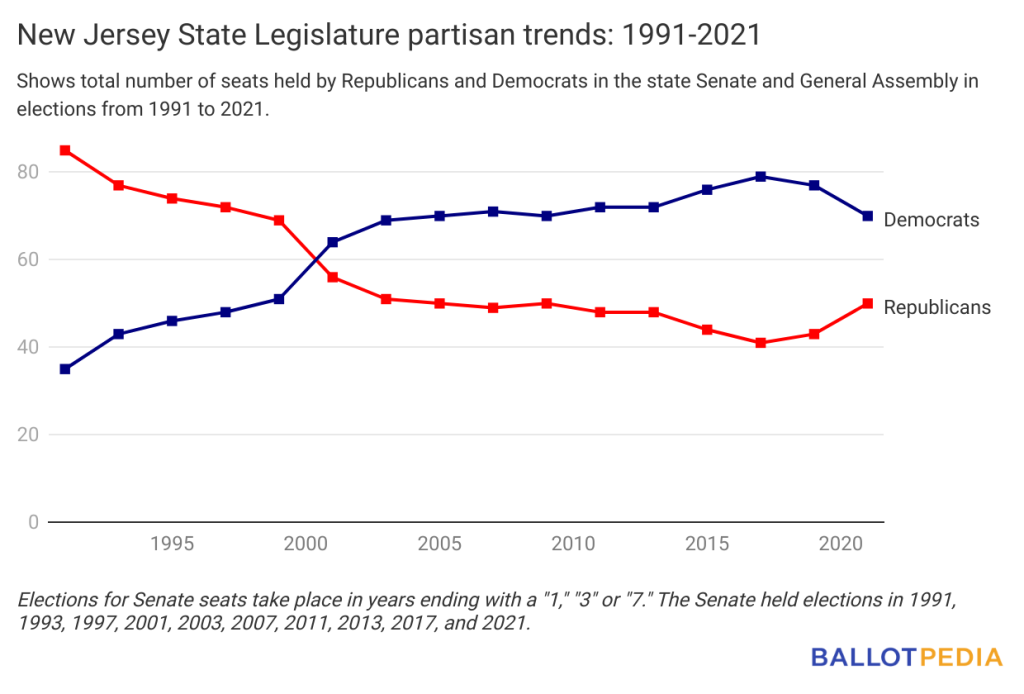 New Jersey is one of 40 states without primary election runoffs, meaning that a candidate can advance to the general election with a plurality of the vote. The state does not cancel uncontested primaries, and write-in candidates do not have to file (if they win a primary, however, they must file paperwork accepting the nomination).
Once the filing deadline has passed, we'll bring you a full analysis of New Jersey's legislative primary competitiveness. That'll include a look at how many incumbents are running for re-election and how many incumbents have contested primaries. So, look forward to that!
In the meantime, you can see our full competitiveness report on state legislative elections in 2021, including New Jersey's, here. The chart below shows New Jersey's primary election competitiveness numbers between 2013 and 2021.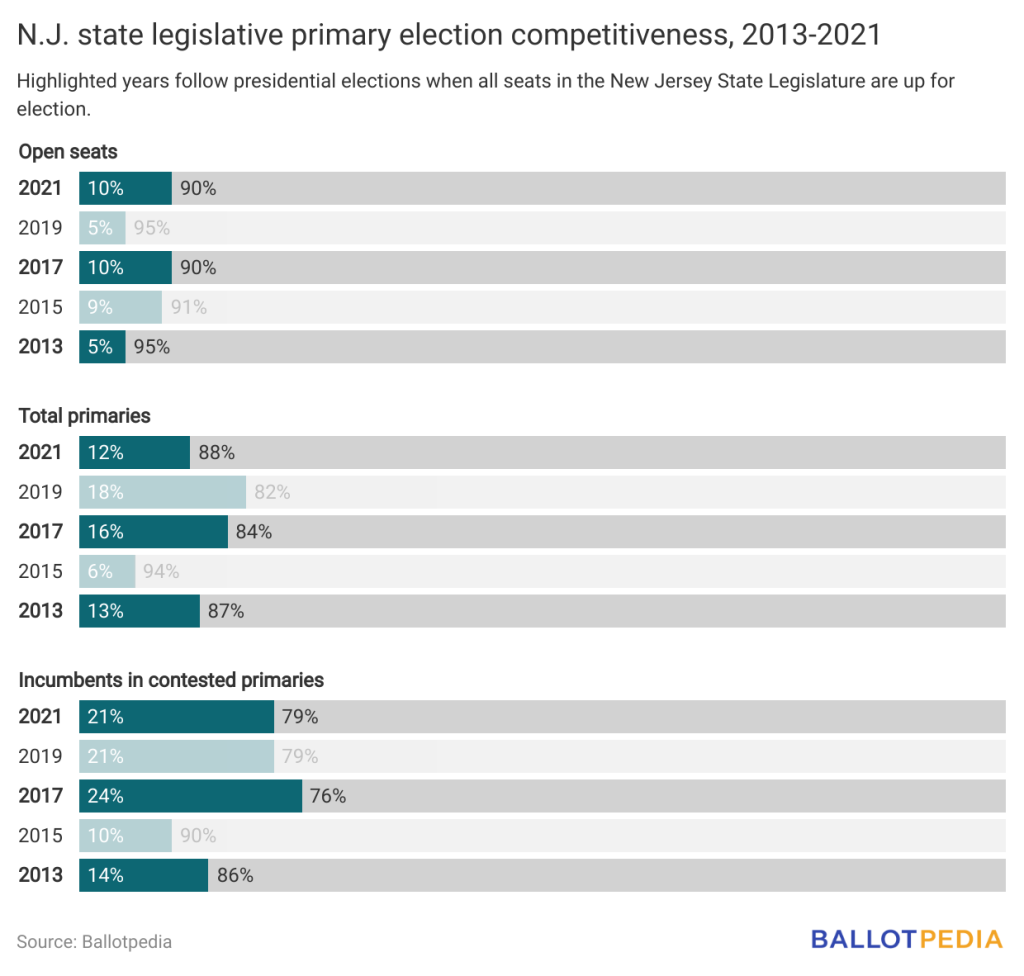 County and school board elections
Ballotpedia is covering municipal elections this year in Essex and Hudson counties, as well as school board elections in Newark and Jersey City. The March 27 filing deadline only applies to the county elections.
In Essex, voters will elect county commissioners and a county surrogate. In Hudson, voters will elect a county executive and nine county commissioners. As with state-level elections, the primaries for those races is June 6.
We're covering school board elections in Jersey City and Newark, though those run on a different schedule. Newark's general election for three seats is on April 25, while Jersey City's general election for three seats is on Nov. 7. You can keep up to date on all our school board coverage by subscribing to Hall Pass, our weekly newsletter on school board politics and education policy.
Click below to learn more about New Jersey's 2023 elections.
---
Three things you may not know about election administration
Election administration can be a complex topic, and it's not easy to keep up with all the related legislation in your state—let alone all the others. Our weekly newsletter, The Ballot Bulletin, provides a regular, big-picture update on proposed changes to state election policies. Our interactive Election Administration Legislation Tracker allows you to find and read election-related bills in your state—and provides summaries of those bills in clear, accessible language.
Let's take a look at a few bills that became law last week as an example of the legislation summaries and context we provide.
North Dakota
Gov. Doug Burgum (R) signed bipartisan-sponsored SB2163 into law on March 22. Current law allows the secretary of state and attorney general, in consultation, to summarize constitutional amendments and ballot measures that the secretary of state deems too long to print on the ballot in full. This bill requires the secretary of state to use "plain, clear, understandable language using words with common, everyday meaning" in those summaries. The bill also requires the secretary of state to use clear language in writing fiscal impact statements.
The Senate voted to approve SB2163 27-20. Twenty-five Republicans and 2 Democrats voted to approve the bill. The House voted 84-9 (with one representative not voting). Seventy-three Republicans and 11 Democrats supported the bill.
We are currently tracking 94 bills relating to ballot measures and other forms of referendums. Utah enacted one bill in this category, HB0068, establishing criteria for signature verification and processes for removing signatures from a ballot measure or nominating petition. In 2022, state legislators considered 115 bills on this topic, eight of which were enacted.
South Dakota
Gov. Kristi Noem (R) signed Republican-sponsored SB 55 on March 21. The bill prohibits the use of ranked-choice voting and any other method of voting that involves multiple rounds of tabulation or candidate ranking. The bill is one of several similar bills under consideration around the country, all sponsored by Republican legislators. Lawmakers in Arizona, Idaho, Minnesota, Montana, and Texas are all considering similar measures that would preemptively prohibit the use of ranked-choice or other similar multi-round voting methods in their states. Florida and Tennessee passed similar prohibitions in 2022. Lawmakers in Alaska and Maine are considering legislation that would repeal their state's current use of ranked voting.
So far in 2023, we've tracked 63 bills related to ranked-choice voting, compared to 66 in 2022. Of the 63 bills introduced in 2023, 12 are some form of prohibition or repeal of ranked or multi-round voting methods, and five of these have passed at least one chamber of the legislature.
Idaho
Gov. Brad Little (R) signed H0124 into law on March 15. The bill, which was introduced by the House State Affairs Committee, removes student IDs from the state's list of acceptable forms of voter identification. Idaho is one of 25 states that require photo identification in order to vote. In Idaho, voters must present either a driver's license or photo ID card, a U.S. passport or passport card, a tribal photo ID, or a concealed weapons permit issued by an Idaho county sheriff in order to vote. If voters aren't able to do so, they can sign an affidavit swearing to their identity and still vote by regular ballot.
We are currently tracking 97 bills relating to voter identification.
Overall, 2,005 election-related bills have been introduced in state legislatures this year.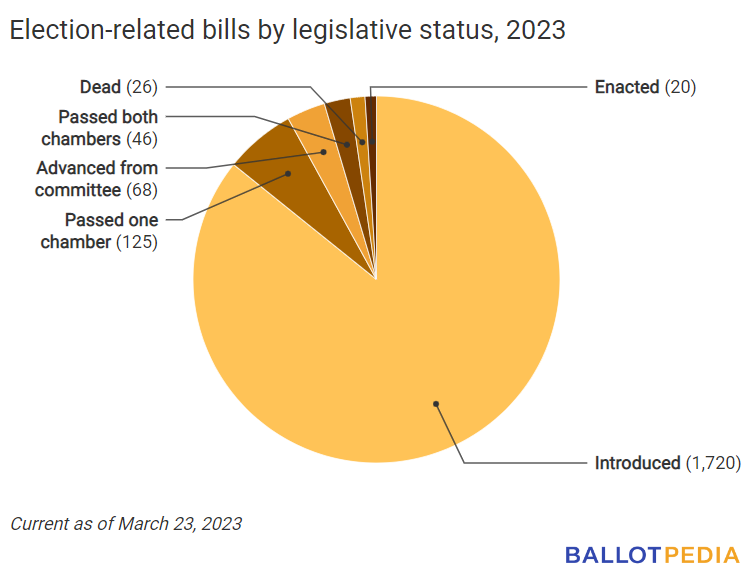 Click below to use our tracker to see what changes legislators are proposing to election administration laws in your state.
---
Both Denver City Council District 5 candidates have completed Ballotpedia's Candidate Connection survey
If you're a regular reader of this newsletter, then you know about our Candidate Connection survey. The survey allows voters to hear directly from candidates about what motivates them and what their priorities are. In races where all candidates completed the survey, voters get a unique opportunity to compare and contrast the candidates' backgrounds, objectives, and experiences.
That's the case in the race for the District 5 seat on the Denver City Council. Incumbent Amanda Sawyer and challenger Michael Hughes both completed the survey. Sawyer is a licensed attorney with experience in marketing and business. She was first elected to the city council in 2019. Hughes has worked as a mediator and city planner.
Denver's city council has 13 members. Eleven are elected to represent specific districts, while two are elected at-large. The general election is on April 4.
Here's how Sawyer and Hughes answered the following question: "Please list below 3 key messages of your campaign. What are the main points you want voters to remember about your goals for your time in office?"
Sawyer
"Solutions for a Safer City: As a parent, I understand the challenges that have led many Denver families to move to the suburbs, like our crime rates and traffic concerns. Over my first term, I have worked hard to implement solutions to these challenges, and I'm proudly endorsed by the Denver Police and Denver Firefighters. In my next term, I will continue to address neighborhood and transportation safety issues in District 5.
Thoughtful About Development: Denver is going to continue to grow, but we need to be thoughtful about our City planning and the consequences those decisions have on our neighborhoods. I'll continue to vote only for smart housing solutions that fit Denver's needs, and continue to use tools like legislative rezonings to ensure thoughtful growth in District 5 with an eye to maintaining the unique character of our neighborhoods.
Representing Your Voice: I have earned a reputation as a fair and collaborative Councilmember who is willing to listen to all sides. I have consistently represented your voice through my votes, been responsive to your outreach, and explained the reasons for my decisions. We may not always agree, but you will always know where I stand and why. I'll continue to find solutions to Denver's challenges in the next four years."
Hughes:
"To have a representative who will engage everyone in the community respectfully to work together, solve problems and move Denver forward
Denver needs housing that current and future residents can afford – in places where we have the infrastructure to build without increased congestion
Civility, inclusion, representation, and true engagement are the skills of my profession; it's time to bring these to the work that lies ahead for the mayor and council"
Click here to learn more about the Denver city council elections. Keep reading