Welcome to the Friday, April 28, Brew.
Here's what's in store for you as you start your day:
Utah among top states enacting election legislation for second consecutive year
President Joe Biden (D) announces re-election bid
#FridayTrivia: How many mayoral elections are we covering this year?
---
Utah among top states enacting election legislation for second consecutive year
For the second year in a row, Utah is among the top three states that have enacted election-related legislation.
Utah lawmakers enacted 12 of the 29 election-related bills (41.4%) introduced in 2023, and nine of 18 bills in 2022 (50%). Republicans were the sole sponsors of all but two of these bills. Utah is a Republican trifecta, and the only state to hold a trifecta status unchanged between 1992 and 2023.
No other state was in the top three in both years. In 2022, Colorado (50%) and Connecticut (50%), both Democratic trifectas, rounded out the top three.
The other two states enacting the most election-related legislation so far this year are Arkansas (45%) and South Dakota (42.1%), both of which are also Republican trifecta states. The most common topic of enacted bills in these states is counting and canvassing procedures (6 bills), followed by audits (5 bills).
Overall in 2023, 3.4% of election-related legislation has been enacted into law. In 2022, that figure was 10.5%.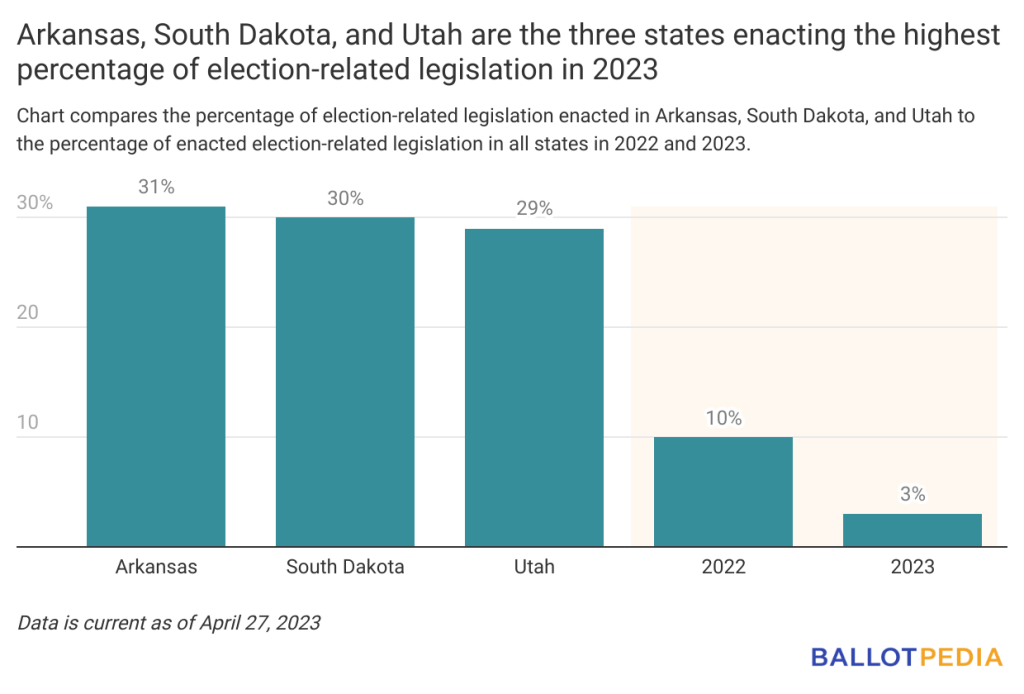 The most common topics of enacted legislation in Utah from both years were:
Ballot access for candidates (5 bills)
Counting and canvassing procedures (4 bills)
Audits, ballot measures (initiative and referendum), voter ID for absentee/mail-in ballots, signature matching, vacancy procedures, enforcement against non-officials, absentee/mail-in voter assistance, cybersecurity, and physical security (3 bills each)
Here's a closer look at some of those bills:
Senate Bill 0170 (SB 0170), enacted in 2022, is an example of a bill about ballot access. It establishes a new filing period for candidates of a qualified political party to be elected at the next general election.
House Bill 0037 (HB 0037), enacted in 2023, established a new signature matching requirement for absentee ballots. The change requires poll workers to verify that a signature is "reasonably consistent with the individual's signature in the voter registration records" or verifiable by other means before determining that a mailed ballot shall be canvassed. This bill also requires election officers to establish ways disabled voters can cast ballots if they can't vote by mail.
House Bill 0264 (HB 0264), enacted in 2022, is an example of counting and canvassing procedures. HB 0264 describes the process of voting and of determining winners in an alternate voting methods race depending on the voting method selected by a municipality participating in the state's Municipal Alternate Voting Methods Pilot Project. The legislature established The Municipal Alternate Voting Methods Pilot Project through HB35 in 2018 that allows municipalities to adopt ranked-choice voting for local elections.
Utah's 2023 legislative session ended on March 3. The most commonly enacted bill topics were signature matching, and absentee/mail-in voter assistance (3 bills each). In 2022 it was ballot access for candidates (4 bills).
You can use our Election Administration Legislation Tracker to keep up to date on election administration in your state and across the country.
As of this writing, states have enacted 81 election-related bills this year. Click the link to learn more about those new laws.
---
President Joe Biden (D) announces re-election bid
On April 25, exactly four years after he announced his 2020 presidential campaign, President Joe Biden (D) announced his campaign for re-election in 2024. Biden's entry brings the tally of noteworthy presidential candidates to three Democrats, five Republicans, and one Republican with an exploratory committee.
Below is a summary of each candidate's campaign activity from April 21 to April 28:
Democratic candidates

In addition to announcing his campaign, Biden announced his campaign leadership. Senior White House Advisor Julie Chavez Rodriguez will serve as campaign manager. Quentin Fulks, who worked on Sen. Raphael Warnock's (D-Ga.) 2022 re-election campaign, will be deputy campaign manager. Co-chairs for the campaign include Rep. Jim Clyburn (D-S.C.), former DreamWorks CEO Jeffrey Katzenberg, Michigan Governor Gretchen Whitmer (D), Rep. Lisa Blunt Rochester (D-Del.), Sen. Tammy Duckworth (D-Ill.), Rep. Veronica Escobar (D-Texas), and Sen. Chris Coons (D-Del.).
Robert F. Kennedy Jr. (D) issued a statement responding to Biden's re-election campaign announcement.
Marianne Williamson (D) held an event in New York City on April 22 and campaigned in Michigan on April 24. She also issued a statement responding to Biden's re-election campaign on April 25.


Republican candidates
At this point in the 2020 cycle, 23 noteworthy candidates were running for president. Twenty-one were seeking the Democratic nomination, and two—Trump and former Massachusetts Governor Bill Weld—were seeking the Republican nomination.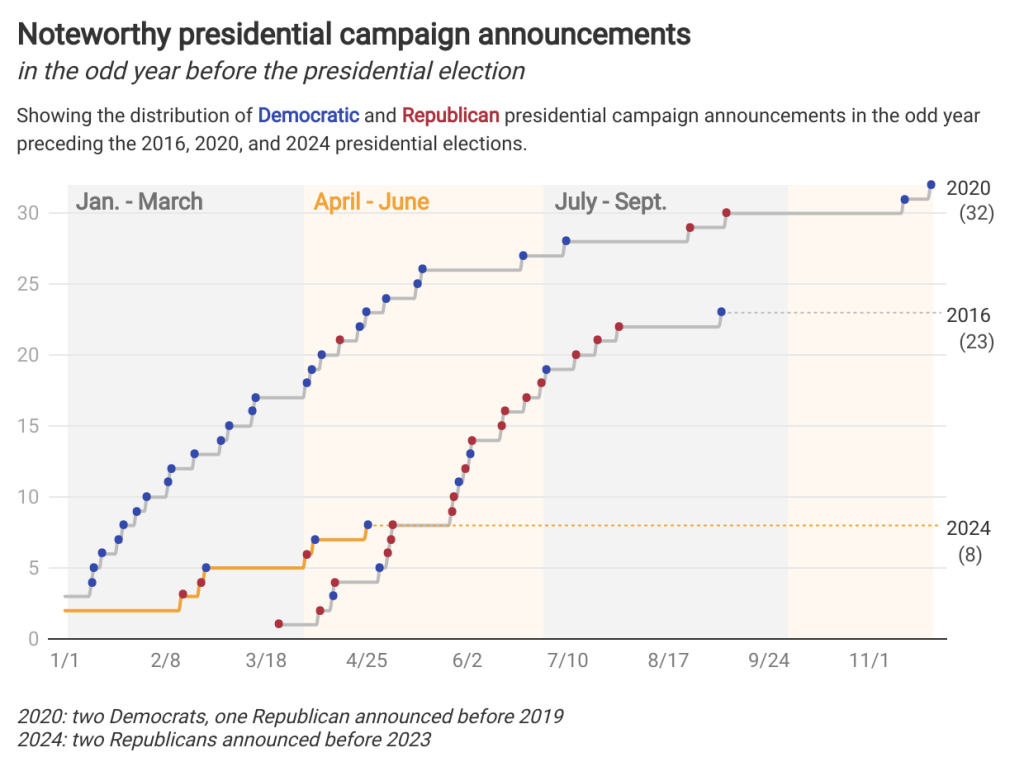 What was going on at this time in 2020's cycle….
Notable stories at the time in 2020's cycle included Biden's presidential campaign announcement on April 25, 2019, Rep. Seth Moulton's (D-Mass.) campaign announcement on April 22, and three Democratic presidential candidates announcing they supported impeaching then-President Trump.
What was going on at this time in 2016's cycle….
In the 2016 election, four noteworthy candidates had announced their campaigns as of April 28, 2015. There was one Democrat, the eventual 2016 nominee Hillary Clinton (D), and three Republicans, Sens. Ted Cruz (R-Texas), Rand Paul (R-Ky.), and Marco Rubio (R-Fla.). At this point in the 2016 cycle, noteworthy stories included profiles of Republican donors and reporting on former Wisconsin Governor Scott Walker's (R) preparations for a presidential run.
Click the link below to learn more about 2024 presidential candidates and news.
---
#FridayTrivia: How many states require that a simple majority of voters approve constitutional amendments?
In the April 27 Brew, we brought you coverage of Ohio's Senate Joint Resolution 2 (SJR 2), which would raise the threshold for voters to approve amendments to the state constitution from a simple majority (50.1%) to 60%.
The Ohio Senate passed SJR 2 on April 19, and it will go before voters in August if the House votes similarly.
Currently, 49 states require voter approval of constitutional amendments (Delaware is the only state that does not). Of those 49 states, how many require a simple majority?