Welcome to the Monday, May 1, Brew.
Here's what's in store for you as you start your day:
San Antonio voters to decide measure on abortion, marijuana, policing
New York adopts new state Assembly lines
Number of enacted election-related bills on par with 2022
Goodbye, April showers, time for some May flowers!
---
San Antonio voters to decide measure on abortion, marijuana, policing
Voters in San Antonio will decide on a charter amendment regarding abortion, marijuana, and police actions on May 6.
If approved, Proposition A would:
Prohibit local police from enforcing criminal abortion laws;
Decriminalize possession of small amounts of marijuana;
Ban the use of no-knock warrants and chokeholds;
Direct local police to issue citations instead of arrests for certain other misdemeanors; and,
Establish a city justice director appointed by the mayor and city council.
Before we dive into the measure, I asked our Ballots Managing Editor, Ryan Byrne, about this amendment. Byrne said, "We've heard about cities decriminalizing marijuana in states where it's illegal, but this is the first measure that attempts to decriminalize abortion at the local level."
In 2022, residents in six Texas cities—Austin, Denton, Elgin, Harker Heights, Killeen, and San Marcos—voted in favor of decriminalizing marijuana possession. The Austin measure also banned law enforcement's use of no-knock warrants.
Ground Game Texas, an organization supporting Proposition A, says the San Antonio measure is the first time any voters in Texas will decide on a measure regarding abortion since the U.S. Supreme Court's Dobbs decision last summer.
The Texas Tribune's Patrick Svitek wrote, "For more than a year, progressive organizers in Texas have been waging a concerted — and largely successful — effort to convince voters to reform policing laws in their cities, pushing the envelope of what state law could allow."
Svitek continued, "But now they are facing their biggest test yet in San Antonio," where Proposition A "could spark the biggest showdown yet with the Republican-dominated state government."
Texas state law prohibits all abortions except those needed to save the life of or prevent serious risk to the mother. Texas also prohibits both medicinal and recreational marijuana.
The San Antonio Police Department has prohibited the use of chokeholds and no-knock warrants since 2014 and 2020, respectively, except for cases where responding officers determine an imminent threat to life. These are departmental policies rather than codified laws.
In addition to Ground Game Texas, supporters of Proposition A include the Bexar County Democratic Party, the San Antonio AFL-CIO, and Act4SA, which said Proposition A "reduces burden on officers, prevents unnecessary arrests for nonviolent low level crimes … [and] pushes police accountability."
Opponents of Proposition A include the Bexar County Republican Party, the Texas Alliance For Life, and the San Antonio Police Officers Association.
Arguments against the proposition have focused primarily on the increased issuance of citations rather than the abortion or marijuana aspects. Danny Diaz, the city's police union president, said, "We won't be able to arrest and do our job … They're talking about … rehabilitating criminals … but the businesses are the ones that are going to suffer."
If approved, Proposition A will likely face legal challenges. The Texas Alliance For Life filed a lawsuit alleging the measure illegally addresses multiple subjects. The Texas Supreme Court ruled against the group in March, saying the measure could remain on the ballot but that voters retain legal avenues to challenge the measure after the election.
---
New York adopts new state Assembly district lines
Did you think redistricting was done? Think again!
On April 24, New York Gov. Kathy Hochul (D) signed legislation enacting new State Assembly boundaries for use starting in the 2024 elections.
And the redistricting fun isn't over yet! Texas is actively working on new state legislative maps ahead of the 2024 election. And North Carolina will also redraw the legislative and congressional maps it used in 2022 following a recent state supreme court decision.
South Carolina has an active lawsuit regarding their congressional maps. And Ohio will need to redraw both its congressional and state legislative maps ahead of the 2026 elections due to provisions in its state constitution. Learn more here.
In New York, the state's Independent Redistricting Commission (IRC) voted 9-1 on April 20 to advance the new Assembly map to the legislature for final approval. The Assembly voted 132-13 in favor, and the Senate voted 59-1 in favor of the new districts.
The new maps replace a previous set invalidated by a 2022 court decision in Nichols v. Hochul. The lawsuit alleged the state failed to follow constitutional procedures during its initial drafting process.
Due to the timing of the lawsuit, the state used the initial maps in 2022, under which Democrats won in 102 districts and Republicans won in 48.
The magnitude of this change may be limited. Gothamist's Giulia Heyward and Jon Campbell wrote that the new maps are roughly identical to the invalidated lines approved in 2022.
New York State of Politics' Kate Lisa wrote that the court ruled "the Assembly maps were invalid because the Legislature drew its own lines after the state Independent Redistricting Commission failed to propose a second set of maps."
In January 2022, the IRC voted 5-5 to submit two sets of maps to the legislature. Legislators voted against both proposals, after which they produced their own lines.
Courts previously invalidated the state's congressional and senate maps, but in both cases, new lines were in place in time for the 2022 elections.
---
Number of enacted election-related bills on par with 2022
As of April 27, legislators across the country have enacted 86 election-related bills this year, up from 83 such bills at this point in 2022.
Of this year's 86 enacted bills, Republicans sponsored 47, or 55%, up from 49% of the total enacted at this point last year. Democrats sponsored 19%, up from 18% in 2022. Bills with bipartisan sponsorship remain at 19% of the total enacted, the same as last year. Those with unclear partisan sponsorship are down to 8% from 13% in 2022.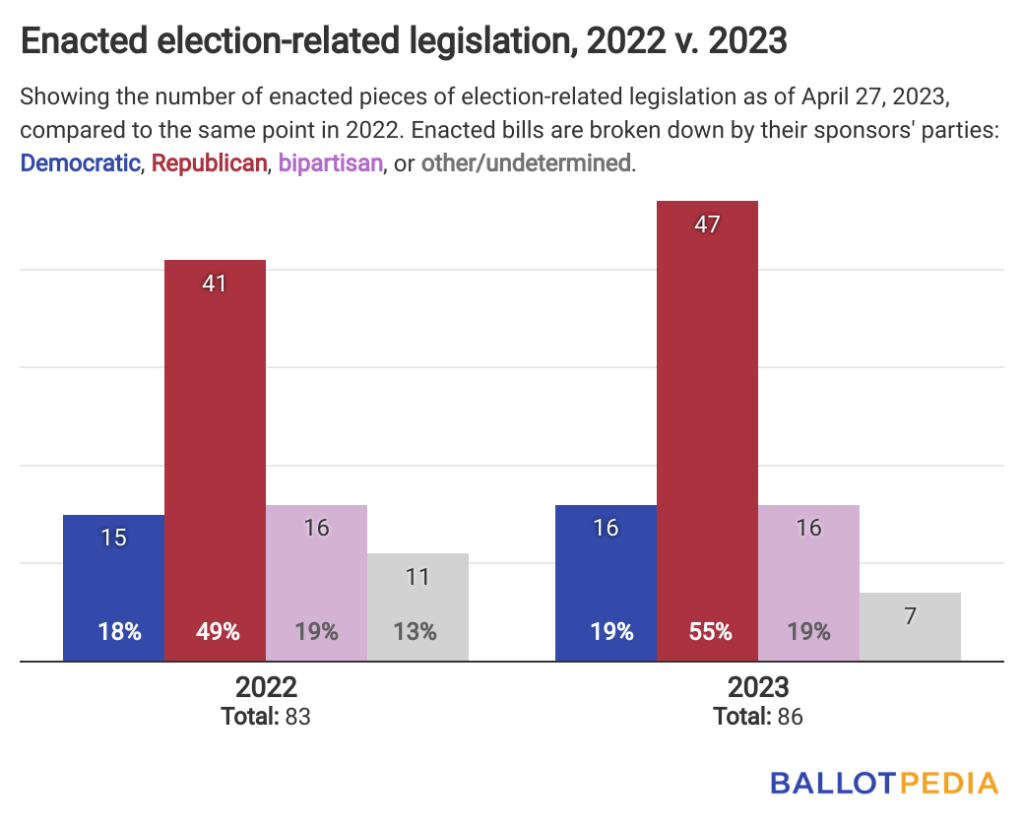 The 2023 totals include five new bills enacted over the past week, all in Maryland, which has a Democratic trifecta. Here are a few of those bills:
House Bill 410 requires local elections boards to hold public meetings before voting to change polling place locations, adds things like fraud, threat, and bribery to the list of ways you cannot influence voters' decisions, and changes certain procedures relating to election custodians.
House Bill 379 directs local elections boards to begin processing and counting absentee ballots eight days before the first day of early voting. It also requires that boards notify a voter within three days if an absentee ballot is missing a signature and give them the chance to fix it.
Senate Bill 863 changes the requirements for the State Administrator of Elections to be removed and that the Administrator serve until a successor is appointed.
In addition to these five newly-enacted bills, 38 other bills have moved further along in the legislative process over the past week: 18 passed both chambers and are awaiting final approval, and 20 passed one chamber, moving on to the next.
You can view a full list of enacted bills this year here. To stay up-to-date with the latest news in election-related legislation, subscribe to The Ballot Bulletin, our weekly newsletter—dropping every Friday afternoon—that delivers the latest updates on election policy. Every week, we track legislative activity, big-picture trends, recent news, and in-depth data from our Election Administration Legislation Tracker.