Welcome to the Friday, May 5, Brew.
By: Samuel Wonacott
Here's what's in store for you as you start your day:
Local elections tomorrow throughout Texas
Update on this year's ballot measure certifications
#FridayTrivia: What percentage of recall efforts in 2023 have been directed at school board members?
Local elections tomorrow throughout Texas
Most elections in the U.S. are held on a Tuesday. But on May 6—a Saturday!—voters in cities and counties across the Lonestar State will make their way to the polls to decide a raft of local elections and ballot measures.
Here's a look at our coverage of tomorrow's elections in Texas.
Municipal and county elections
We're covering municipal elections in seven cities and three counties on May 6. Five of those cities are holding mayoral elections.
Of the five cities holding mayoral elections on May 6, three—Fort Worth, Garland, and Irving—have Republican mayors, while Dallas has a Democratic mayor. San Antonio's mayor is an independent. We have been unable to verify the partisan affiliation of Arlington's mayor. Incumbents in all five cities are running for re-election.
School board elections
We're covering general elections in 58 school districts, including in some of the largest in the state. The following school districts with more than 75,000 students are holding elections on Saturday:
Dallas Independent School District is the state's second-largest district by enrollment, with an estimated 154,000 students. The state's largest district, Houston Independent School District, is holding general elections on Nov. 7.
You can stay up to date on all things school board elections by subscribing to Hall Pass, our weekly education-related newsletter.
Ballot measures
We're covering 47 ballot measures in seven counties on May 6. Five are citizen initiatives, and for the other 42, local governing boards referred the measures to the ballot.
This year's ballot has nearly three times the number of measures as those we covered in the May 2019 and 2021 elections. In 2019, there were 15 measures on the May ballot in Texas. In 2021, there were 16 measures.
A greater number of bond measures and charter amendments has led to the 2023 increase.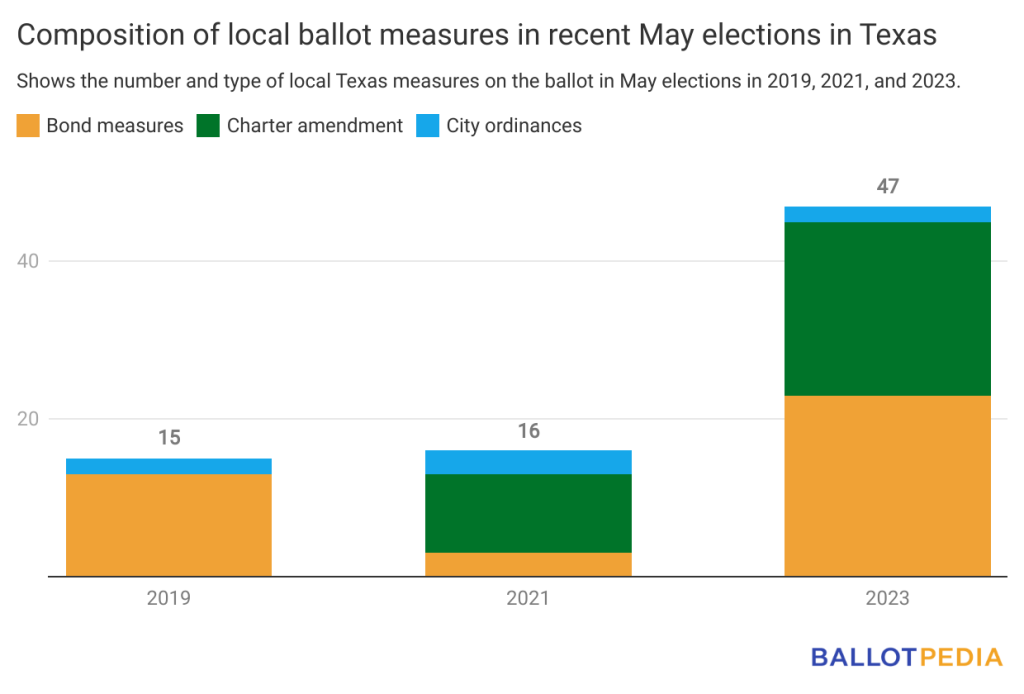 Here's a look at some of the measures that have received the most attention.
In San Antonio, voters will decide on one citizen-initiated measure — Proposition A. The charter amendment would change law enforcement on abortion, marijuana, and police actions. The changes include:
establishing a city justice director appointed by the mayor and city council;
prohibiting police from issuing citations or making arrests for certain misdemeanor marijuana possession offenses;
prohibiting police from enforcing criminal abortion laws;
banning law enforcement use of no-knock warrfants and chokeholds; and
using citations instead of arrests for certain misdemeanors.
El Paso voters will decide on 11 charter amendments, including Proposition K, a citizen-initiative related to the climate. Proposition K would create a new article titled Climate Policy in the charter "to reduce the City's contribution to climate change; second, to invest in an environmentally sustainable future; and third, to advance the cause of climate justice." The article would create a Climate Department and Climate Director to advance the new article's goals. The article would also require the city to use 100% renewable energy sources by 2045.
Austin voters will be deciding on competing police-related ballot initiatives—Propositions A and B. Proposition A is sponsored by Equity Action, and Proposition B is sponsored by Voters for Oversight and Police Accountability, which is supported by the Austin Police Association. Both propositions make changes to the Office of Police Oversight (OPO) but differ in the exact powers granted to investigate police conduct. Proposition A would authorize preliminary investigations into all complaints including anonymous complaints, while Proposition B would not. Proposition B does not include a requirement for random assessment reviews of department use of force, which is included in Proposition A. Under Proposition A, OPO would also be authorized to determine the training requirements for members of the Community Police Review Commission.
Click the link below to learn more about Texas' May 6 elections. Click here to view your sample ballot.
Update on this year's ballot measure certifications
Speaking of ballot measures, here's an update on statewide measures.
As of May 2, seven statewide measures have been certified for the ballot in four states for elections this year. That's the same as the average number certified at this point in other odd-numbered years from 2011 to 2021.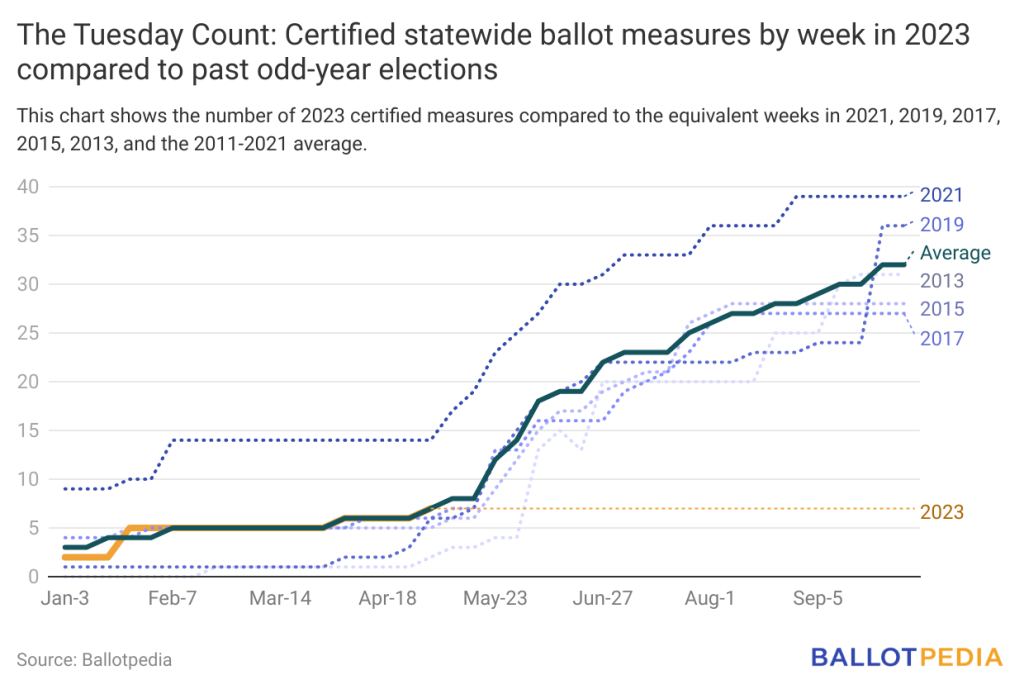 Here's an update on the latest 2023 ballot measure activity.
One new measure was certified for the 2023 ballot last week:
Signatures were verified for five indirect initiatives in Maine and Ohio, and the initiatives are now before legislators:
For 2024, 32 statewide measures have been certified in 16 states. That's six more measures than the average number certified at this point from 2010 to 2022.
Click here to learn about statewide ballot measures in 2024. Click below to learn more about statewide ballot measures in 2023.
#FridayTrivia: What percentage of recall efforts in 2023 have been directed at school board members?
In the May 3 Brew, in anticipation of our forthcoming mid-year recall report, we looked at how this year's recall efforts compare to those in previous years. This year, we've identified 149 recall efforts nationwide.
What percentage of the 149 recall efforts so far in 2023 have been directed toward school board members?