Welcome to the Wednesday, May 10, 2023, Brew. 
Here's what's in store for you as you start your day:
Virginia's legislative elections have most open-seat races since at least 2011
Previewing Pennsylvania's May 16 statewide primaries
Twenty-four upcoming vacancies among Article III judges
---
Virginia's legislative elections have most open-seat races since at least 2011
Virginia is one of four states, along with Louisiana, Mississippi, and New Jersey, that are holding regular state legislative elections this year. Now that the candidate filing period has closed, let's see what we can learn from the candidate lists.
43 districts—or 31% of the state's 140-member General Assembly—are open-seat races as the incumbent is not running for election.

This is the most open state legislative seats in Virginia – which does not have term limits – since at least 2011, when 20 districts, or 14.3%, were open.
Of the retiring incumbents, 22 are Democrats, and 21 are Republicans. Two districts have incumbent versus incumbent primaries this year:

House District 47, with a Republican primary between Reps. Marie March (R) and Wren Williams (R); and,
Senate District 18, with a Democratic primary between Sens. Louise Lucas (D) and Lionell Spruill (D).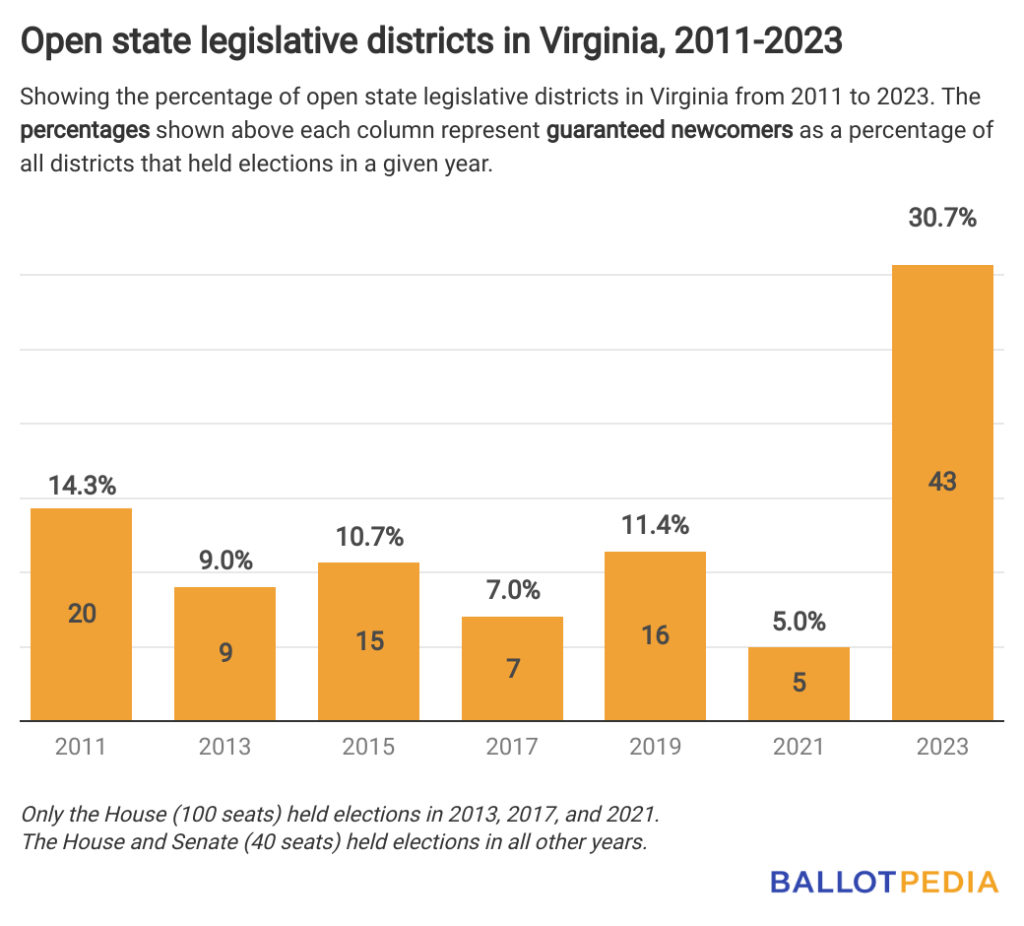 This is Virginia's first state legislative elections using district boundaries adopted after the 2020 census. The Virginia Supreme Court unanimously approved legislative district maps for both chambers after the Virginia Redistricting Commission missed its deadline for approving map proposals. The number of open districts tends to increase after redistricting.
In addition to the increase in open districts, other competitiveness metrics—like the number of contested primaries—increased compared to previous election cycles. This year, there are 47 contested primaries, representing 20.9% of all possible primaries, up from 14.5% in 2021. These figures do not include the 55 districts that Ballotpedia has identified that are holding non-primary nominating contests, like conventions, all for Republicans. In Virginia, local party committees can choose to hold conventions instead of primaries to select nominees for office.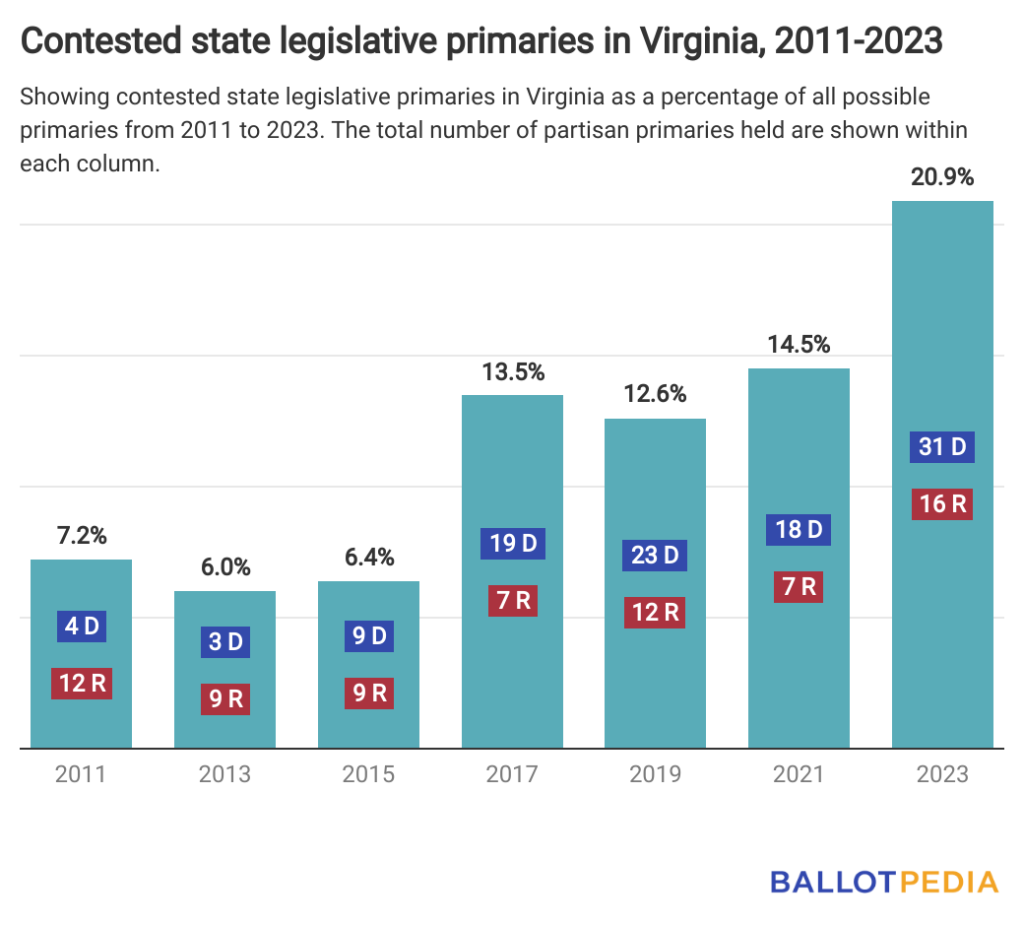 Overall, 279 major party candidates are running for state legislative offices in Virginia—154 Democrats and 125 Republicans.
Virginia has had divided government since Republicans won the governorship and the House of Delegates in 2021. Republicans currently have a 50-46 majority in the House with four vacancies. Democrats hold a 22-18 majority in the Senate.
Virginia's state legislative primaries are on June 20.
---
Previewing Pennsylvania's May 16 statewide primaries
Pennsylvania is one of eight states electing statewide offices in 2023 and one of three—along with Washington and Wisconsin—where judicial races are at the top of the ballot. The state is holding party primaries on May 16 for one seat on the state supreme court, two judgeships on the Pennsylvania Superior Court, and one seat on the Pennsylvania Commonwealth Court.
Voters will also decide special elections in two state House districts that could determine partisan control of the chamber, as well as local primaries.
Pennsylvania's primaries for judicial and municipal offices are closed, meaning only voters registered with a particular party may vote in them. Independent and unaffiliated voters can vote on ballot measures and in special elections.
Here's all of what's on Pennsylvania's ballot on May 16.
State Supreme Court
We previewed the Democratic and Republican primaries for one seat on the state supreme court on Monday. The outcome of this election will not affect the court's governing majority. But it will set the stage for the upcoming 2025 elections when three judges' terms—all Democrats—are set to expire. If Democrats retain the vacant seat this year, Republicans would need to win at least two of the three seats in 2025 to gain a majority. If Republicans win this year, they would only need to win one seat in 2025.
Democrats have controlled the Pennsylvania Supreme Court since 2015, when they established a 5-2 majority. Both of this year's primaries have two candidates.
Other statewide courts
The Pennsylvania Superior Court and Pennsylvania Commonwealth Court are the state's two intermediate appellate courts.
Two Pennsylvania Superior Court judges face retention elections, and another two seats on that court are up for partisan election this year. The Democratic primary for the two seats up for partisan election has three candidates, and the Republican primary has two candidates. The Pennsylvania Superior Court reviews most of the civil and criminal cases that are appealed from the courts of common pleas in the state's 67 counties.
One judgeship on the Pennsylvania Commonwealth Court is also up for partisan election. Both of this year's primaries have two candidates. Cases heard by the Commonwealth Court are generally determined by what the case is about and the identity of the parties to the lawsuit. The Commonwealth Court usually takes cases involving state and local government and regulatory agencies and cases involving certain specific topics, such as banking, taxation, and elections.
Judges on all of Pennsylvania's appellate courts, including the state supreme court, run initially in partisan elections for 10-year terms. After a judge's first term, he or she must run in a retention election to serve subsequent terms. Pennsylvania is one of eight states that uses partisan elections for both its supreme court and intermediate appellate courts.
Mayor of Philadelphia
As we previewed on April 17, nine candidates are running in the Democratic primary for mayor of Philadelphia. The winner will face David Oh—the only candidate seeking the Republican nomination—in the Nov. 7 general election. Philadelphia has not elected a Republican mayor since Bernard Samuel, whose term ended in 1952. Incumbent Jim Kenney (D), first elected in 2015, is term-limited.
Jeff Brown, Allan Domb, Helen Gym, Cherelle Parker, and Rebecca Rhynhart lead in fundraising and media attention.
Philadelphia voters will also decide partisan primaries for the register of wills, sheriff, city council, city commissioners, court of common pleas judges, and municipal court judges. In addition, there are also four local ballot measures. More information about the elections for the municipal offices can be found here, and information on the local ballot questions is here.
State legislative special elections
Voters in two Pennsylvania House of Representatives districts will decide special elections that will determine partisan control of that legislative chamber. These elections will fill vacancies after the resignations of Lynda Schlegel Culver (R) and Michael Zabel (D). Culver ran unopposed in every election since 2018, including most recently in her 2022 re-election bid, while Zabel won re-election in 2022 with 64.3% of votes. We previewed these races in the Brew on April 25.
Other municipal elections
Ballotpedia is also covering primaries for controller and city council in Pittsburgh, city council primaries in the state's capital of Harrisburg, and primaries for the following offices in Allegheny County—where Pittsburgh is located: County chief executive, controller, district attorney, treasurer, county council, court of common pleas judges, and magisterial district judges.
As part of our expanded coverage in 10 states, we're covering all school board primary races in Pennsylvania on May 16. All districts in Pennsylvania are holding elections this year, with approximately half of the state's 4,491 seats on the ballot. Pennsylvania holds school board elections every two years in odd-numbered years.
---
Twenty-four upcoming vacancies among Article III judges
There are 24 total announced upcoming vacancies for Article III judgeships, according to the latest data from U.S. Courts. This is in addition to the 76 current federal judiciary vacancies out of the 870 such judgeships.
These positions are not yet vacant but will be at some point in the future, with every judge having announced his or her intent to either leave the bench or assume senior status. In the meantime, these judges will continue to serve in their current positions. The president does not need to wait for a seat to become vacant before starting the confirmation process for a successor.
The next upcoming scheduled vacancy will take place on May 15, 2023, when U.S. District Court for the Northern District of Texas Judge Barbara Lynn assumes senior status.
Article III judgeships refer to federal judges who serve on the U.S. Supreme Court, the U.S. Court of International Trade, or one of the 13 U.S. courts of appeal or 94 U.S. district courts. These are lifetime appointments made by the president and confirmed by the U.S. Senate.
President Biden has nominated 160 individuals to federal judgeships on Article III courts. As of May 3, 121 have been confirmed, and 34 are going through the confirmation process. Of those going through the confirmation process, 22 are awaiting a vote in the U.S. Senate, seven are awaiting a committee vote, and five are awaiting a committee hearing. Since Reagan, presidents have made an average of 103 judicial appointments through May 1 of their third year in office. President Bill Clinton (D) made the most appointments through May 1 of his third year with 137. President George H.W. Bush (R) made the fewest with 74.