Welcome to the Tuesday, May 23, Brew. 
Here's what's in store for you as you start your day:
More absentee ballot drop box legislation introduced in 2023 than at this point in 2022
On this day: a look back at Oregon's 1972 and 1978 ballot measures
40 candidates filed for federal and statewide offices last week
---
More absentee ballot drop box legislation introduced in 2023 than at this point in 2022
Over the past few weeks, we've brought you stories about recent trends in election administration legislation, including a look at single-topic versus omnibus-style election bills and which states are introducing the most election-related legislation.
Let's take a look at another trend we've seen this year relating to election administration legislation. So far this year, state legislators have introduced more bills regulating the availability and security of absentee ballot drop boxes than at this point in 2022.
Ballot drop boxes are like large mailboxes where voters can return their mail-in ballots. Drop boxes can be staffed or unstaffed. Depending on the location, a ballot drop box may be accessible 24/7 or only during specified business hours. The bills that would regulate such drop boxes can generally fit into two categories: drop box availability and drop box security. Bills on drop box availability regulate the allowance, availability, or placement of ballot drop boxes. Drop box security bills establish or change existing rules for the physical security of drop boxes, such as requiring security cameras or in-person staffing.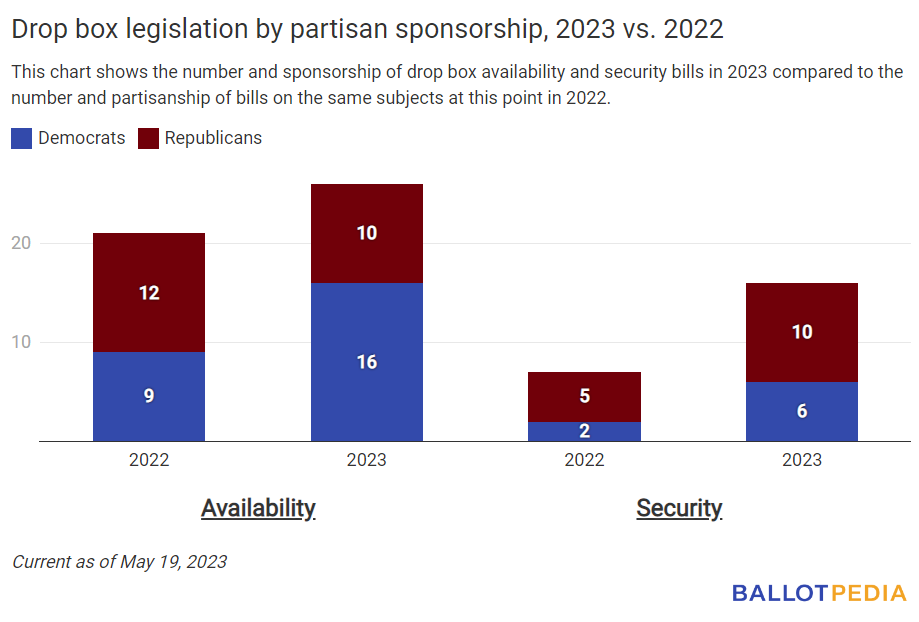 In 2023, legislators have introduced 34 bills related to ballot drop boxes. Three (9%) of these bills have become law.
At this point in 2022, legislators had introduced 26 bills, and two (8%) had become.
Since the start of 2022, Democrats have introduced more drop box availability bills overall, sponsoring 38 compared to Republicans' 31. Republicans have introduced more drop box security bills, sponsoring 19 compared to Democrats' 13. Republicans sponsored all seven bills introduced since 2022 to prohibit drop boxes entirely.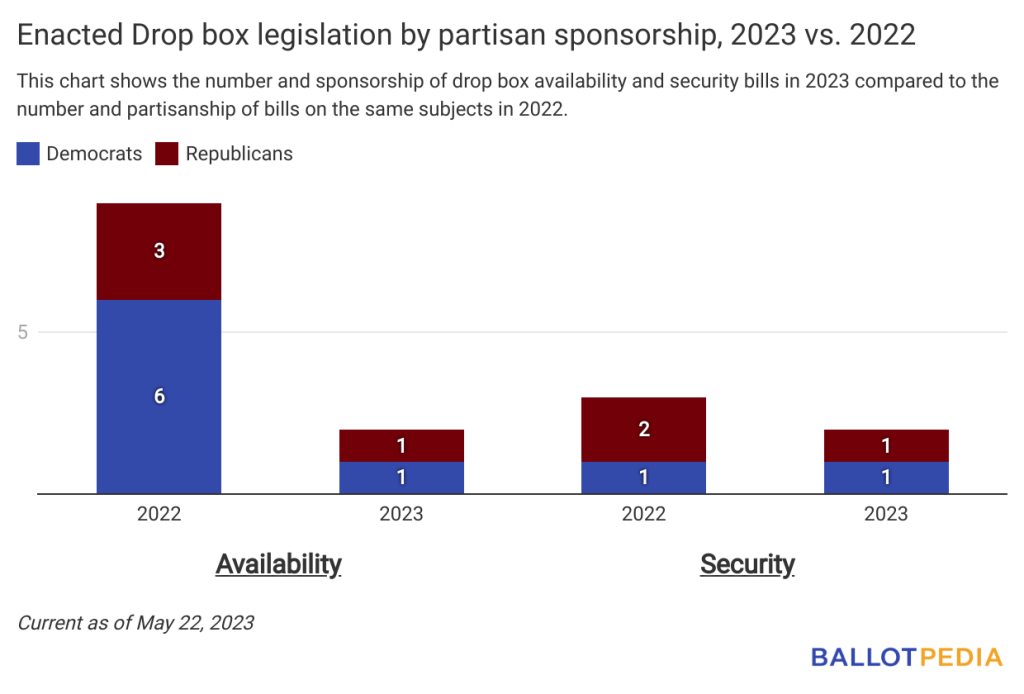 Let's take a closer look at these bills.
Drop box availability
State legislatures have considered five more bills dealing with drop-box availability this year (29 bills) than at this point in 2022 (23 bills). Two states—Arkansas and New Mexico—have enacted drop box availability bills so far in 2023—the same number as this point in 2022. Nine drop box availability bills were enacted in 2022.
Arkansas' Republican-sponsored bill, SB258, prohibits election officials from establishing or using a drop box to collect absentee ballots. New Mexico's Democratic-sponsored bill, SB180, prohibits anyone other than the secretary of state or the county clerk from providing or operating a drop box.
In 2022, Utah (HB0313) and Washington (HB1716) each enacted a bill on drop box availability. Republicans sponsored the Utah bill, which requires election officials to designate at least one ballot drop box in each municipality and reservation located in the jurisdiction holding an election. Democrats sponsored the Washington bill, which requires county auditors to open a voting center with a ballot drop box for any special elections the county may hold.
Drop box security
Eighteen of the bills introduced this year deal with drop box security compared with eight bills at this time last year and 21 introduced throughout 2022. Two bills introduced this year have been enacted—the same number enacted at this point in 2022. Overall in 2022, governors enacted three bills on the topic.
Republicans and Democrats each enacted one drop box security bill in both 2022 and 2023. Utah has enacted one Republican-sponsored bill so far this year—HB0347. The law makes it a third-degree felony to tamper with, destroy, or remove a drop box or its contents. New Mexico enacted the Democrat-sponsored SB180. The bill regulates drop box availability and makes the unlawful operation of absentee ballot drop boxes a fourth-degree felony.
Legislators in Utah and Washington approved the two drop-box security bills signed into law in the first half of 2022. In Utah, Republican-sponsored HB0313 requires drop boxes to be monitored by recorded video surveillance at all times. In Washington, HB1716 prohibits interfering with voters or disrupting the administration of a voting center, including ballot drop boxes. Later in 2022, Ohio enacted Republican-sponsored HB458, requiring drop boxes to be monitored by recorded video surveillance.
Our comprehensive Election Administration Legislation Tracker is the basis for the data and analysis in this report. This user-friendly tracker covers thousands of election-related bills in state legislatures and organizes them by topic with neutral, expert analysis from Ballotpedia's election administration researchers.

Click below to use the Tracker and explore bills of your interest!
---
On this day: a look back at Oregon's 1972 and 1978 ballot measures
We have tens of thousands of articles about statewide ballot measures that have appeared before voters stretching back to the early 19th century. Pick a random day of the year, and there's a decent chance that voters in one or more of the 50 states decided at least one ballot measure—and that we have an article about it.
So, what happened today, and where? When we punch May 23 into our ballot measure database, we find that Oregon voters decided ballot measures on this day in 1972 and 1978. Let's see what was on the ballot on May 23 of those two years.
1972
Voters rejected five measures and approved one.
Click here to learn more about all of Oregon's 1972 measures.
1978
Voters approved four measures and rejected one.
Click here to learn more about all of Oregon's 1978 measures.
We have several ways to look through our historical ballot measures repository. You can search for ballot measures by year, state, or topic.
---
40 candidates filed for federal and statewide offices last week
Last week, 40 candidates filed to run for congressional and state offices—including for elections in 2023, 2024, 2025, and 2026. Two weeks ago, we tracked 42 candidates who declared for congressional and state offices.
This year, we've tracked 912 declared candidates for congressional and statewide offices. At this time in 2021, Ballotpedia had identified 1,794 declared candidates for 2022, 2023, and 2024 races.
Here's a breakdown of the candidates who declared last week: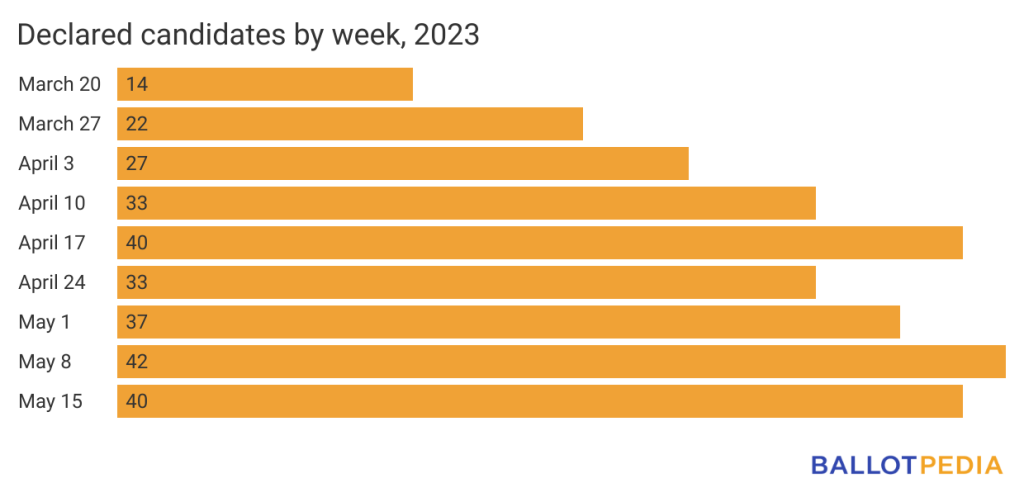 Of the partisan nature of the declared candidates:
22 are Democrats.
18 are Republicans.
Of the offices tracked:
28 candidates filed for Congress.
4 candidates filed for governorships.
8 filed for a lower state executive office.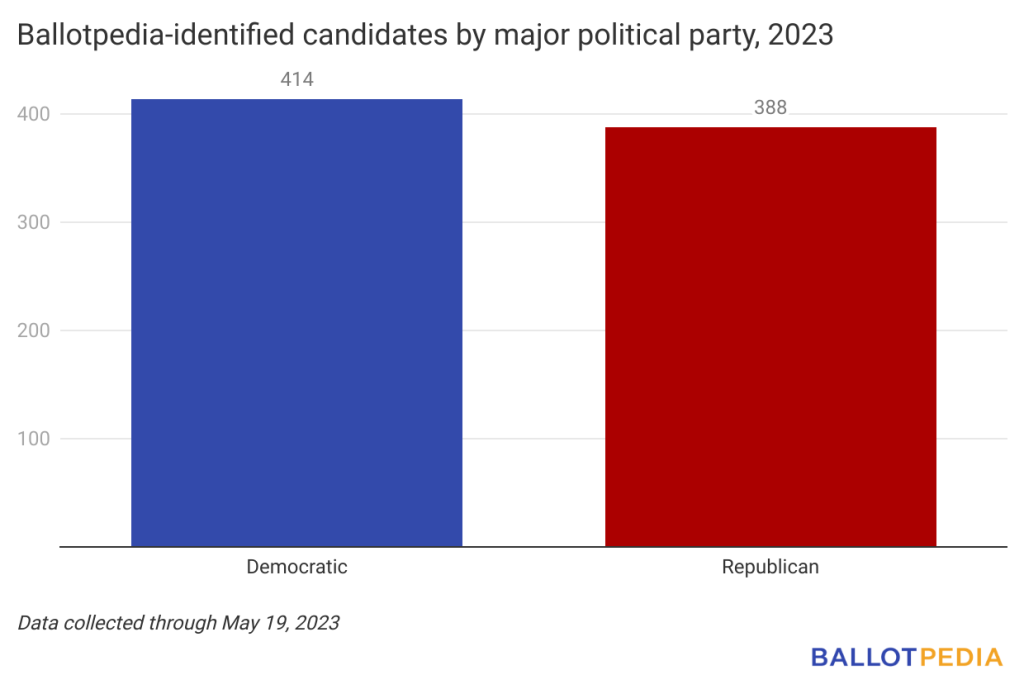 Between March 6 and April 3, we tracked an average of 22 candidates who filed for congressional or state elections. Between April 3 and May 8, that average increased to 35 candidates.
We cover elections for tens of thousands of offices across the country, and part of that work includes keeping tabs on the candidates who file to run for those offices. We'll periodically update you on how many candidates are signing up to run for state and congressional offices. We process both official and declared candidates.
Click here to read more about our definition of candidacy. Click the link below to see a list of all declared candidates for federal elections in 2024.