Welcome to Hall Pass, a newsletter written to keep you plugged into the conversations driving school board politics and governance.
In today's edition, you'll find:
On the issues: The debate over social and emotional learning in public schools
Share candidate endorsements with us!
School board filing deadlines, election results, and recall certifications
Montana becomes the 46th state to authorize charter schools
Extracurricular: education news from around the web
Candidate Connection survey
Email us at editor@ballotpedia.org to share reactions or story ideas!
---
On the issues: The debate over social and emotional learning in public schools
In this section, we curate reporting, analysis, and commentary on the issues school board members deliberate when they set out to offer the best education possible in their district.
According to the National Conference of State Legislatures (NCSL), social-emotional learning "refers to a wide range of skills, attitudes, and behaviors that can affect student success in school and life," including "critical thinking, emotion management, conflict resolution, decision making, teamwork." How SEL is used varies. Over the last few years, legislatures have considered bills that would prohibit or restrict SEL in schools.
Natalia Mehlman Petrzela writes that the goal of SEL is helping students learn how to manage their moods and emotions, be happy, and become socially and academically self-sufficient. Petrelza says SEL shouldn't be controversial and it could "be the beginning of an era of repair, in which children learn the critical thinking skills integral to understanding themselves and the world – and engage each other on the thornier curricular questions of race and sex that adults keep failing to figure out."
Daniel Buck writes that SEL involves more than teaching children strategies for emotional regulation and managing their moods and social interactions. Buck says SEL demands student involvement with progressive advocacy and that the term has become a euphemism justifying progressive educational policies. Buck writes that conservatives were not the first to politicize SEL in education and says progressives made the topic one of debate and controversy by injecting ideology into the approach.
SEL doesn't have to be a classroom culture war | Natalia Mehlman Petrzela, CNN
"To understand why these fights are so intense, it is crucial to grasp a longer, messier history of progressive efforts to educate 'the whole child' and of conservative resistance to these programs that explicitly address children's emotions, attitudes and values – especially when they challenge dominant ideas about power and identity. … As long as such programs have existed, the right has consistently attacked them, especially when they openly acknowledge the aim of addressing the needs of minority children ill served by public schools and society. … As a parent, a teacher, a scholar and a citizen, I am confident that most educators, parents and children agree that children deserve to be academically competent, kind, happy and self-sufficient and that the school should play a role in achieving those goals. Given our lamentably acrimonious environment, SEL could very well be our next educational classroom war, but it need not be. It could be the beginning of an era of repair, in which children learn the critical thinking skills integral to understanding themselves and the world – and engage each other on the thornier curricular questions of race and sex that adults keep failing to figure out."
Conservatives Are Right to Be Skeptical of SEL | Daniel Buck, National Review
"In reality, SEL was once a questionably effective — albeit rather benign — educational fad, a sort of secular character education, but it has since become another means of injecting progressive politics into the classroom. And as always, it's conservatives' fault for noticing. … In short, this new iteration of SEL extends beyond mere emotional regulation into encouraging activism in the classroom. "Action research," wherein students research social issues and advocate for change, is one recommended practical approach. All of this talk of community change and collective projects hearkens to a radical theory of education called critical pedagogy, first proposed by Brazilian Marxist Paulo Freire. Within this theory, schools become not institutions of academic learning but of advocacy. And lest you think "action research" just means building a community garden, a set of webinar slides confirms that an "antiracist" mindset in both teachers and students is essential. Everything from mathematics to SEL becomes another means to leverage collective progressive social action. … In other words, SEL becomes a feel-good term that applies a stamp of approval to a host of progressive wish-list items. … And I return to my original question: How did SEL become controversial? Progressives made it so."
---
Share candidate endorsements with us!
As part of our goal to solve the ballot information problem, Ballotpedia is gathering information about school board candidate endorsements. The ballot information gap widens the further down the ballot you go, and is worst for the more than 500,000 local offices nationwide, such as school boards or special districts. Endorsements can help voters know more about their candidates and what they stand for.
Do you know of an individual or group that has endorsed a candidate in your district?
Click here to let us know.
---
School board update: filing deadlines, election results, and recall certifications
Ballotpedia has historically covered school board elections in about 500 of the country's largest districts. This year, Ballotpedia is covering elections for approximately 8,750 seats in 3,211 school districts across 28 states—or about 36% of all school board elections this year. Click here to read more about our 2023 school board coverage.
---
Upcoming school board elections
We covered school board general elections in Texas on May 22. In Texas, if no candidate receives a majority of the vote, the top-two vote-getters in the general advance to a runoff.
We're covering runoff elections for the following districts on June 10:
---
Montana becomes the 46th state to authorize charter schools
On May 18, Montana Gov. Greg Gianforte (R) signed two bills authorizing the creation of charter schools. Previously, Montana was one of five states without laws allowing for charter schools.
According to the National Center for Education Statistics (NCES), a charter school is "a publicly funded school that is typically governed by a group or organization under a legislative contract—a charter—with the state, district, or other entity. The charter exempts the school from certain state or local rules and regulations. In return for flexibility and autonomy, the charter school must meet the accountability standards outlined in its charter."
Charter schools generally receive a percentage of the per-pupil funds from the state and local school districts for operational costs based on enrollment. In most states, charter schools do not receive funds for facilities or start-up costs, and usually rely to some extent on private donations. The federal government also provides special grants for charter schools.
Gianforte signed House Bill 549 (HB 549) and House Bill 562 (HB 562), both of which provide for charter schools but differ on which government bodies are authorized to submit and approve charter applications. HB 549 puts the authority in the hands of local school boards, which can submit applications for public charter schools to the Montana Board of Public Education. HB 562, on the other hand, creates a new, seven-member appointed commission with the authority to review applications and authorize qualified school districts to do the same.
Additionally, under HB 549, charter schools would be subject to the same state and federal regulations as all other public schools in the state. Under HB 562, a different set of state rules would regulate charter schools.
According to the Montana Free Press's Alex Sakariassen, "The simultaneous passage of HB 549 and HB 562 into law raises a number of questions, including whether the two systems will ultimately conflict. Advocates of both bills believe that they can coexist peacefully, as each sets out a distinct path for parents seeking establishment of a charter school to follow."
Lance Melton, executive director of the Montana School Boards Association said HB 549 "embraces that accountability and provides a focused means by which school districts and other applicants can focus in on and provide innovative educational programing – something, again, that's maybe different than the average."
House Majority Leader Sue Vinton (R), who sponsored HB 562, said, "The one-size-fits-all approach of traditional public schools does not work for every student. This bill provides for independence – and likewise provides for ample oversight."
Both bills passed the House but died in the Senate before being revived. Republicans hold a 68-32 majority in the House and a 34-16 majority in the Senate.
In the first go-around on April 26, the Senate rejected HB 549 in an 8-42 vote and HB 562 in a 23-27 vote. One Democrat joined seven Republicans in supporting HB 549, while 11 Republicans joined 16 Democrats in opposing HB 562. However, a few days later, Majority Leader Steve Fitzpatrick (R) brought the bills back for a second vote. Referring specifically to HB 562, Fitzpatrick said, "We need to get these issues resolved. We should pass this bill and let the courts decide if it's valid or not." The Legislative Services Division, an agency within the state legislature, had earlier suggested parts of HB 562 could conflict with the state constitution.
The second time, the Senate voted 27-23 to advance HB 549 and 28-22 to advance HB 562.
Gianforte said, "We're empowering Montana parents to choose what's best for their family and their kids. We're putting students and parents first in education."
The Montana Quality Education Coalition, which includes the Montana School Boards Association, released a statement on May 19 promising litigation over HB 562: "Legislators from both parties recognized HB 562 and HB 393 as both unconstitutional and terrible policy. We'll bring the necessary lawsuits to clean up these constitutional mistakes." HB 393, which Gianforte also signed, establishes an education savings account (ESA) program for students with disabilities.
Minnesota was the first state to pass a law authorizing charter schools in 1991.
Nationally, charter school enrollment was estimated at 3,695,769 students—or about 7.5% of all public school students—in the 2020-2021 school year, according to the National Alliance for Public Charter Schools, an organization that describes itself as the "the leading national nonprofit organization committed to advancing the public charter school movement." Charter school enrollment has grown steadily over time. In 2000, the National Center for Education Statistics estimated that 448,343 students were enrolled in charter schools. By the 2021-2022 school year, the most recent year for which data are available, that number had grown to more than 3.6 million.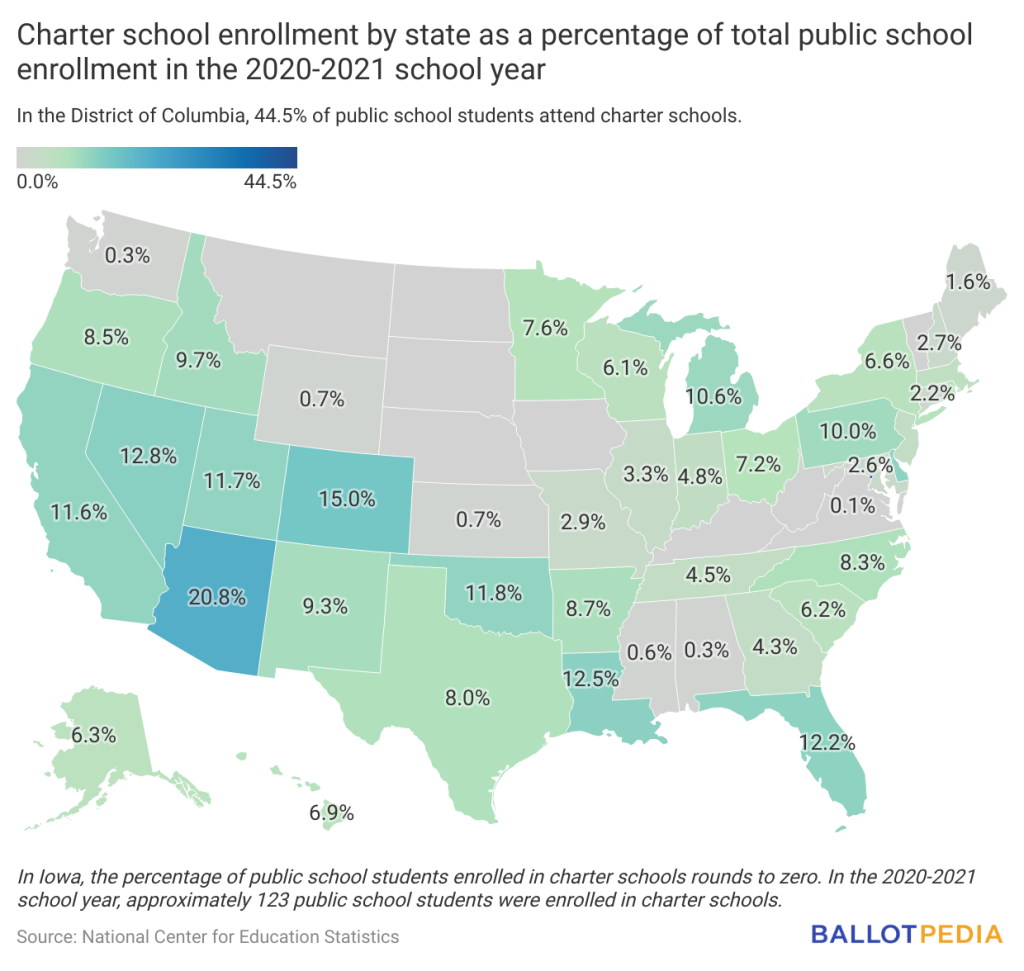 Only Nebraska, North Dakota, South Dakota, and Vermont do not have laws authorizing charter schools. West Virginia became the 45th state to authorize charter schools in 2019, when Gov. Jim Justice (R) signed House Bill 206. The state's first charter schools were approved in November 2021.
Kentucky authorizes charter schools but does not currently have any in operation.
---
Extracurricular: education news from around the web
This section contains links to recent education-related articles from around the internet. If you know of a story we should be reading, reply to this email to share it with us!
---
Take our Candidate Connection survey to reach voters in your district

Everyone deserves to know their candidates. However, we know it can be hard for voters to find information about their candidates, especially for local offices such as school boards. That's why we created Candidate Connection—a survey designed to help candidates tell voters about their campaigns, their issues, and so much more.
If you're a school board candidate or incumbent, click here to take the survey. And if you're not running for school board, but there is an election in your community this year, share the link with the candidates and urge them to take the survey!
The survey contains over 30 questions, and you can choose the ones you feel will best represent your views to voters. If you complete the survey, a box with your answers will display on your Ballotpedia profile. Your responses will also appear in our mobile app, My Vote Ballotpedia.
In the 2020 election cycle, 4,745 candidates completed the survey.