Welcome to the Friday, May 26, Brew.
Here's what's in store for you as you start your day:
More bills introduced in 2023 than in 2022 that would make ballot access more difficult for political parties
Tim Scott, Ron DeSantis join Republican presidential primary field
A look at the age demographics of Oklahoma school board candidates
---
More bills introduced in 2023 than in 2022 that would make ballot access more difficult for political parties
Lately, we've been bringing you deep dives into recent trends in election-related legislation. We've reported that states are enacting more election administration bills than in 2022 and that Utah, for the second year running, is enacting more of those bills than other states. We've also looked at the increase this year in bills regulating absentee ballot drop box availability and security.
Let's take a look at another topic that falls under election administration—ballot access.
Compared to last year, lawmakers in 2023 have introduced more bills that would make it more difficult for political parties to qualify for the ballot.
We've tracked 25 ballot access bills since January. We've determined nine bills would make it more difficult for parties to qualify for ballot access,introduced in Colorado, Minnesota, Montana, Nevada, and Texas. Seven bills would do the opposite and decrease ballot access difficulty. The other nine ballot access bills we're tracking would not affect the difficulty of ballot access.
Democrats and Republicans sponsored bills in both categories on a fairly even basis.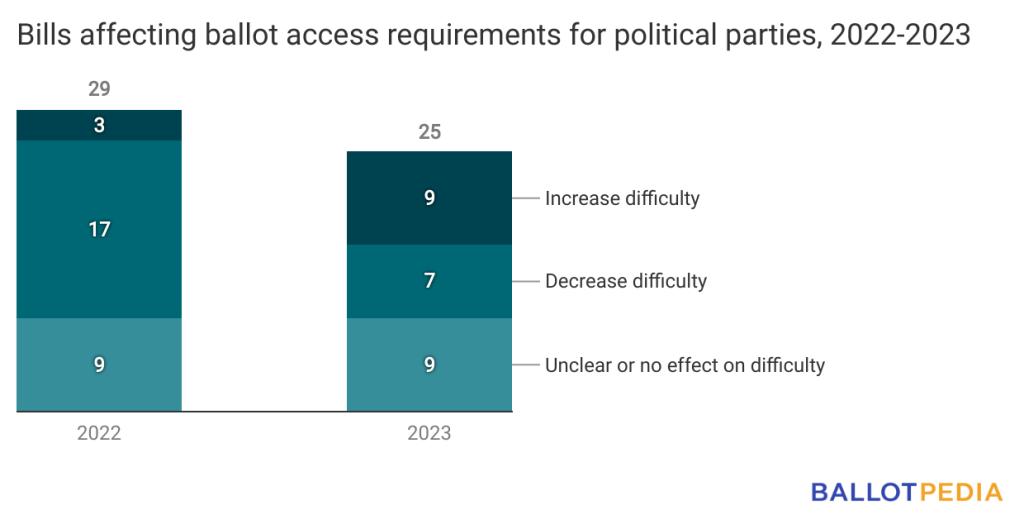 How parties get their candidates on the ballot varies from state to state. Some states require parties to file petitions to qualify for the ballot. Others require party candidates to win a certain percentage of the vote, and others require a party to register a certain number of voters.
In our analysis, we counted bills that would raise petition, vote, or registration requirements or restrict timelines as increasing difficulty, and bills that would lower requirements or expand timelines as decreasing difficulty.
Here's a look at some of ballot access bills that would have made it more difficult for parties to qualify candidates for the ballot:
Minnesota SF1827: This bill would have doubled the threshold to meet the definition of a "major political party," requiring parties to have run a candidate who received at least 10% of the vote in the last election for certain offices (up from 5%). In Minnesota, major party candidates are nominated in primaries, with the winner qualifying for the general election without having to file nominating petitions. According to Ballot Access News publisher Richard Winger, Minnesota's current 5% requirement is one of the most difficult in the country, with 2% being the median requirement. Virginia and New Jersey have a 10% requirement, while Alabama's is 20%. A House omnibus bill with a similar provision—changing the major political party requirement from 5% to 8%—passed both chambers of the state legislature in May, and the governor has until early June to sign or veto the bill.
Montana SB565. This bill, which died in committee, would have increased minor party petition requirements from either (1) 5,000 signatures to 15,000 signatures, or (2) from 5% of the number of votes cast for the successful candidate in the last gubernatorial election to 5% of voter turnout in the last general election.
Here's an example of a ballot access bill—the only one enacted so far this year—that eases access requirements:
Arkansas SB277: This law lowers the petition signature requirement for new political parties from 3% of the number of votes cast in the last gubernatorial election to 10,000 signatures (38% of the former requirement as of the 2022 election). The law also lengthens the time parties may collect signatures.

In 2022, we tracked 29 ballot access bills, three of which were enacted. Two made ballot access easier for political parties, while one made minor administrative changes. Of the bills that were introduced in 2022, we determined that 17 would have eased ballot access requirements. Three bills, a set of companion bills in Iowa, would have increased requirements for non-party political organizations (political organizations not meeting the conditions to be a political party) to nominate a candidate at a convention. The other bills would either have had no effect on ballot access difficulty or their effects were unclear.
To view the current status of ballot access for political parties in each state, click here.
We cover stories like these in even greater detail in the Ballot Bulletin, our weekly newsletter on legislative activity, big-picture trends, and recent news in election policy. Click here to subscribe.
Our comprehensive Election Administration Legislation Tracker is the basis for the data and analysis in this report. This user-friendly tracker covers thousands of election-related bills in state legislatures, and organizes them by topic with neutral, expert analysis from Ballotpedia's election administration researchers.
Explore the tracker for yourself at the link below!
---
Tim Scott, Ron DeSantis join Republican presidential primary field
The 2024 race to the White House is speeding up—and adding a few new names to the roster. Let's check in on the latest presidential election news.
This week, two new noteworthy candidates announced campaigns for the 2024 presidential election—Sen. Tim Scott (R-S.C.) and Florida Gov. Ron DeSantis (R). Scott announced May 22, while DeSantis announced May 24. That brings our tally of noteworthy presidential candidates to 11 candidates—three Democrats and eight Republicans. That's less than half the 26 candidates who were running at this time four years ago.
Below is a summary of each candidate's campaign activity from May 19 to May 26.
Donald Trump (R) was endorsed by Missouri Attorney General Andrew Bailey (R) on May 22. Trump released an online ad on May 24 criticizing DeSantis.
We did not identify any specific campaign activity from Corey Stapleton (R) during this time frame.
At this point in the 2020 cycle, 26 noteworthy candidates were running for president. Twenty-four were seeking the Democratic nomination, and two (Trump and former Massachusetts Governor Bill Weld) were seeking the Republican nomination.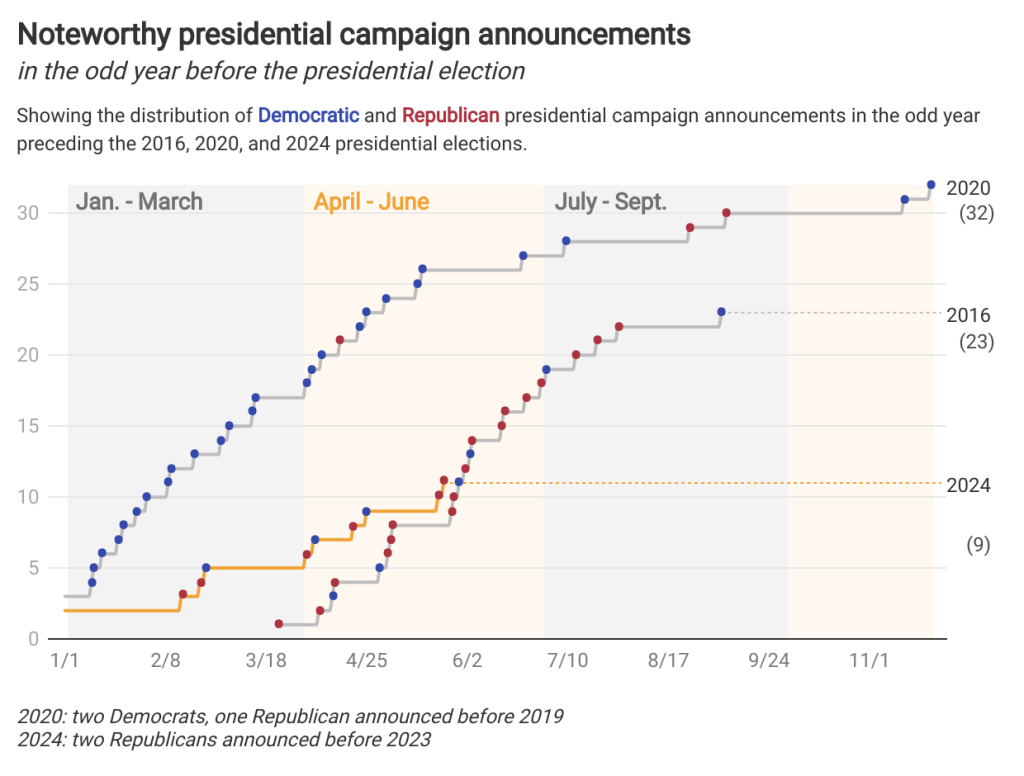 Notable stories at the time included eight Democratic presidential candidates appearing at demonstrations opposing anti-abortion laws in Alabama and Georgia on May 21, 2019, and reporting that said Trump had spent $5 million on Facebook ads targeting older Americans and women from January to May 2019.
In the 2016 election, eight noteworthy candidates had announced their campaigns as of May 26, 2015. There were two Democrats (Hillary Clinton and Bernie Sanders) and five Republicans.
Keep up to date with the latest 2024 presidential election news at the link below.
---
A look at the age demographics of Oklahoma school board candidates
In case you missed it, the Wednesday and Thursday Brew issues this week focused on in-depth analysis of Wisconsin and Oklahoma school board elections. As we've scoured local government websites, mined candidate filing lists and voter files, and combed through mountains of local news stories and social media posts to bring you this coverage, we've also unearthed some unique demographic data about the school board candidates themselves.
Let's take a look at one fun example from Oklahoma—school board candidate ages. We gathered this data from filing lists and publicly-available voter files.

Here's what we found.

Both the average school board candidate and average election winner were 50 years old.
The average incumbent who ran for re-election was 51 years old.
The average non-incumbent was 46 years old.
The youngest candidates were 20 years old. There were two of them, and they both lost in their respective primaries.
The oldest candidates were 86 years old. There were also two of them, and they both lost in general elections.
The youngest election winner was 27. The oldest was 84.

The chart below shows the age range of election winners and losers.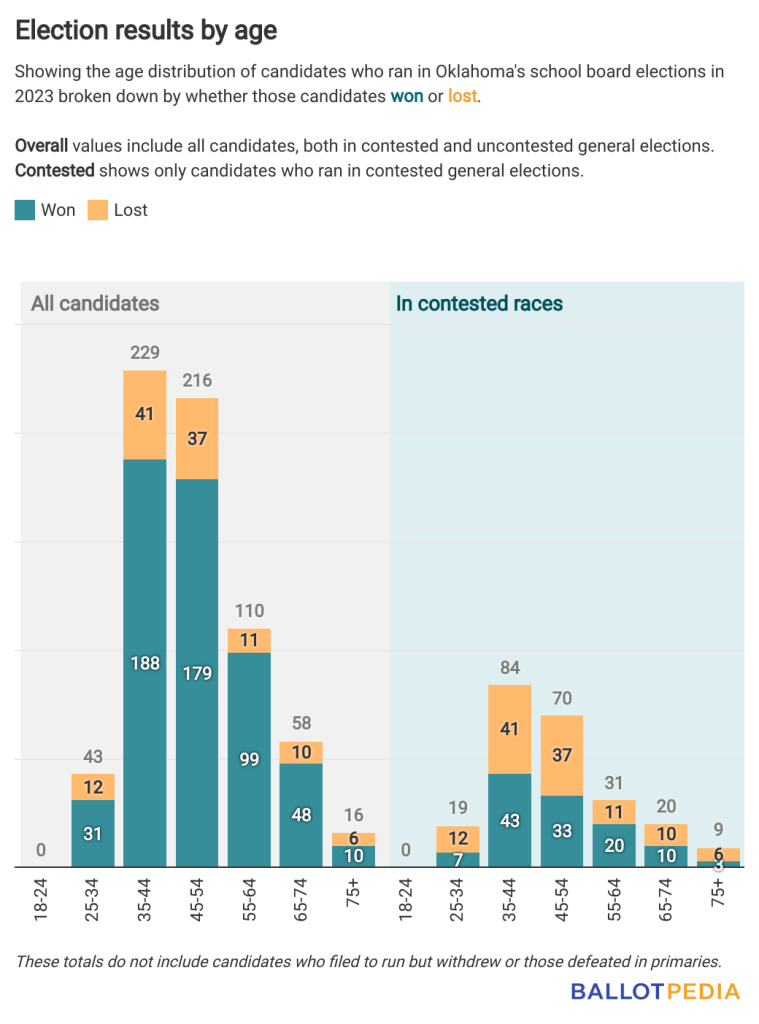 You can find more demographic data on Oklahoma candidates at the link below.