Welcome to Hall Pass, a newsletter written to keep you plugged into the conversations driving school board politics and governance.
In today's edition, you'll find:
On the issues: The debate over automatic deductions for teacher's union dues
In your district: partisan elections
Share candidate endorsements with us!
School board filing deadlines, election results, and recall certifications
A comprehensive analysis of Wisconsin's April 4 school board elections
Extracurricular: education news from around the web
Candidate Connection survey
Email us at editor@ballotpedia.org to share reactions or story ideas!
---
On the issues: The debate over automatic deductions for teacher's union dues
In this section, we curate reporting, analysis, and commentary on the issues school board members deliberate when they set out to offer the best education possible in their district.

Whether unions should be able to automatically deduct dues from teacher paychecks has been a recent topic of debate. Florida Gov. Ron DeSantis (R) signed a bill May 9 increasing regulations on teacher's unions and prohibiting automatic dues deductions.
Bonita Osowsky writes that unions were already weak in Florida and the new law further impedes the ability of unions to negotiate and bargain with the state. Osowsky says unions are stronger when they are less regulated and can automatically deduct dues. She also says strong unions improve teacher quality and retention.
Skylar Zander writes that teacher's unions are not as important today as they were 100 years ago but still have many of the same powers and privileges that make it hard for teachers to leave the union. Zander says the increased regulation and the end of automatic paycheck deductions will increase transparency and allow teachers to decide whether union membership and regular payments make sense for them.
Florida teachers are not 'shackled' to unions | Bonita Osowsky, South Florida Sun Sentinel
"It was appalling to read Skylar Zander's disgusting opinion piece (Feb. 27) pretending to support teachers. Nothing could be further from the truth. … The last thing teachers need is the death of unions, which are notoriously weak in this "right to work" state. I was a member of four teacher associations in New Jersey. I began in 1968 earning $6,100 a year and retired in 2004 at nearly six figures. Our union got us full family insurance coverage, eyeglass and dental benefits, longevity, protected us from unfair allegations and provided legal services when needed. It negotiated fair compensation for extra duties and payment for class coverage. In 1977, I was turned down for a sabbatical and the union secured my leave the following year to complete the requirements for my certification as a school psychologist. I always had dues deducted from my salary. Zander wants to disallow automatic deductions to discourage union membership to bust unions. I've read of a shortage of 10,000 teachers in Florida. It will get worse if teachers can't join unions, with our governor interfering with what can be taught in schools."
Give Florida teachers the freedom to not assemble | Skylar Zander, South Florida Sun Sentinel
"But more recently, a growing number of workers have found themselves shackled to labor unions, seeing money yanked out of their paychecks for membership in unions they want nothing to do with. That's why Gov. Ron DeSantis is exactly on target with his proposed Teacher's Bill of Rights, an unprecedented legislative proposal to establish greater accountability for teachers' unions and other public sector unions. [T]eachers unions in Florida will no longer enjoy the privilege of automatically deducting dues from paychecks and would need to obtain specific permission from teachers each year to keep them on their membership roster. The unions would have to be the choice of at least 60% of employees eligible for representation, rather than the current 50% requirement, and would be subject to stricter scrutiny to prevent fraud, waste and abuse. For too long, teachers' unions have held too much sway over the education of Florida's children, gradually but unmistakably supplanting the role of parents and dedicated educators. The governor's proposal would return a proper balance to the equation."
---
In your district: partisan elections
School districts face diverse issues and challenges. We want to hear what's happening in your school district. Please complete the very brief survey below—anonymously, if you prefer—and we may share your response with fellow subscribers in an upcoming newsletter.
Should the law allow school districts to hold partisan elections?
Click here to respond!
---
Share candidate endorsements with us!
As part of our goal to solve the ballot information problem, Ballotpedia is gathering information about school board candidate endorsements. The ballot information gap widens the further down the ballot you go, and is worst for the more than 500,000 local offices nationwide, such as school boards or special districts. Endorsements can help voters know more about their candidates and what they stand for.
Do you know of an individual or group that has endorsed a candidate in your district?
Click here to let us know.
---
School board update: filing deadlines, election results, and recall certifications
Ballotpedia has historically covered school board elections in about 500 of the country's largest districts. This year, Ballotpedia is covering elections for approximately 8,750 seats in 3,211 school districts across 28 states—or about 36% of all school board elections this year. Click here to read more about our 2023 school board coverage.
---
Upcoming school board elections
We covered school board general elections in Texas on May 22. In Texas, if no candidate receives a majority of the vote, the top-two vote-getters in the general advance to a runoff.
We're covering runoff elections for the following districts on June 10:
Washington
Washington is holding school board primary elections on Aug. 1. We're covering elections in the following districts:
---
A comprehensive analysis of Wisconsin's April 4 school board elections
We've mentioned before that this year, in addition to school board elections in the 200 largest school districts and any overlapping the 100 largest cities, we're comprehensively covering all elections in 10 states: Oklahoma, Colorado, Kansas, Minnesota, Ohio, Pennsylvania, South Dakota, Virginia, Washington, and Wisconsin. You can find out more about this project here.
Today, we're bringing you our full analysis of Wisconsin's April 4 school board elections. A version of this analysis ran last week in our Daily Brew newsletter. Next week, we'll look at the next part—a comprehensive look at Oklahoma's April 4 elections.
All 421 school districts in Wisconsin held at least one election on April 4. In total, 954 of the state's 2,794 school board seats, around 35%, were on the ballot.
We'll begin our analysis by looking at how incumbents performed in the elections. Lastly, we'll look at the state and national organizations that endorsed candidates—and how those candidates fared. Here's a summary of what we found:
Open seats and incumbent defeats mirrored historical averages.
Top liberal endorsers had 73% win rate compared to 48% for top conservative groups
Open seats and incumbents
Of the 954 school board seats up for election in Wisconsin, 690 incumbents (72%) ran for re-election, leaving 264 seats (28%) open. Open seats are guaranteed to newcomers.
Of the 690 incumbents who ran for re-election, 615 (89%) won, and 75 (11%) lost. Three incumbents lost in primaries held on Feb. 21, and the remaining 72 incumbents lost in the general election. Wisconsin's 11% incumbent loss rate was below the five-year average of 16% we've observed nationwide.
The number of open seat races in Wisconsin was similar to what we've noted in our nationwide school board election coverage. The difference in Wisconsin is that slightly more incumbents ran for re-election than we've seen nationally. Between 2018 and 2022, an average of 71% of incumbents ran for re-election, leaving 29% of seats open.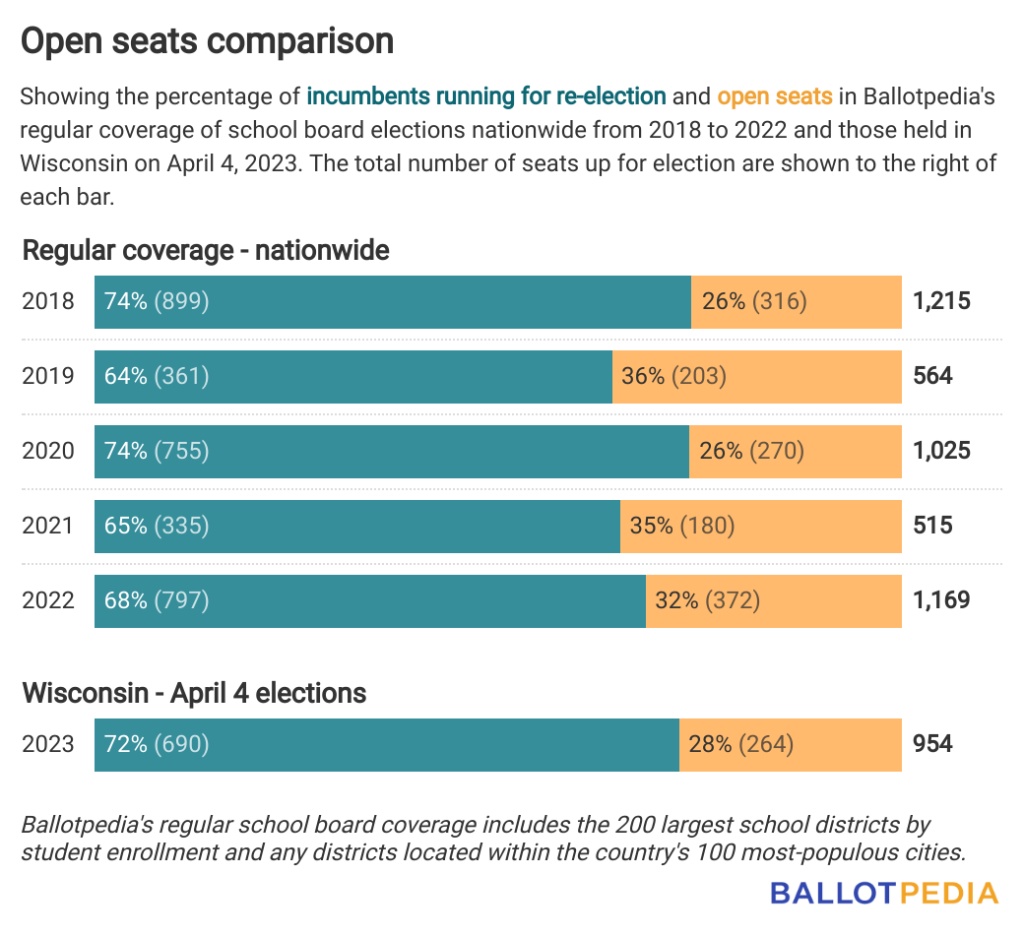 One reason so many incumbents won re-election is that 60% ran unopposed, guaranteeing their victory. This is almost double the 36% rate of unopposed incumbents we typically see nationwide for school board elections.
Only 278 incumbents faced challengers. When looking only at contested elections, the loss rate increases from 11% to 27%, mirroring the historical average of 26%.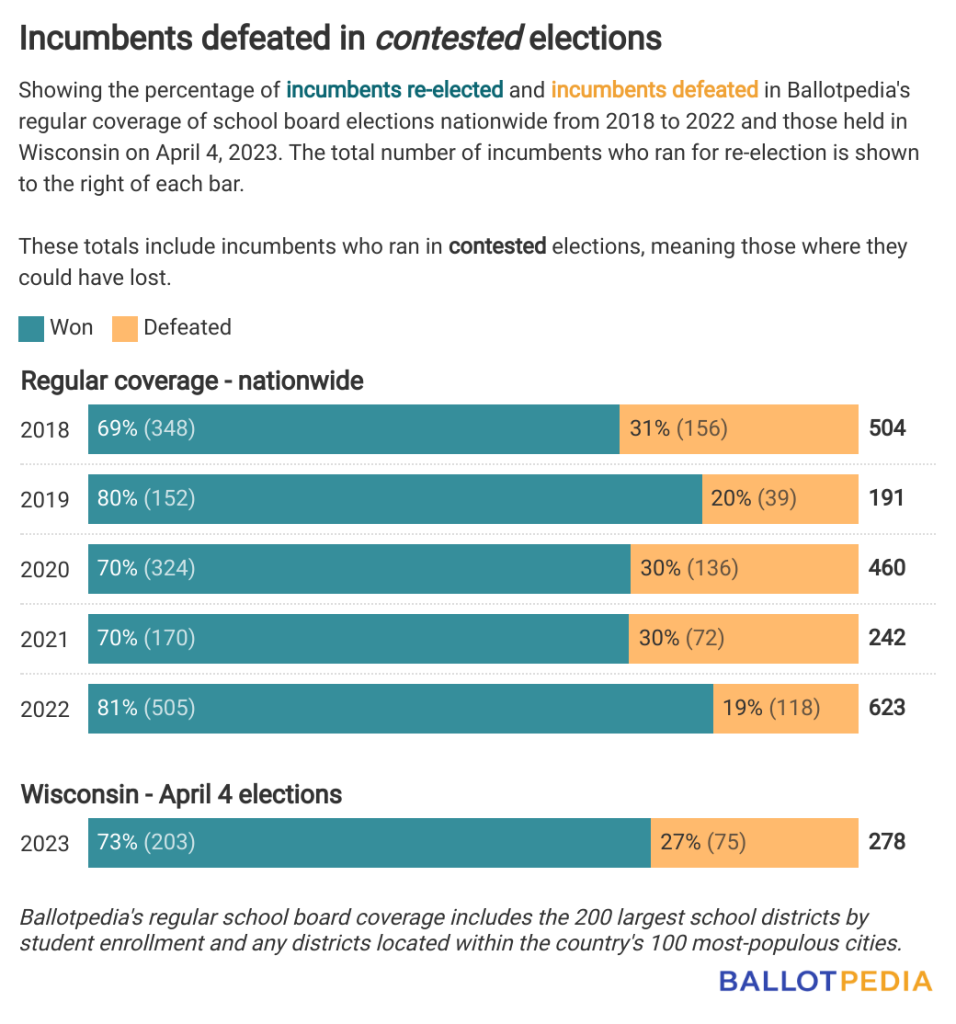 Endorsements
Most school board elections are nonpartisan, but that hasn't stopped local, state, and national organizations, many of which are explicitly ideological or aligned with political parties, from endorsing school board candidates. As part of our school board coverage, we are gathering descriptive endorsements, those that help describe the stances or policy positions of a candidate. This is based on the assumption that endorsers tend to endorse candidates with whom they align.
Our endorsements research process starts with analyzing news stories, conducting outreach, and talking with candidates. When we find an endorsement, we tag it as either liberal or conservative based on whether it comes from an organization affiliated with a major party or one that supports education policies associated with a major party.
The top liberal endorsers in Wisconsin were:
Local affiliates of the Wisconsin Education Association Council, a teacher's union;
The Wisconsin State AFL-CIO and its affiliates;
The Democratic Party of Wisconsin and its affiliates;
Blue Sky Waukesha, a group in Waukesha County; and
Fair Wisconsin, an LGBTQ advocacy group.
The top conservative endorsers in Wisconsin were:
The Republican Party of Wisconsin and its affiliates;
Moms for Liberty and its affiliates;
Get Involved Wisconsin, a voter mobilization group;
1776 Project PAC; and,
WisRed PAC, a group in Waukesha County.
Among the liberal endorsers, all but Blue Sky Waukesha had win rates greater than 50%. For conservative endorsers, only WisRed PAC had a win rate greater than 50%.
All 10 endorsers made endorsements in uncontested races. For the state GOP and Moms for Liberty, those uncontested endorsements resulted in overall win rates greater than 50%.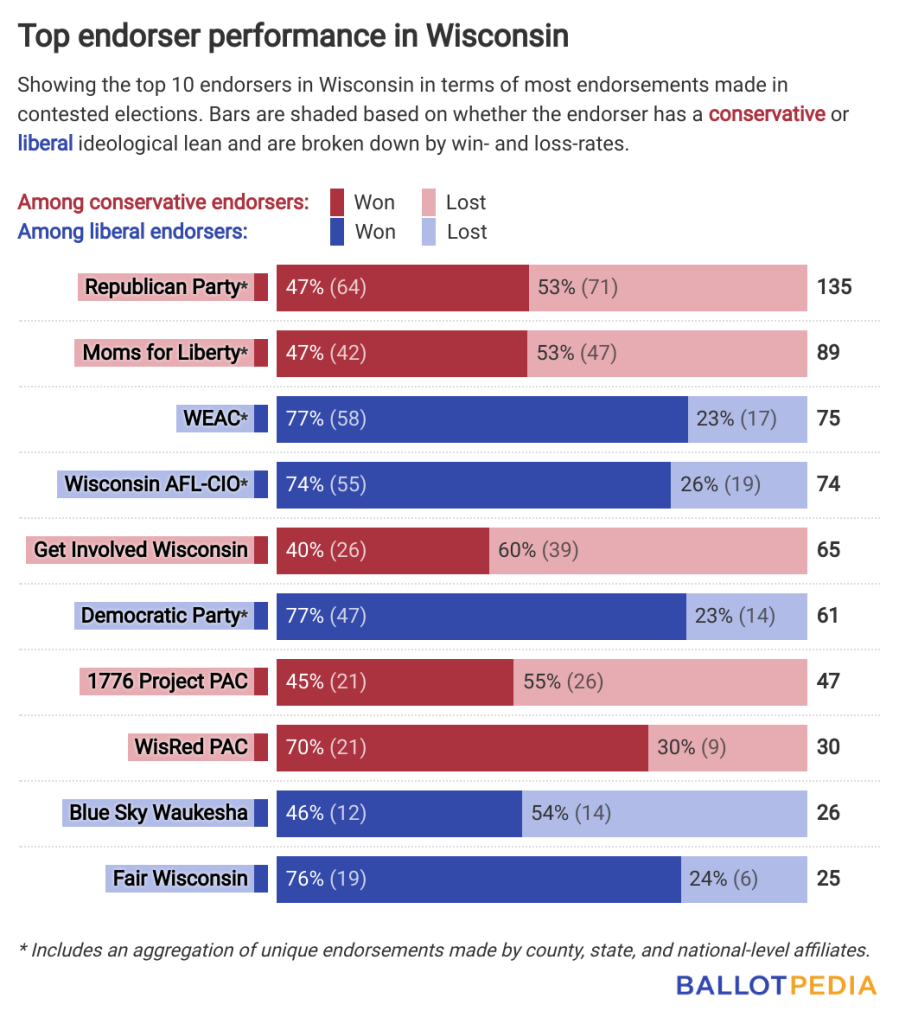 While these 10 groups made a total of 627 endorsements, many of those endorsements crossed ideological lines. These endorsements all went to 286 candidates in 114 races, around 55% of all contested elections and 20% of all elections, overall. Of those 286 candidates, 166 (58%) received endorsements from more than one of the top 10 endorsers.
You can see more of this analysis here. We'll be back next week with a look at Oklahoma's school board elections.
---
Extracurricular: education news from around the web
This section contains links to recent education-related articles from around the internet. If you know of a story we should be reading, reply to this email to share it with us!
---
Take our Candidate Connection survey to reach voters in your district

Everyone deserves to know their candidates. However, we know it can be hard for voters to find information about their candidates, especially for local offices such as school boards. That's why we created Candidate Connection—a survey designed to help candidates tell voters about their campaigns, their issues, and so much more.
If you're a school board candidate or incumbent, click here to take the survey. And if you're not running for school board, but there is an election in your community this year, share the link with the candidates and urge them to take the survey!
The survey contains over 30 questions, and you can choose the ones you feel will best represent your views to voters. If you complete the survey, a box with your answers will display on your Ballotpedia profile. Your responses will also appear in our mobile app, My Vote Ballotpedia.
In the 2020 election cycle, 4,745 candidates completed the survey.