Welcome to the Tuesday, June 6, Brew.
By: Samuel Wonacott and Douglas Kronaizl
Here's what's in store for you as you start your day:
Previewing Virginia's June 20 primaries
On this date in 1978: California voters approved Proposition 13 limiting property taxes
62 candidates filed for federal and statewide offices last week
---
Previewing Virginia's June 20 primaries
Today is primary day in New Jersey. In case you missed our preview, get caught up here. Now, let's look ahead to Virginia's June 20 primaries.
The Virginia General Assembly is holding a decade-high number of state legislative primaries on June 20.
In total, there are 47 contested primaries—31 for Democrats and 16 for Republicans—up 88% from 2021 and up 34% from 2019, the last time both the Senate and House held elections. Unlike in other states, in Virginia, local party organizations can decide whether to hold primary elections or some other method, like conventions, for selecting general election candidates. Fifty-five district Republican parties—42 in the house and 13 in the Senate—scheduled conventions to select candidates.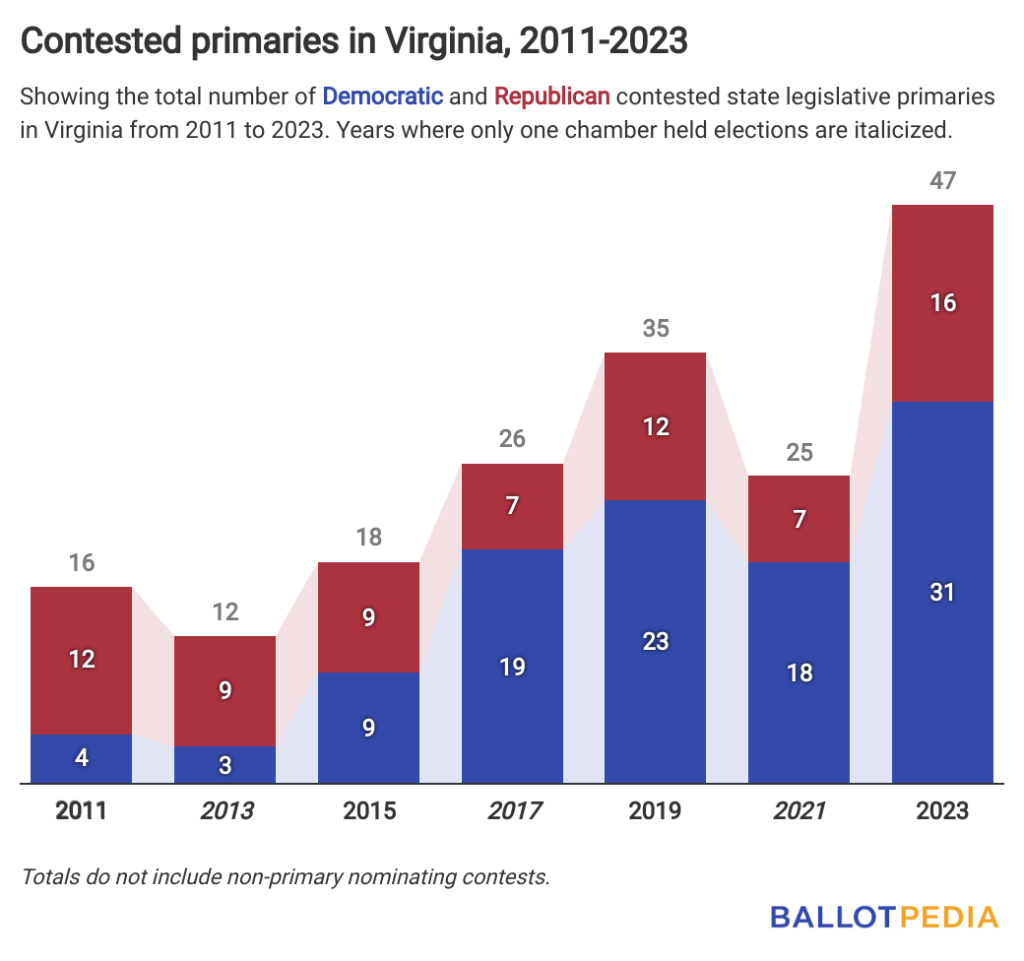 These totals include 17 incumbents facing contested primaries—12 Democrats and five Republicans—representing 18% of all incumbents running for re-election.
Most of the incumbents facing challengers are in the Senate, making up more than one-third of those running for re-election. The six incumbents facing challengers in the House represent 9% of those running for re-election.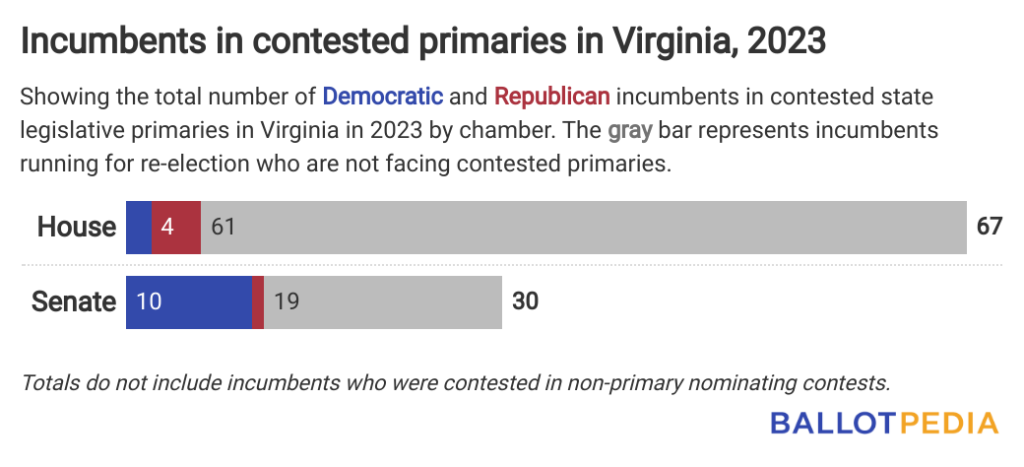 Based on media coverage and other competitiveness metrics, Ballotpedia identified 14 battleground primaries—eight in the Senate and six in the House.
Here's a preview of some of the races we are watching closely.
Senate District 12
Incumbent Amanda Chase, nonprofit founder Tina Ramirez, and former state Sen. Glenn Sturtevant are running in the Republican primary.
Chase assumed office in 2016. The chamber censured her in 2021 following comments she made supporting events at the U.S. Capitol on Jan. 6.
The Washington Post's Laura Vozzella wrote, "Chase's challengers … are trying to convince voters in a newly drawn suburban district south of Richmond that they'd cut the same staunchly conservative figure in the Capitol as the incumbent — without the drama."
Elections Daily's Joe Szymanski said the presence of two challengers, rather than one, could affect the primary's outcome, writing, "[I]t's nowhere near a certainty that [Chase] loses and with multiple opponents, in only increases the chances she survives."
House District 55
Amy Laufer and Kellen Squire are running in the Democratic primary for this open district.
Laufer, a former teacher, served on the Charlottesville City School Board from 2011 to 2019 and is a former Chair of the Albemarle County Democrats.
Squire is an emergency room nurse and C.E.O. of a nature advocacy organization.
Szymanski described this race as "a primary that could end up being the closest of them all" and said, "Squire has taken the more progressive wing here- hyping his large base of small donors, one of the largest in Virginia."
Szymanski said "Laufer is still progressive, albeit slightly less so than Squire, and has key institutional support," pointing to endorsements from state Sens. Scott Surovell (D) and Louise Lucas (D).
Incumbent v. incumbent primaries
Our list of battleground primaries also includes the General Assembly's two incumbent v. incumbent primaries. This is Virginia's first election following redistricting. Under new lines, multiple incumbents might end up living in the same district and running against each other for re-election.
In the Senate, there is an incumbent v. incumbent primary in District 18 between Sens. Louise Lucas (D) and Lionell Spruill (D). Lucas assumed office in 1992 and is the chamber's current President Pro Tempore. Spruill assumed office in the Senate in 2016 after having served in the House since 1994.
In the House, District 47 has an incumbent v. incumbent primary between Dels. Marie March (R) and Wren Williams (R), both of whom assumed office in 2022.
Virginia is one of 11 states with a divided government. Democrats have a 22-18 majority in the Senate, while Republicans control the governorship—which is not up for election until 2025—and have a 50-46 majority in the House.
While the primaries are first on the calendar, control of both chambers will likely come down to just a handful of races in November.
CNalysis rates both chambers as Lean Democratic. In the 40-member Senate, the outlet rates two districts as Toss-Ups, with the other 38 favoring one party or the other. The outlet has four Toss-Up districts in the 100-member House.
---
On this date in 1978: California voters approved Proposition 13 limiting property taxes
Today, June 6, marks the 45th anniversary of the passage of Proposition 13 in California.
This initiated constitutional amendment limited property tax to no more than 1% of a property's assessed value in 1976 and limited annual increases for the inflation rate or 2%, whichever is less.
The Hoover Institution's Steven Hayward wrote, "The widespread public backlash against high taxes that began in California," with the passage of Prop. 13, "contributed to Ronald Reagan's election to the White House in 1980 … and pushed taxes to the top tier of national political issues." In 2014, then-Gov. Jerry Brown (D), running for re-election, said he would not seek to change the law: "Prop. 13 is a sacred doctrine that should never be questioned. That doesn't mean that we can't look at our tax code in various ways."
Voters approved the measure 65%-35%.
In addition to its property tax limitations, Prop. 13:
Prohibited the Legislature from enacting new taxes on the value or sale of properties;
Required local governments to refer special taxes to the ballot where they need a two-thirds majority to pass; and,
Require a two-thirds vote in the Legislature to increase non-property taxes.
Prop. 13 has also had a lasting effect on Californians' ballots. Since its passage, voters have decided 34 statewide measures to change rules, requirements, and rates tied to Prop. 13, approving 24 and rejecting 10.
Most recently, in 2020, voters weighed in on Props. 15 and 19:
Prop. 15 would have required that most commercial and industrial properties be taxed based on their market value rather than purchase price. Voters defeated this measure 52 to 48%.
Prop. 19 changed rules regarding the transference of tax assessments when moving or inheriting property and directed additional revenue or savings to counties and wildfire agencies. Voters approved this measure 51% to 49%.
---
62 candidates filed for federal and statewide offices last week
Last week, 62 candidates filed to run for congressional and state offices—including for elections in 2023, 2024, 2025, and 2026. That's the same number of candidates who declared for congressional and state offices two weeks ago.
This year, we've tracked 1,118 declared candidates for congressional and statewide offices. At this time in 2021, we had identified 1,372 declared candidates for 2022, 2023, and 2024 races.
Here's a breakdown of the candidates who declared last week: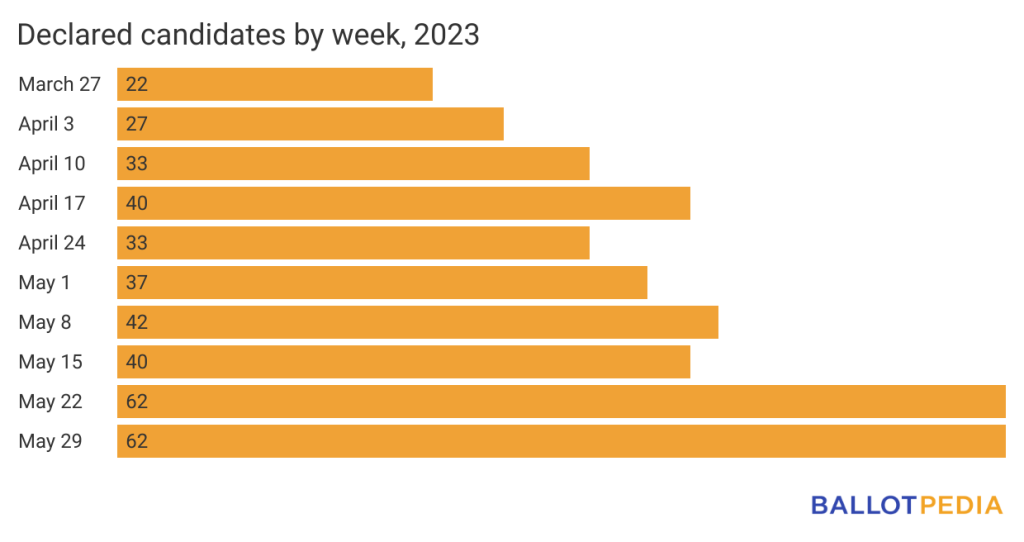 Of the partisan nature of the declared candidates:
36 are Democrats.
20 are Republicans.
4 are running as Libertarians.
Two independents.
Of the offices tracked:
50 candidates filed for Congress.
10 candidates filed for state legislature.
2 candidates filed for governorships.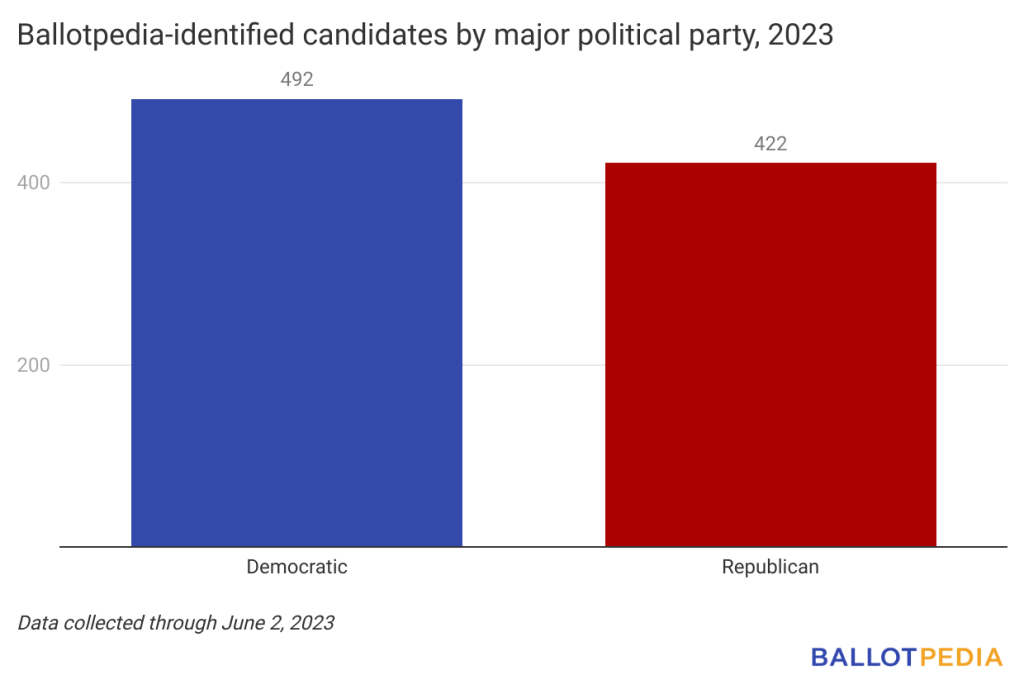 Between March 6 and May 17, we tracked an average of 26 candidates who filed for congressional or state elections. Between April 17 and May 29, that average increased to 45 candidates.
We cover elections for tens of thousands of offices across the country, and part of that work includes keeping tabs on the candidates who file to run for those offices. We'll periodically update you on how many candidates are signing up to run for state and congressional offices. We process both official and declared candidates.
Click here to read more about our definition of candidacy. Click the link below to see a list of all declared candidates for federal elections in 2024.