United States Supreme Court Chief Justice John Roberts has authored two of the 36 opinions for the 2022-2023 term as of June 16, 2023, which is the fewest authored opinions of all justices. Justices Neil Gorsuch and Amy Coney Barrett have authored five, Justices Sonia Sotomayor, Clarence Thomas, Ketanji Brown Jackson, and Elena Kagan have authored four, Justices Brett Kavanaugh and Samuel Alito have authored three, and three were per curium opinions.
Roberts has authored 121 opinions since he was sworn into the Supreme Court on September 29, 2005. Additionally, he has authored 31 concurring opinions and 51 dissenting opinions during his time serving the Court.
On average, Roberts authors 6.7 opinions, 1.7 concurring opinions, and 2.8 dissenting opinions per term. He has authored a maximum of eight opinions, five concurring opinions, and seven dissenting opinions in a single term. Roberts wrote the most opinions during the 2012-2013 term when he authored a total of 19 opinions, four of which were concurring opinions and seven of which were dissenting opinions. He wrote the least during his first term, 2005-2006, when he authored one opinion. Apart from his first term, Roberts has authored no fewer than six opinions per term. Unless Roberts authors four more opinions this term, the 2022-2023 term will be his least prolific authorship term since his first term.
In comparison to the other justices of the Court who have served 10 or more terms, Roberts is the second most prolific writer of opinions. The only justice with a higher authorship average per term is Thomas, with 7.53. Kagan, Alito, and Sotomayor are not far behind Roberts with averages of 6.69, 6.53, and 6.64, respectively.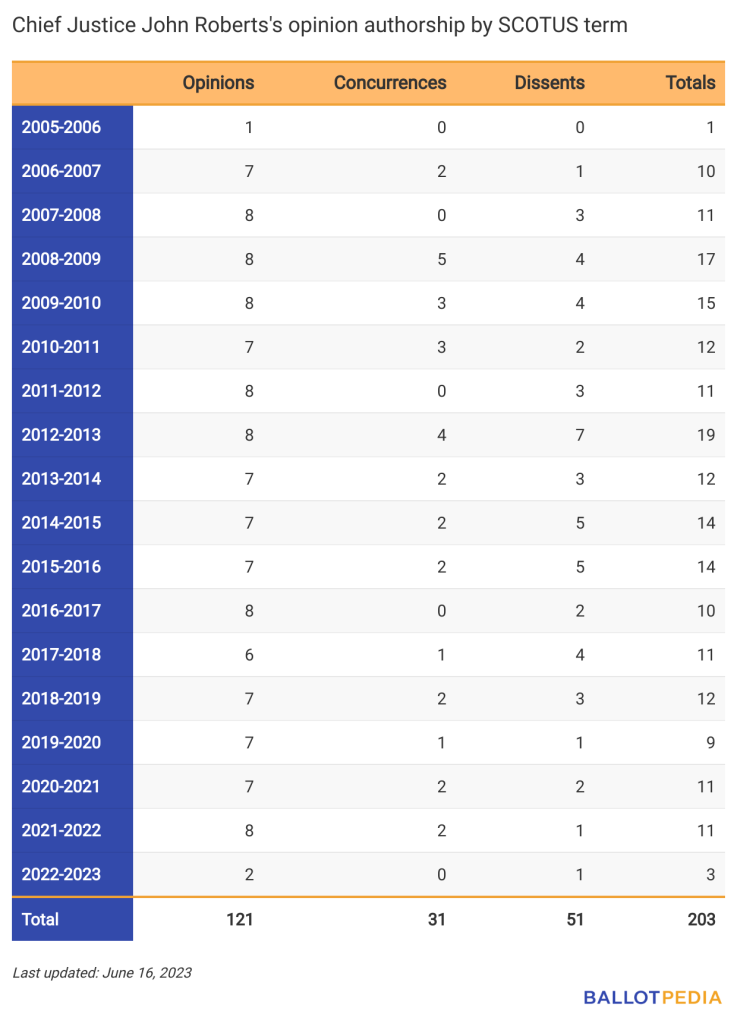 Additional reading: