In 2023, 41 statewide measures were certified for the ballot in eight states, 10 more measures than the average number certified at this point in other odd-numbered years from 2011 to 2021.
For 2024, 49 statewide measures have been certified in 22 states. That's one more measure than the average number certified at this point from 2010 to 2022.
Here's an update on the latest ballot measure activity.
Two new measures were certified for the 2024 ballot last week:
Signatures were filed for one veto referendum last week:
There are no more potential citizen-initiated ballot measures for 2023. Six of the 41 state ballot measures in 2023 are ballot initiatives—five are initiated statutes, and one is an initiated constitutional amendment. Six is the largest number of citizen-initiated ballot measures during an odd-numbered year since 2011 when there were 12.
The other 35 measures are legislative referrals—measures that legislatures voted to put on the ballot. That number is the same as the number in 2021 when there were also 35 legislative referrals.
Unlike the odd-numbered years from 2013 to 2021, there will be no advisory questions on the ballot in Washington. On April 20, 2023, Gov. Jay Inslee (D) signed a bill eliminating the mandatory advisory votes on bills to increase taxes. An average of five advisory votes appeared on the ballot for each odd-numbered year in Washington from 2013 to 2021.
From 2010 to 2022, the average number of statewide ballot measures certified in an even-numbered year was 164. By this time in even-numbered years from 2010 through 2022, an average of 47 statewide measures had been certified for the ballot.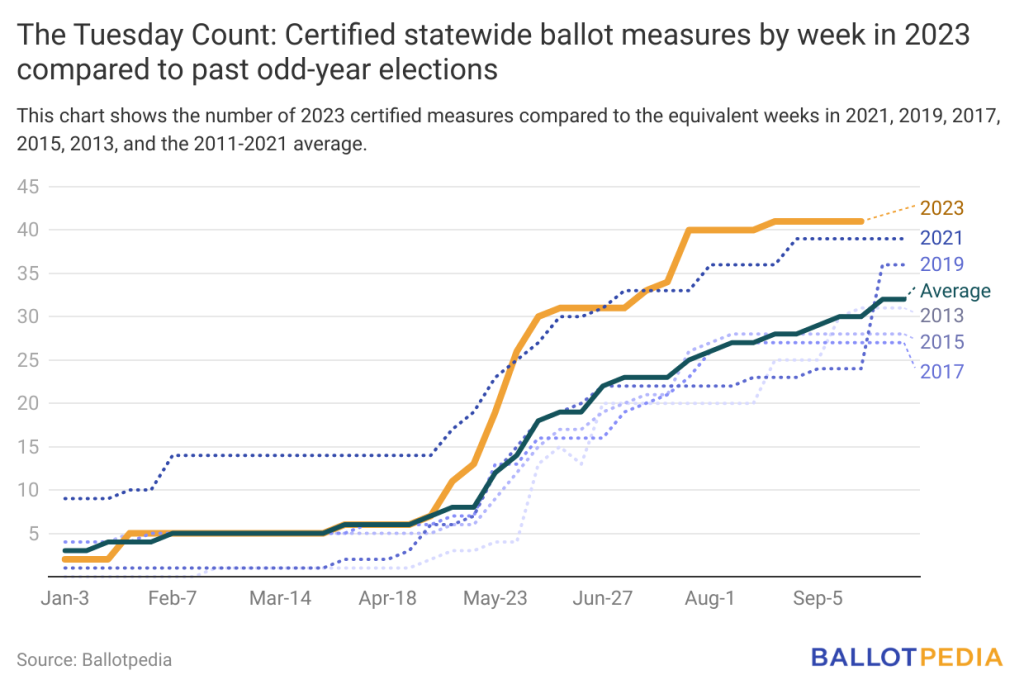 Related: