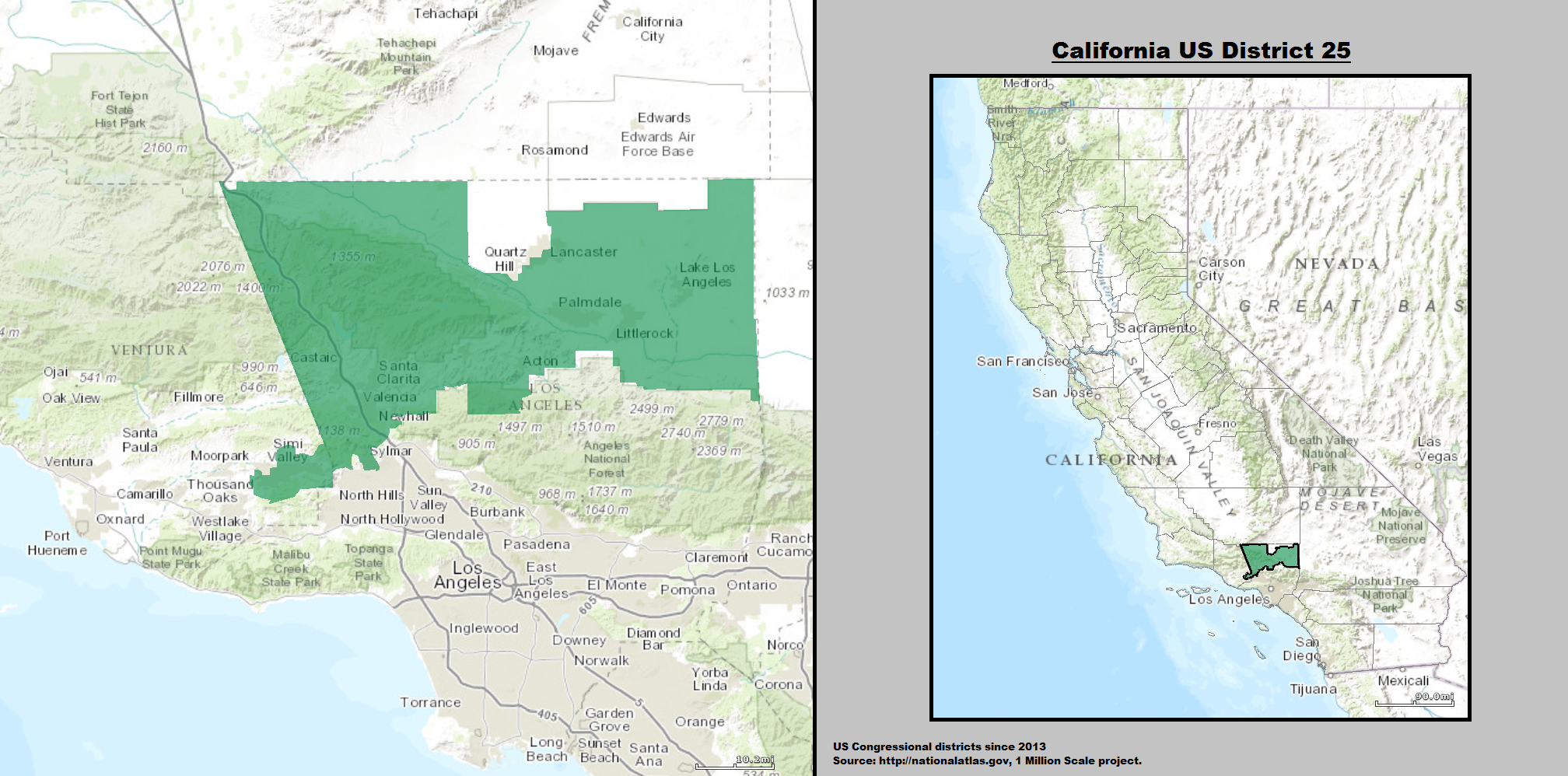 Two top-two primaries will take place on Mar. 3, 2020, in elections to represent California's 25th Congressional District. The seat is currently vacant following the resignation of Katie Hill (D) on Nov. 1, 2019.
The top two finishers in the primary for the regularly scheduled House election will advance to the Nov. 3, 2020, general election. The top two finishers in the primary for the special election that was scheduled as a result of Hill's resignation will advance to the May 12, 2020, election to complete Hill's term.
Eleven candidates are running in both primaries, so it will be possible for voters to vote for the same candidate twice.
Media coverage and endorsements in both races have focused on four candidates: Raytheon executive and former Navy pilot Mike Garcia (R), former Congressman Stephen Knight (R), California State Assemblywoman Christy Smith (D), and The Young Turks founder Cenk Uygur (D). All four are running in both primaries on Mar. 3.
The other candidates in both primaries are Robert Cooper (D), Getro Elize (D), Kenneth Jenks (R), David Lozano (R), Daniel Mercuri (R), David Rudnick (D), and Anibal Valdez-Ortega (D). Otis Lee Cooper (I) and George Papadopoulos (R) are only running in the regular primary, while Courtney Lackey (R) is only running in the special primary.
On the Democratic side, Smith was endorsed by Sen. Dianne Feinstein, Sen. Kamala Harris, U.S. House Speaker Nancy Pelosi, and the California Democratic Party. Uygur says his campaign is not accepting endorsements and has rejected PAC donations. He has criticized Smith for accepting money from several private industries. In response, Smith said, "I am determined to fight within the system as it is set up to make sure that we hold this seat." On the issue of healthcare, Smith has said she would "work with both parties to make healthcare affordable, protect people with pre-existing conditions, and lower drug costs." On the issue of healthcare, Uygur has said, "I'm the only candidate in this race who is in favor of Medicare for All."
On the Republican side, Garcia was endorsed by the Los Angeles Republican Party. Knight was endorsed by U.S. House Minority Leader Kevin McCarthy. Garcia has focused his messaging around issues regarding service members, stating he would "make it a priority to ensure our men and women in uniform have the funding and tools necessary to keep America safe." He also says he supports congressional term limits. Knight has highlighted his previous experience representing California's 25th District from 2015 to 2019. According to his campaign website, "As a Congressman, Knight quickly became known as a fierce advocate for fiscal responsibility, job creation and public safety in our nation's Capitol."
In the 2018 general election, Hill (D) defeated Knight (R) 54% to 46%. In 2016, Knight defeated Bryan Caforio (D) 53% to 47%. The 2017 Cook Partisan Voter Index for this district was EVEN, meaning that in the previous two presidential elections, this district's results were within one percentage point of the national average. Race raters have given Democrats a slight edge in the race. Of the three major race rating outlets, one rates the race as Lean Democratic, one rates it as Likely Democratic, and one rates it as Solid Democratic.
Eight special elections have been called during the 116th Congress.
Click here to learn more about California's 25th Congressional District election, and click here to learn more about California's 25th Congressional District special election.
Additional reading: