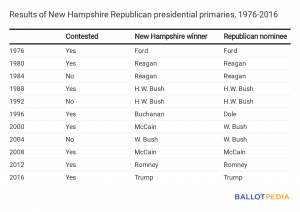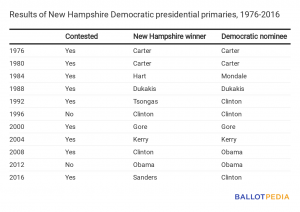 Former South Bend Mayor Pete Buttigieg is the Democratic delegate scoreboard leader, earning a projected 14 pledged delegates out of Iowa. Sen. Bernie Sanders (Vt.), the popular vote winner in Iowa, follows with 12 pledged delegates. The Sanders campaign requested the Iowa Democratic Party complete a partial recanvass of the results in 25 precincts and three satellite caucuses on Monday.
Three other candidates earned projected delegates in Iowa and have polled in the top five in New Hampshire: former Vice President Joe Biden and Sens. Amy Klobuchar (Minn.) and Elizabeth Warren (Mass.).
In total, 33 Democrats are listed on the New Hampshire primary ballot. To be allocated one or more of New Hampshire's 24 pledged delegates, a Democratic candidate must receive at least 15 percent support.
On the Republican side, President Donald Trump and 16 other Republicans are running for 22 delegates. Delegate allocation in the New Hampshire Republican primary is proportional.
Of the nine contested Democratic primaries since 1976, five New Hampshire primary winners became the nominee. On the Republican side, winners in six of the eight contested primaries became the nominee.
New Hampshire celebrates its centennial anniversary of holding the first-in-the-nation presidential primary this year. The nature of the primary has changed throughout the century, starting with voters choosing which party members would go to the nominating convention to backing the presidential candidate of their choice.
Additional Reading: