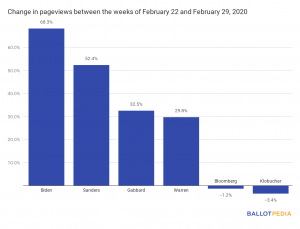 Each week, we report the number of pageviews received by 2020 presidential campaigns on Ballotpedia. These numbers reflect the time investments of our community of thousands of readers who visit a Ballotpedia because they think the candidate is worth knowing more about, whether they believe the candidate has a strong chance of winning or is an unknown who warrants a closer look.
Last week, Bernie Sanders led all Democratic campaigns in pageviews. His campaign page was viewed 11,201 times, equaling 32.9% of pageviews for all Democratic campaigns this week. He was followed by Joe Biden with 22.0% of pageviews and Michael Bloomberg with 22.0%. The only other Democratic candidate to receive more than 10,000 pageviews in a week was Marianne Williamson (12,172) during the week of the first primary debate.
Four Democratic candidates received more pageviews this week relative to last week. Joe Biden led all candidates with 68.3% more pageviews this week. Michael Bloomberg (1.2%) and Amy Klobuchar (3.4%) saw a decrease in their pageviews this week relative to last week.
The top three Democratic presidential candidates in lifetime pageviews are Biden with 173,616, Sanders with 165,148, and Elizabeth Warren with 153,225. Last week, Pete Buttigieg (184,297 pageviews) and Tom Steyer (57,800 pageviews) ended their campaigns.
Donald Trump received the most pageviews of the three Republican candidates for the first time. Trump received 7,975 pageviews, while Roque de la Fuente received 6,549 and Bill Weld received 5,333.
Click here to learn more.