Edition 5
This is our daily update on the plans federal, state, and local officials are making to set America on a path to recover from the coronavirus pandemic. Each day, we:
Want to know what happened yesterday? Click here.
The next 72 hours
What is reopening in the next few days? Which stay-at-home orders will expire?
The last 24 hours
Have any states opened in the last 24 hours? For a continually updated article on reopening status in all 50 states, click here.
Georgia Gov. Brian Kemp (R) extended the shelter-in-place order for the elderly and other medically fragile groups to June 12. As part of the order, long-term care facilities are also required to use enhanced infection control protocols. The stay-at-home order for all other groups expired April 30. Georgia is a Republican trifecta.
Michigan Gov. Gretchen Whitmer (D) signed an executive order extending the closure of bars, gyms, casinos, and theaters through May 28. Under the order, restaurants may continue offering only delivery or takeout services through May 28. Michigan is under divided government, with a Democratic governor and Republican majorities in both chambers of the state legislature.
Tennessee Gov. Bill Lee (R) announced that the state's Economic Recovery Group, made up of government and private sector leaders, had released guidelines for businesses set to reopen on May 6 in 89 of the state's 95 counties. The guidance, which applies to close contact businesses like barbershops and tattoo studios, includes best practices for social distancing and health screening. Tennessee is a Republican trifecta.
Tracking reopenings
The table and maps below show the status of plans to lift restrictions on activities because of the pandemic. We update them daily.
We place states into six categories. How does your state stack up?
Reopenings in progress: the state has already lifted restrictions on some industries put in place because of the pandemic.
Announced reopenings, effective date: the state will reopen or partially reopen three or more industries on a set date.
Announced reopenings, contingent date: the state will reopen or partially reopen three or more industries on a targeted date, dependent on other conditions.
Announced reopenings, no date: the state has a plan to reopen three or more industries entirely dependent on conditions.
Limited or no announced reopening plan: the state has not yet put forth a plan to reopen three or more industries
No state-mandated closures were issued.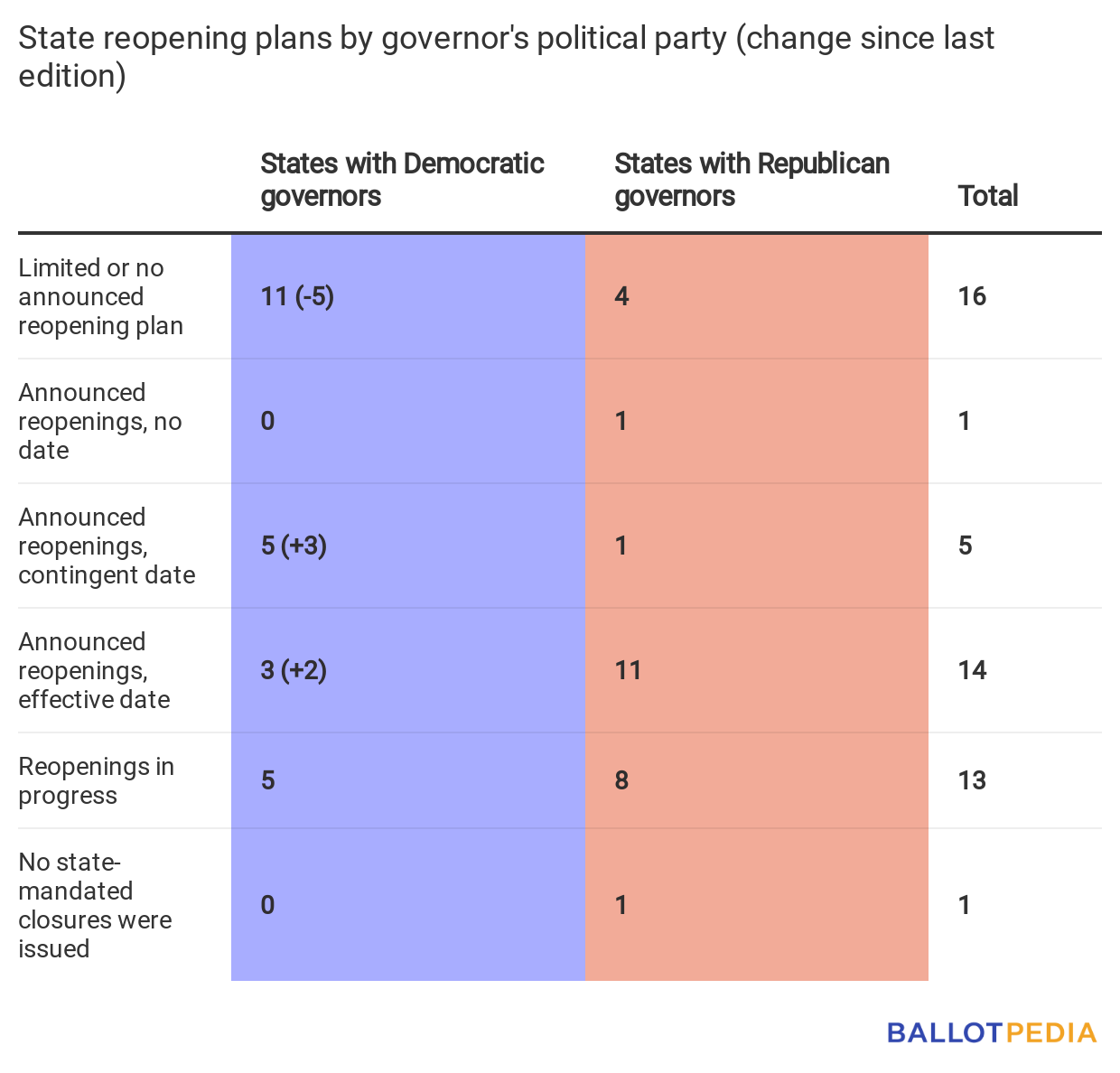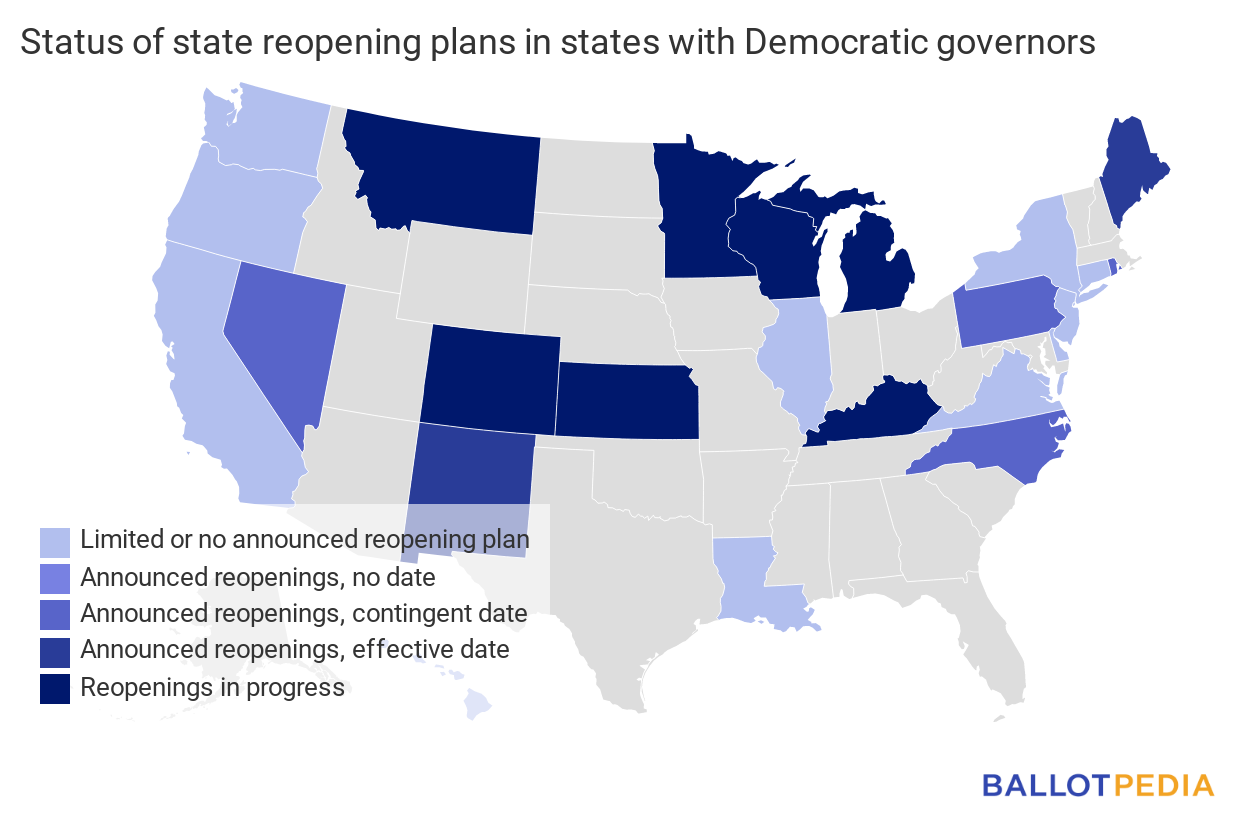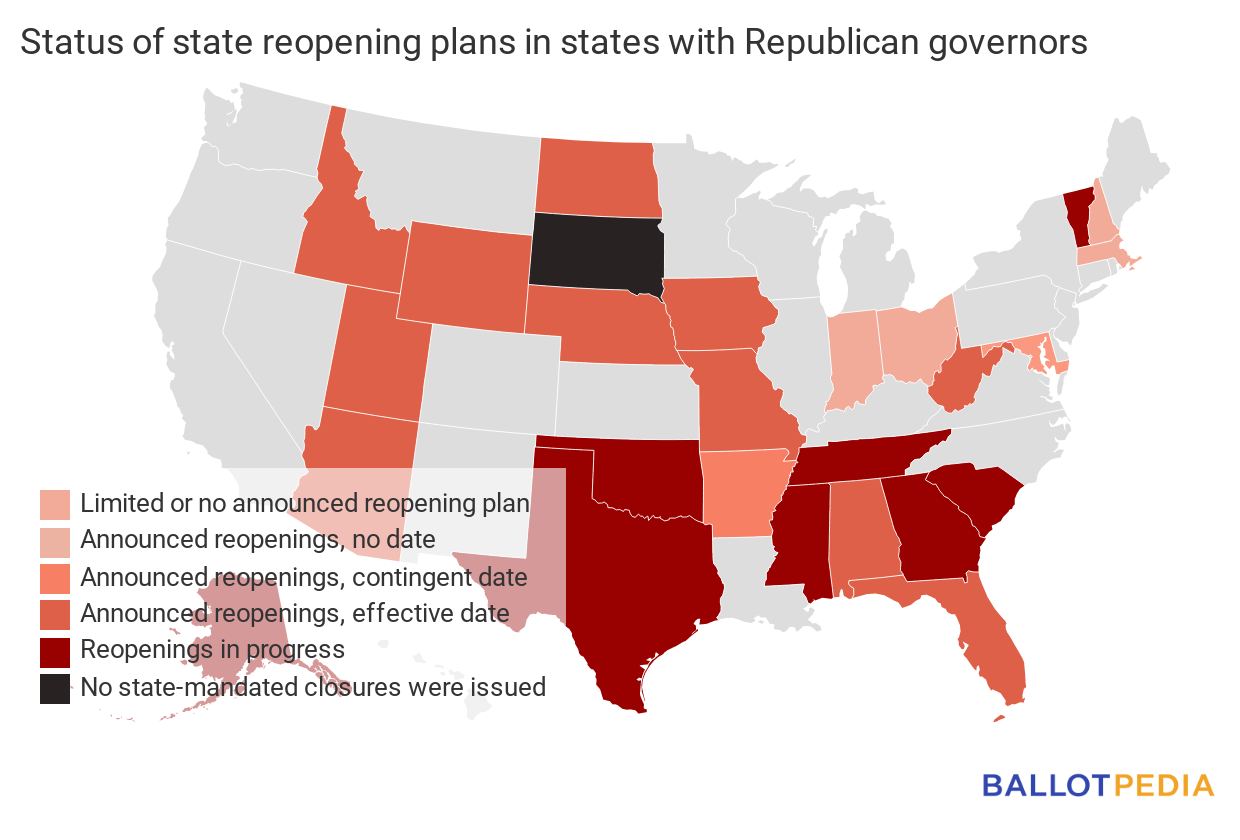 Featured plan
This is an in-depth summary of one of the latest reopening plans. Is there a plan you'd like us to feature? Reply to this email and let us know.
Thursday, Nevada Gov. Steve Sisolak (D) released "Nevada United: Roadmap to Recovery" outlining a four-phase plan for reopening the state. The timing of each phase will be based on meeting public health criteria.
Criteria for implementing Phase 1, which covers reopening some businesses and activities and relaxing stay-at-home provisions, include a 14-day downward trajectory of new cases and hospitalizations, the ability to maintain hospital capacity without crisis standards of care, and expanded testing ability. Additional criteria for this and other phases are summarized below. The target date for implementing Phase 1 is May 15.
On April 29, Sisolak released a directive initiating what he called Pre-Phase 1. The directive extends the state's stay-at-home order to May 15 and allows retail businesses to open for curbside pickup. It allows golf, tennis, and pickleball activities to resume with sanitation and social distancing measures. It also allows drive-up religious services to begin under certain conditions. The directive went into effect today.
Sisolak says his plan will be "federally supported, state managed, and locally executed." The plan states that "county governments will be empowered to tailor specific restrictions on business and public life, as long as those restrictions do not go below the strict standards the state issues in a future emergency directive for Phase 1 and future phases."
The plan establishes a Local Empowerment Advisory Panel and lists as members Clark and Eureka County Board of Commissioners chairs, representatives from the Nevada Association of Counties and the governor's office, and directors of the Nevada Department of Business and Industry and the Governor's Office of Economic Development. The panel will provide guidance to counties and to the governor's office throughout reopening.
The plan says the state will establish social distancing policies for each phase of reopening.
It also specifies that the Nevada Gaming Control Board will make decisions on reopening casinos.
The plan cites guidance from medical experts, the National Governors Association, the Western States Pact, the American Enterprise Institute, the White House, and the Centers for Disease Control.
Context
Plan details
Social distancing
The plan says "current Nevada statewide social distancing measures for COVID-19 are expected to continue into Phase 1 and will be subject to review as the State transitions into future phases."
Social distancing measures include (but are not limited to):
No gatherings of 10 or more people
Vulnerable populations staying home until the outbreak has subsided
Travelers self-quarantining for 14 days
Communities and individuals:

Wearing face coverings when going out
Staying at home as much as possible
Staying within one's county as much as possible
Keeping at least six feet of distance from others
Avoiding nonessential travel

Employers:

Encouraging telework where possible
Returning to work in phases if possible
Closing common areas
Current phase
Sisolak's April 29 directive included the following allowances, effective May 1:
All retail businesses allowed to operate curbside or do home deliveries. Must adopt sanitation and distancing measures issued by the Nevada State Occupational Safety and Health Administration.
Golf, tennis, and pickleball activities allowed to resume if they comply with social distancing and sanitation requirements
Drive-up religious services allowed as long as people stay in vehicles and maintain six feet of distance from people not in their household
Phase 1
Criteria for implementing Phase 1:
"Consistent and sustainable downward trajectory of COVID-19 cases and decrease in the trend of COVID19 hospitalizations over a 14-day period."
"Ability to maintain hospital capacity without Crisis Standards of Care"
"Expanded ability for healthcare providers to administer tests for symptomatic patients and sufficient laboratory testing capacity to process COVID-19 testing samples."
"Sufficient public health workforce capacity in local and state health departments to conduct case contact tracing (detect, test, trace, isolate)"
"Sustained ability to protect vulnerable populations; outbreaks minimized in special settings like health facilities and nursing homes."
Phase 1 includes:
Reopening of outdoor spaces, small businesses, and select retail under strict social distancing, hygiene, and occupancy measures.
No events or gatherings of more than 10 people.
Relaxing the stay-at-home order, moving to safer-at-home
Encouraging face coverings
Vulnerable populations staying home
The plan says Phase 1 has an "[a]nticipated evaluation period based upon metrics for an estimated 2-3 weeks."
Phase 2
Criteria for implementing Phase 2:
The plan states, "By the end of Phase 1, the State of Nevada and local government partners will have successfully expanded the public health infrastructure to a capacity to scale, allowing for widespread point-of-care testing, largescale case contact tracing, and the ability to care for vulnerable populations."
Phase 2 includes:
Broader opening of retail, services, and public life under "extremely strict social distancing measures, hygiene, and occupancy controls."
Safer-at-home recommendations remaining in place
Vulnerable populations staying home
Encouraging face coverings
Phase 2's duration is "[d]ependent upon progress toward goals and sustained ability to meet the criteria. Minimum of 2-3 weeks needed to assess and evaluate data and trends throughout phase."
Phases 3 and 4
Phase 3 will involve easing measures on some public gatherings and nonessential travel with modified operations. Vulnerable populations will be directed to remain home.
In Phase 4, most or all businesses can reopen with enhanced hygiene practices.
The plan cites the American Enterprise Institute's guidelines, which call for the "availability of therapeutics that can help mitigate the risk of spread or reduce serious outcomes in those with infections—or alternatively a vaccine has been developed and tested for safety and efficacy" before entering the final phase.
Additional activity
In this section, we feature examples of activities by other federal, state, and local governments and influencers relevant to recovering from the pandemic.
California Gov. Gavin Newsom (D) closed beaches in Orange County. Before the announcement, state officials were considering closing all beaches in the state. Following Newsom's order, the city councils of Huntington Beach and Dana Point each voted to pursue legal action against the closure.
The Beloved Church in Lena, Illinois, filed a lawsuit against Gov. J.B. Pritzker in the U.S. District Court for the Northern District of Illinois. The lawsuit argues that Pritzker's extended stay-at-home order is unconstitutional, claiming that the ban on in-person religious gatherings constitutes "second-class citizenship."
The mayor of Grants, Arizona, dismissed the city manager for refusing to instruct city employees to reopen a golf course. The state police issued a cease and desist order against the city golf course on April 27. Mayor Martin Hicks said he intended to reopen small businesses even though the state is under a stay-at-home order.