This is our daily update on how federal, state, and local officials are planning to set America on a path to recover from the coronavirus pandemic.
Each day, we:
Want to know what happened Friday? Click here.
The next two days
What is reopening in the next two days? Which stay-at-home orders will expire?
May 12
Ohio (Republican trifecta): Retail and consumer businesses can open May 12 under certain guidelines outlined in Gov. Mike DeWine's (R) Responsible RestartOhio plan, including requiring employees to wear face coverings with certain exceptions and limiting capacity to enable social distancing. On May 4, general office workplaces, manufacturing, distribution, and construction were allowed to resume.
Since our last edition
Have any states opened? For a continually updated article on reopening status in all 50 states, click here. For our last edition, click here.
Alabama (Republican trifecta): On Friday, May 8, Gov. Kay Ivey (R) announced that restaurants, hair and nail salons, and gyms could begin limited operations as of today. Restaurants, bars, and breweries can open with table limits of 8 people and six-foot distances between dining groups. Gyms and salons can open at 50% capacity and with social distancing and sanitation rules.
Delaware (Democratic trifecta): Gov. John Carney (D) announced the target date for phase one of the state's reopening is June 1. Carney said phase one will still require vulnerable residents to shelter in place, limit gatherings to 10 people, and schools will remain closed. Restaurants will be allowed to resume limited operations, elective surgeries will be allowed, and gyms can reopen with social distancing practices.
Florida (Republican trifecta): Palm Beach County was allowed to begin reopening Monday. Gov. Ron DeSantis (R) approved the reopening Friday, May 8. On Thursday, May 7, Palm Beach County Mayor Dave Kerner sent a letter asking DeSantis to allow the county to reopen under Phase One of the governor's reopening plan. Palm Beach was initially left out of the plan alongside Broward and Miami-Dade counties, while the rest of the state moved to Phase One.
Indiana (Republican trifecta): The second part of the second stage of the state's reopening plan takes effect today. Restaurant dining rooms are permitted to reopen at 50% capacity, and personal services (such as hair and nail salons, barber shops, and tattoo parlors) are allowed to resume operations by appointment only.
Kentucky (divided government): Phase 1 of Gov. Andy Beshear's (D) plan takes effect today. It includes reopening manufacturing, construction, vehicle or vessel dealerships, office-based businesses (at 50% capacity), horse racing (without spectators), and dog grooming and boarding services.
Maine (Democratic trifecta): On May 8, Gov. Janet Mills (D) unveiled a reopening plan for the following 12 rural counties: Aroostook, Piscataquis, Washington, Hancock, Somerset, Franklin, Oxford, Kennebec, Waldo, Knox, Lincoln, and Sagadahoc. Retail businesses in these counties were permitted to resume operations Monday. Restaurants in these counties are set to reopen on May 18.
Michigan (divided government): Manufacturing entities were allowed to resume operations. Michigan began its phased reopening process on April 24. We delve into Michigan's reopening plan in more detail below.
Mississippi (Republican trifecta): Barber shops, salons, and gyms were allowed to reopen starting Monday, May 11, subject to social distancing and other guidelines. Gov. Tate Reeves (R) announced the reopenings on May 8.
West Virginia (Republican trifecta): At a press conference on Monday, May 11, Gov. Jim Justice (R) announced that indoor dining at restaurants could resume at 50% capacity on May 21. Restrictions on some recreational activities will also be lifted on that date, including the reopening of state park campgrounds for residents of West Virginia.
Wisconsin (divided government): Gov. Tony Evers (D) announced on Monday, May 11, that standalone and strip mall-based retail stores can allow up to five customers at a time to shop in-store. Stores must enforce social distancing requirements, such as keeping shoppers at least six feet apart. Evers also announced that drive-in movie theaters can reopen.
Update on stay-at-home orders
Forty-three states issued orders directing residents to stay home except for essential activities and the closure or curtailment of businesses each state deemed nonessential. Seven states did not.
As of May 11, 16 governors have ended their state's stay-at-home orders. Twelve of those states have Republican governors and four have Democratic governors. Of the 27 states where governors have not ended their state's stay-at-home orders, seven have Republican governors and 20 have Democratic governors.
Here's which stay-at-home orders have expired, and when the rest are scheduled to expire.
Reopenings status
The table and maps below show the status of plans to lift restrictions on activities because of the pandemic. We update them daily.
We place states into six categories. How does your state stack up?
Reopenings in progress: the state has already lifted restrictions on some industries put in place because of the pandemic.
Announced reopenings, effective date: the state will reopen or partially reopen three or more industries on a set date.
Announced reopenings, contingent date: the state will reopen or partially reopen three or more industries on a targeted date, dependent on other conditions.
Announced reopenings, no date: the state has a plan to reopen three or more industries entirely dependent on conditions.
Limited or no announced reopening plan: the state has not yet put forth a plan to reopen three or more industries.
No state-mandated closures were issued.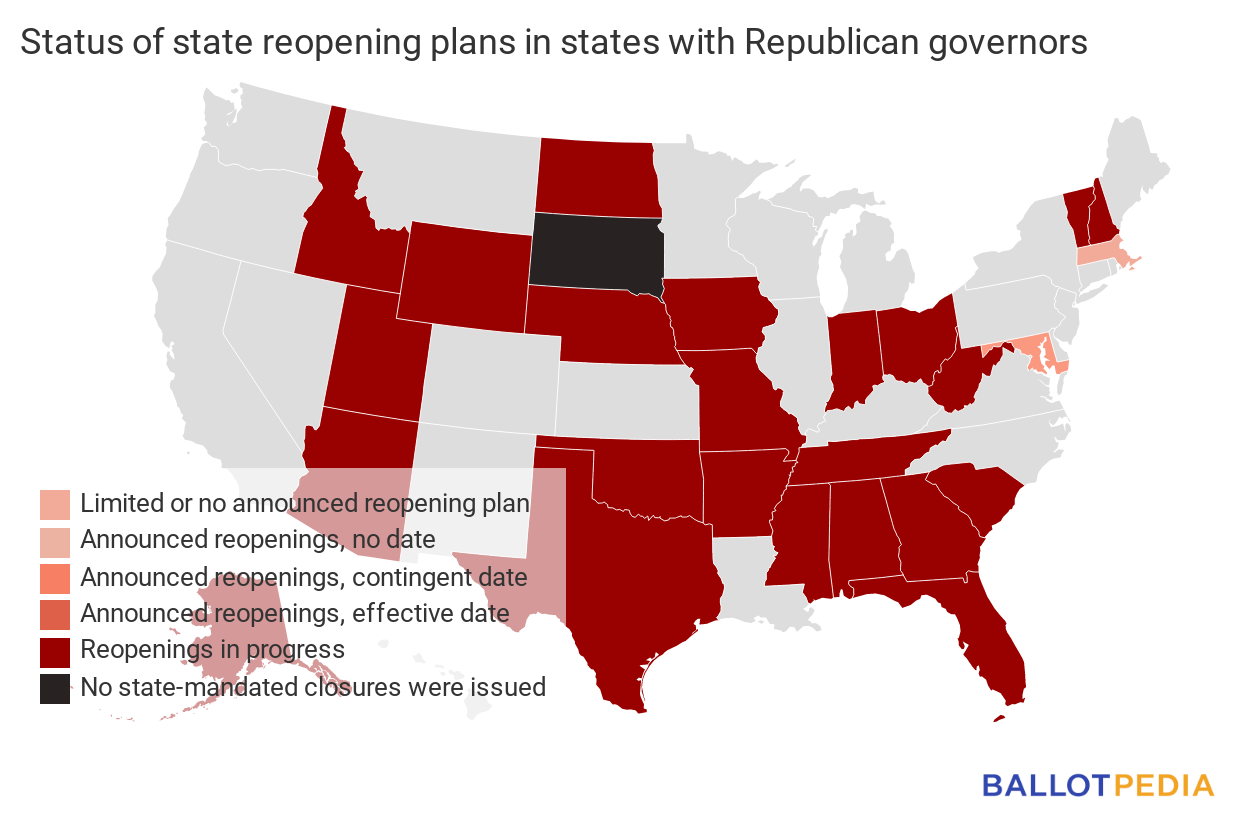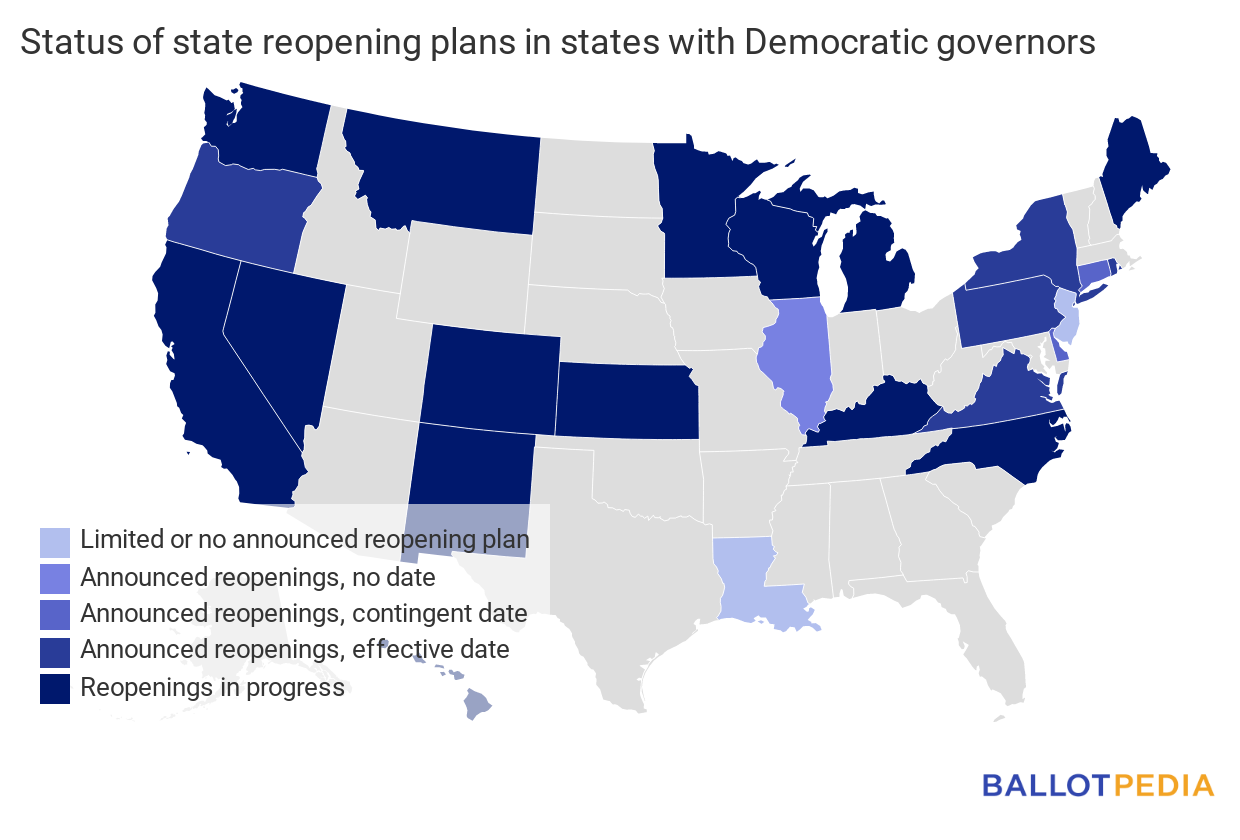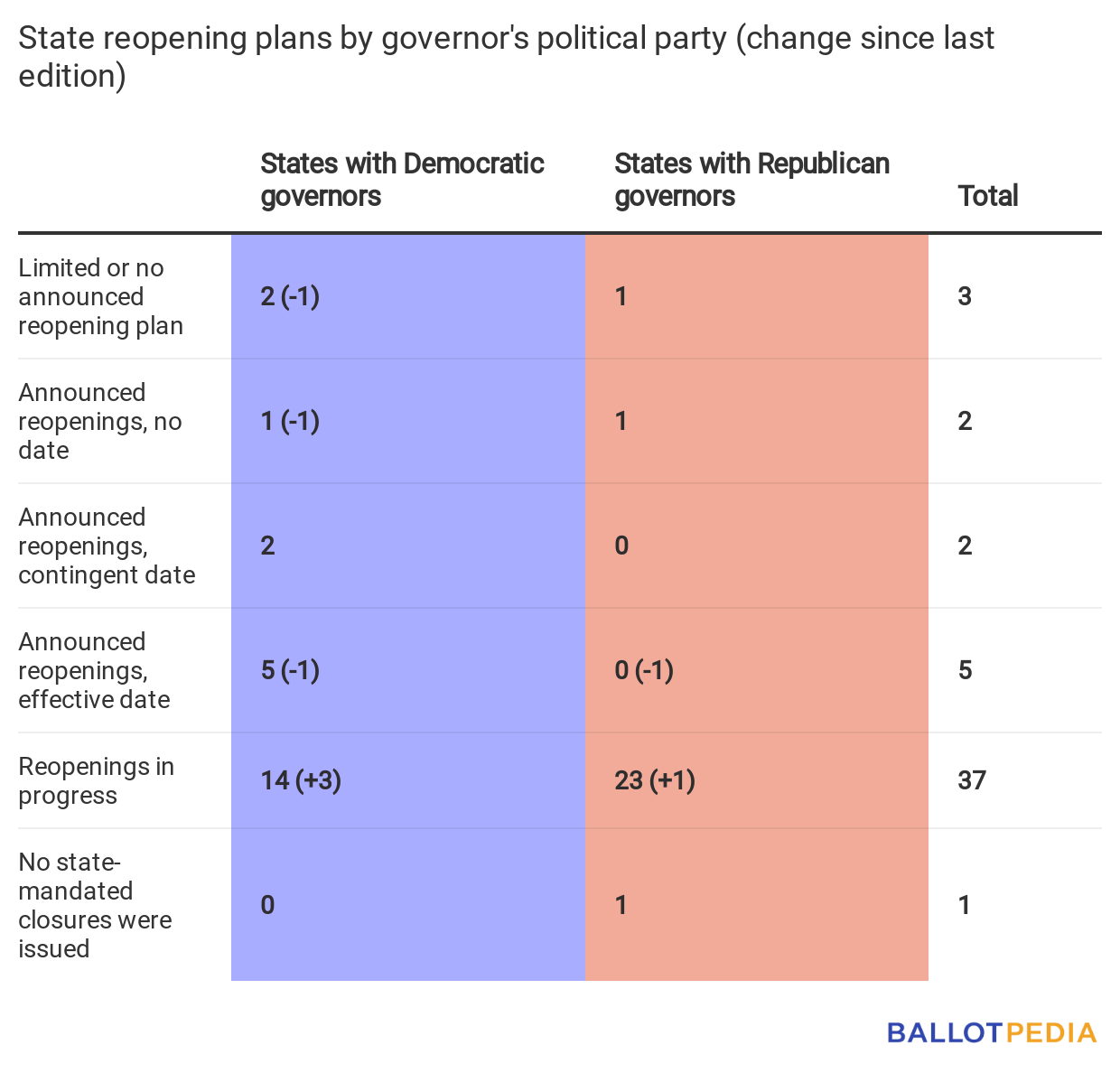 Featured plan
This is an in-depth summary of one of the latest reopening plans. Is there a plan you'd like us to feature? Reply to this email and let us know.
Michigan Gov. Gretchen Whitmer's (D) six-phase "MI Safe Start" plan is broken down by phases of disease spread and allows for eight different regions of the state to progress through phases at different times.
Whitmer said the whole state is currently in Phase 3. She modified the state's stay-at-home order May 7 allowing certain businesses to reopen, including manufacturing and construction under safety measures. The order is in effect until May 28.
The Safe Start plan does not contain target dates:
| | | |
| --- | --- | --- |
| " | New transmission can take some time to become visible, and we need to understand any impact of previous re-engagement activities on new disease spread before evaluating a transition to the next stage. As we move into later phases, or if our progress stalls out, it may take longer to move from one phase to another. | " |
The plan also states that moving to a previous stage is possible.
Moving from one phase to the next, and implementing the regional approach, will depend on answers to the following:
"Is the epidemic growing, flattening, or declining?"
Measured by: New cases per million, trends in new daily cases, percentage of positive tests
"Does our health system have the capacity to address current needs as well as a potential increase, should new cases emerge?"
Measured by: Hospital capacity, personal protective equipment availability
"Are our testing and tracing efforts sufficient to monitor the epidemic and control its spread?"
Measured by: Testing capacity, tracing/containment effectiveness
The plan says of the regional approach:
| | | |
| --- | --- | --- |
| " | That inquiry, too, must be holistic: a region with a low rate of infection may have limited hospital capacity, for example, which puts it at relatively greater risk if an outbreak occurs. Where appropriate, however, regional tailoring makes sense for a state as large and diverse as ours. | " |
Restrictions and allowances on businesses and individuals throughout the plan's six phases are discussed in detail below. The plan also contains 22 best practices workplaces should follow divided into five categories:
identifying possible virus introductions
social distancing
sanitation and hygiene
personal protective equipment
contact tracing and isolation
Whitmer developed the plan with the guidance of the Michigan Economic Recovery Council, consisting of a healthcare advisory group and a business advisory group. Members include health experts, company CEOs, labor and union leaders, and state department heads.
Context
Plan details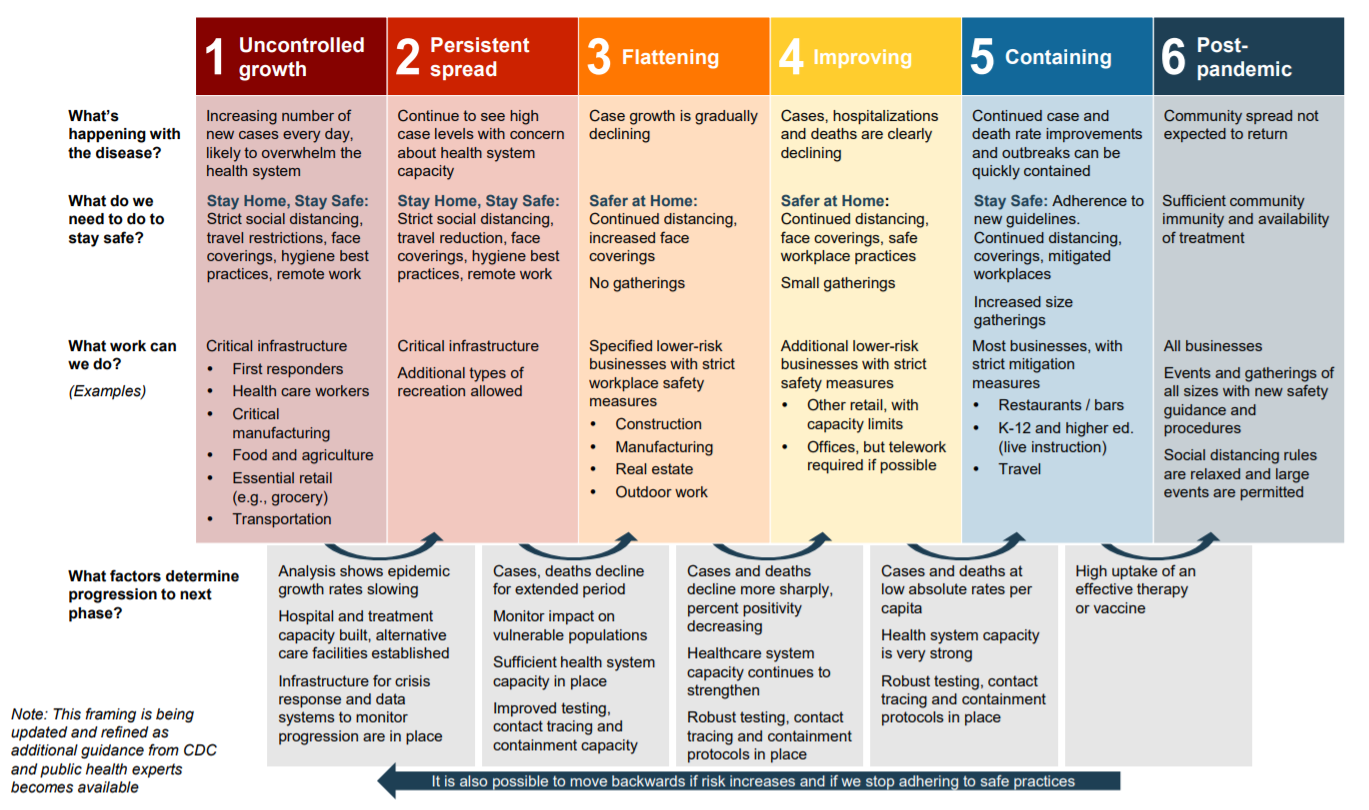 Restrictions in place throughout first 5 phases
Vulnerable individuals must shelter in place
Social distancing—maintaining six feet of distance from others when in public and outdoors
Isolation and quarantine: "Individuals who have confirmed or suspected COVID-19 must isolate, and any individual with a known exposure must quarantine, according to CDC and public health guidance"
Face coverings are required in enclosed public spaces through Phase 4 and required "wherever possible" in Phase 5
Below, the state's former Phase 1 restrictions and allowances are described, followed by details on what changed or will change in subsequent phases.
Phase 1: Uncontrolled Spread
Definition: "Increasing number of new cases every day, likely to overwhelm the health system."
Businesses:
"Only work that is necessary to protect or sustain life will be permitted"

Critical retail (such as grocery stores)
Public transportation
Restaurants/bars for takeout, delivery, and drive-through only
Critical manufacturing
Critical construction
Food and agriculture
Offices open only for critical workers
Childcare for critical workers
Individual/social:
Walking, hiking, biking permitted
Gathering prohibited
Phase 2: Persistent Spread
Definition: "Continue to see high case levels with concern about health system capacity. Only critical infrastructure remains open, with lower-risk recreational activities allowed."
New allowances:
Businesses:
Curbside or delivery for nonessential retail
Individuals:
Phase 3: Flattening
Definition: "Epidemic is no longer increasing and health system capacity is sufficient for current needs. Specified lower-risk businesses can reopen given adherence to strict safety measures."
New allowances:
Manufacturing with safety guidelines (See executive order 2020-77 for guidelines)
Construction with safety guidelines  (See executive order 2020-77 for guidelines)
Outdoor work with safety guidelines (See executive order 2020-70 for guidelines)
Real estate viewings by appointment, no more than four people on-premises at a time
Childcare for anyone resuming work
Phase 4: Improving
Definition: "Epidemic clearly decreasing and health system capacity is strong with robust testing and contact tracing. Additional businesses can reopen given adherence to strict safety measures."
New allowances:
Businesses:
"Most business and organizations will be open throughout this phase under strict safety measures."
Retail with safety guidelines (such as limited capacity)
Offices may open, but remote work still required where feasible
Summer educational programs in small groups
Individual/social:
Small group gatherings with social distancing permitted
Phase 5: Containing 
Definition: "Epidemic levels are extremely low and outbreaks can be quickly contained. Health system capacity is strong with robust testing and tracing. Most businesses can reopen given adherence to strict safety measures."
New allowances:
Businesses:
Restaurants and bars for dine-in with safety guidelines
Offices open with safety guidelines
Live educational instruction (K-12 and higher education)
Individual/social:
Face coverings wherever possible
Increase in gathering size limit, maintain social distancing
All outdoor recreation allowed
Phase 6: Post-pandemic
Definition: "Community spread is not expected to return (e.g., because of a vaccine) and the economy is fully reopened." The plan further says, "Reaching this phase would mean that community spread is not expected to return, because of sufficient community immunity and availability of treatment."
Businesses:
"All businesses and organizations open with some lasting safety requirements"
Individual/social:
"Minimal to no lasting limitations on personal and/or social activities"
Reactions
State Rep. Sara Cambensy (D) said on May 8, "All of us as (Upper Peninsula) legislators were surprised to see that we didn't have that regional approach or that talk from the governor yesterday. … We're going to do it safely, but we feel we're further along and ready to reopen based off of what the governor gave us yesterday with that one-blanket approach where we're all at level three still."
Joneigh Khaldun, Chief Medical Executive and Chief Deputy Director at Michigan Department of Health and Human Services, is a member of the Michigan Economic Recovery Council. On May 3, NBC's Chuck Todd asked Khaldun why the state was not ready to move to a regional approach yet. She said, "We are still seeing, for example, on the western side of the state that there are actually increases in the rate of rise of cases. … We also know again in some of our rural areas the number of hospital beds is actually not what it should be. Many of our hospitals in our rural areas are actually at capacity."
Michigan House Speaker Lee Chatfield (R) tweeted on May 7, "At first, the shutdown was to 'flatten the curve' so hospitals could manage COVID patients. We've done that. Governor today: 'All the decisions we've made are to lower the possibility of that second wave.' Unemployment still broken. Livelihoods destroyed. Goalposts moved."
Glenn Stevens Jr., vice president of Automotive and Mobility Initiatives for the Detroit Regional Chamber, said of Whitmer's May 7 order, "MICHauto and the Detroit Regional Chamber applaud the Governor for her continued steps to safely re-open our economy. Automotive and manufacturing is not only the backbone of our regional and state economy, it is essential to the functioning of the global supply chain."
Additional activity
In this section, we feature examples of activities by other federal, state, and local governments and influencers relevant to recovering from the pandemic.
Kentucky: Judge Gregory Van Tatenhove, of the U.S. District Court for the Eastern District of Kentucky, blocked the state from enforcing its ban on mass gatherings as applied to religious groups. The plaintiffs had alleged that state orders restricting mass gatherings and closing churches as nonessential businesses violated their First Amendment rights.Tatenhove found for the plaintiffs, writing, "Plaintiffs have established a likelihood of success on the merits with respect to their free exercise claim, and the Court grants their motion for a [temporary restraining order] on that basis. … To stay the prohibition on mass gatherings with respect to religious services which observe the social distancing guidelines promulgated by the Centers for Disease Control, as Tabernacle has promised to do, does not harm the Defendants. Finally, the public interest favors the enjoinment of a constitutional violation."

In a press conference on May 9, Gov. Andy Beshear (D) did not say whether his administration would appeal the decision. The case name and number are Tabernacle Baptist Church, Inc. v. Beshear (3:20-cv-0003).

Nashville, Tennessee restaurants and retail stores could open Monday, May 11, at half capacity and following other guidelines under Phase One of Mayor John Cooper's reopening plan. In Tennessee, six counties with their own health departments were responsible for developing their own reopening plans. Gov. Bill Lee's (R) reopening plan, which applies to the other 89 counties, allowed restaurants and retail businesses to reopen under certain guidelines April 27-29.
Pennsylvania: Gov. Tom Wolf (D) said that he would direct discretionary funding from the federal CARES Act to counties that follow his recommendations on reopening. The announcement came after several counties in the southern and central parts of the state threatened to reopen businesses even though Wolf had not yet moved them into the "yellow" phase of reopening.