This is our daily update on how federal, state, and local officials are planning to set America on a path to recover from the coronavirus pandemic.

Each day, we:
Track the status of reopening in all 50 states.
Compare the status of one industry or activity across the country.
Provide in-depth summaries of the latest reopening plans.
Give you the latest stories on other reopening plans and ideas.
Want to know what happened yesterday? Click here. (We mistakenly labeled our May 27 newsletter Edition 23. It was Edition 22.)
The next two days
What is reopening in the next two days? Which stay-at-home orders will expire?
May 29:
District of Columbia: Mayor Muriel Bowser (D) announced on May 27 that the nation's capital will begin Phase One of its reopening plan on May 29. Phase One will still prohibit gatherings of more than 10 people and require social distancing and face coverings. Retail curbside and delivery will be allowed, along with appointment-only services at barbershops and salons. Restaurants and mixed-use facilities that serve food may open for outdoor dining.
Hawaii (Democratic trifecta): Oahu county will be allowed to start reopening some types of businesses starting May 29, including barbershops, salons, and tattoo parlors. Outdoor attractions like waterparks are reopening starting May 28.
Illinois (Democratic trifecta): The state's stay-at-home order will expire on May 29. It will become the 30th state to end a stay-at-home order. Illinois is also expected to start the third phase of its reopening plan, which will allow non-essential retailers and manufacturers to begin reopening. Restaurants will also be able to open for outdoor dining and gatherings of up to 10 people will be permitted.
Maryland (divided government): Gov. Larry Hogan (R) announced on May 27 that the following businesses and activities will be allowed to reopen or resume effective May 29: outdoor dining at restaurants and social clubs; outdoor youth sports and outdoor activities at youth day camps; drive-in movie theaters; and other outdoor activities.
Michigan (divided government): The executive order delaying nonessential medical, dental, and veterinary procedures will be lifted effective May 29.
May 30:
Idaho (Republican trifecta): Gov. Brad Little (R) announced the state will move into the third phase of reopening starting May 30. Phase Three will allow non-essential travel and gatherings of up to 50 people. Bars will be able to reopen. Movie theaters, which had been scheduled to reopen in Phase 4, will also be permitted to reopen that day.
Missouri (Republican trifecta): The state's first reopening phase is scheduled to expire on May 30. Gov. Mike Parson (R) is expected to release Phase Two details on May 28.
Since our last edition
Have any states opened? For a continually updated article on reopening status in all 50 states, click here. For our last edition, click here.
Iowa (Republican trifecta): Effective May 28, bars and other alcohol-related establishments are permitted to reopen at 50 percent capacity. Earlier this week, Gov. Kim Reynolds (R) announced that the following businesses would be allowed to reopen at 50% capacity effective June 1: outdoor performance venues, casinos, bowling alleys, amusement parks, skating rinks, skate parks, and outdoor playgrounds.
Kansas (divided government): On May 26, Gov. Laura Kelly (D) announced that the state would no longer implement its reopening plan, delegating that authority instead to county-level governments. Kelly said, "The power to administer and regulate the plan will be up to each county. If a county wants to remain [under restrictions], it will need to issue its own emergency order to that effect."
Maine (Democratic trifecta): Gov. Janet Mills (D) announced that restaurant dine-in service in York, Cumberland, and Androscoggin counties would be limited to outdoor seating only, effective June 1. Restaurants in these counties had previously been set to resume indoor and outdoor dine-in service on June 1.
Mississippi (Republican trifecta): Gov. Tate Reeves (R) announced that his Safer At Home order will be replaced by a Safe Return order effective June 1. The order will allow all travel to resume. The order will allow for indoor gatherings of up to 20 people and outdoor gatherings of up to 50 people. If social distancing is possible, indoor gatherings of up to 50 and outdoor gatherings of up to 100 will be permitted. Reeves also issued an executive order allowing ballparks, theaters, libraries, and museums to begin opening June 1.
New York (Democratic trifecta): New York's statewide stay-at-home order expires at 11:59 p.m. on May 28. New York will be the 29th state to end a stay-at-home order. New York City will remain on PAUSE, which will keep what it deems non-essential businesses closed, limit social gatherings, and require social distancing. All of New York's other regions have started the process of reopening.
North Carolina (divided government): A bill that would allow bars to reopen at 50 percent capacity, outdoors only, passed the Senate. The House has not voted on the bill. Bars are not permitted to reopen until Phase 3 of North Carolina's reopening plan, scheduled to begin on June 26.
Pennsylvania (divided government): Gov. Tom Wolf (D) announced additional guidance for counties in the yellow and green phases of reopening. Wolf said that professional sports activities will be able to resume in green-phase counties, while restaurants in yellow-phase counties will be able to open for outdoor dining beginning June 5. Eighteen counties are scheduled to enter the green phase on May 29. State park beaches and pools will begin a phased reopening on June 6.
Update on stay-at-home orders
Forty-three states issued orders directing residents to stay home except for essential activities and the closure or curtailment of businesses each state deemed nonessential. Seven states did not.
As of May 28, stay-at-home orders have ended in 29 states. Eighteen of those states have Republican governors and 11 have Democratic governors (including Wisconsin, where the state Supreme Court invalidated the stay-at-home order). Of the 14 states with active stay-at-home orders, one has a Republican governor and 13 have Democratic governors.
Here's which stay-at-home orders have expired, and when the rest are scheduled to expire.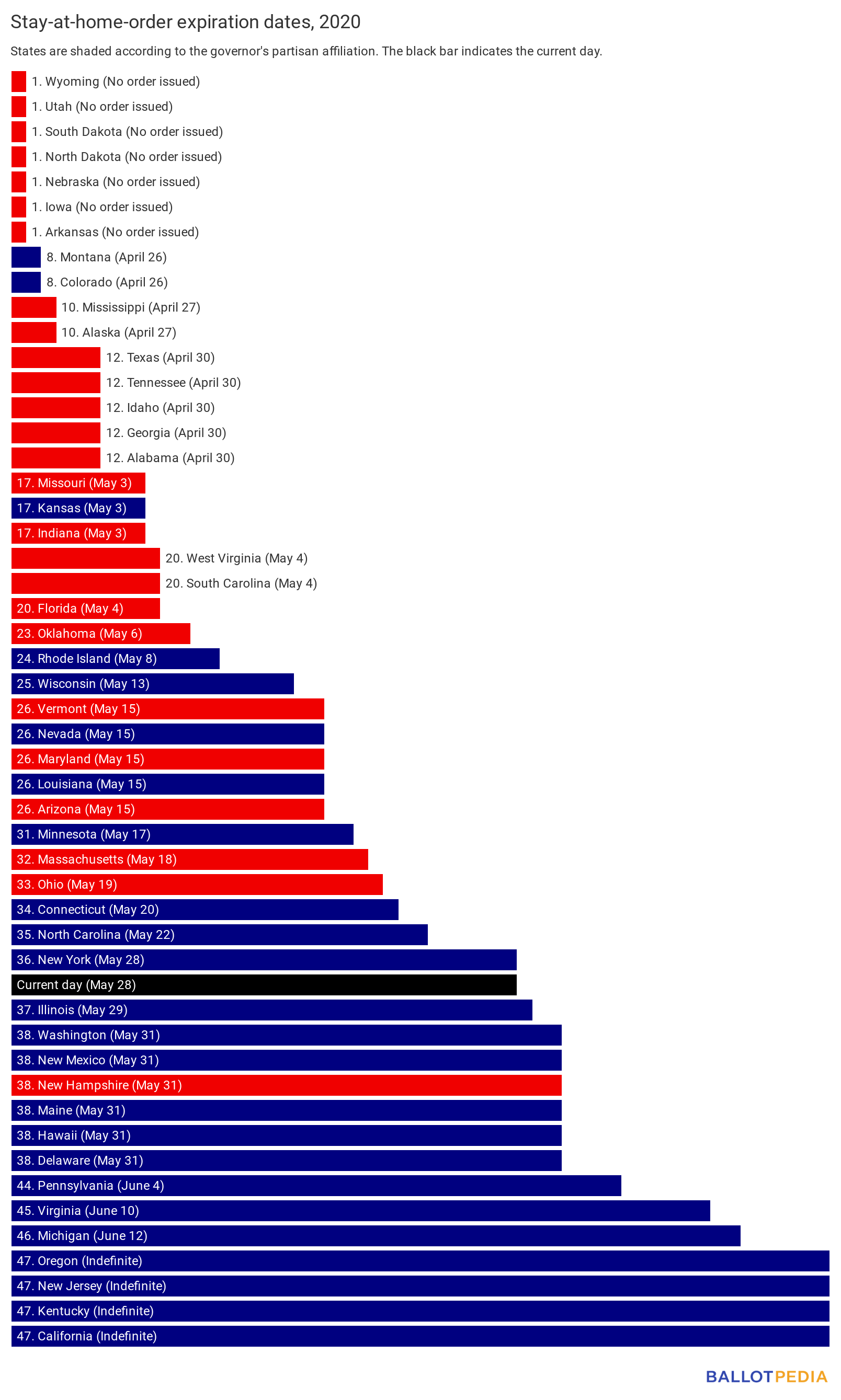 Tracking industries: Casinos
All 50 states began to reopen in some way. Here, we give the status of one industry or activity across the states. Today's question: in which states may you go to a casino and gamble? Tribal casinos operate independently of state rules and are not included in the figures below.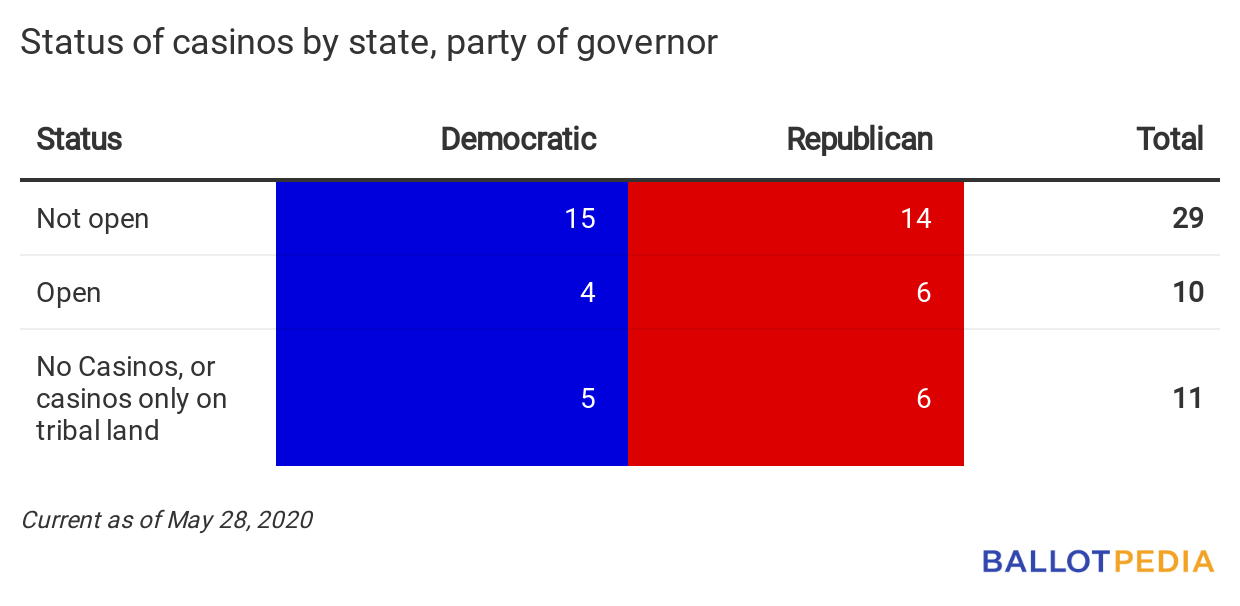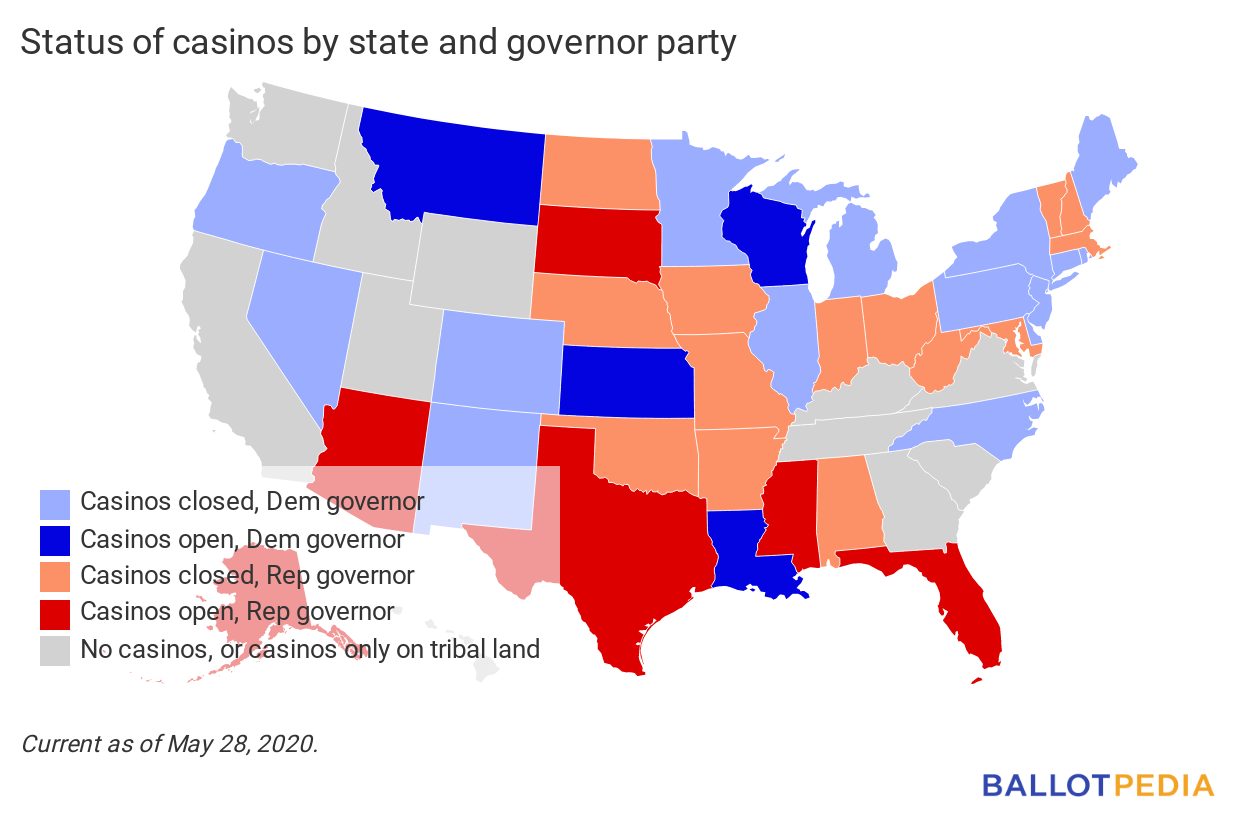 This is an in-depth summary of one of the latest reopening plans. Is there a plan you'd like us to feature? Reply to this email and let us know. Click a state below to read a previous Featured Plan.
Previous featured plans
On April 20, Gov. Bill Lee (R) announced that he would allow Tennessee's stay-at-home order to expire on April 30. He also announced that the majority of businesses across 89 of Tennessee's 95 counties would be allowed to reopen effective May 1.
The six counties exempted from Lee's announcement were Shelby, Madison, Davidson, Hamilton, Knox, and Sullivan. Lee said, "While I am not extending the safer-at-home order past the end of April, we are working directly with our major metropolitan areas to ensure they are in a position to reopen as soon and safely as possible. Social distancing works, and as we open our economy it will be more important than ever that we keep social distancing as lives and livelihoods depend on it."
On April 24, Lee unveiled the first version of the Tennessee Pledge, a set of guidelines from the Tennessee Economic Recovery Group establishing the phased reopening of state businesses. The Tennessee Economic Recovery Group's members include state legislators, officials from the state's executive departments, and business leaders. The Group's chairman is Mark Ezell, commissioner of the Tennessee Department of Tourist Development.
Context
On March 30, Lee signed Executive Order 22, which urged Tennesseeans to remain at home unless carrying out essential tasks and closed non-essential businesses. The order took effect on March 31 and was originally set to expire on April 14. On April 2, Lee signed Executive Order 23, which amended the original stay-at-home order and required residents to stay home. On April 13, Lee issued Executive Order 27, which extended the stay-at-home order through April 30, at which time it was allowed to expire.
As of May 27, Tennessee had 21,306 confirmed cases of COVID-19 and 353 confirmed fatalities. Tennessee's estimated population, as of July 2019, was 6.8 million. For every 100,000 residents, the state 312.0 confirmed cases and 5.2 confirmed fatalities.
Tennessee is a Republican trifecta, with a Republican governor and Republican majorities in both chambers of the state legislature.
Plan details
Tennessee Pledge provides the following general guidelines for all businesses
Employers:
Allow employees to work from home whenever possible.
Screen employees returning to work for COVID-19 symptoms (including temperature screening).
Direct employees exhibiting COVID-19 symptoms to leave immediately and seek medical care.
Implement workplace disinfection and cleaning practices.
Implement social distancing guidelines and modified scheduling.
Update employee illness policies.
Limit self-service options.
Publish extensive signage on health policies.
Employees:
Stay at home when feeling ill.
Practice social distancing and proper hygiene.
Wear a cloth face covering when working with the public.
Abide by employer guidelines.
Businesses have reopened as follows. Industry-specific guidance and recommendations can be accessed by clicking on an industry name.
May 1: 
May 6:
Close-contact businesses, including barbershops, hair salons, nail salons, spas, tanning salons, body-art facilities, and massage services (50% capacity; appointment only).
May 8: 
Small-group, non-contact recreation businesses, including bowling alleys, arcades, and water sports, and others (this category does not include theaters, concert and live performance venues, racetracks, amusement parks, or indoor children's play areas).
May 22: 
Shelby, Madison, Davidson, Hamilton, Knox, and Sullivan counties are reopening under local-level plans.
Compliance
Lee said that compliance with both the general and industry-specific guidelines would be voluntary. "We think that the consumers will enforce them, the business community itself will enforce them, the industry groups that have influence and impact and developed guidelines for industries, that's how this is going to be enforced."
Reactions
Lieutenant Governor Randy McNally (R) supported Lee's reopening plan: "Since the emergence of COVID-19 in this state, Governor Lee has been flexible and data-focused. Due to the Safer at Home order, the curve is flattening and damage to the public health has been minimized. We are testing more Tennesseans than ever and that will continue. We are now well-prepared for a cautious reopening and economic reboot. Our state has consistently balanced the health of our people with the health of our economy. That remains the case today as we prepare to reestablish Tennessee's strong and structurally sound economy."
Rep. Steve Cohen (D) opposed Lee's timetable for reopening: "I think it's a mistake to open so soon. I think we haven't even hit our peak, which is expected in May, late May, early June. That peak will be even higher and it will make it more difficult to service those that unfortunately will be stricken with the COVID-19 illness and have to go to the ICU. … We don't have the ability to test, which is necessary to open up, and I don't think the public's going to be ready to be going to restaurants or retail stores at this time. But that's the governor's decision."
Kara Koontz, owner of a Knox County salon, said, "We're excited to hear that news today, of course we're excited to get reopened and get back to doing what we love. However I do feel a huge sense of responsibility for when we reopen that we're just very responsible as we reopen."
Sarah Gavigan, a Nashville restaurateur, said, "Kitchens are very close quarters. And when we looked at the cost of reopening the dining room, it was not congruent with what we could do in sales at 50% occupancy."
Judge-Executive Mason Barnes, of Simpson County, Kentucky (which borders Tennessee), said, "I'm not sure how much more traffic we will see in Kentucky from people coming up from Tennessee, I guess my big concern is how many folks in our area might think well hey I can go down into Tennessee to get a hair cut, or I can go down and get my nails done especially in those personal contact providers. That may be our biggest challenge or our biggest concern."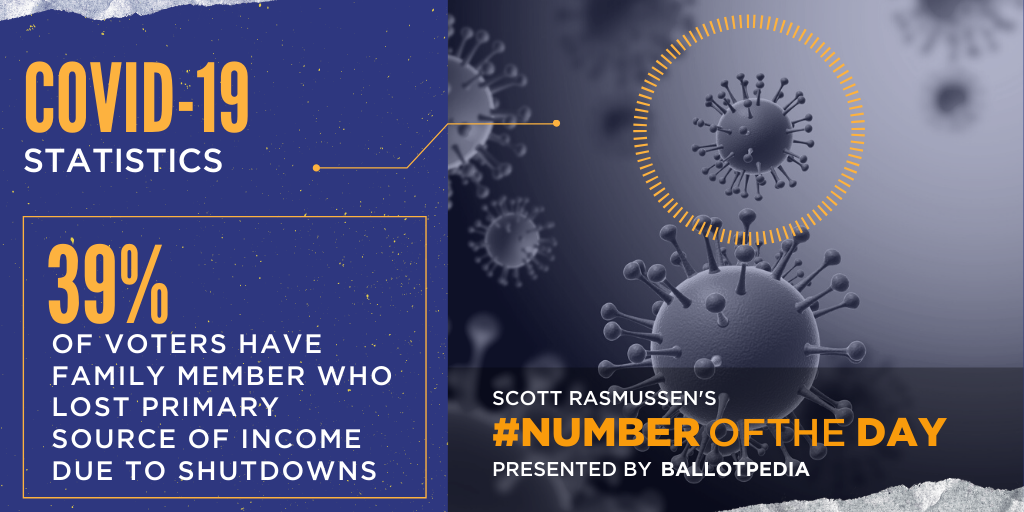 Additional activity
In this section, we feature examples of activities by other federal, state, and local governments and influencers relevant to recovering from the pandemic.