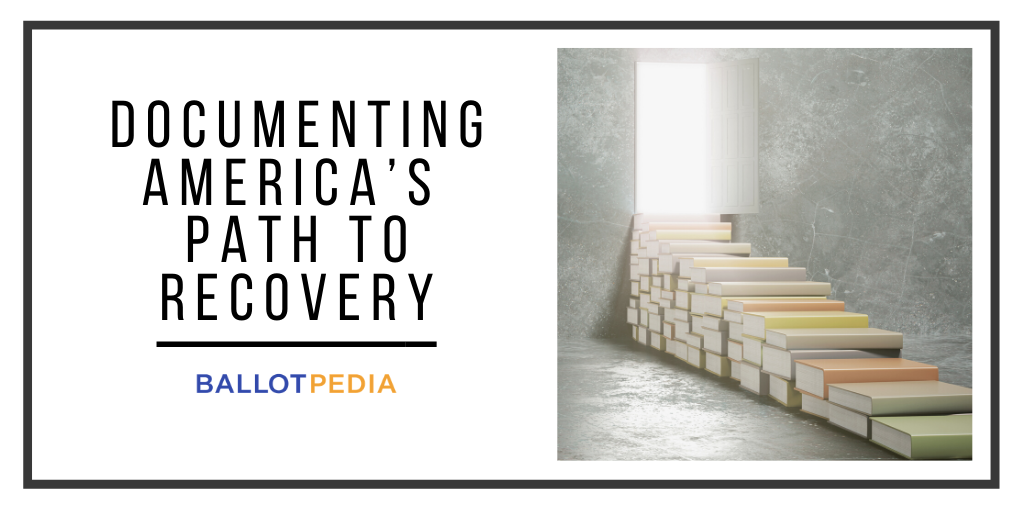 Each day, we:
Track the

status of reopening in all 50 states

.

Compare the status of one industry or activity across the country.

Provide in-depth summaries of the latest reopening plans.

Give you the latest stories on other reopening plans and ideas. 
Want to know what happened Friday? Click here.
---

The next two days
What is reopening in the next two days? Which stay-at-home orders will expire?
Louisiana

(

divided government

): Gov. John Bel Edwards (D) was scheduled to hold a

media briefing

at 2:30 p.m. local time, June 1. He is expected to make an announcement on the prospect of further reopenings. We will have more details in Tuesday's edition. 

Massachusetts

(

divided government

): Gov. Charlie Baker (R) is

expected

to issue an executive order on June 1 outlining which business sectors will be allowed to resume operations in each phase of the state's reopening. We will have more details in Tuesday's edition. Baker said a decision on the start date for Phase 2 would come on June 6. 
---

Since our last edition
Have any states opened? For a continually updated article on reopening status in all 50 states, click here. For our last edition, click here.
---

Update on stay-at-home orders
Forty-three states issued orders directing residents to stay home except for essential activities and the closure or curtailment of businesses each state deemed nonessential. Seven states did not.
As of June 1, stay-at-home orders have ended in 35 states. Eighteen of those states have Republican governors and 17 have Democratic governors (including Wisconsin, where the state Supreme Court invalidated the stay-at-home order). Of the eight states with active stay-at-home orders, seven have Democratic governors and one has a Republican governor.
Here's which stay-at-home orders have expired, and when the rest are scheduled to expire.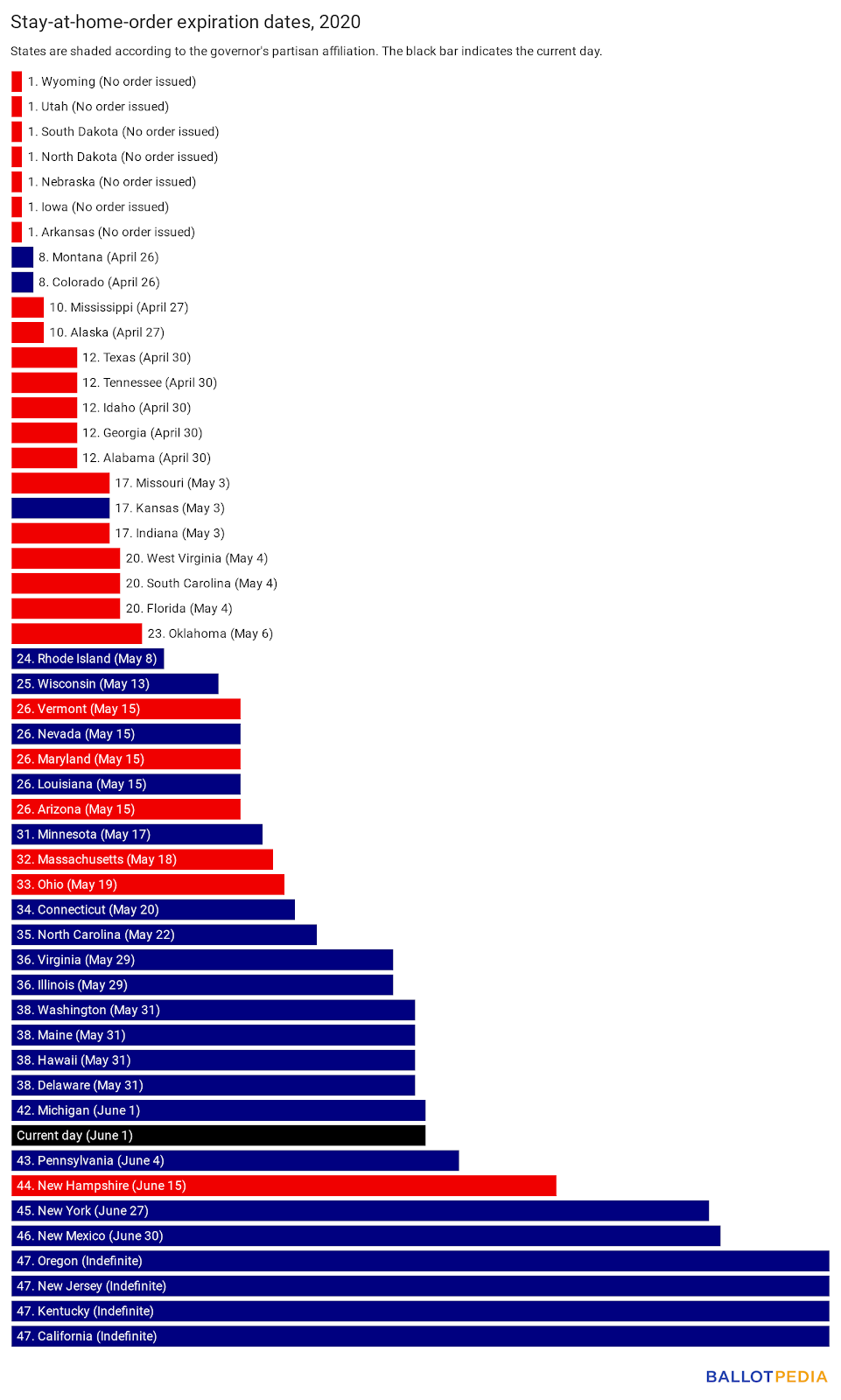 ---

Tracking regulations: Face covering and mask requirements
All 50 states began to reopen in some way. Here, we give the status of one industry or activity across the states. Today's question: in which states must someone wear a face covering while out in public?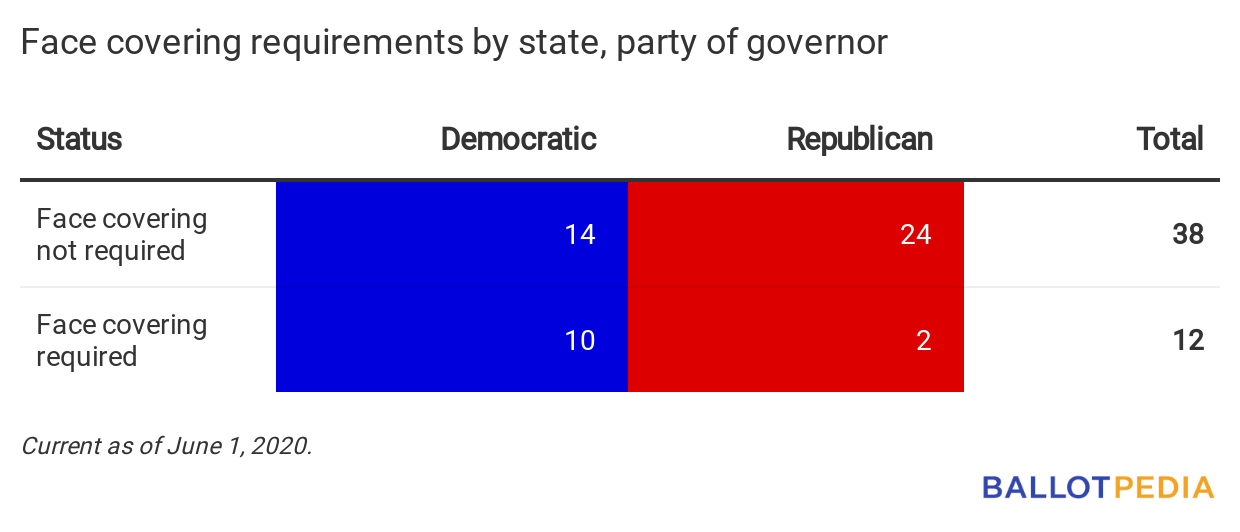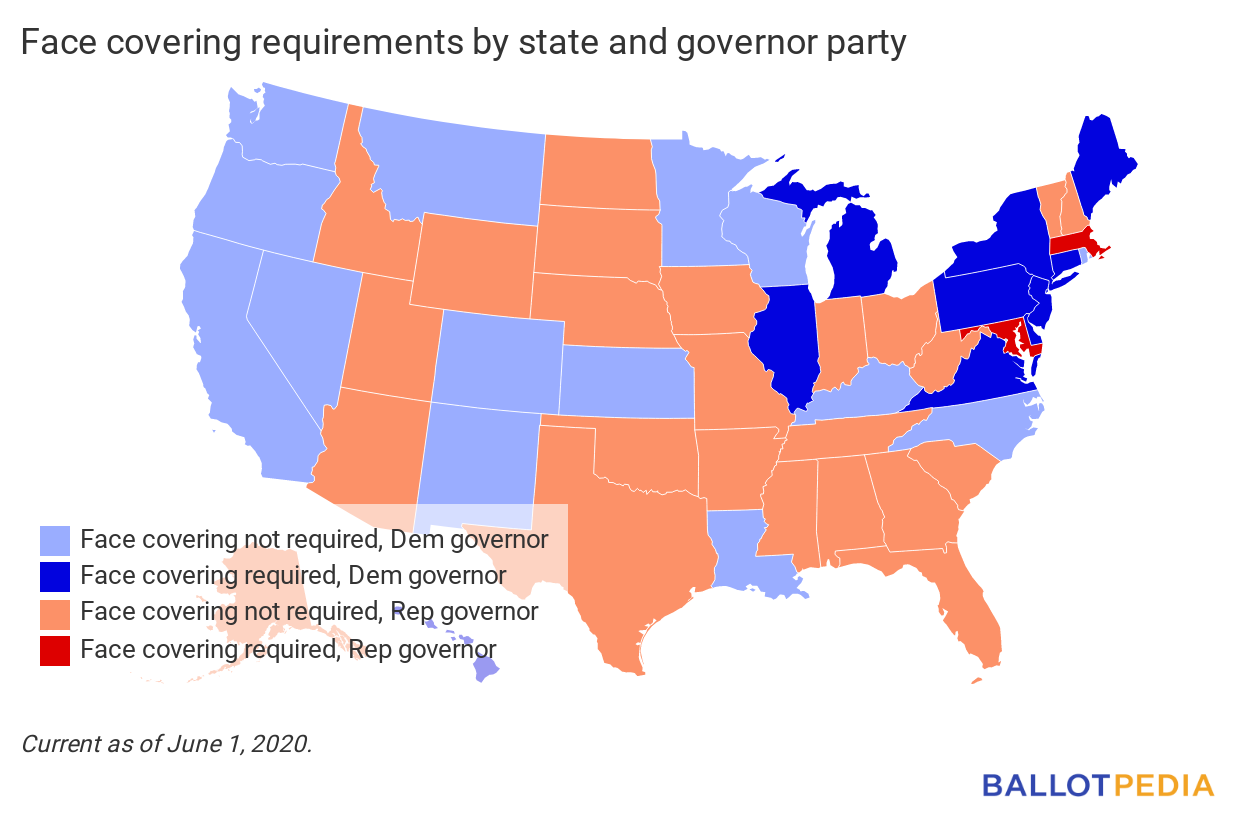 ---

Featured plan:
South Carolina's accelerateSC
This is an in-depth summary of one of the latest reopening plans. Is there a plan you'd like us to feature? Reply to this email and let us know. Click a state below to read a previous Featured Plan.
On April 20, South Carolina Gov. Henry McMaster (R) announced "accelerateSC," which the governor's office described as "a coordinated economic revitalization plan involving small and large business leaders, healthcare professionals, local government officials, and education professionals."
The advisory team has five groups with the task of identifying "issues, solutions, and assets necessary for a phased revitalization path for South Carolina's economy, guided by healthcare and medical data." AccelerateSC's final report, released May 28, contains 41 recommendations for the governor. 
The groups and their responsibilities are as follows:
Response:

"Identify challenges related to workforce capacity, workforce re-entry, critical industries, capital requirements, regulatory issues and supply chain/logistics."

Protection:

"Identify protective protocols for practical implementation in workplace and public, testing and contact tracing, supply of personal protective equipment, and long-term mitigation efforts to ensure economic revitalization."

Governance:

"Identify challenges faced by state and local governments, educational institutions, emergency services and first responders to proceed with economic revitalization."

Resources:

"Identify process and appropriate metrics for disbursing federal funds and to ensure transparency of all disbursed funds in consultation with appropriate stakeholders."

Information:

"Create consolidated information portal and associated dissemination methods related to citizens' inquiries associated with COVID-19."
Since accelerateSC's creation, McMaster has allowed businesses to reopen once the Response group released industry-specific safety guidelines. On May 11, McMaster said, "With our increased capacity for testing the people of our state, it is time to responsibly and gradually get these small businesses back up and running"
McMaster's order closing nonessential businesses to the public allowed businesses to request an evaluation from the state Department of Commerce to determine whether they may continue to operate. 
McMaster's nonessential business closure order and stay-at-home order said that no local ordinance, rule, or regulation may conflict with the statewide orders.
Context
McMaster issued an executive

order

closing several

nonessential businesses

to the public effective April 1. In another

order

, McMaster added retail to the nonessential businesses list effective April 6 (with curbside pickup and delivery allowed for retail). McMaster issued a

stay-at-home order

effective April 7, directing individuals to limit social interactions, practice social distancing according to Centers for Disease Control (CDC) guidelines, take precautions to avoid COVID-19, and limit movement outside the home except for essential activities. McMaster

lifted

the stay-at-home order on May 4.

As of May 31, South Carolina

had

11,861 positive COVID-19 cases and 494 deaths. South Carolina had an

estimated population

of 5.1 million as of July 2019. For every 100,000 residents, the state had 230.4 COVID-19 cases and 9.6 deaths.

South Carolina is a

Republican trifecta

, with a Republican governor and Republican majorities in both chambers of the state legislature.
Guidance for individuals
The final accelerateSC report advises individuals to do the following:
Wash your hands often with soap and water for at least 20 seconds. 

Cover your cough and sneezes with a tissue (that you then discard) or use the inside of your elbow. 

Practice social distancing – at least six feet, even when wearing a mask. 

Stay home if you're sick and avoid close contact with people who are sick. 

Clean and disinfect frequently touched surfaces daily, and more frequently if you are sick or caring for someone who is sick. 

Wear cloth face coverings in public settings, especially while in enclosed spaces where there are other people. 
The report also says, "At-risk populations (seniors, members of our minority communities and those with underlying medical conditions) should be particularly mindful of this guidance and should take special precautions." 
General business guidance
Most businesses

"must limit the number of customers allowed to enter and simultaneously occupy the premises so as not to exceed five customers per 1,000 square feet of retail space, or 20% of the occupancy limit as determined by the fire marshal, whichever is less. Businesses must not knowingly allow customers to congregate within six feet of one another, exclusive of family units."

"Businesses must also implement all reasonable steps to comply with sanitation guidelines of the CDC, [South Carolina Department of Health and Environmental Control (DHEC)] or any other state and federal public health officials."
April 20-21
The following were allowed to reopen April 20-21.
Public beaches (local officials given authority to decide whether to open)

Retail (with social distancing requirements; capacity limited to 20% occupancy or five customers per 1,000 square feet, whichever is less; and following guidance from CDC and DHEC)
May 4
Lifted:
Stay-at-home order (individuals the CDC deems at risk advised to continue limiting exposure to others)

Requirement for short-term rental companies to deny reservations to people from hotspots (areas the CDC identified as having extensive community spread)

Requirement for travelers from hotspots to self-quarantine for two weeks
May 8
May 11
May 18
The following could reopen with capacity limits and social distancing efforts:
Gyms/fitness centers (guidelines

here

)

Close-contact services—e.g., massage, barbershops, hair salons, nail salons, tattoo shops, waxing salons, tanning salons, spas (close-contact business guidelines

here

, cosmetology guidelines

here

)

Pools (guidance

here

)
May 22
The following could reopen:
Attraction facilities—e.g., zoos, museums, aquariums, amusement park rides, water parks (limit to 50% fire capacity for indoor spaces, keeping attractions that can't be sanitized between users closed, additional guidelines

here

) 
May 31
Youth sport could resume practice, with competitive play allowed June 15 (guidelines

here

)
Additional site-specific guidance
AccelerateSC released guidance for some industries and sites that McMaster did not order closed:
Reactions
On May 12, the South Carolina Senate

passed

a resolution rebuking McMaster for continuing the state of emergency over two months without seeking the legislature's permission. The resolution passed on a 17-16 vote. All 17 yes votes were from Republicans. Twelve Democrats and four Republicans voted against the resolution.

On April 29, state Rep. Gary Clary (R)

said

, "The governor is trying to gather as much information as he can from the business community, from the medical community, from the research institutions, so we can properly reopen South Carolina and do it in a logical way. … I think he certainly wants to reopen the state, just like I do. But it's got to be so that we do it in a manner in which everybody's protected."

On April 29, Republican state Reps. Josiah Magnuson, Jonathon Hill, and Stewart Jones

wrote

a letter to House Speaker JayJay Lucas (R) asking him to reconvene members of the state House to vote to end McMaster's renewed state of emergency order. They wrote, "If the 'essential' businesses can adopt safe practices to stop the spread of the coronavirus, then the supposedly 'non-essential' businesses can do so, as well. Thus, it is possible to immediately reopen all businesses while enforcing social distancing through temporary regulations."


---

---

Additional activity
In this section, we feature examples of activities by other federal, state, and local governments and influencers relevant to recovering from the pandemic. 
Florida officials

approved

Walt Disney World's

reopening plan last week. The theme park will begin a phased reopening on July 11 with limited capacity along with sanitation and social distancing protocols.

Georgia's

departments of education and public health

released

a 10-page guidance document for the state's school districts on reopening. The guidance is not legally binding because the state's 180 school districts operate independently. There are several reopening options, including alternating days and a model that allows for older students to distance learn while younger students receive in-person instruction.

Milwaukee

,

Wisconsin

Mayor Tom Barrett

announced

May 29 that the city's restrictions on restaurants, bars, and gathering spots would remain in place until further notice. 

The

Los Angeles County

Public Health Department in California

announced

it will allow restaurants and hair salons to open with distancing and infection control protocols. Gov. Gavin Newsom's (D) office approved the county's variance request, allowing it to reopen more businesses than the statewide plan currently allows. 

On May 28, Charleston Southern University student Jessica Taylor filed a class-action lawsuit in the

Charleston County

Court of Common Pleas (South Carolina) against the university. Taylor's

complaint

alleges that the university, which closed its campus effective March 18, "has not delivered the educational services, facilities, access, and opportunities that Plaintiff and the putative class contracted and paid for." The complaint seeks "refunds of the amounts Plaintiff and putative class members are owed, prorated to the amount of time that remained in the Spring semester when classes moved online and campus services ceased being provided." 
Click here to learn more.