Each day, we:
Track the status of reopening in all 50 states.
Compare the status of one industry or activity across the country.
Provide in-depth summaries of the latest reopening plans.
Give you the latest stories on other reopening plans and ideas.
Want to know what happened yesterday? Click here.
The next two days
What is reopening in the next two days? Which stay-at-home orders will expire?
June 4
Delaware (Democratic trifecta): Personal care services will be allowed to expand capacity to 50% occupancy or 50 individuals, whichever is fewer, on June 4. Also on that day, child care facilities will be allowed to operate at their full occupancy. Gov. John Carney (D) announced on June 2 that the state would enter Phase Two of its reopening plan on June 15. At that time, Restaurants, retail stores, and malls may increase capacity from 30% to 60%. Personal care services and gyms will remain at 30% occupancy.
Michigan (divided government): Retail stores statewide will be allowed to reopen on June 4. Capacity will be limited to 25% for stores with less than 50,000 square feet of customer floor space. For larger stores, the number of customers cannot exceed 4 per 1,000 square feet of customer floor space.
Oregon (Democratic trifecta): On June 4, Gov. Kate Brown will announce a list of counties that have been approved to enter the second phase of the state's reopening plan. Phase Two will allow recreational sports and businesses like movie theaters, bowling alleys, and pools to begin reopening.
Pennsylvania (divided government): The state's stay-at-home order is set to expire on June 4, which will make Pennsylvania the 36th state to lift a stay-at-home order. The 10 remaining red-phase counties are expected to enter the yellow phase on June 5. Gov. Tom Wolf (D) announced a phased reopening plan for K-12 schools in the state that will allow yellow and green phase counties to start opening schools on July 1.
June 5
Louisiana (divided government): Louisiana will move into Phase 2 of its reopening plan on June 5. In Phase 2, the following businesses will be allowed to reopen at 50% capacity: restaurants and coffee shops; shopping malls; gyms and fitness centers; barbershops and nail salons; movie theaters; racetracks (without spectators); museums, zoos, and aquariums; bars and breweries with food permits; massage services; spas; tattoo parlors; esthetician services; pool halls, bowling alleys, and skating rinks; event centers and wedding venues; and outdoor playgrounds and play centers. Phase 2 will last at least 21 days.
Vermont (divided government): Gov. Phil Scott (R) announced at a press conference on June 3 that he hopes to reopen restaurants to indoor dining on June 5. He also said he was working on a change to the quarantine requirement for out-of-state visitors and would say more about that plan on June 5.
Virginia (Democratic trifecta): Gov. Ralph Northam (D) announced that much of the state would advance to Phase 2 of the reopening plan. Northern Virginia, the city of Richmond, and Accomack County will remain in Phase 1. Northam said he would provide more guidance for areas entering Phase 2 on June 3.
West Virginia (Republican trifecta): Movie theaters and casinos may reopen on June 5. Both types of businesses will need to limit their capacity to 50%.
Since our last edition
Have any states opened? For a continually updated article on reopening status in all 50 states, click here. For our last edition, click here.
Florida (Republican trifecta): Gov. Ron DeSantis (R) announced that beginning on June 5 bars may reopen at 50% capacity inside and full capacity outside, with service only for seated patrons. Movie theaters and bowling alleys can reopen at 50% capacity on that day. The new rules apply to all counties except Miami-Dade, Broward, and Palm Beach.
New York (Democratic trifecta): On June 2, Gov. Andrew Cuomo (D) announced that summer day camps can reopen on June 29. The Capital region entered Phase 2 of Cuomo's reopening plan, "NY Forward," on June 3. It is the seventh region to move into that phase, out of 10 regions in the state. Under Phase 2, the following businesses and activities can resume: offices (50% occupancy), real estate, in-store retail (50% occupancy), vehicle sales, leases and rentals, retail rental, repair and cleaning, commercial building management (50% occupancy), and salons and barbershops (50% occupancy).
North Carolina (divided government): Gov. Roy Cooper (D) said on June 2 that North Carolina was not yet ready to move into Phase 3 of the reopening plan, based on recent health and hospital data. Phase 2 will run through at least June 26 unless changed or canceled by state officials.
Ohio (Republican trifecta): Gov. Mike DeWine (R) said on June 2 that he plans to address the reopening of large-attractions, such as museums and zoos, in a briefing on June 4.
Washington (Democratic trifecta): Following the expiration of the stay-at-home order on May 31 and the transition to a fully regional approach to reopening, three counties on June 3 applied to advance to Phase 3 of the reopening plan. Counties must stay in Phase 2 for three weeks before they can apply to move to the next stage. In Phase 3, theaters and gyms can reopen at 50% capacity, and public gatherings can include up to 50 people.
Update on stay-at-home orders
Forty-three states issued orders directing residents to stay home except for essential activities and the closure or curtailment of businesses each state deemed nonessential. Seven states did not.
As of June 3, stay-at-home orders have ended in 35 states. Eighteen of those states have Republican governors and 17 have Democratic governors (including Wisconsin, where the state Supreme Court invalidated the stay-at-home order).
Of the eight states with active stay-at-home orders, seven have Democratic governors and one has a Republican governor. They are (with expiration date):
Pennsylvania (June 4, Democratic governor)
New Hampshire (June 15, Republican governor)
New York (June 27, Democratic governor)
New Mexico (June 30, Democratic governor)
California (no set expiration date, Democratic governor)
Kentucky (no set expiration date, Democratic governor)
New Jersey (no set expiration date, Democratic governor)
Oregon (no set expiration date, Democratic governor)
The chart below shows when stay-at-home orders ended in other states.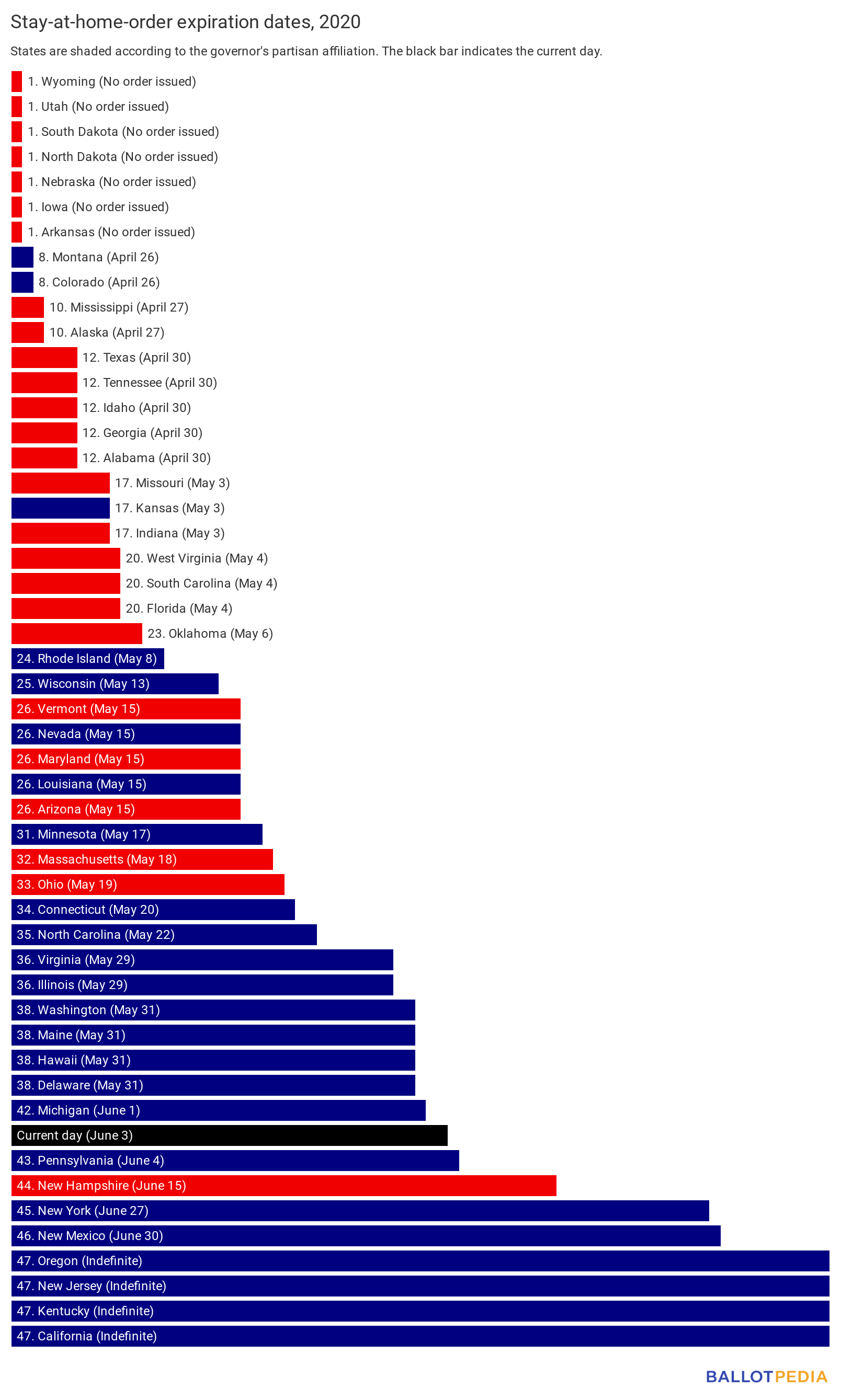 Tracking industries: Places of worship
All 50 states have reopened in some way. Here, we give the status of one industry or activity across the states. Today's question: in which states may you attend an indoor religious service?
New Jersey is the only state that does not allow indoor religious services at places of worship, in any regions or counties. Services must be held outdoors and patrons must remain in their vehicles. If cars cannot be spaced six feet apart, windows must remain closed.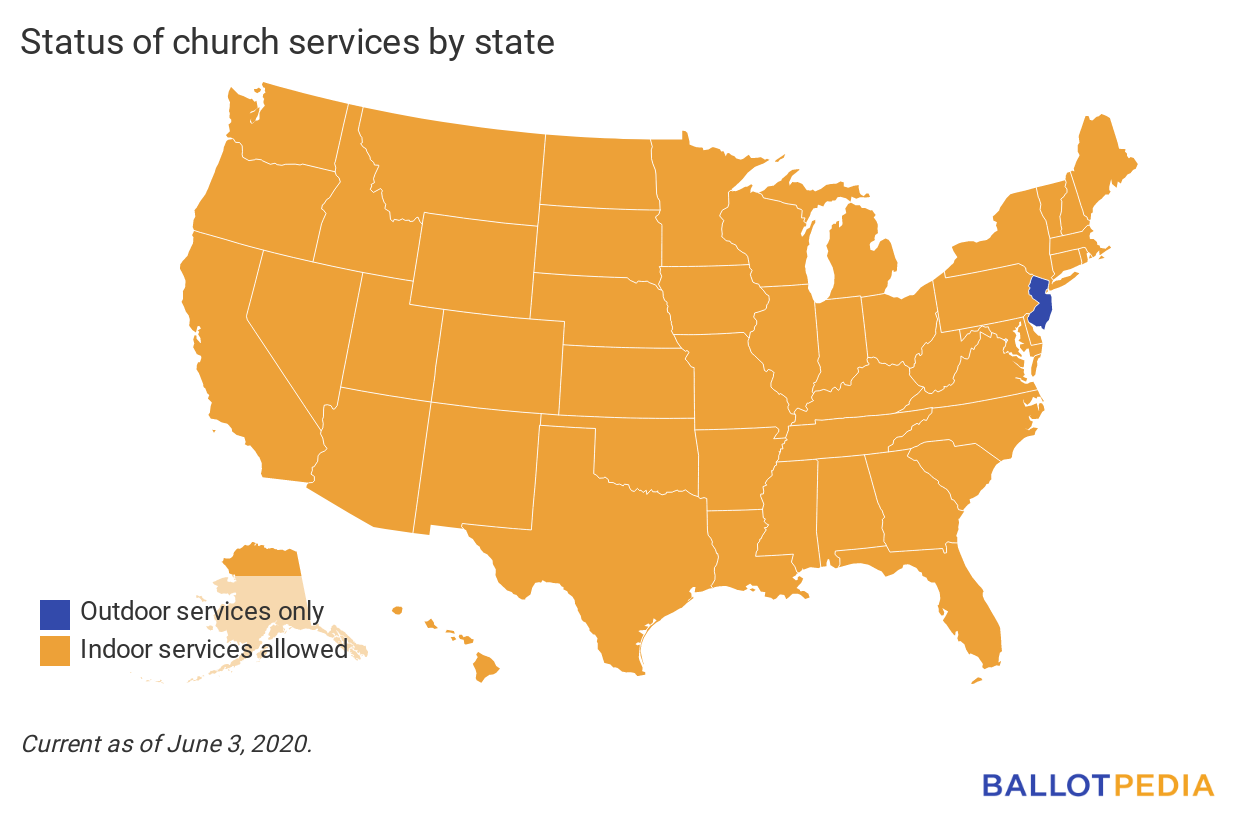 Here are examples of other rules in place around religious services:
Rules vary by region in some states, like Pennsylvania and Washington. For example, some counties only permit outdoor or drive-up religious services.

In Pennsylvania, places of worship in counties in the red phase of the reopening plan are permitted only to hold drive-up services. Ten counties are in the red phase, though they are expected to move to the yellow phase by June 5. In the yellow phase, places of worship may open for up to 25 people. In the green phase, there are no restrictions except requiring individuals to follow CDC and Pennsylvania Health Department guidelines.
In Washington, places of worship in counties in Phase 1 of the reopening plan may hold outdoor services only with up to 100 people. Phase 2 permits houses of worship to hold indoor services with 25% capacity or 50 people, whichever is less.

Places of worship in California, Connecticut, Louisiana, Minnesota, North Carolina, Rhode Island, and Vermont are limited to 25% capacity.
In Maryland and Virginia, places of worship are limited to 50% capacity.

This is an in-depth summary of one of the latest reopening plans. Is there a plan you'd like us to feature? Reply to this email and let us know. Click a state below to read a previous Featured Plan.
Previous featured plans
On April 16, Missouri Gov. Mike Parson (R) announced the initial framework for the "Show Me Strong" recovery plan, outlining four pillars on which reopening would be based:
Rapidly expand testing capacity and volume in the state, including testing for those who are currently contagious and those who have developed immunity to the virus
Expand reserves of PPE by opening public and private supply chains and continuing to utilize Missouri businesses in that effort
Continue to monitor and, if necessary, expand hospital and health care system capacity, including isolation and alternate care facilities for those that cannot self-quarantine at home
Improve ability to predict potential outbreaks using Missouri's public health data
On April 27, Parson announced a new health order allowing Phase 1 to begin on May 4, citing "favorable data and approval from state health officials." All businesses could reopen as long as they adhered to social distancing requirements. Additional restrictions apply to restaurants and retail businesses.
The plan also includes social distancing requirements for individuals and other guidelines for businesses, individuals, and communities.
The state had not moved into Phase 2 as of June 3, and details on the phase were not available. On May 28, Parson said the next phase would involve moving away from orders: "We're gonna have to live without an order and … we're gonna have to take it upon ourselves to do [social distancing]."
Local governments are allowed to implement greater restrictions on businesses and individuals than the state reopening plan.
Context
Plan details
Requirements for individuals and businesses
The Show Me Strong Recovery order says individuals and businesses must follow social distancing guidelines, with certain exceptions:
"In accordance with the guidelines from the President and the Centers for Disease Control and Prevention (CDC), every person and business in the State of Missouri shall abide by social distancing requirements, including maintaining six feet (6') of space between individuals. This provision shall not apply to family members or individuals performing job duties that require contact with other people closer than six feet (6')."
"Individuals performing job duties that require contact with other people closer than six feet (6') should take enhanced precautionary measures to mitigate the risks of contracting or spreading COVID-19. This provision shall apply in all situations, including, but not limited to, when customers are standing in line or individuals are using shared indoor or outdoor spaces."
The plan's FAQ page further says of individuals performing jobs that require contact with people closer than six feet:
"Businesses and employees should work together to implement public health and safety measures for employees and customers, using this site as a guide, in addition to any guidance provided by the Centers for Disease Control and Prevention (CDC). Under these conditions, businesses such as barber and cosmetology shops, hair salons, and tattoo parlors are allowed to operate."
Gyms and hotel swimming pools can also open if they adhere to strict social distancing and sanitation protocols.
Capacity limits for retail businesses
Requirements for retail buildings subject to fire or building code occupancy limits:
For smaller locations (less than 10,000 square feet), they must maintain 25 percent or less of the authorized occupancy;
For larger locations (10,000 square feet or greater), they must maintain 10 percent or less of the authorized occupancy.
The plan includes a formula for businesses not subject to local fire or building code occupancy limits.
Employees and vendors do not count toward capacity limits. The restrictions do not apply to hotels or restaurants. For additional details on capacity limits, click here.
Requirements for restaurants
Restaurants may reopen for dine-in services under the following conditions:
"Restaurants may offer dining-in services, but must adhere to social distancing and other precautionary public health measures. Tables must be spaced at least six feet apart. Communal seating areas for parties that are not connected are prohibited. There can be no more than ten people at a single table. The continued use of drive-thru, pickup, or delivery options is encouraged."
Citizens who feel sick should stay home!
Continue to practice good hygiene, including:

Washing hands with soap and water, or using hand sanitizer, especially after touching frequently used items or surfaces;
Avoiding touching your face;
Sneezing or coughing into a tissue, or the inside of your elbow; and
Disinfecting frequently used items and surfaces as much as possible.

Avoid socializing in groups that do not readily allow for appropriate physical distancing (receptions, trade shows, etc.).
When in public (parks, outdoor recreation spaces, shopping malls, etc.), individuals should maximize physical distance from others.
Minimize travel to the extent possible.
Elderly or otherwise vulnerable populations should take enhanced precautionary measures to mitigate the risks of contracting COVID-19.
Individuals may go to and from a place of worship, provided that limitations on social distancing are properly adhered to.
Prepare to implement basic infection prevention measures informed by industry best practices, regarding:

Protective equipment;
Temperature checks;
Testing, isolating, and contact tracing; and
Sanitation, including disinfection of common and high-traffic areas (entrances, breakrooms, locations where there is high-frequency employee interaction with the public/customers).

Modify physical workspaces to maximize social distancing.
Minimize business travel.
Develop an infectious disease preparedness and response plan, including policies and procedures for workforce contact tracing when an employee tests positive for COVID-19.
Monitor workforce for indicative symptoms. Do not allow symptomatic people to physically return to work until cleared by a medical provider.
Develop, implement, and communicate about workplace flexibilities and protections, including:

Encouraging telework whenever possible and feasible with business operations;
Returning to work in phases and/or split shifts, if possible;
Limiting access to common areas where personnel are likely to congregate and interact; and
Ensuring that sick leave policies are flexible and consistent with public health guidance.
Click here for links to additional resources.
Closely monitor and track the containment, spread, and any resurgence of COVID-19 and adjust plans as necessary.
Limit situations where citizens cannot maintain social distancing.
Facilitate widespread testing of symptomatic and asymptomatic citizens.
Work to protect the most vulnerable populations.
Local authorities may issue additional orders consistent with the state health order.
Individuals may go to and from a place of worship, provided that limitations on social distancing are properly adhered to.
Schools shall remain closed for the remainder of the 2019-2020 academic school year.
Summer school may proceed under guidelines set forth by the Department of Elementary and Secondary Education.
Reactions
On May 4, Missouri Republican Party Executive Director Jean Evans said, "One of the things about our Governor is that he definitely trusts local leaders to make good decisions for themselves. From the get go, he has taken a very aggressive approach to dealing with this. I know Governor Parson pretty well. … He is somebody who doesn't react, he responds. He looks at all the information, talks to the experts and comes up with a plan."
On May 14, KRCG reported that the Missouri Democratic Party requested records detailing the epidemiological data the governor's office and state health department have used to guide reopening:"In a records request, the Democratic Party requested copies of this model, and any underlying data, work product, and supplementary materials developed by the Department of Health and Human Services to model the COVID-19 pandemic, between March 1, 2020 and May 12, 2020.

According to the Democratic Party, Williams said he would release the epidemiological model on May 6, but the data still has yet to be released.

'Parson and Dr. Williams have repeatedly promised to release their epidemiological model to the public and then failed to do so,' Missouri Democratic Party Executive Director Lauren Gepford stated in a Thursday news release.

In the news release, Gepford said the state's decision to reopen was an act of 'defiance' against the guidance passed down by the White House."
On May 4, the Southeast Missourian editorial board wrote,"It's nice to see businesses start to reopen following a four-week statewide shutdown in Missouri, longer in some individual municipalities. The coronavirus pandemic has not only been a health issue but an economic one.

As people return to work and customers resume their patronization of businesses, it's important to adhere to public health guidance. …

The chambers of commerce in Cape Girardeau, Jackson and Scott City along with VisitCape and Magnet are promoting a Reclaim Our Region campaign. Along with encouraging individuals to observe state and local orders, they ask individuals to seek opportunities to support the local economy and shift as much of your spending to local establishments. While online shopping has been convenient and even necessary during this pandemic, patronizing businesses with a local presence is important to the local recovery.

There's light at the end of the tunnel. We're not there yet, but we're making progress. Adhere to public health guidance. And support your local economy. We're all in this together."
On April 27, The Kansas City Star editorial board wrote,"[Parson] is depending on residents to exercise their own judgment — to stay home if sick, to wash hands regularly, to work from home if allowed.

He also says testing and tracing should improve, enabling the state to identify hotspots and respond quickly.

But how can he ask individuals to be cautious when he is not? It's clear some Missourians will take the governor's order as an 'all-clear' signal that life can return to normal. That's a risky gambit. …

There are some redeeming features of the order. Cities and counties will be able to retain stricter rules for businesses, which means Kansas City's stay-at-home order can remain in effect, as can Jackson County's. Both expire May 15.

The different rules will undoubtedly cause confusion and resentment in some quarters. And the patchwork of deadlines will scramble the coronavirus calculus: Kansas Citians will be at greater risk because their neighbors in other counties are opening so soon.

Still, the later deadline in Kansas City and Jackson County makes more sense than Parson's rush to reopen May 4."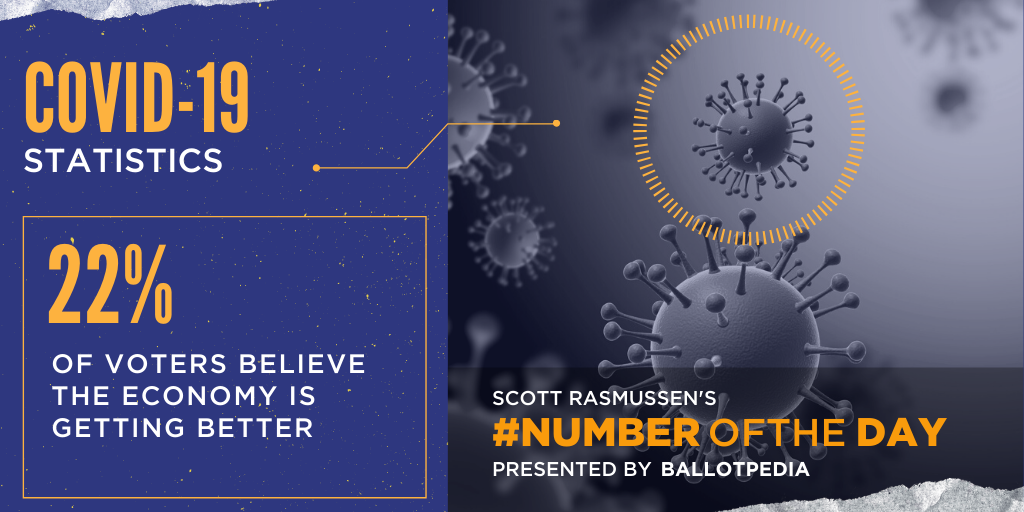 Additional activity
In this section, we feature examples of activities by other federal, state, and local governments and influencers relevant to recovering from the pandemic.
Chicago, Illinois entered Phase 3 of its reopening plan on June 3. Phase 3 includes allowing offices, hotels, retail, and personal services such as nail salons and barbershops to reopen. Restaurants may also reopen for outdoor dining. The city released industry-specific guidelines for reopening.
The San Diego County Board of Supervisors voted 4-1 to send a letter to California Gov. Gavin Newsom (D) requesting permission to open several sites not allowed in Phase 2 of the state's plan, including gyms, nail salons, theme parks, and churches. On May 20, the state granted San Diego County variance, allowing it to open restaurants and retail.
Cinemark announced its plans to begin a four-phased reopening of its theaters on June 19. CEO Mark Zoradi said reopening will begin with five theaters in the Dallas-Fort Worth area. One-third of the chain's theaters will reopen each following week through July 10. Cinemark is the third-largest movie theater chain in the U.S. 
The Metropolitan Transit Authority issued a letter to New York City officials outlining when subways and buses are expected to return to full service. The agency said that regular bus and subway schedules would return the first day the City enters Phase 1 of Gov. Andrew Cuomo's (D) reopening plan. New York City is expected to enter that phase on Monday, June 8.