Each day, we:
Track the status of reopening in all 50 states.
Compare the status of one industry or activity across the country.
Provide in-depth summaries of the latest reopening plans.
Give you the latest stories on other reopening plans and ideas.
Want to know what happened Friday? Click here.
The next two days
What is reopening in the next two days? Which stay-at-home orders will expire?
June 9
New York (Democratic trifecta): The Mid-Hudson region is on track to become the eighth of New York's 10 regions to enter Phase II of Gov. Andrew Cuomo's (D) reopening plan, "NY Forward," on June 9. The Long Island region expected to move into that phase on July 10. Under Phase II, the following businesses and activities are permitted to resume:  offices (50% occupancy), real estate, in-store retail (50% occupancy), vehicle sales, leases and rentals, retail rental, repair and cleaning, commercial building management (50% occupancy), and salons and barbershops (50% occupancy).  On June 6, Cuomo announced that places of worship could open up to 25% occupancy in Phase II.  Cuomo also said that outdoor graduation ceremonies could be held beginning June 26.  New York City became the last of the state's 10 regions to enter Phase I of reopening on June 8.  Under that phase, the following businesses and activities are permitted to resume: construction, manufacturing, and wholesale supply chains, agriculture, forestry, and fishing could resume, and retail may open for curbside pickup.
June 10
Ohio (Republican trifecta): On June 10, the following businesses and activities may resume: aquariums, art galleries, country clubs, ice skating rinks, indoor family entertainment centers, indoor sports facilities, laser tag facilities, indoor movie theaters, museums, playgrounds, public recreation centers, roller skating rinks, social clubs, trampoline parks and zoos.  Gov. Mike DeWine announced that casinos, amusement parks and water parks may reopen on June 19.
West Virginia (Republican trifecta): Private campgrounds and state park campgrounds, including cabins and lodges, can reopen to out-of-state visitors on June 10. Effective June 8, adult sports facilities, low-contact outdoor youth sports, little league practices, and various athletic and band summer training programs are permitted to reopen.
Since our last edition
Have any states opened? For a continually updated article on reopening status in all 50 states, click here. For our last edition, click here.
California (Democratic trifecta): On June 7, the state released guidance for Phase Three of its economic reopening, which would allow individual counties to begin reopening gyms, bars, schools, and professional sports as early as June 12.
North Carolina (divided government): On June 5, Gov. Roy Cooper (D) vetoed House Bill 536, which would have allowed certain restaurants to offer outdoor dining and beverage service.  Cooper released the following statement about the veto, "State and local government leaders must be able to act quickly during the COVID-19 emergency to prevent a surge in cases that could overwhelm hospitals and harm the public. House Bill 536 would limit the ability of leaders to respond quickly to COVID-19 and hamper the health and safety of every North Carolinian."  On June 8, the North Carolina State Senate is expected to vote on House Bill 594, which would allow gyms, health clubs, and fitness centers to reopen.  If passed, the bill would be sent to the state House. North Carolina is among seven states where a three-fifths vote of both chambers is required in order to override a gubernatorial veto. Republicans control 29 of the 30 seats required to override a veto in the state Senate and 65 of the 72 seats required in the state House.
North Dakota (Republican trifecta): Gov. Doug Burgum (R) signed an executive order on June 5 that modified restrictions on visitations to long-term care facilities, including nursing homes The order also allows visitations to resume in phases as outlined in the state's Vulnerable Population Protection (VP3) Plan.  Effective June 5, the state strongly encourages outdoor visitation by appointment with social distancing and personal protective equipment, including masks.  Residents are urged to work with long-term care facility staff on appointments and details.
Update on stay-at-home orders
Forty-three states issued orders directing residents to stay home except for essential activities and the closure or curtailment of businesses each state deemed nonessential. Seven states did not.
As of June 8, stay-at-home orders have ended in 36 states. Eighteen of those states have Republican governors and 18 have Democratic governors (including Wisconsin, where the state Supreme Court invalidated the stay-at-home order).
Of the seven states with active stay-at-home orders, six have Democratic governors and one has a Republican governor. They are (with expiration date):
New Hampshire (June 15, Republican governor)
New York (June 27, Democratic governor)
New Mexico (June 30, Democratic governor)
California (no set expiration date, Democratic governor)
Kentucky (no set expiration date, Democratic governor)
New Jersey (no set expiration date, Democratic governor)
Oregon (no set expiration date, Democratic governor)
Here's which stay-at-home orders have expired.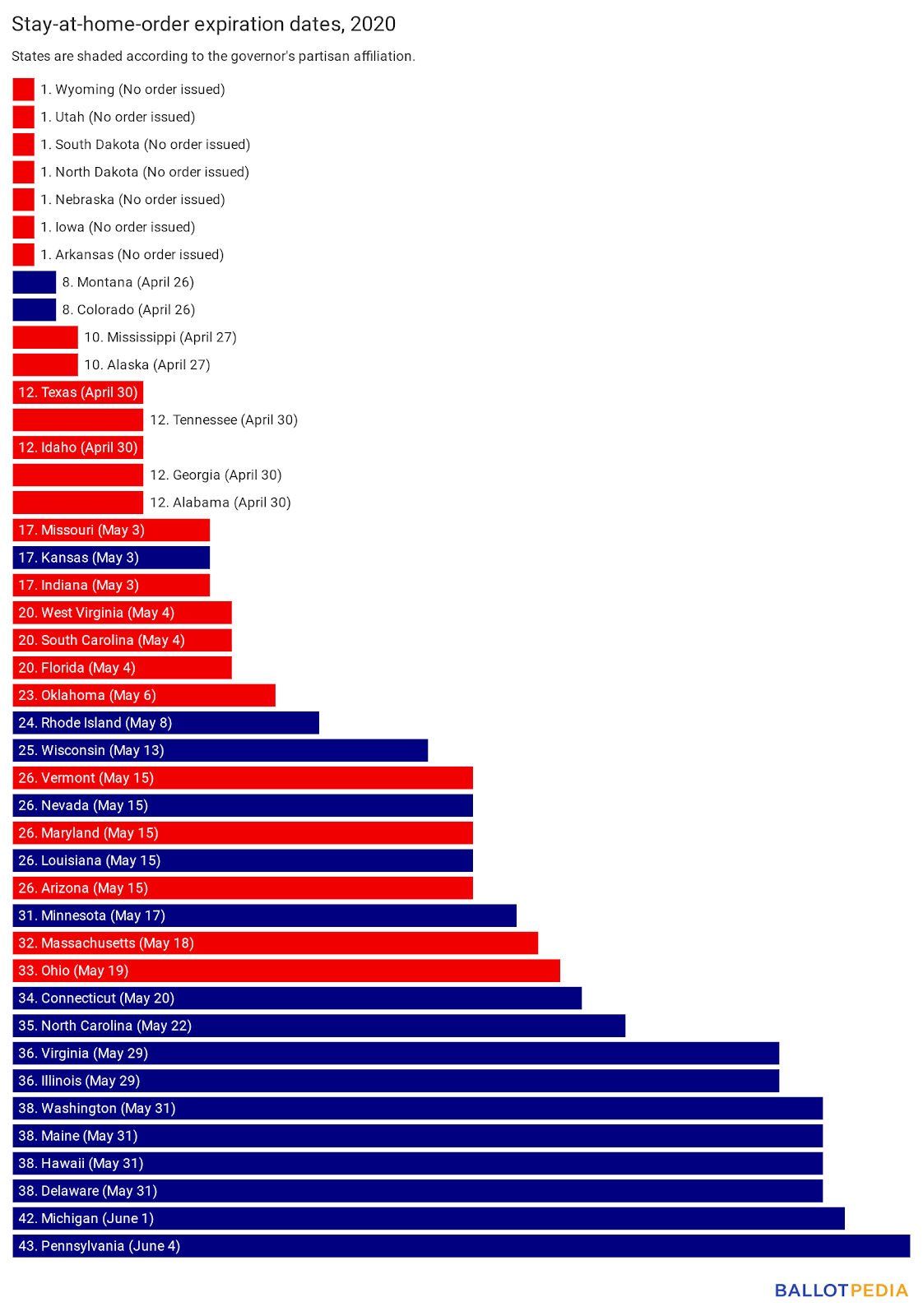 Tracking industries: Gyms and fitness centers
All 50 states began to reopen in some way. Here, we give the status of one industry or activity across the states. Today's question: in which states are gyms permitted to reopen?
Gyms and fitness centers are allowed to reopen, at least regionally, in 36 states, while they remain closed in 14 states. In our May 21 review of this industry, gyms were allowed to open in 25 states and were closed in 25 other states. At the time, the partisan breakdown was as follows:
6 states with Democratic governors were open
19 states with Republican governors were open
18 states with Democratic governors were closed
7 states with Republican governors were closed
In the past few weeks, 11 more states have allowed gyms and fitness centers to open. The new partisan breakdown is: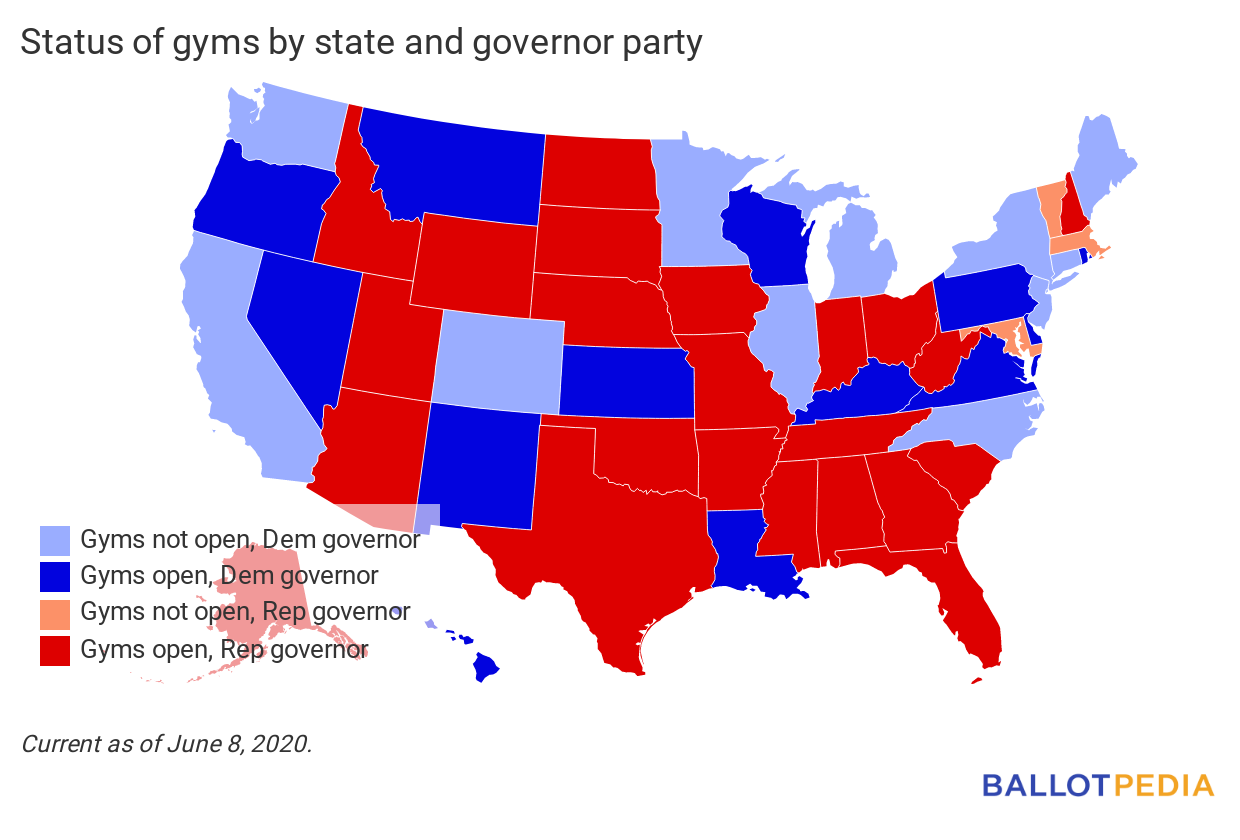 This is an in-depth summary of one of the latest reopening plans. Is there a plan you'd like us to feature? Reply to this email and let us know. Click a state below to read a previous Featured Plan.
Previous featured plans
On May 18, New Jersey Gov. Phil Murphy (D) announced "The Road Back: Restoring Economic Health Through Public Health," a three-stage approach to reopening. Throughout the first stage, businesses and activities deemed low-risk have been allowed to reopen with safety requirements. Stage 2 is set to begin June 15.
Murphy established the following criteria for determining when the state could move from one stage to the next:
Sustained improvements in public health indicators, including new COVID-19 cases, hospitalizations, individuals in intensive care, and ventilator use.
Substantial increase in testing and contact tracing capacity.
Sufficient resilience in New Jersey's health care system to include adequate bed capacity, ventilators, personal protective equipment, and workforce.
Widespread safeguarding of workplaces.
Widespread safeguarding and capacity of child care, schools, and transit.
Continued public compliance.
On March 21, Murphy issued an executive order saying that local governments may not impose restrictions that conflict with the state stay-at-home order. Exceptions include online marketplaces offering lodging, municipal parks, and county parks. Municipalities may also impose additional density and social distancing requirements on restaurants opening for outdoor dining in Stage 2. Municipalities may not reopen businesses at a faster rate than the state allows.
Murphy formed the Governor's Restart and Recovery Commission, whose members include public health, economic, finance, and business experts. He also created the Governor's Restart and Recovery Advisory Council, consisting of industry and community organization leaders, to advise state leaders on the economic effects of COVID-19.
Context
On March 21, Murphy issued a stay-at-home order requiring individuals to stay home except for limited activities, certain businesses to close, and telework where practicable. Gatherings were limited to 10 people or less. The order has no expiration date and remains in effect, though subsequent orders have allowed businesses and activities to resume and increased the outdoor gathering size limit to 25.
As of June 7, New Jersey had 164,164 confirmed COVID-19 cases and 12,176 deaths.  For every 100,000 residents, there were 1,848 cases and 137 deaths. New Jersey's per capita case and death rate were the second-highest of any state, behind New York.
New Jersey is a Democratic trifecta, with a Democratic governor and Democratic majorities in both chambers of the state legislature.
Plan details
Stage 1
The following were allowed to reopen:
Outdoor gatherings of no more than 25 people were allowed, with social distancing and additional requirements, as of May 22. Indoor gatherings remain restricted to 10 people or less.
Stage 2
Dates and requirements for some Stage 2 business reopenings are forthcoming. Where dates and requirements were available as of June 8, information is included below.
Outdoor dining (limit of 8 people per table, tables at least 6 feet apart, additional requirements)—June 15
Limited in-person retail (limit to 50% capacity, require face masks for employees and customers, additional requirements)—June 15
Childcare centers (must submit attestation that they will follow requirements)—June 15
Hair salons and barber shops—June 22
Sports activities—(in outdoor settings, no person-to-person contact or sports routinely requiring players to be within 6 feet of one another, additional requirements)—June 22
Youth summer programs (no residential or overnight camps, must submit attestation that they will follow requirements)—July 6
In-person clinical research/labs
Limited fitness/gyms
Limited in-person government services
Museums/libraries
Stage 3
Stage 3 may include allowing the following to reopen:
Expanded dining
Critical in-office work
Limited entertainment
Expanded personal care
Bars with limited capacity
Precautions across all stages:
Work that can be done from home should continue to be done from home.
Clinically high-risk individuals who can stay at home should continue to do so.
All residents and businesses should follow state and federal safeguarding guidelines: wash hands; wear masks in public; respect social distancing; minimize gatherings; disinfect workplace and businesses; and no mass gatherings
Reactions
On May 18, Murphy said, "Through our combined efforts, we have flattened the curve of COVID-19 cases, and we are well-positioned to continue our restart and recovery process. … Our multi-stage approach uses science, data, and facts to determine which businesses and activities can reopen according to their risk level and challenges they face to safeguard public health. Additionally, we will be guided by our ability to protect against a new COVID-19 outbreak with expanded testing and contact tracing, and clear social distancing safeguards in place. We are currently in Stage 1, and we will aim to move through each stage quickly, but also judiciously, with the public health of our communities and all New Jerseyans in mind."
On May 29, Politico reported that State Assembly Speaker Craig Coughlin (D) said, "The stay-at-home order has been critical in helping flatten the curve. The State is continuing to show positive signs that we are on the road to reopening our economy. That said, I support efforts to look to reopen parts of our economy more quickly, on a moving-forward basis."
On May 27, the state Senate Republican Caucus sent Murphy a letter saying,
"We urge you to offer clarity about the milestones that must be reached for small shops you have deemed 'nonessential' to reopen their doors to customers, for restaurants to serve diners, and for congregations to meet again in houses of worship. Many of those places are ready today to operate safely through the same precautionary measures that we trust to protect us when we visit a supermarket or other 'essential retail' business.
"In the absence of specific benchmarks for reopening from your administration, we urge you to review the many thoughtful reopening plans that have been submitted to you by counties, trade groups, and chambers of commerce. If those plans meet CDC guidelines, you should authorize them to be enacted immediately."
Find out more in today's Number of the Day→
Additional activity
In this section, we feature examples of activities by other federal, state, and local governments and influencers relevant to recovering from the pandemic.
Florida Gov. Ron DeSantis (R) signed an executive order removing Louisiana from the list of states from which travelers coming to Florida must self-isolate for 14 days. The 14-day quarantine requirements remain for travelers from Connecticut, New York, and New Jersey.
Sonoma County, California allowed in-store retail, indoor dining, and hair salons and barbershops, and in-person church services to reopen June 6, with precautions. The state granted the county's request for variance May 22, allowing it to reopen those businesses. Sonoma County Health Officer Sundari Mase announced on May 26 the county would delay their reopening, noting the number of new cases and hospitalizations in the county at the time.
Two churches in Washington filed a lawsuit against Gov. Jay Inslee (D) on June 5 in Benton County Superior Court. The lawsuit alleges that churches are being treated unequally because the state reopening plan does not detail church attendance expansion in Phase 3 but says theaters can open to 50% capacity. In Phase 2, churches are allowed to reopen to 25% capacity or 50 or fewer people, whichever is less.
Oklahoma State University released a phased reopening plan for students and employees.  The plan requires staff and students to wear face masks, practice social distancing and implement sanitization measures.