Each day, we:
Track the status of reopening in all 50 states.
Compare the status of one industry or activity across the country.
Provide in-depth summaries of the latest reopening plans.
Give you the latest stories on other reopening plans and ideas.
Want to know what happened Tuesday? Click here.
The next two days
What is reopening in the next two days? Which stay-at-home orders will expire?
June 19
Maryland (divided government): Effective 5:00 p.m. on June 19, the following businesses will be allowed to reopen: indoor fitness centers, including gyms, martial arts studios, and dance studios (50% capacity); casinos; arcades; and malls. All reopenings will be subject to local approval.
Pennsylvania (divided government): Eight more yellow-phase counties will enter the green phase of reopening on June 19. On June 16, State Rep. Daryl Metcalfe (R) introduced House Resolution 915, which contains five articles of impeachment against Gov. Tom Wolf (D) related to his administration's response to the coronavirus. The resolution has 24 co-sponsors. In response, Wolf's office said Republicans were "wasting time instead of helping to protect Pennsylvanians during this public health crisis."
Vermont (divided government): Gov. Phil Scott (R) announced that limited outdoor visits can resume at long-term care facilities beginning on June 19. Each resident will be allowed two visitors per day.
Virginia (Democratic trifecta): Gov. Ralph Northam (D) said he would release new details on Phase Three of the reopening plan on June 18. He also said he was not prepared to move Virginia into Phase Three this week.
Since our last edition
What is open in each state? For a continually updated article on reopening status in all 50 states, click here. For our last edition, click here.
Delaware (Democratic trifecta): Gov. John Carney (D) said on June 16 there was no target date for the state to enter Phase Three of its reopening plan. Delaware entered Phase Two of its reopening plan on June 15.
Florida (Republican trifecta): Gov. Ron DeSantis (R) announced he would not roll back reopening efforts after the state reached new daily highs in positive tests three times in the last week. DeSantis attributed the increase in positive test results to an increase in the number of tests taken.
Idaho (Republican trifecta): Gov. Brad Little (R) announced the formation of the Public Schools Reopening Committee to create a plan for schools to resume operations in the fall.
Illinois (Democratic trifecta): On June 16, Gov. J.B. Pritzker (D) signed SB 863 and HB2238 into law, requiring local election officials to deliver vote-by-mail applications to all voters who cast ballots in the 2018 general election, the 2019 consolidated election, or the 2020 primary election. The legislation also expanded early voting hours at permanent polling places and authorized curbside voting. The law's provisions are set to apply to the Nov. 3 general election.
Maine (Democratic trifecta): On June 15, Gov. Janet Mills (D) announced that dine-in service at restaurants in Androscoggin, Cumberland, and York counties could resume on June 17. The following businesses and activities are also allowed to reopen or resume in those three counties on June 17: tasting rooms and bars (outside service); gyms and fitness centers; nail salons; tattoo and piercing parlors. These businesses and activities have already resumed in the state's other 13 counties.
Michigan (divided government): On June 16, Gov. Gretchen Whitmer (D) said she expected that the entire state would enter Phase 5 of reopening within two weeks: "We should be moving the rest of the state into phase five in short order. I said two weeks ago it was my intent to get there before July 4 assuming the numbers continue the direction they have been. I would anticipate that in the coming week or two, we'll be there, and that would be good news." Whitmer also said she expected schools to resume in-person instruction in the fall: "Kids, I believe, will be back for some form of in-person instruction, but it might look different that we're used to and it's going to be an adjustment for all of us."
New York (Democratic trifecta): The Capital region became the seventh of 10 regions to enter Phase 3 of the state's reopening plan. Under Phase 3, in-restaurant dining and personal care services such as tattoo parlors may resume, both at 50% capacity. Gatherings of up to 25 are allowed.
Ohio (Republican trifecta): Gov. Mike DeWine (R) and Interim Ohio Health Department Director Lance Himes issued a new health order on June 16 allowing county fairs and animal exhibitions to reopen immediately, with restrictions. State guidance includes social distancing measures and requiring microphones to be sanitized between uses. The order is in effect through October 21. At a news conference on June 16, DeWine announced that large events filled with fans, such as the Pro Football Hall of Fame ceremony, could not be held due to the coronavirus pandemic.
West Virginia (Republican trifecta): Effective June 17, visitation at nursing homes is allowed to resume with restrictions. Only facilities that haven't had a coronavirus case in the previous 14 days can reopen.
Wyoming (Republican trifecta): The Wyoming Department of Health announced that visits at long-term care facilities could resume with restrictions. Visits can only occur outdoors and are limited to two people at a time.
Update on stay-at-home orders
Forty-three states issued orders directing residents to stay home except for essential activities and the closure or curtailment of businesses each state deemed nonessential. Seven states did not.
As of June 17, stay-at-home orders have ended in 38 states. Nineteen of those states have Republican governors and 19 have Democratic governors (including Wisconsin, where the state Supreme Court invalidated the stay-at-home order).
The five states with active stay-at-home orders have Democratic governors. They are (with expiration date):
New York (June 27)
New Mexico (June 30)
California (no set expiration date)
Kentucky (no set expiration date)
Oregon (no set expiration date)
Here's which stay-at-home orders have expired.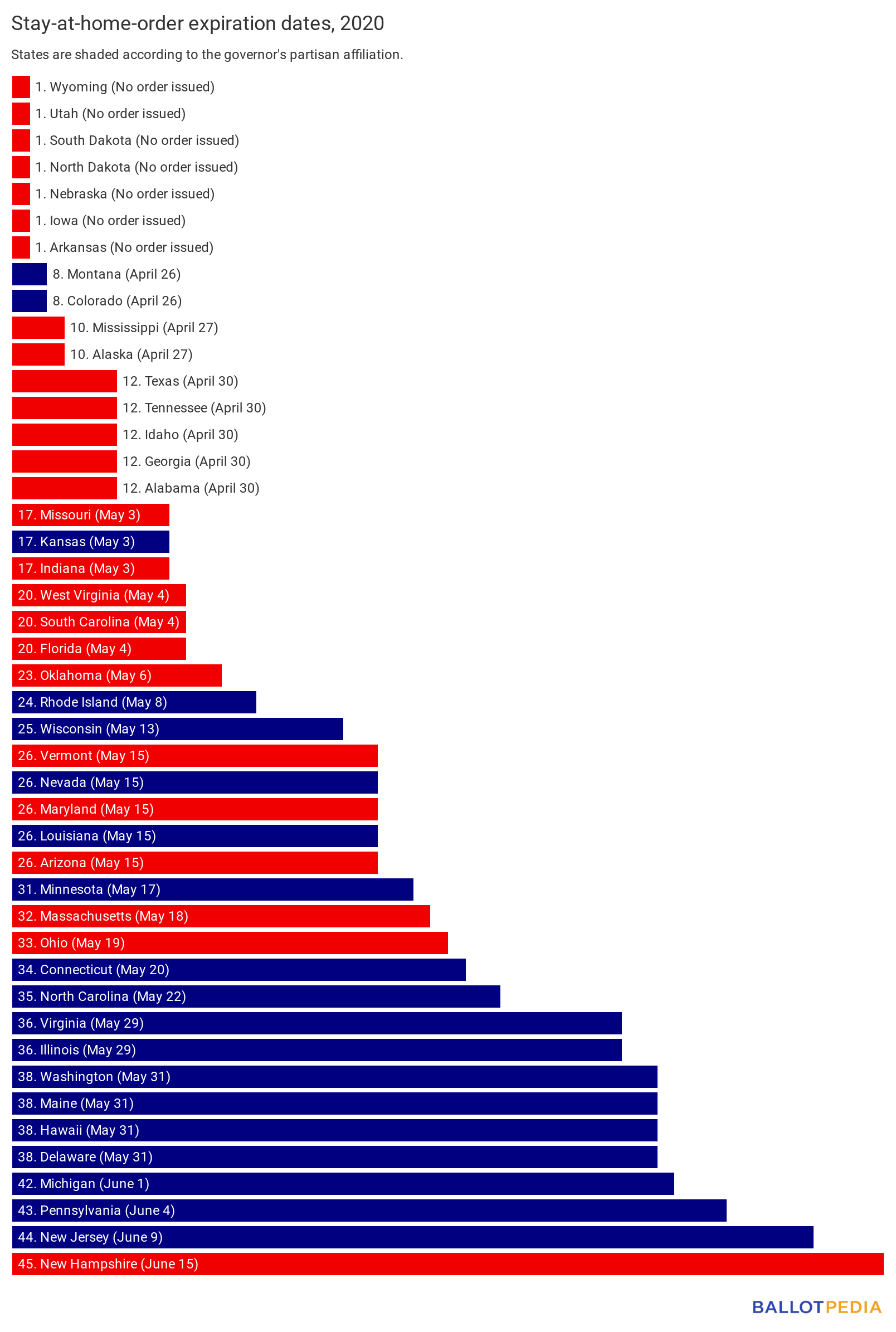 Tracking industries: Bars
All 50 states began to reopen in some way. Here, we give the status of one industry or activity across the states. Today's question: where can you go to a bar to have a drink?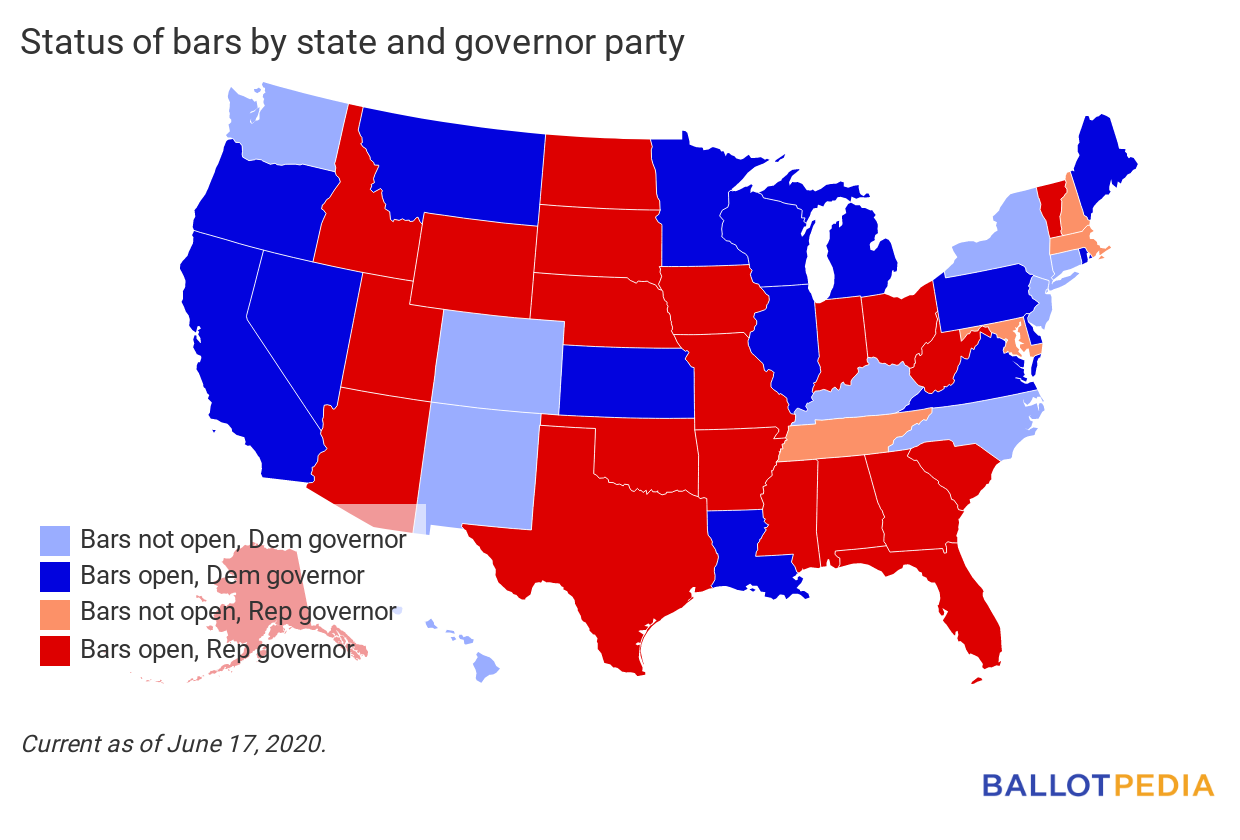 This is an in-depth summary of one of the latest reopening plans. Is there a plan you'd like us to feature? Reply to this email and let us know. Click a state below to read a previous Featured Plan.
On April 27, 2020, West Virginia Gov. Jim Justice (R) announced a phased plan to lift restrictions put in place to combat the spread of the coronavirus called "West Virginia Strong—The Comeback." The plan called for gradually lifting restrictions on a week-by-week basis beginning April 30.
Announcing the plan, Justice said, "We've come up with a methodology that we think will move us forward, with science and math behind it, and experts behind it, and leadership behind it, we're absolutely moving in the right way. We're going to monitor and watch every day and we're going to take small steps and we will see where we are."
He also said, "If we've got to stop, or slow, or back up, then that's what we're going to do. You've done good work so far, West Virginia, and now we're going to have to move forward. We cannot sit still forever because too many bad things will happen."
For the plan to start, the statewide cumulative percent of positive test results had to remain below 3% between April 27 and April 29.
Context
Justice issued a statewide stay-at-home order on March 24, eight days after declaring a state of emergency in all West Virginia counties. The stay-at-home order directed people in West Virginia to stay at home unless performing essential activities and closed non-essential businesses. The order did not include an expiration date. On May 4, Justice replaced the stay-at-home order with a less restrictive "Safer At Home" order that encouraged West Virginians to stay home and eased restrictions on some businesses.
As of June 17, West Virginia had 2,358 COVID-19 cases and 88 deaths. West Virginia's estimated population as of July 2019 was 1,792,147. For every 100,000 residents, the state had 131.6 cases and 4.9 deaths.
West Virginia is a Republican trifecta, with a Republican governor and Republican majorities in both chambers of the state legislature.
Plan details
"West Virginia Strong—The Comeback" permits sectors of the economy to reopen on a week-by-week basis. Originally, the plan covered six weeks. Details for weeks seven, eight, nine, and ten were added later.
Week 1
On Thursday, April 30, the following businesses were permitted to reopen with restrictions:
Elective medical procedures at hospitals as approved by West Virginia DHHR
Daycares, provided that enhanced testing procedures are put in place
Outpatient health care operations regulated by Licensing Boards contained in WV Code Chapter 30
Week 2
On Monday, May 4, the following businesses were permitted to reopen with restrictions:
Week 3
On Monday, May 11, the following businesses were permitted to reopen:
On Friday, May 15:
Week 4
On Monday, May 18, the following businesses were permitted to reopen with restrictions:
On Thursday, May 21, the following businesses were permitted to reopen with restrictions:
Outdoor motorsport and powersport racing with no spectators
Week 5
On Tuesday, May 26, the following businesses were permitted to reopen:
State Park cabins and lodges (In-state residents only)
The following businesses were permitted to reopen on Saturday, May 30:
Week 6
The following businesses were permitted to reopen with restrictions on Friday, June 5:
Week 7
The following businesses were permitted to reopen or activities permitted to resume on Monday, June 8:
WVSSAC-sanctioned athletics and band summer training programs
The following was allowed to reopen on Wednesday, June 10:
Private and State Park campgrounds, cabins, and lodges to out-of-state guests (stays may not last longer than seven days)
Week 8
The following was allowed to reopen on Wednesday, June 17:
Week 9
Businesses scheduled to reopen or activities scheduled to resume on Monday, June 22, include:
Week 10
Businesses scheduled to reopen Wednesday, July 1, include:
Reactions
On April 28, Steve Roberts, president of the West Virginia Chamber of Commerce, said, "We're hearing from employers that a phased-in approach, as the governor has outlined, has a high level of support within the business community."
Thirty Democratic members of the West Virginia House of Delegates signed a letter to Gov. Justice on April 30 expressing concerns with the reopening plan. The letter included a list of questions, including:

"Will the state plan be adjusted for regional hotspots (such as the Eastern Panhandle, North Central West Virginia, the Kanawha Valley, etc.)? The rate of infection is higher (and thus more dangerous) in certain areas than others. Are you planning on taking a 'one size fits all' approach for each of the 55 counties?"
Has there been consideration of using recent data instead of cumulative data? Recent data would show a more accurate picture of where we are as a state in terms of this virus. Many of us do not understand the relevancy of tests and infection rates of more than three weeks ago, as those earlier infected citizens have either recovered or became deceased. Considering ALL of the cumulative data to determine infection rate may artificially suppress the rate of infection and potentially hide what might be a significant spike in infections."

On April 27, West Virginia Senate President Mitch Carmichael (R) and House Speaker Roger Hanshaw (R) released a joint statement on the reopening plan, saying "We were pleased to see Governor Justice lay out a plan for getting West Virginians back to work. We are happy to have had input into the plan the Governor announced today. We are happy that the actions taken by the State in the past several weeks have slowed the spread of this virus. Now, we look forward to turning our attention to the process of recovering from the damage this virus has caused, both to our communities and to our economy."
Additional activity
In this section, we feature examples of activities by other federal, state, and local governments and influencers relevant to recovering from the pandemic.
Broward County Public Schools in Florida announced that the district would reopen schools to in-person instruction on August 19. Superintendent Robert Runcie said that the district was likely to adopt a staggered day teaching model, with students receiving in-person instruction part of the time and distance learning the rest of the time.
On June 9, Judge Marco A. Hernandez, of the United States District Court for the District of Oregon, issued a temporary restraining order limiting the use of tear gas as a crowd control method in Portland, Oregon. The plaintiffs, a group named Don't Shoot Portland, alleged that the city had violated their rights to free speech and freedom from excessive force under the First and Fourth Amendments, respectively, by using tear gas to disperse their protests. Hernandez agreed, writing, "[Given] the effects of tear gas," which is "specifically designed to irritate the respiratory system and to cause people to expel mucus and aspirated saliva," a principal method of COVID-19 transmission, "Plaintiffs have established a strong likelihood that Defendant engaged in excessive force contrary to the Fourth Amendment." He added that the plaintiffs had presented "at least a serious question as to whether they have been deprived of their First Amendment rights." The judge noted that his order did not bar the use of tear gas altogether, but instead limited use "to situations in which the lives or safety of the public or the police are at risk." As of June 16, the city had not indicated whether it intended to appeal the decision.
Apple reopened 10 stores in five of New York City's boroughs on June 17. Stores are open by appointment only.
The leaders of Austin and Travis County in Texas announced that they were extending the local stay-at-home order for an additional month. In an interview with NPR, Mayor Steve Adler clarified that the order was not legally binding because it is preempted by statewide orders. The city and county have also recommended that residents wear a face covering while in public and maintain appropriate social distancing.