Each day, we:
Track the status of reopening in all 50 states.
Compare the status of one industry or activity across the country.
Provide in-depth summaries of the latest reopening plans.
Give you the latest stories on other reopening plans and ideas.
Want to know what happened yesterday? Click here.
The next three days
What is reopening in the next three days? Which stay-at-home orders will expire?
June 22
Nebraska (Republican trifecta): Gov Pete Ricketts (R) announced that 89 of 93 counties would move into Phase 3 of his reopening plan on June 22. The following businesses and activities will be permitted to resume: bars and restaurants (100% occupancy with social distancing measures); gyms and fitness facilities (75% occupancy); personal care services (75% occupancy); wedding and funeral receptions. Under Phase 3, indoor gatherings will be limited to 50% occupancy with no more than 10,000 people, and outdoor gatherings will be limited to 75% occupancy with no more than 10,000 people. Childcare facilities can reopen with the following limits that vary by the age of children. Contact sports, like football and basketball, are permitted to resume practice and play games on July 1.
The remaining counties— Dakota, Hall, Hamilton, and Merrick—will enter Phase 2 on June 22. Under that phase, bars and strip clubs can reopen at 50% capacity, host parties up to six people, and patrons are required to stay six feet away from entertainers. Games, such as darts and pool, are prohibited. Gatherings of up to 25 or 25% capacity (excluding staff) for indoor or outdoor attractions are allowed in Phase 2. For larger venues, no more than 3,000 people are allowed, even if that number is less than 25% occupancy. Weddings and funerals can also resume, limited to up to 25 people or 50% occupancy, excluding staff. Phase 2 allows limited, noncontact sports, such as baseball and softball, to resume practices. Games are allowed to resume on June 18. Basketball, tackle football, soccer, and wrestling remain prohibited in Phase 2.

According to the Omaha-World Herald, Ricketts told local officials they would not receive funds from the federal CARES Act if they required people to wear face masks in county buildings. In May, Ricketts issued guidance to counties advising local officials to reopen government offices by June 15 to receive CARES Act funding. As part of the guidance, Ricketts said counties could implement social distancing measures, control access to buildings, and encourage but not require face masks. Rickett's spokesperson Taylor Gage said, "The governor encourages people to wear a mask…but does not believe that failure to wear a mask should be the basis for denying taxpayers' services."
New Jersey (Democratic trifecta): On June 22, modified, no contact practices for medium contact sports like baseball and high contact sports like football, public and private pools, and personal care services such as hair salons may resume. On June 18, Gov. Phil Murphy (D) and Superintendent of the State Police Colonel Patrick Callahan announced an administrative order that will allow indoor portions of retail shopping malls to reopen on June 29 at 50% capacity. Restaurants located in shopping malls are restricted to take out or curbside delivery only, though they may provide in-person service at outdoor areas outside of shopping malls.
New York (Democratic trifecta): Gov. Andrew Cuomo (D) announced on June 19 that New York City will move into Phase 2 of his reopening plan on June 22. Phase 2 allows outdoor dining at bars and restaurants (50% capacity), the opening of hair salons and barbershops (50% capacity), and office-based jobs (50% capacity). New York City playgrounds will also be able to reopen on June 22. On June 18, Cuomo said he will issue an executive order strengthening enforcement of reopening rules and guidelines. Under the order, businesses that violate reopening regulations are subject to immediate loss of their liquor license and a shutdown order from the state. Cuomo will also expand enforcement authority of the State Liquor Authority, granting bars responsibility for areas immediately outside of the establishment.
Since our last edition
What is open in each state? For a continually updated article on reopening status in all 50 states, click here. For our last edition, click here.
California (Democratic trifecta): Gov. Gavin Newsom (D) signed an executive order mandating residents wear face masks while in public or high-risk settings.
Georgia (Republican trifecta): Gov. Brian Kemp (R) said he would apply for a waiver from Secretary of Education Betsy DeVos to forgo standardized testing for the 2020-2021 school year. Georgia used such a waiver to forgo testing during the 2019-2020 school year.
Louisiana (divided government): On June 17, Gov. John Bel Edwards (D) said state superintendent of education Cade Brumley would issue guidance within 10 to 14 days on reopening public schools in the fall.
Maryland (divided government): The following businesses were allowed to reopen at 5:00 p.m. on June 19: indoor fitness centers, gyms, martial arts studios, and dance studios; casinos; arcades; and malls. All reopenings are subject to local approval.
North Carolina (divided government): On June 18, the North Carolina General Assembly passed Senate Bill 599. SB599 would allow skating rinks and bowling alleys to reopen at 50% capacity immediately, and before they would have reopened under Gov. Roy Cooper's (D) plan. The bill would also allow temporary outdoor seating at bars and restaurants at 50% capacity of current indoor seating or up to 100 customers (whichever is less). Currently, restaurants can have no more than 50% capacity indoors. Bars are closed. The bill allows Cooper to re-close those businesses if the number of coronavirus cases increases.

SB599 passed in the North Carolina House of Representatives 68-52 on June 16, with 65 Republicans and three Democrats voting to approve, and 52 Democrats voting against it. The state Senate passed a motion to concur on June 18 32-15, with 26 Republicans and six Democrats voting to approve and 15 Democrats voting against. The bill will be sent to Cooper for consideration.
This is the third bill the North Carolina General Assembly has passed seeking to lift restrictions ahead of Cooper's reopening plan. On June 5, Cooper vetoed House Bill 536, which would have allowed bars and restaurants to temporarily expand service to outdoor spaces. On June 11, the North Carolina House of Representatives passed House Bill 594 69-50. Sixty-five Republicans and four Democrats voted in favor, and 50 Democrats voted against. HB594 would allow gyms, health clubs, and fitness centers to reopen at 50% capacity. Bars would be able to open outdoor service spaces at 50% of the venue's indoor capacity ahead of Phase 3 of Cooper's reopening plan, which is expected to begin June 26. The bill would take effect immediately and was sent to Cooper for consideration. As of June 19, Cooper has not signed or vetoed that bill. North Carolina is among seven states where a three-fifths vote of both chambers is required to override a gubernatorial veto. Republicans control 29 of the 30 seats required to override a veto in the state Senate and 65 of the 72 seats required in the state House.

Ohio (Republican trifecta): The following businesses were permitted to reopen on June 19: casinos and racinos (a combination of horse racing track and casino), amusement parks, water parks, and outdoor theaters.
Oregon (Democratic trifecta): Multnomah became the final county to enter the first phase of reopening on June 19, making Oregon the 39th state to lift a statewide stay-at-home order. Marion, Polk, and Hood River counties entered Phase Two.
Pennsylvania (divided government): Eight more counties moved into the green phase of the state's reopening plan. Gov. Tom Wolf (R) announced twelve more yellow-phase counties will enter the green phase on June 26, leaving Lebanon as the only county in yellow. In May, Lebanon's county commissioners voted to reopen against state orders. Wolf said a recent uptick in the county's cases disqualified it from opening with the rest of the state. The green phase allows most businesses and functions to reopen under state restrictions, including salons, barbershops, spas, casinos, theaters, malls, and gyms. It also allows gatherings of up to 250 people.
Texas (Republican trifecta): Education Commissioner Mike Morath said the state's schools would open to students in the fall. Morath said guidance for schools would be released in the future. Additionally, amusement parks and carnivals can reopen at 50% capacity across the state.
Vermont (divided government): Effective June 19, limited outdoor visits can resume at long-term care facilities. Each resident is permitted two visitors per day. At a press conference on June 19, Gov. Phil Scott (R) announced that event, arts, culture, and entertainment venues and restaurants can operate at 50% capacity beginning June 26.
Update on stay-at-home orders
Forty-three states issued orders directing residents to stay home except for essential activities and the closure or curtailment of businesses each state deemed nonessential. Seven states did not.
As of June 19, stay-at-home orders have ended in 39 states. Nineteen of those states have Republican governors and 20 have Democratic governors (including Wisconsin, where the state Supreme Court invalidated the stay-at-home order).
The four states with active stay-at-home orders have Democratic governors. They are (with expiration date):
New York (June 27)
New Mexico (June 30)
California (no set expiration date)
Kentucky (no set expiration date)
Here's which stay-at-home orders have expired.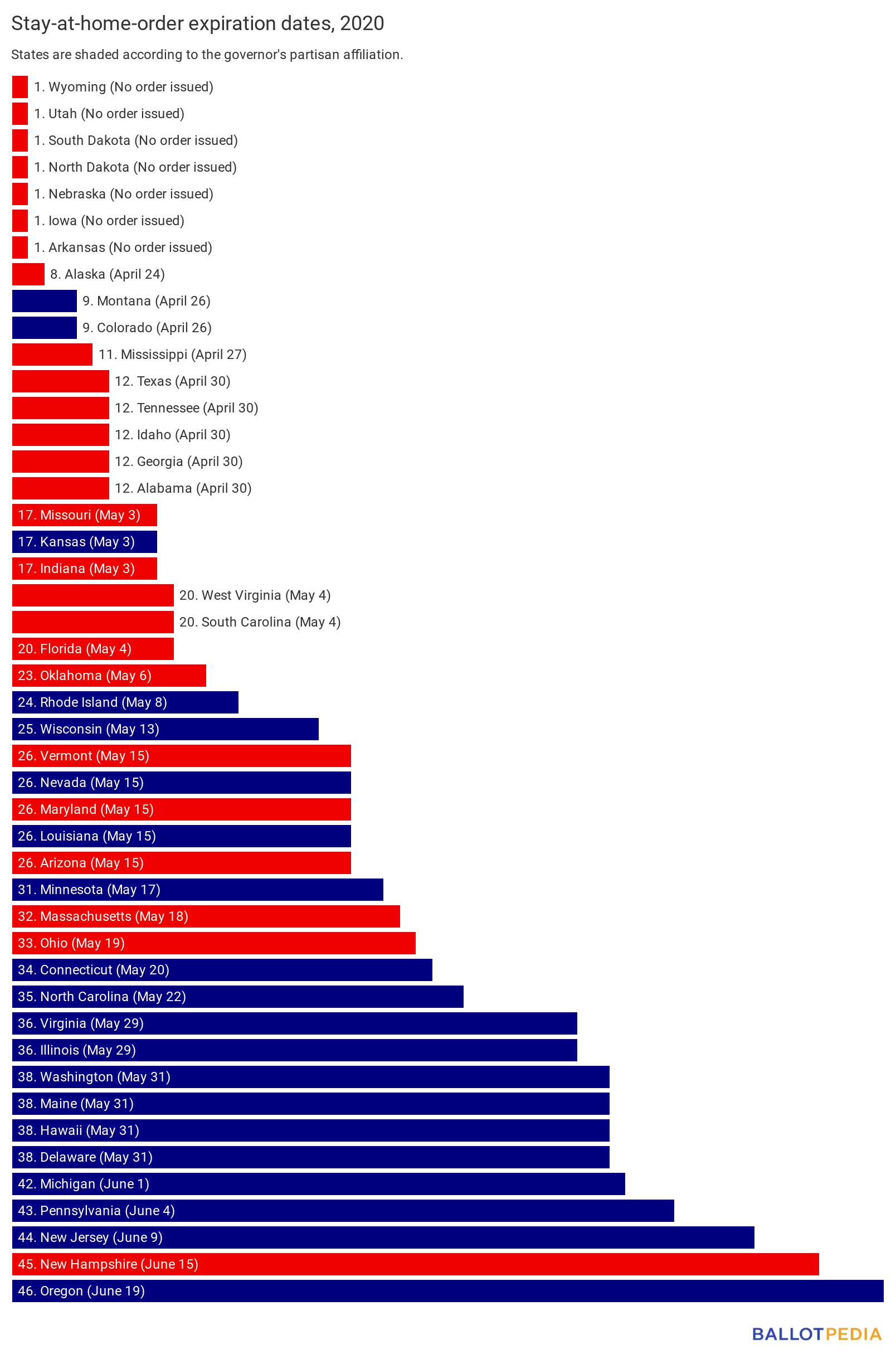 Tracking industries: Places of worship
All 50 states began to reopen in some way. Here, we give the status of one industry or activity across the states. Today's question: which states place a capacity limit on churches and religious services?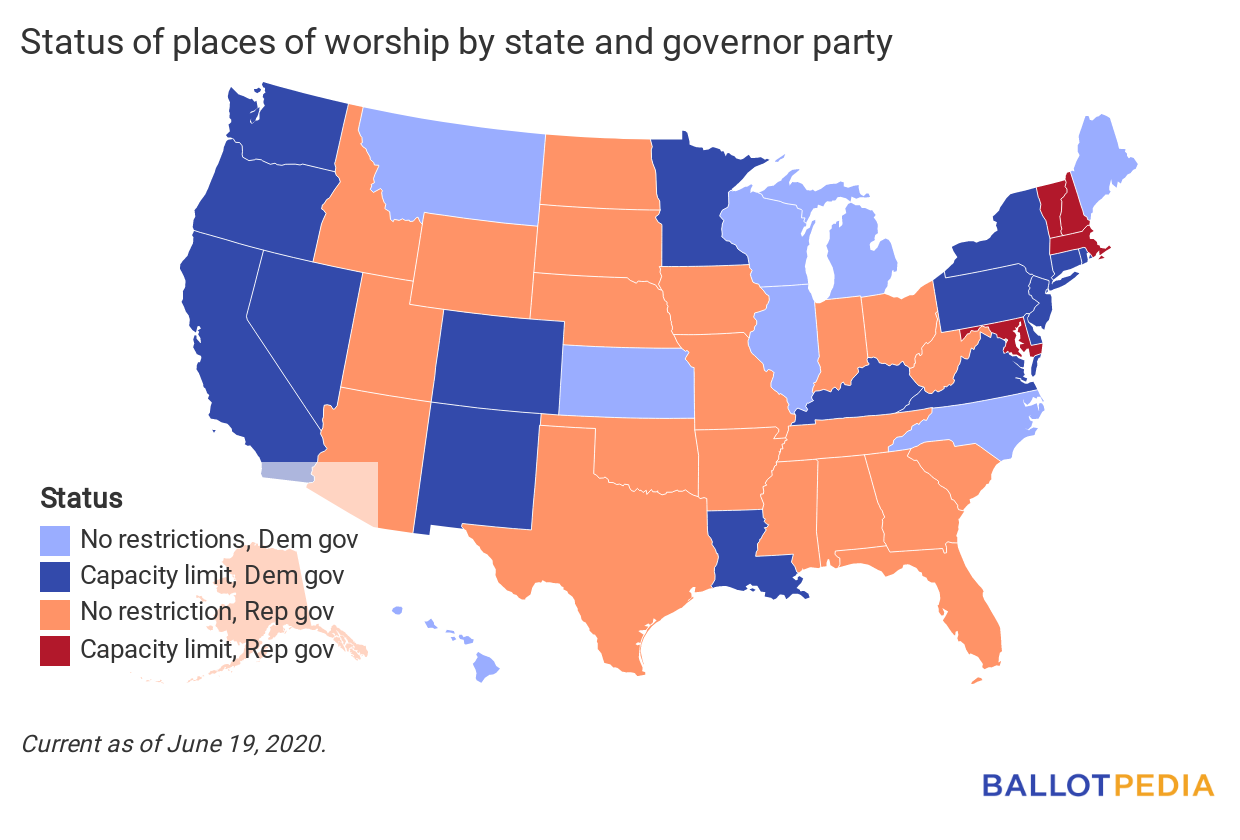 This is an in-depth summary of one of the latest reopening plans. Is there a plan you'd like us to feature? Reply to this email and let us know. Click a state below to read a previous Featured Plan.
On April 21, Gov. Mike Dunleavy (R) announced he would ease restrictions on some businesses on Friday, April 24, beginning the first phase of a five-phase reopening plan.
Dunleavy said, "Through the public's outstanding efforts to social distance and adhere to the health mandates set in place, we have witnessed a slow in the spread of COVID-19, effectively protecting the health of our families and loved ones. Compliance with the health mandates came with an economic slowdown and it is time to take a multi-phased approach to reopening our economy. Alaska's many local businesses and industries are vital to the economic health of the state, and I am pleased that our efforts to protect the health and well-being of Alaskans are showing statistics that allow us to reopen business."
The reopening overview listed four metrics that would determine progress between phases.
Disease activity: a consistently declining or stable level of COVID-19 activity in Alaska
Testing capacity: enough capacity and access for quick and sufficient COVID-19 testing
Public health capacity: enough capacity to investigate, contact trace, and monitor everyone with COVID-19, plus their contacts
Health care capacity: enough space, equipment, and supplies for personnel to safely and effectively care for everyone with COVID-19, plus everyone else who needs health care
 Context
On March 27, Dunleavy issued Health Mandate 011, which required Alaskans to stay home unless performing essential activities. Dunleavy also issued Health Mandate 012, which limited movement within the state to travel for essential needs or to support critical infrastructure. On April 9, Dunleavy extended the health mandates through April 21. On April 21, Dunleavy extended some restrictions, while also allowing businesses to begin reopening on April 24.
As of June 19, Alaska has reported 722 confirmed cases of COVID-19 and 12 fatalities. Alaska had an estimated population as of July 2019 of 731,545. For every 100,000 residents, the state had 98.7 confirmed cases and 1.6 deaths.
Alaska has a divided government. Republicans control the governor's office and the Senate, while the House is split as the result of a power-sharing agreement.
Plan details
Phase I
Phase I began on April 24. The following businesses and activities were permitted to resume:
Most non-essential businesses were permitted to reopen if they could meet requirements related to social distancing and capacity restrictions.

Retail stores were allowed to reopen at 25% of the maximum building capacity or 20 customers, whichever was smaller.
Restaurants could resume indoor dining if capacity was limited to 25% and groups were limited to household members only. Cloth face coverings were required for all employees.
Personal care services, including hair salons and tattoo shops, were prohibited from offering walk-in services and restricted to no more than 10 people in a shop at the same time.

Gatherings of up to 20 people.
Elective medical services.
Childcare and day camps, fishing charters, and lodging and overnight camping were also allowed to resume or reopen with social distancing and capacity restrictions.
Bars and entertainment venues were to remain closed.
Phase II
Phase II began on May 8. The following businesses were allowed to reopen or expand activity:
Most businesses allowed to reopen under Phase I could operate at 50% capacity, including retail, restaurants, personal care services, and offices. Personal care services continued to be limited to reservations only.
Gyms bars, libraries, and theaters were permitted to reopen at 25% capacity.
Swimming pools were permitted to reopen at 50% capacity.
Social gatherings could include up to 50 people, including non-household members.
Phase III/IV
Alaska moved up the timeline for adopting the Phase IV reopening guidelines, essentially skipping over the original Phase III restrictions. This phase, which the state refers to as "Phase III/IV," went into effect on May 22.
Under Phase III/IV, all businesses and most activities were permitted to reopen at 100% capacity or resume without restrictions.
A few restrictions were kept in place, including:
Quarantine requirements for international and interstate travel.
Limited visitation access to senior centers and long-term care facilities.
Restrictions on K-12 public schools.
As of June 6, travelers coming to Alaska are asked to be tested at least 72 hours before arriving in the state. Travelers can avoid a 14-day quarantine requirement if they present a negative COVID-19 test upon arrival. Visitors without a test can also be tested at an airport. Once tested, they must quarantine until their test results come back.
The Reopen Alaska Responsibly Plan was originally supposed to unfold over five phases. As of this writing, the state has not released guidance on what a fifth phase of reopening might look like. Just before the state entered Phase III/IV, Dunleavy said "It will all be open, just like it was prior to the virus," and "I think the people of Alaska get that they need to stay away from folks if they don't want to get the virus. That they need to wash their hands and wipe things down. People get that."
Additional activity
In this section, we feature examples of activities by other federal, state, and local governments and influencers relevant to recovering from the pandemic.