Each day, we:
Track the status of reopening in all 50 states.
Compare the status of one industry or activity across the country.
Provide in-depth summaries of the latest reopening plans.
Give you the latest stories on other reopening plans and ideas.
Want to know what happened yesterday? Click here.
The next two days
What is reopening in the next two days? Which stay-at-home orders will expire?
June 25
Connecticut (Democratic trifecta): The state is expected to release the first draft of its school reopening plan. The plan will reportedly include a regular school week with guidance for when masks are required and modified bus service.
June 26
Illinois (Democratic trifecta): The state is scheduled to move into the fourth phase of reopening on June 26. Phase 4 will allow gatherings of up to 50 people. Indoor recreation venues (like bowling alleys and theaters), indoor dining services, and outdoor spectator sports facilities will be able to reopen with limits. Gov. J.B. Pritzker (D) released guidance for reopening schools. The guidance requires face coverings for all students and staff, prohibits gatherings of more than 50 people, and includes temperature screenings and social distancing protocols.
Since our last edition
What is open in each state? For a continually updated article on reopening status in all 50 states, click here. For our last edition, click here.
Connecticut, New Jersey, New York (Democratic trifectas): Govs. Ned Lamont (D-Conn.), Phil Murphy (D-N.J.), and Andrew Cuomo (D-N.Y.) announced on June 24 that travelers arriving in their states from states with a high infection rate must quarantine for 14 days. The infection rate is based on a seven-day rolling average of the number of infections per 100,000 residents. As of June 24, the states that meet that threshold are Alabama, Arkansas, Arizona, Florida, North Carolina, South Carolina, Texas, Utah, and Washington.
New York (Democratic trifecta): The Long Island region is moving into Phase Three of Gov. Cuomo's reopening plan on June 24. The Mid-Hudson Valley region moved into the third phase on June 23. Phase Three permits indoor dining at 50% capacity and indoor gatherings of up to to 25 people.
New Jersey (Democratic trifecta): Gov. Murphy announced playgrounds and attractions like waterparks and amusement parks can reopen starting July 2.
Update on stay-at-home orders
Forty-three states issued orders directing residents to stay home except for essential activities and the closure or curtailment of businesses each state deemed nonessential. Seven states did not.
As of June 24, stay-at-home orders have ended in 39 states. Nineteen of those states have Republican governors and 20 have Democratic governors (including Wisconsin, where the state Supreme Court invalidated the stay-at-home order).
The four states with active stay-at-home orders have Democratic governors. They are (with expiration date):
New York (June 27)
New Mexico (June 30)
California (no set expiration date)
Kentucky (no set expiration date)
Here's which stay-at-home orders have expired.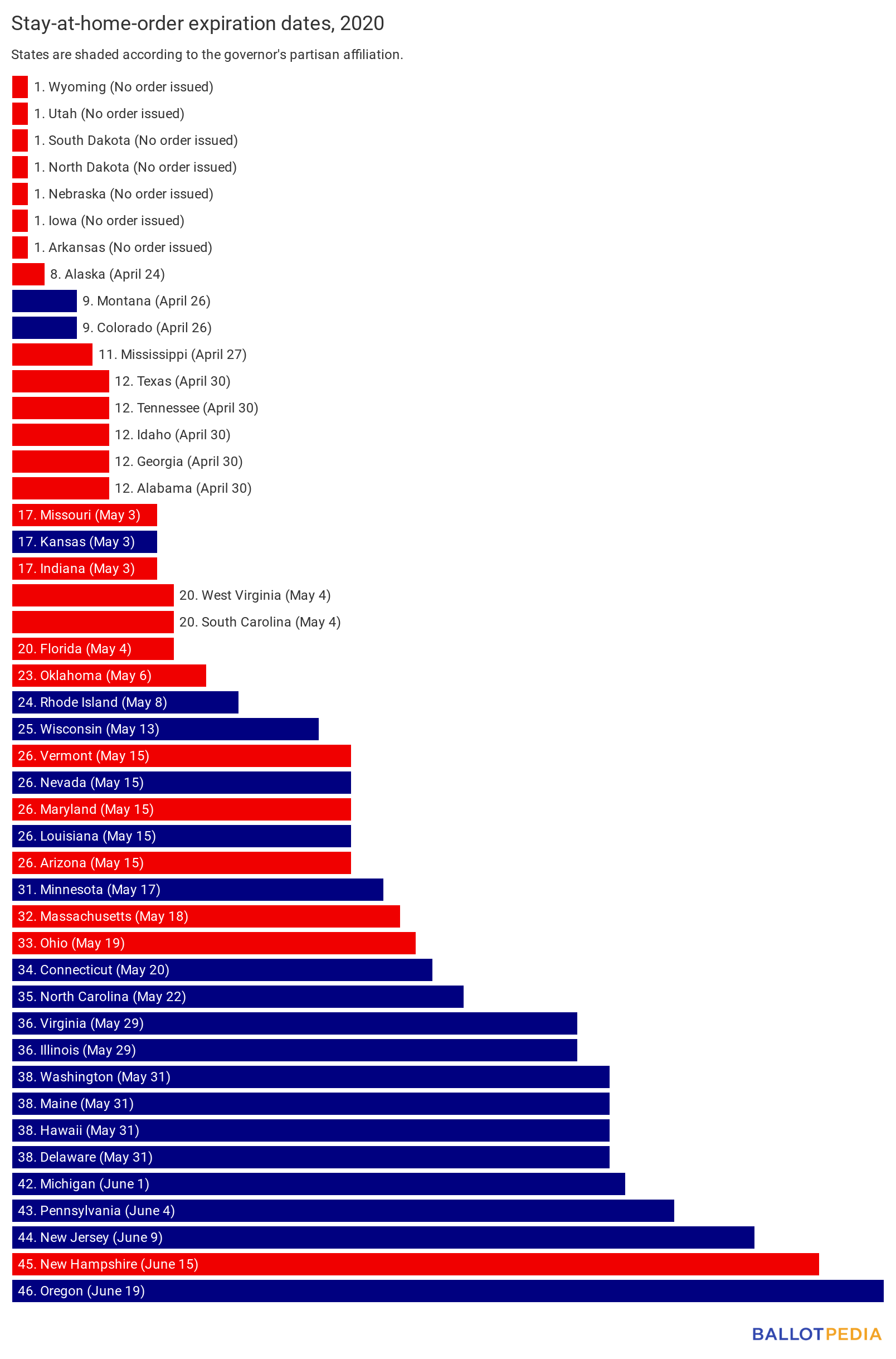 Tracking industries: Child care facilities
All 50 states are reopening in some way. Here, we give the status of one industry or activity across the states. Today's question: in which states may you take your child to daycare?
Currently, all 50 states allow for child care facilities to operate. In a handful of states, facilities are operating only regionally or with capacity limits. That became true on June 15, when child care facilities in Kentucky and New Jersey were allowed to reopen.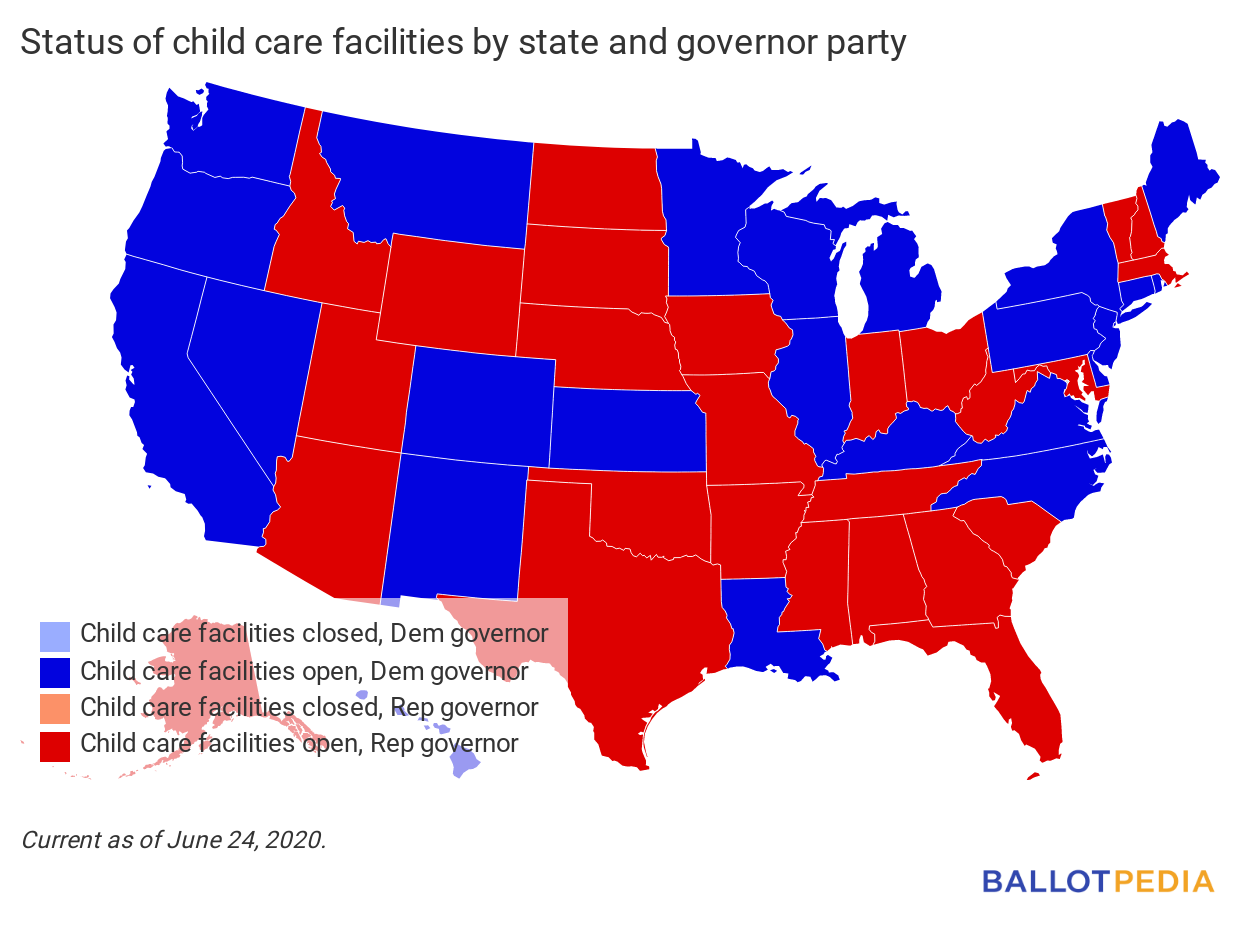 This is an in-depth summary of one of the latest reopening plans. Is there a plan you'd like us to feature? Reply to this email and let us know. Click a state below to read a previous Featured Plan.
Louisiana Gov. John Bel Edwards (D) announced a three-phase reopening plan on May 11. The first phase of the plan began on May 15, lifting the stay-at-home order and allowing businesses like gyms, movie theaters, and barbershops to reopen with 25% occupancy limits.
On June 5, the state entered Phase Two. As of June 24, the state remains in the second phase, which allows most businesses to reopen at 50% occupancy.
In a press release announcing the plan, Edwards said, "Right now, the data shows improvement, and we also now have a much more robust testing and contract [sic] tracing program underway, which will allow us to better identify cases and isolate those who may have been infected. However, we are not out of the woods and if we see a dramatic spike in cases, we may have to increase restrictions. Our lives will not go back to normal for some time."
Louisiana's plan allows local governments to impose stricter regulations as necessary "to protect life and property and to bring the emergency situation under control."
Edwards said the state's reopening plan is based on the recommendations of the White House coronavirus task force. He said progression through the three phases of the road map is contingent on a downward trajectory in:
COVID-like symptoms
New cases
Hospitalizations
Context
Louisiana's statewide stay-at-home order took effect on March 22 and expired on May 15.
As of June 23, there had been 51,595 confirmed positive cases of COVID-19 in Louisiana and 3,021 reported deaths. A total of 635,939 residents had been tested, amounting to a positive test rate of 8.1 percent. As of July 2019, Louisiana's estimated population was 4.6 million. Per 100,000 residents, there have been 1,121.6 confirmed positives, 65.7 confirmed deaths, and 13,824.8 total tests.
Louisiana has a divided government, with a Democratic governor and Republican majorities in both chambers of the state legislature.
Plan details
General guidelines
Individuals
Louisiana's reopening plan did not implement restrictions on individuals statewide, like mask requirements or gathering limits. It allows local governments to do so. For example, in New Orleans, people are required to wear masks and gatherings larger than 100 are prohibited.
The reopening plan encourages but does not require people to:
Wear face coverings in public
Practice good hygiene like hand washing
Maintain six-foot social distancing
Businesses
The reopening plan says businesses:
Must require employees to wear masks
Must enforce social distancing guidelines
Phase 1
Individuals
Everyone is encouraged to stay home when possible
People encouraged to adhere to general guidance
Businesses
Phase One allowed the following businesses to reopen at 25% capacity:
Gyms and fitness centers
Barber shops and hair and nail salons
Casinos and Video Poker
Theaters
Racetracks (not open to spectators)
Museums, zoos, aquariums (no tactile exhibits)
Bars and breweries with LDH food permits
Click here for a full list of guidance documents for Phase One businesses.
Phase 2
Individuals
High-risk individuals are encouraged to stay home when possible
People encouraged to adhere to general guidance
Businesses
Phase Two allows the following businesses to reopen at 50% capacity:
Restaurants, cafes and coffee shops
Shopping malls (including food courts, following restaurant guidance)
Gyms and fitness centers
Barber and beauty shops and nail salons
Movie theaters
Racetracks (with an approved plan from the Louisiana Racing Commission)
Museums (including children's museums), zoos, aquariums (no tactile exhibits)
Bars and breweries with LDH food permits
Massage establishments, spas, and tattoo establishments (under strict guidance from LDH), esthetician services (under strict guidance from the Cosmetology Board)
Pool halls, bowling alleys and skating rinks (children must be accompanied by an adult)
Event Centers and wedding venues
Outdoor playgrounds and play centers (children must be accompanied by an adult)
The second phase also allows bars without food permits to open at 25% capacity. Click here for a full list of guidance documents for Phase Two businesses.
Phase 3 
As of June 24, guidance is not yet available for the third phase of reopening. On June 22, Edwards announced he was extending Phase Two for at least 28 days. The state was initially scheduled to move into Phase Three on June 26.
Reactions
In a staff editorial, The Advocate said Louisiana's declining coronavirus numbers in mid-May indicated Edwards' reopening plan was successful. "Gov. John Bel Edwards has provided steady leadership. Someone has to decide what activities are allowed or banned, and it's inevitable that some will think the rules are unfair. The governor of Michigan banned boating and lawn care services, and she has been greeted with howls of protest. But protests in Baton Rouge have mostly fizzled, and the steady improvement in the state's overall numbers suggests the cautious approach was the correct one."
House Majority Leader Blake Miguez (R) criticized Edwards' decision to postpone Phase One. Miguez said Edwards was "just being stubborn. This is the time for him to really listen to the voices of the people back home. We've got to take the responsible approach to protecting lives and livelihoods."
Additional activity
In this section, we feature examples of activities by other federal, state, and local governments and influencers relevant to recovering from the pandemic.
On June 19, Judge Paul Grimm of the U.S. District Court for the District of Maryland ruled that a group of children, who are U.S. citizens, and their parents, who are not, had standing to sue the Donald Trump (R) administration over the denial of Coronavirus Aid, Relief, and Economic Security (CARES) Act benefits. In their lawsuit, the plaintiffs seek to "challenge the allegedly intentional and discriminatory denial to U.S. citizen children of the benefits of emergency cash assistance distributed … in response to the COVID-19 pandemic solely because one or both of a child's parents are undocumented immigrants." Grimm dismissed the government's argument that, because the children would not directly receive the benefits, the plaintiffs lacked standing to file suit. Instead, Grimm found that each child should be construed as a "qualifying child" under the CARES Act and, "but for the discrimination against them based on their parents' alienage," would "have the opportunity to benefit from the economic impact payments." As such, Grimm found that the court has proper subject-matter jurisdiction over the plaintiffs' claims, the plaintiffs have standing to sue, and the plaintiffs have adequately alleged an equal protection claim. The government was given until July 10 to file an answer to the plaintiffs' complaint. Grimm was appointed to the court by President Barack Obama (D).