Each day, we:
Track the status of reopening in all 50 states.
Compare the status of one industry or activity across the country.
Provide in-depth summaries of the latest reopening plans.
Give you the latest stories on other reopening plans and ideas.
Want to know what happened yesterday? Click here.
The next two days
What is reopening in the next two days?
June 26
Illinois (Democratic trifecta): The state is scheduled to move into the fourth phase of reopening on June 26. Phase 4 will allow gatherings of up to 50 people. Indoor recreation venues (like bowling alleys and theaters), indoor dining services, and outdoor spectator sports facilities will be able to reopen with limits.
Maine (Democratic trifecta): Effective June 26, lodging establishments will be allowed to serve out-of-state visitors. The original target date was July 1. Out-of-state visitors will be required to submit to a 14-day quarantine upon arrival in Maine. Alternatively, visitors receiving a negative COVID-19 test no later than 72 hours before arriving in Maine can forgo the quarantine requirement.
New York (Democratic trifecta): Gov. Andrew Cuomo (D) announced the Central New York, Finger Lakes, Mohawk Valley, North Country, and Southern Tier regions of the state were on track to enter the fourth phase of reopening on June 26. Phase IV will allow gatherings of up to 50 people. It will also allow industries like higher education and media production to resume operations.
Vermont (divided government): Effective June 26, outdoor sporting events of up to 150 people, including spectators and participants, can resume. Spectator areas must allow for social distancing of 100 square feet per person. Additionally, restaurants and bars can operate at 50% capacity or one person per 100 square feet, with a maximum of 75 people indoors and 150 people outdoors. Places of worship will also be allowed to operate according to the same guidelines.
Washington (Democratic trifecta): Gov. Jay Inslee (D) announced that a statewide mask mandate will go into effect on June 26. People will need to wear a face covering in indoor and outdoor public spaces. Masks will not be required outdoors if six feet of space can be maintained between people. Children under two are exempt from the mandate.
Since our last edition
What is open in each state? For a continually updated article on reopening status in all 50 states, click here. For our last edition, click here.
Hawaii (Democratic trifecta): Gov. David Ige (D) announced out-of-state travelers would be able to avoid the state's 14-day self-quarantine period if they could provide proof of a recent negative coronavirus test starting Aug. 1. Ige also approved Honolulu's request to allow live entertainment at bars and restaurants.
Update on stay-at-home orders
Forty-three states issued orders directing residents to stay home except for essential activities and the closure or curtailment of businesses each state deemed nonessential. Seven states did not.
As of June 25, stay-at-home orders have ended in 39 states. Nineteen of those states have Republican governors and 20 have Democratic governors (including Wisconsin, where the state Supreme Court invalidated the stay-at-home order).
The four states with active stay-at-home orders have Democratic governors. They are (with expiration date):
New York (June 27)
New Mexico (June 30)
California (no set expiration date)
Kentucky (no set expiration date)
Here's which stay-at-home orders have expired.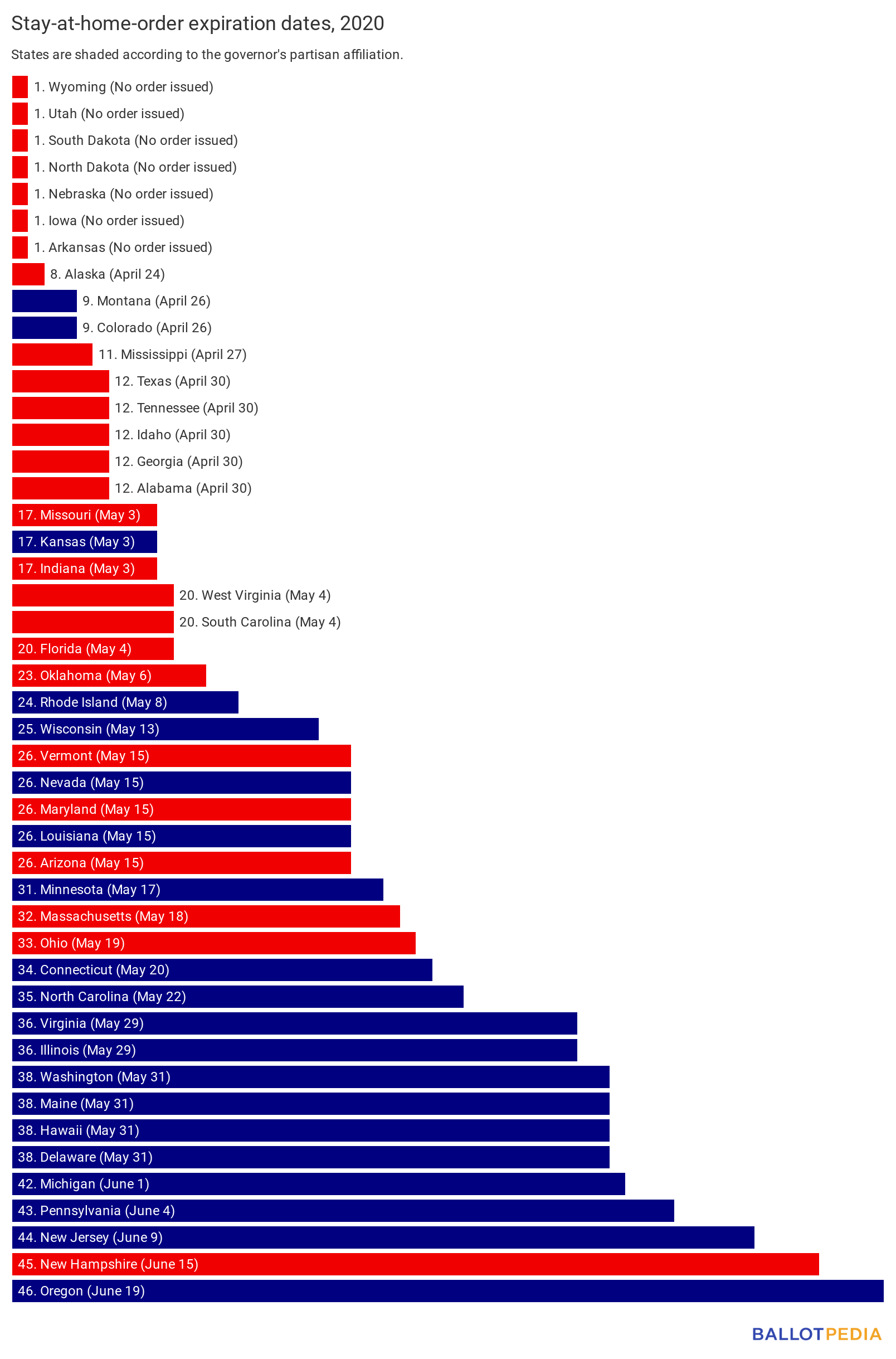 Tracking industries: Indoor performances
All 50 states began to reopen in some way. Here, we give the status of one industry or activity across the states. Today's question: in which states may you go see a concert or play?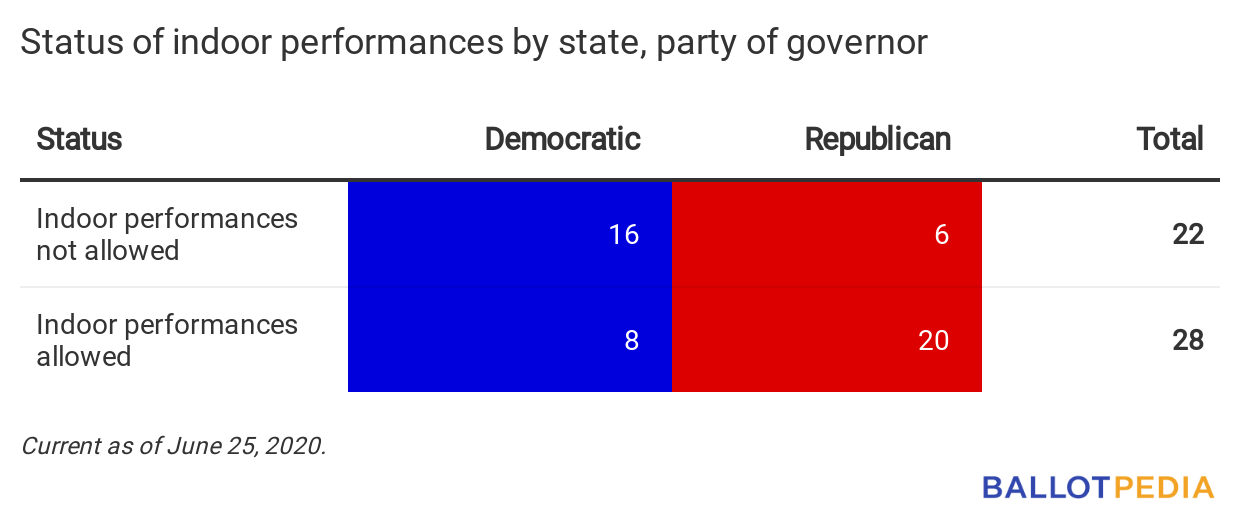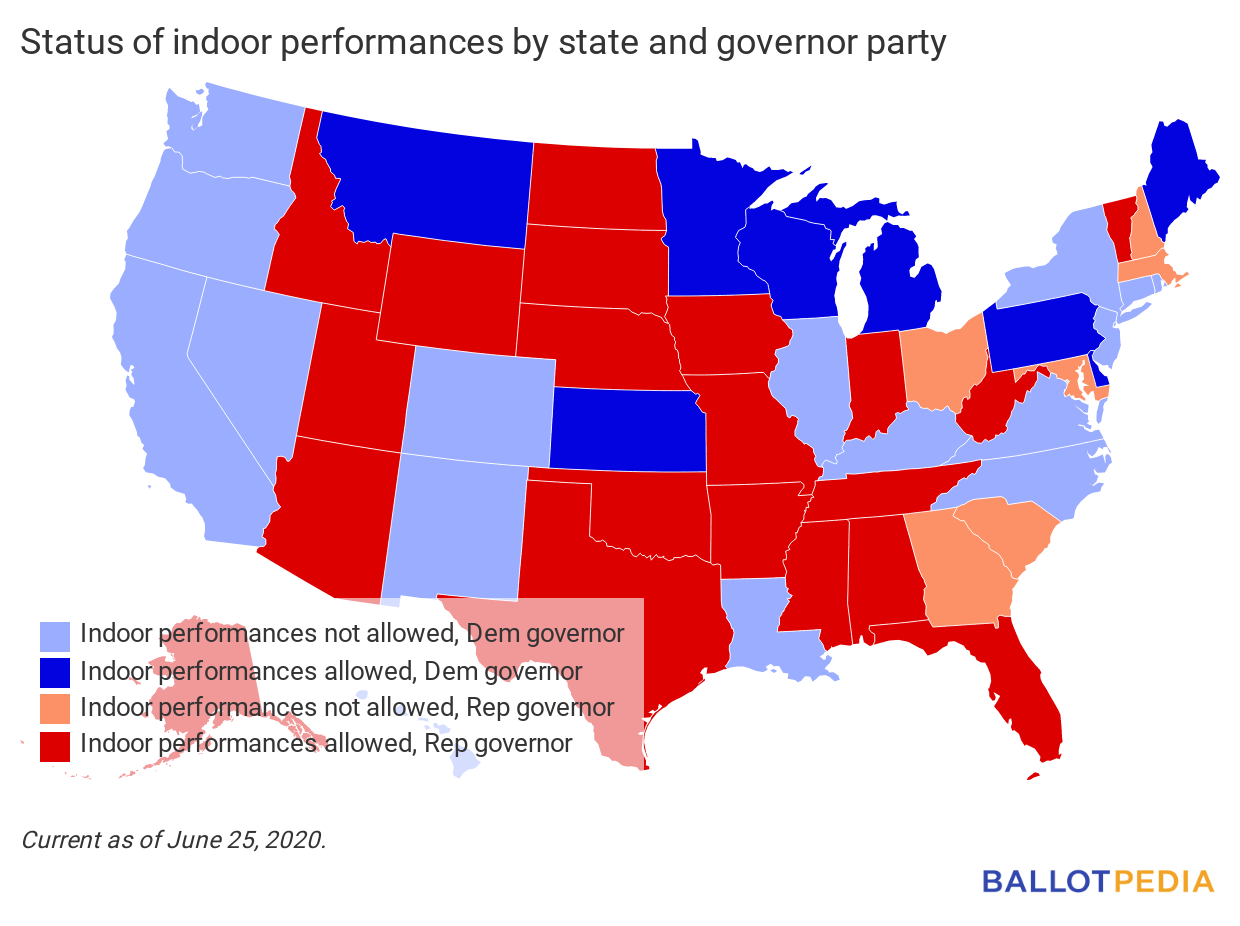 This is an in-depth summary of one of the latest reopening plans. Is there a plan you'd like us to feature? Reply to this email and let us know. Click a state below to read a previous Featured Plan.
Gov. Kristi Noem (R) announced South Dakota's Back to Normal plan on April 28. Noem said, "Thanks to a strong commitment and respect for the principle of personal responsibility, South Dakotans have dramatically changed the trajectory of our initial COVID-19 projections. With our hospitalization capacity currently at a manageable level, South Dakotans are asked to consider the following steps as we look to get back to normal."
The plan provided guidance and recommendations for businesses and individuals, including advice on sanitation and capacity limits. It also encouraged local governments to "[c]onsider current and future actions in light of these guidelines."
Noem said the decision to initiate the plan was based on the following metrics:
"

Symptoms

Downward trajectory of influenza-like illnesses (ILI) reported within the last 14-day period
Plan in place so all persons with COVID-19 symptoms can receive a test upon recommendation from their provider

Cases

Downward trajectory of documented cases within a 14-day period in areas with sustained community spread
No clusters that pose a risk to public

Hospitals

Treat all patients without crisis care
Testing program in place for at-risk healthcare workers, including emerging antibody testing
Adequate supply of independently procured personal protective equipment is available for all workforce and patients

State

SD DOH has the capacity to rapidly investigate
COVID-19 cases and initiate containment (isolation and quarantine)
SD EOC maintains a rapid response team to support high-risk businesses with a confirmed COVID-19 case

"
South Dakota is one of seven states that did not issue a stay-at-home order (along with Arkansas, Iowa, Nebraska, North Dakota, Utah, and Wyoming). It is the only state that did not close businesses in response to the coronavirus.
Context
Although Noem never issued a statewide stay-at-home order, Executive Order 2020-08 took effect on March 23. The order encouraged individuals to stay home and recommended that businesses suspend or modify practices to meet CDC recommendations for preventing the spread of COVID-19. Executive Order 2020-12 updated and extended the previous order to May 31, when it expired.
As of June 24, there had been 6,419 confirmed positive cases of COVID-19 in South Dakota and 84 confirmed deaths. A total of 75,077 residents had been tested, amounting to a positive test rate of 8.5 percent. As of July 2019, South Dakota's estimated population was 884,659. Per 100,000 residents, there have been 725.6 confirmed positives, 9.5 confirmed deaths, and 8,486.5 total tests.
South Dakota is a Republican trifecta, with a Republican governor and Republican majorities in both chambers of the state legislature.
Plan details
General guidance
After announcing South Dakota's Back to Normal plan, Noem said, "I trusted my people, they trusted me to make decisions that were best for us, and they've just done an absolute fantastic job. That's why my plan is not a reopening plan, it's a back-to-normal plan. We're working our way back towards getting the life in South Dakota that we love again — and I'm giving them guidance to do that."
Since South Dakota never released mandatory health orders related to the coronavirus, the reopening plan contained recommendations for individuals and businesses. The following recommendations were included in Noem's plan: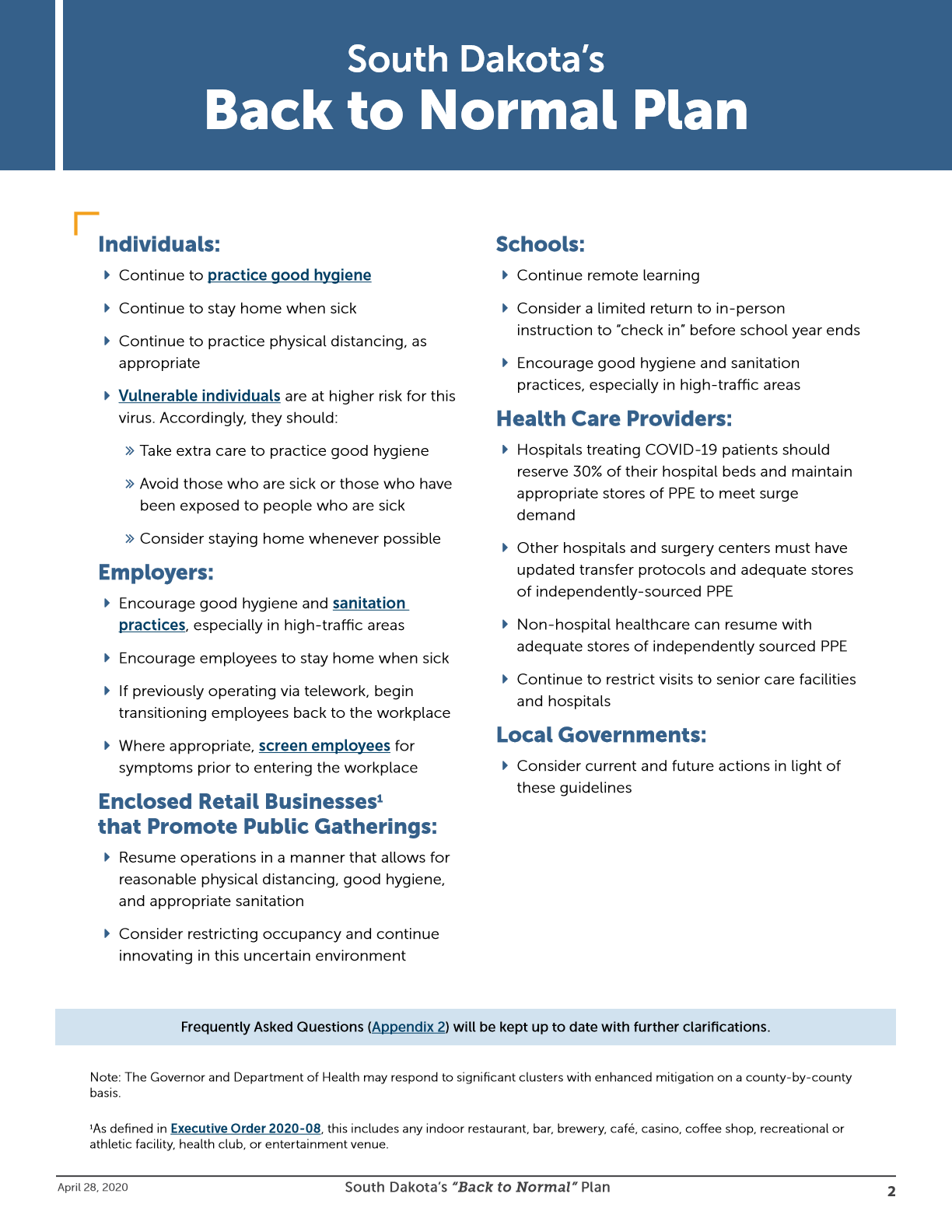 Guidance for reopening the state government
On May 1, Noem signed an executive order allowing cabinet secretaries in her administration to reopen in-person office activities at their discretion. According to a press release, the order still allowed "admin leave for employees who cannot come in and cannot work remotely. It also allows for approved out-of-state work-related travel."
Reactions
Dr. Benjamin C. Aaker, an emergency medicine physician in South Dakota, said the state needed to issue a stay-at-home order instead of releasing reopening guidelines. "As the rest of the country begins debating how and when to reopen safely, South Dakota never officially closed. Doctors like me have asked Gov. Kristi L. Noem (R) to take stronger action, which would give our health professionals the necessary time and resources to manage the coronavirus outbreak. We may soon be facing the challenges and hardships already seen in New York and other cities if a statewide order is not issued immediately."
A group of Watertown physicians wrote a letter supporting Noem's coronavirus response, saying, "We have witnessed unprecedented cooperation between our local and regional health care facilities, businesses, and population at large. Each entity has taken the crisis seriously and engaged in the necessary steps to keep our people safe and healthy. We especially appreciate the Governor giving us the opportunity to be personally responsible for our own well-being without the mandates and restrictions we see in other states. There is mounting evidence that the infection prediction models do not apply universally across the country and the burden of the disease differs among regions. Governor Noem's approach has proven thus far to be safe and appropriate and has provided the people of South Dakota the opportunity to demonstrate that they are unique, independent, and responsible. As the State moves forward from the crisis, we encourage people to maintain vigilance about safety measures and look forward to continuing to participate in a coordinated approach to return to normal life."
Additional activity
In this section, we feature examples of activities by other federal, state, and local governments and influencers relevant to recovering from the pandemic.
Disney announced that its California theme parks would delay reopening beyond the scheduled July 17 date. The company said the delay was due to the state, which is not releasing its guidelines for reopening theme parks until July 4. In a statement, Disney said two weeks was not enough time to incorporate the guidelines and train its employees.
On May 26, the first of 35 lawsuits challenging supermarket chain Giant Eagle's mandatory face mask policy was filed in the U.S. District Court for the Western District of Pennsylvania. The lawsuits, which Judge Nora Barry Fischer, a George W. Bush (R) appointee, has combined, accuse Giant Eagle of violating the Americans with Disabilities Act (ADA) and Pennsylvania Human Relations Act by requiring all customers to wear face coverings while inside stores. The chain instituted the policy to mitigate the spread of COVID-19. But plaintiffs allege their physical and/or mental impairments, including respiratory diseases, anxiety disorders, and past traumas, prohibit their ability to wear face coverings while shopping inside. They argue that barring entry into stores for failure to wear a mask violates the ADA because the law "expressly prohibits, among other things, discrimination on the basis of disability in the full and equal enjoyment of . . . services [and] public accommodation." The plaintiffs also allege Giant Eagle has misinterpreted a state order mandating that businesses require face coverings except where customers "cannot wear a mask due to a medical condition." Giant Eagle representative Dick Roberts said the "lawsuits have no merit," and noted the chain offers curbside and delivery service.
The Tennessee State Museum in Nashville, Tennessee, will reopen on July 1. Guests and employees will be required to wear masks, and temperature checks will be administered to those entering the facility.