Each day, we:
Track the status of reopening in all 50 states.
Compare the status of one industry or activity across the country.
Provide in-depth summaries of the latest reopening plans.
Give you the latest stories on other reopening plans and ideas.
Want to know what happened yesterday? Click here.
The next three days
What is reopening in the next three days?
June 27
New York (Democratic trifecta): The statewide stay-at-home order is set to expire on June 27, which will make New York the 40th state to lift a stay-at-home order. Even though the order is active through June 27, it has not applied to any of the state's regions since New York City entered Phase I on June 8. Gov. Andrew Cuomo (D) announced movie theaters, malls, and gyms would not be able to open as part of Phase IV. Mayor Bill de Blasio (D) announced New York City was on track to enter Phase III of the state's reopening plan starting July 6.
June 29
Kentucky (divided government): Effective June 29, bars, public swimming and bathing facilities, venues, and event spaces will be allowed to reopen. Social gatherings of up to 50 people will be permitted.
Since our last edition
What is open in each state? For a continually updated article on reopening status in all 50 states, click here. For our last edition, click here.
Alabama (Republican trifecta): Alabama Superintendent of Education Eric Mackey released reopening guidance for schools. The guidance allows local school officials to determine face-covering requirements and physical distancing protocols.
Arkansas (Republican trifecta): Gov. Asa Hutchinson (R) announced that the state would not proceed with a new phase of its reopening, citing the increase in the number of positive coronavirus cases.
Connecticut (Democratic trifecta): Connecticut Education Commissioner Miguel Cardona said his department is proposing all schools reopen to students in the fall. Cardona said students and staff will be required to wear masks while inside school buildings.
Delaware (Democratic trifecta): Gov. John Carney (D) announced he is delaying the state's reopening plan. Delaware was scheduled to enter into Phase Three on June 29. Carney said too many people were not following the health directives issued in previous phases.
Florida (Republican trifecta): Gov. Ron DeSantis (R) said he is not reconsidering Florida's reopening plan, but said the state is not ready to proceed to the next phase. The Department of Business and Professional Regulation suspended the consumption of alcohol at bars across the state.
Iowa (Republican trifecta): The Iowa Department of Education announced that schools would be allowed to reopen beginning July 1. Officials announced there would be no requirement for students or staff to wear face coverings, undergo health checks, or social distance.
Idaho (Republican trifecta): Gov. Brad Little (R) announced Idaho would stay in Phase 4 for at least two more weeks, saying the state did not meet the metrics necessary to finish reopening.
Illinois (Democratic trifecta): The state is moving into the fourth phase of reopening on June 26. Phase 4 allows gatherings of up to 50 people. Indoor recreation venues (like bowling alleys and theaters), indoor dining services, and outdoor spectator sports facilities can reopen with limits.
Maine (Democratic trifecta): Effective June 26, lodging establishments are allowed to serve out-of-state visitors (the original target date was July 1). Out-of-state visitors will be required to submit to a 14-day quarantine upon arrival in Maine. Alternatively, visitors receiving a negative COVID-19 test no later than 72 hours before arriving in Maine can forgo the quarantine requirement.
Michigan (divided government): On June 25, Gov. Gretchen Whitmer (D) issued an executive order allowing professional sports leagues and teams to resume operations, subject to gathering, event, and capacity restrictions outlined in previous executive orders. Live audiences are not permitted, except for facilities staff and media personnel.
New Jersey (Democratic trifecta): Gov. Phil Murphy (D) announced guidance for schools reopening in the fall. Each school district will develop a plan that complies with state requirements. The state will require faculty and visitors to wear face coverings and encourage students to do the same.
New Mexico (Democratic trifecta): Gov. Michelle Lujan Grisham (D) announced the state would pause reopening and likely delay entering Phase 2.
Pennsylvania (divided government): Twelve more counties moved into the green phase of the state's reopening plan on June 26. Gov. Tom Wolf (D) announced Lebanon, the only county remaining in yellow, will be able to enter green starting July 3. The green phase allows most businesses and functions to reopen under state restrictions, including salons, barbershops, spas, casinos, theaters, malls, and gyms. It also allows gatherings of up to 250 people.
Rhode Island (Democratic trifecta): Gov. Gina Raimondo (D) said she is not ready to announce Phase 3 of reopening, which was originally expected to begin on June 30.
Texas (Republican trifecta): In response to a rise in coronavirus cases, Gov. Greg Abbott (R) announced on June 26 he was reimposing some statewide restrictions on businesses, including ordering all bars to close by 12:00 p.m. that day. Restaurants, which are currently allowed to operate at 75% capacity, will only be allowed to operate at 50% capacity beginning on June 29. The new order also requires rafting and tubing businesses to close and says local authorities must approve outdoor gatherings of more than 100 people.
Vermont (divided government): Effective June 26, outdoor sporting events of up to 150 people, including spectators and participants, can resume. Spectator areas must allow for social distancing of 100 square feet per person. Additionally, restaurants and bars can operate at 50% capacity or one person per 100 square feet, with a maximum of 75 people indoors and 150 people outdoors. Places of worship are also allowed to operate according to the same guidelines.
Washington (Democratic trifecta): Gov. Jay Inslee (D) signed into law a statewide mask mandate that takes effect on June 26. People must wear a face covering in indoor and outdoor public spaces. Masks are not required outdoors if six feet of space can be maintained between people. Children under two are exempt from the mandate.
Update on stay-at-home orders
Forty-three states issued orders directing residents to stay home except for essential activities and the closure or curtailment of businesses each state deemed nonessential. Seven states did not.
As of June 26, stay-at-home orders have ended in 39 states. Nineteen of those states have Republican governors and 20 have Democratic governors (including Wisconsin, where the state Supreme Court invalidated the stay-at-home order).
The four states with active stay-at-home orders have Democratic governors. They are (with expiration date):
New York (June 27)
New Mexico (June 30)
California (no set expiration date)
Kentucky (no set expiration date)
Here's which stay-at-home orders have expired.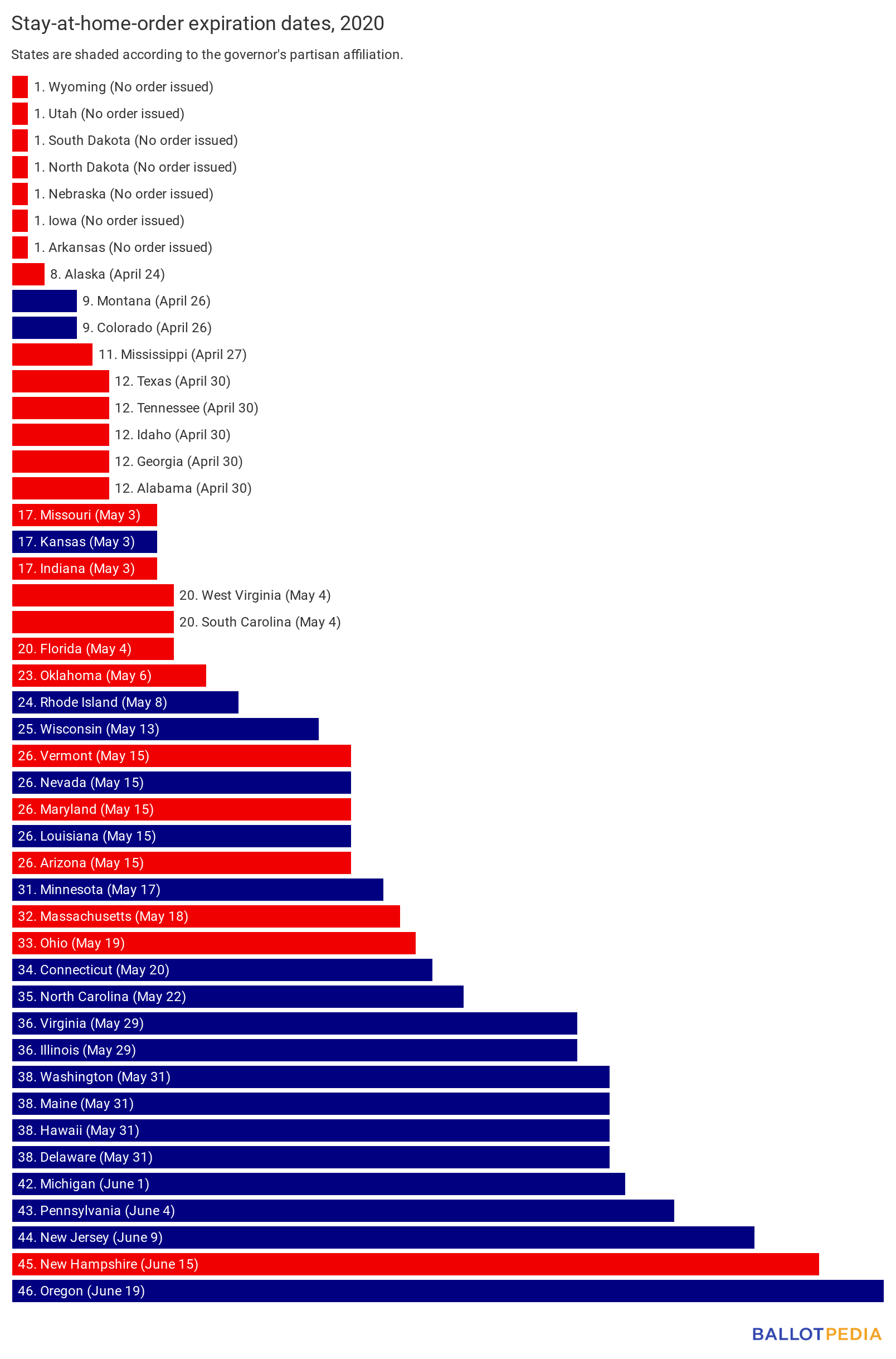 Tracking industries: Amusement parks
All 50 states are reopening in some way. Here, we give the status of one industry or activity across the states. Today's question: in which states may you go to an amusement park? We consider theme parks, water parks, and other outdoor entertainment parks here.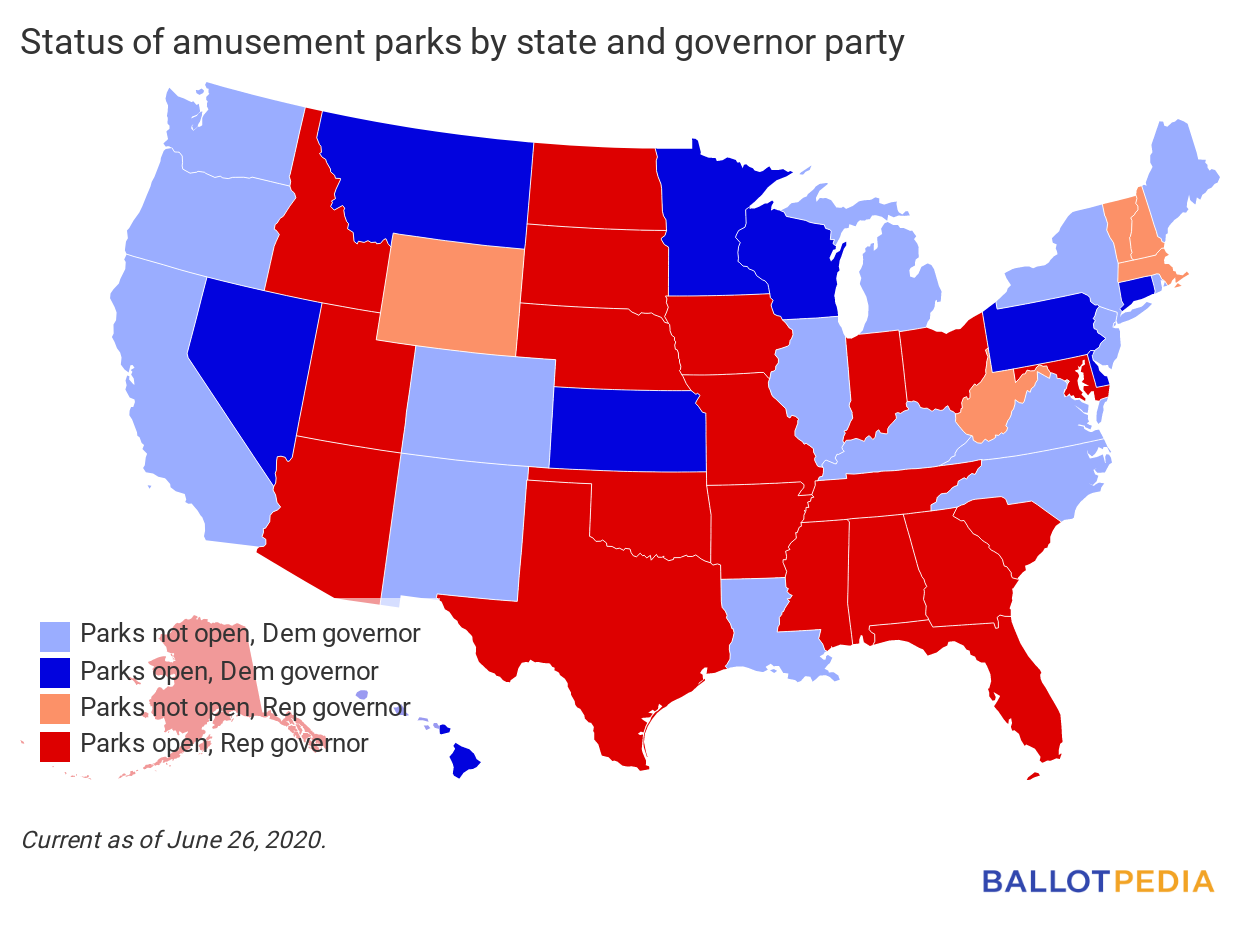 This is an in-depth summary of one of the latest reopening plans. Is there a plan you'd like us to feature? Reply to this email and let us know. Click a state below to read a previous Featured Plan
On April 30, Gov. Laura Kelly (D) released a phased reopening plan called "Ad Astra: A Plan to Reopen Kansas." The plan, developed in consultation with community and business leaders, a state emergency management team, and the state health department, laid out a baseline framework local governments throughout the state would need to follow, while permitting them to impose additional restrictions, if necessary.
The first phase of the plan began on May 4. The state entered the second phase on May 22. On May 26, Kelly announced she would no longer enforce the reopening plan, and instead allow local governments to decide which phase of the plan to adopt.
In announcing the plan, Kelly said, "It has been a difficult time that has taken a painful toll… financially, emotionally, physically, spiritually and professionally on Kansans. "But because Kansans took this seriously, COVID-19 has inflicted far less devastation on Kansas than it did in other states."
She also said that the reopening plan "aims to balance the needs and concerns identified throughout diverse regions of the state, and sectors of the Kansas economy, but without compromising public health and safety. Data must drive this process … not dates."
The plan says the following metrics would be used to determine if the state would move from one phase to the next:
Disease spread
Testing rates
Death rates
Hospitalizations
The ability of state and local public health authorities to contain outbreaks and conduct contact tracing
The availability of personal protective equipment (PPE)
Additionally, the plan recommends that local governments should look at the rate of COVID-19 cases per 100,000 people, COVID-19 hospital admissions, and the trajectory of deaths when deciding whether to loosen or add restrictions.
Context
On March 28, Kelly issued Executive Order 20-16, which directed people to stay home unless performing essential activities as defined by the Kansas Essential Function Framework (KEFF). The stay-at-home order took effect on March 30 and was originally scheduled to expire on April 19. However, Kelly extended the order through May 3, at which point she allowed it to expire and the state began reopening.
As of June 26, Kansas had reported 12,970 confirmed and probable COVID-19 cases and 261 deaths. Kansas's estimated population as of July 2019 was 2,913,314. For every 100,000 residents, the state had 445.2 cases and 8.9 deaths.
Kansas has a divided government. Democrats control the governorship, while Republicans hold majorities in the state House and Senate.
Plan details
Phase One began on May 4, allowing several types of businesses to reopen if they could adhere to certain requirements. Phase One maintained the 10-person gathering limit instituted under the stay-at-home plan.
All businesses were permitted to reopen if they could follow social distancing and sanitation requirements, including enforcing the 10-person gathering limit in areas where patrons could not maintain six feet of distance from one another. Childcare facilities and libraries were allowed to operate under Phase One.
The following businesses were prohibited from opening in Phase One:
Bars and nightclubs
Casinos (non-tribal)
Theaters, museums, and indoor leisure spaces like arcades
Fitness centers and gyms
Nail salons, barbershops, hair salons, tanning salons, tattoo parlors, and other personal service businesses
Summer camps
Community centers
Indoor and outdoor entertainment venues with a capacity of 2,000 or more
Fairs, graduation ceremonies, festivals, parades
Swimming pools
Organized sports
In this phase, individuals were encouraged to wear masks in public settings, and employers were encouraged to allow remote work when possible.
Phase 1.5 began May 18 and was not included in the first version of the plan. Kelly announced the inclusion of the new phase on May 14. She said the daily rate of disease spread was too high to move fully into Phase Two.
In Phase 1.5, the state maintained the 10-person gathering limit.
The following businesses and activities were allowed to reopen or resume with restrictions:
Commencement ceremonies (no more than 10 individuals in a room or gymnasium and six feet of distance)
Personal services businesses like nail salons, barbershops, and tattoo parlors (pre-scheduled appointments or online check-in only)
Fitness centers and health clubs (group classes prohibited and locker rooms closed)
The following businesses were prohibited from reopening:
Bars and nightclubs
Casinos (non-tribal)
Theaters, museums, and indoor leisure spaces like arcades
Community centers
Indoor and outdoor entertainment venues with a capacity of 2,000 or more
Fairs, graduation ceremonies, festivals, parades
Swimming pools
Organized sports
Phase Two began on May 22. The state increased the cap on gatherings to 15 individuals.
In Phase Two, recreational, youth, and non-professional sports were allowed to resume. Casinos and indoor leisure spaces, like arcades, were also permitted to reopen.
The following businesses were prohibited from reopening:
Bars and nightclubs
Swimming pools (other than those being used for physical therapy or first responder training)
Indoor and outdoor entertainment venues with a capacity of 2,000 or more
Fairs, graduation ceremonies, festivals, parade
Summer camps
On May 26, Kelly said she was turning responsibility for reopening over to local governments and would no longer impose a statewide reopening plan. Local governments could decide which phase of the plan to follow based on local conditions.
Phase Three was originally planned to begin no earlier than June 8. In Phase Three, the cap on gatherings is increased to 45 people and no businesses or activities are restricted from reopening or resuming. Individuals are encouraged to adhere to personal hygiene guidelines, and on-site staffing for employers is unrestricted.
Phase Out was the planned final phase of the reopening plan and was scheduled to begin no earlier than June 22.
The plan states that "Once the state is in Phase Out the Governor will make additional
recommendations to maintain public health and safety." As in the previous phases, local governments were still permitted to impose additional restrictions if necessary. Businesses were encouraged to follow public health measures, and individuals were encouraged to practice social distancing and hygiene protocols.
On Monday, June 22, Kelly recommended that in light of a spike in positive COVID-19 cases, local governments should follow Phase Three of the reopening plan.
Reactions
When the plan was unveiled, state Rep. Mark Schreiber (R), who represents District 60, said, "I knew it obviously was not going to be perfect by any means, but I compared it with the guidance from the White House and the CDC that they released a couple weeks ago called 'Opening Up America' and it seemed like, to me, that the governor's plan followed it for the most part. It followed the same basic framework, and I think it was a good document to work off of … I know people would love to open everything back up even as soon as today, but what I'm most afraid of is opening up too quickly and then having a round of increased infections that leads to another shutdown. That would complicate things tremendously, especially for businesses and schools."
State Sen. Jeff Longbine (R), who represents District 17, said, "On the surface, it's easy to criticize the governor, but I think she's doing what she feels is best. There are some components that I'm not sure will be quite as workable in practice as they are on paper. For instance, restaurants putting up plexiglass between booths and having them be at 50 percent occupancy. It makes me wonder what kind of expenditure that would have to be, and if it would even be profitable for those types of businesses to reopen if they can only be half full. Some of those aspects of the plan are still troubling to me."
Anthony Hensley (D), the Kansas Senate minority leader, told the Topeka Capital-Journal on April 30 that the plan was "responsible and reasonable."
Additional activity
In this section, we feature examples of activities by other federal, state, and local governments and influencers relevant to recovering from the pandemic.
Six Flags Discovery Kingdom in Vallejo, California, will partially reopen on July 2. The park will operate without its rides, with a reduced capacity of 2,000 (from the usual 12,000), and require guests to wear masks. Admission will be reduced by 50 percent because of the rides being unavailable.
On June 24, a three-judge panel of the U.S. Court of Appeals for the Sixth Circuit granted an emergency stay in favor of Michigan Gov. Gretchen Whitmer (D), barring indoor gyms from reopening due to continued risks associated with COVID-19. Whitmer had appealed a June 19 preliminary injunction issued by Judge Paul Maloney, of U.S. District Court for the Western District of Michigan, which barred enforcement of Executive Order 2020-110, Section 12(b). The executive order closed "indoor gymnasiums, fitness centers, recreation centers, sports facilities, exercise facilities, exercise studios, and the like" in an attempt to mitigate the spread of COVID-19. While Maloney enjoined the executive order, stating that Whitmer had offered "nothing in support of the restriction" nor "any set of facts on which the gym restriction has a rational relation to public health," the Sixth Circuit disagreed, pointing to "rational speculation" by Whitmer "that heavy breathing and sweating in an enclosed space containing many shared surfaces creates conditions likely to spread the virus." The Sixth Circuit found that the "public interest weighs in favor of a stay" of Maloney's injunction. The three-judge panel, which ruled unanimously, comprised Judges Julia Gibbons and Deborah Cook, both appointed by George W. Bush (R), and Chad Readler, who was appointed by Donald Trump (R). Following the Sixth Circuit's ruling, Whitmer's office released a statement commending the decision: "In the fight against a global pandemic, courts must give governors broad latitude to make quick, difficult decisions." Regarding the possibility of an appeal, an attorney for the plaintiffs said they were exploring their options.