Each day, we:
Track the status of reopening in all 50 states.
Compare the status of one industry or activity across the country.
Provide in-depth summaries of the latest reopening plans.
Give you the latest stories on other reopening plans and ideas.
Want to know what happened yesterday? Click here.
In observance of the Fourth of July holiday, we will not be publishing issues on July 3 and July 6. We will be back to our regular publication schedule on July 7. 
The next two days
What is reopening in the next two days?
July 3
Kansas (divided government): Beginning at 12:01 a.m. July 3, most Kansans will be required to wear face coverings in public places. Gov. Laura Kelly (D) is expected to issue the executive order formalizing the requirement on July 2.
Maine (Democratic trifecta): Effective July 3, Maine will exempt visitors from Connecticut, New Jersey, and New York from its 14-day quarantine requirement or negative COVID-19 testing alternative. Gov. Janet Mills (D) said, "In reviewing the objective metrics over recent days and weeks, the states of Connecticut, New Jersey, and New York demonstrate low positivity rates and other encouraging trends in the prevalence of the virus. As a result, we will exempt these states from Maine's quarantine or test policy."
July 4
Indiana (Republican trifecta): On July 1, Gov. Eric Holcomb (R) announced Indiana will enter Stage 4.5 of its reopening on July 4. Stage 4.5 will extend the provisions and reopenings implemented in Stage 4, with the following new activities allowed to resume: pari-mutuel horse racing and county and state fair racing (50% spectator capacity); fairs, festivals, and other similar outdoor events; youth overnight camps; and conventions. The state was scheduled to enter Stage 5 on July 4, and most businesses were to be allowed to resume operations at full capacity. Holcomb said it was necessary to extend Stage 4 capacity restrictions due to COVID-19 caseload growth in neighboring states such as Ohio: "The date doesn't drive us, but the data does. We are living on virus time." Stage 4.5 is scheduled to last through July 17.
Since our last edition
What is open in each state? For a continually updated article on reopening status in all 50 states, click here. For our last edition, click here.
Michigan (divided government): On July 1, Gov. Gretchen Whitmer (D) signed Executive Order 2020-143, which closes indoor bar service throughout most of lower Michigan. Whitmer said, "Following recent outbreaks tied to bars, I am taking this action today to slow the spread of the virus and keep people safe. If we want to be in a strong position to reopen schools for in-person classroom instruction this fall, then we need to take aggressive action right now to ensure we don't wipe out all the progress we have made." The order exempted the Upper Peninsula and much of northern Michigan. Outdoor bar service is permitted to continue statewide. The order took effect at 11:00 p.m. on July 1.
Ohio (Republican trifecta): Gov. Mike DeWine (R) released the details of a reopening plan for Ohio schools. The plan includes a recommendation that students third grade and above wear masks. School staff will be required to wear masks. DeWine said schools could adjust the rules in the plan to fit their own circumstances.
New Mexico (Democratic trifecta): Gov. Michelle Lujan Grisham announced she extended the state's stay-at-home order through July 15. Grisham also said out-of-state visitors will be required to self-quarantine for 14 days, and mask requirements will be enforced with $100 fines, effective July 1.
New Jersey (Democratic trifecta): The state is allowing more businesses to begin reopening on July 2, including amusement parks, bowling alleys, casinos, and gyms for individualized training appointments. The reopening of indoor dining is still postponed indefinitely.
New York (Democratic trifecta): Gov. Andrew Cuomo announced New York City would not be allowed to reopen indoor dining as part of Phase 3, which is scheduled to begin on July 6 in the city. New York City Mayor Bill de Blasio announced public schools would begin reopening in September.
Pennsylvania (divided government):

The Pennsylvania Supreme Court ruled the state legislature does not have the power to overturn Gov. Tom Wolf's (D) emergency declaration or shutdown orders via legislative resolution. The Senate Republican Caucus had sued Wolf for refusing to act on a legislative resolution directing him to end Pennsylvania's emergency declaration and lift all business shutdown orders issued in response to the coronavirus. In the suit, attorneys for the GOP Caucus argued the legislature could pass a concurrent resolution compelling the governor to terminate a state of disaster emergency. Wolf said all resolutions have to be presented to him to approve or veto and the legislative resolution did not carry legal force without his signature.
Secretary of Health Rachel Levine signed an expanded order requiring residents to wear masks in all public places. Previously, masks were only required in businesses.
Wyoming (Republican trifecta): The state Department of Education released reopening guidelines for schools. The plan includes requirements for three different scenarios. Some requirements, like social distancing, are shared across all scenarios. School districts are required to submit their own plans in the next few weeks.
Update on stay-at-home orders
Forty-three states issued orders directing residents to stay home except for essential activities and the closure or curtailment of businesses each state deemed nonessential. Seven states did not.
As of July 2, stay-at-home orders have ended in 41 states. Nineteen of those states have Republican governors and 22 have Democratic governors (including Wisconsin, where the state supreme court invalidated the stay-at-home order).
California and New Mexico, both of which have a Democratic governor, are the only remaining states with an active stay-at-home order.
Note: We previously reported New Mexico's stay-at-home order expired. On July 1, Gov. Michelle Lujan Grisham's office announced the health order was extended on June 30 through July 15.
Tracking industries: Movie theaters
All 50 states are reopening in some way. Here, we give the status of one industry or activity across the states. Today's question: in which states may you go see a movie in a theater? Our analysis below does not consider states that only allow for drive-in experiences to be open.
We last looked at movie theaters in the June 16th edition of the newsletter. Since then, six states (CT, IL, ME, NH, RI, and VA) have opened movie theaters. One state (Arizona) closed movie theaters that were previously reopened.
The three largest theater chains in the United States—AMC, Regal, and Cinemark—all announced in the last week that they would reopen in late July instead of mid-July as previously expected. The announcements came after delays to the release dates of Tenet and Mulan.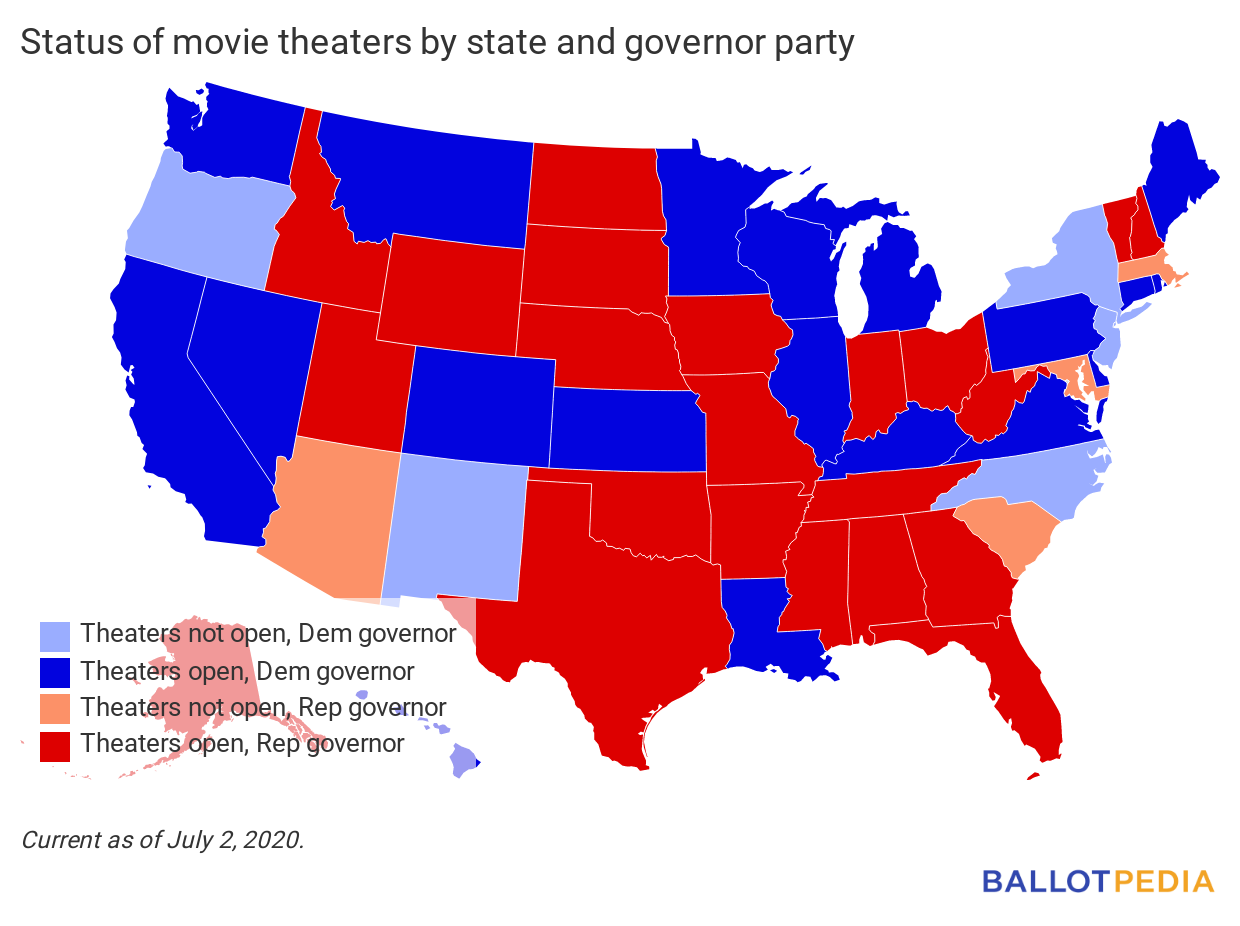 This is an in-depth summary of one of the latest reopening plans. Is there a plan you'd like us to feature? Reply to this email and let us know. Click a state below to read a previous Featured Plan.
On April 20, Gov. Tony Evers (D) announced "Badger Bounce Back," a phased plan to lift restrictions put in place to combat the spread of the coronavirus. That same day, Secretary-designee of the Wisconsin Department of Health Services Andrea Palm issued Emergency Order #31, which outlined the phases of reopening.
In announcing the plan, Evers said, "As we've learned over the past month, in the most difficult of circumstances, Wisconsinites will rise to the occasion, helping each other and working together to do what's best for our families, our neighbors, and our communities. That's what the Badger Bounce Back is all about: our resilience as a people and as a state. I am excited and hopeful about this plan. While being safe at home continues to be important, this plan is an all-out attack on the virus and it begins the process of preparing our businesses and our workforce for the important planning that will result in the safe and logical reopening of our economy."
Evers said the state would not enter the first phase of reopening until reported influenza-like illnesses and COVID-19 symptoms, as well as positive tests, began declining over a 14-day period.
Emergency Order #31 established the following criteria for moving between phases of reopening:
The order also established a set of core responsibilities the state had to show progress in that included in, including improving testing, tracing, tracking, procuring personal protective equipment (PPE), and healthcare capacity.
Context
Plan details
Wisconsin never entered the first phase of the reopening plan. A lawsuit filed by the Wisconsin State Legislature on April 21, the Wisconsin Legislature filed a lawsuit that resulted in the state Supreme Court's May 13 decision.
On April 16, Evers directed the Department of Health Services to extend the stay-at-home order through May 26. The order permitted nonessential businesses to offer curbside or delivery services, including libraries, and arts and crafts stores. Golf courses were allowed to reopen, though clubhouses had to stay closed. Lawn care services could reopen, so long as only one person did the work.
On April 27, the Wisconsin Department of Health Services issued an order on Evers's behalf further easing restrictions on some businesses. Under the new order, businesses like pet groomers could offer curbside services. Outdoor recreational rental businesses and car washes were permitted to reopen with restrictions.
On May 1, most state parks reopened with restrictions. On May 11, the Wisconsin Department of Health Services issued an order permitting stand-alone or strip-mall based retail stores to offer in-person shopping to a maximum of five people at a time. Drive-in theaters were also permitted to reopen with restrictions.
On May 13, the Wisconsin Supreme Court issued a 4-3 ruling that overturned the statewide stay-at-home order. All businesses were allowed to reopen without restrictions. Several counties issued their own public health orders and reopening guidelines in response. Some counties used Evers's Badger Bounce Back plan as a framework for reopening.
As originally formulated, the Badger Bounce Back plan had three phases of reopening. In the order establishing the Badger Bounce Back plan, Palm said, "The Department of Health Services shall announce the transition to each Phase with an order fully articulating the activities that will resume." Because the state Supreme Court's ruling lifted the stay-at-home order before the state could enter Phase One, the specific activities that would have been allowed to resume were never fleshed out.
What follows is an overview of that plan as originally released.
In Phase One, a maximum of 10 people can gather in one location. Restaurants are permitted to reopen with "best practices," and all non-essential businesses are allowed to partially reopen. Bars, however, can only offer take-out and delivery under this phase.
The plan also calls for reopening K-12 schools and daycares.
The plan calls for restricting unnecessary visits to nursing homes, congregate facilities, and hospitals until a vaccine is available.
In Phase Two, a maximum of 50 people can gather in one location. Bars are allowed to offer indoor and outdoor services with social distancing requirements, and post-secondary education institutions can consider reopening.
In Phase Three, most restrictions on businesses and individuals are fully lifted, including a cap on gatherings.
Reactions
In an analysis of the plan, the MacIver Institute, which describes itself as the free market voice for Wisconsin, wrote, "While the Governor has tried to portray the Badger Bounce Back plan as a legitimate attempt to systematically reopen the economy in an orderly fashion, our analysis finds that the Governor's metrics are not attainable in the next couple of weeks or even the next few months. Instead, the requirements seem both incredibly difficult to achieve and deliberately vague so the Governor can keep all of us trapped in our homes this summer and keep Wisconsin's economy closed until the fall."
State Sen. Dan Feyen (R), who represents District 18, said, "We need to strike a balance between public safety and economic well-being. This plan is a step in the right direction, but it's not likely the silver bullet. Changes will need to be made moving forward as situations change in real time. I am hopeful we can work together to provide the solutions our citizens deserve."
In an editorial, the Janesville Gazette wrote, "Gov. Tony Evers' Badger Bounce Back plan takes a cautious approach but isn't radical, as it largely incorporates the White House's Opening Up America Again guidelines. When Republican lawmakers, such as state Sen. Steve Nass, R-La Grange, condemn Evers' plan, they are also criticizing the guidance provided by President Trump's administration. Both plans call for reopening the economy in three phases. Both plans require monitoring the prevalence of COVID-19 cases to determine the timing of reopening economy, namely a 14-day decrease in positive COVID-19 tests as a percentage of total tests. Both provide a pathway for all businesses to eventually reopen, while continuing social distancing."
Additional activity
In this section, we feature examples of activities by other federal, state, and local governments and influencers relevant to recovering from the pandemic.