Each day, we:
Track the status of reopening in all 50 states.
Compare the status of one industry or activity across the country.
Provide in-depth summaries of the latest reopening plans.
Give you the latest stories on other reopening plans and ideas.
Want to know what happened in our last edition? Click here.
The next two days
What is reopening in the next two days?
July 8
New York (Democratic trifecta): Long Island is scheduled to enter Phase IV of reopening on July 8. The Mid-Hudson region is starting Phase IV on July 7. New York City moved to a modified Phase III that does not permit indoor dining on July 6.
Rhode Island (Democratic trifecta): The state will begin allowing limited visits to long-term care and assisted living facilities on July 8. Before opening to visitors, facilities must develop visitation plans that must be approved by the Rhode Island Department of Health.
Since our last edition
What is open in each state? For a continually updated article on reopening status in all 50 states, click here. For our last edition, click here.
Connecticut (Democratic trifecta): On July 6, Gov. Ned Lamont (D) announced the state would remain in Phase Two of its reopening plan indefinitely. Phase Two began on June 17.
Florida (Republican trifecta): On July 6, the Florida Department of Education ordered that all school boards and charter school governing boards must physically open schools for at least five days per week for all students beginning in August.
Illinois (Democratic trifecta): The Department of Public Health approved Illinois High School Association guidelines for school sporting events.
Kansas (divided government): On July 6, Gov. Laura Kelly (D) announced that her administration was recommending most local communities remain in Phase 3 of the state's reopening plan. In Phase 3, communities are advised to limit gatherings to no more than 45 people. The recommendations are non-binding. Instead, local governments must administer and enforce reopening plans.
Kentucky (divided government): On July 6, the Kentucky Department of Education released guidelines on reopening schools in the fall. The document, a complement to interim guidance issued in June, does not mandate a uniform course of action for reopening schools. Instead, "it is intended to be a guide for local school districts when developing and adapting their return-to-school plans."
Massachusetts (divided government): On July 6, Massachusetts moved into the first step of Phase 3 of its reopening. The following businesses were allowed to reopen: movie theaters and outdoor performance venues; museums and cultural/historical sites; fitness centers and health clubs; select indoor recreational activities; and professional sports teams (games without spectators). New gathering limits also took effect: for indoor spaces, no more than eight people per 1,000 square feet (maximum 25 people); for outdoor spaces, 25 percent of the space's maximum capacity (maximum 100 people).
Montana (divided government): Gov. Steve Bullock (D) announced guidelines for reopening schools in the state. The plan encourages schools to consider several precautions, including limiting occupancy, adjusting transportation schedules, and adopting special cleaning and disinfecting protocols.
Nebraska (Republican trifecta): On July 6, the final four counties in Phase 2—Dakota, Hall, Hamilton, and Merrick—entered Phase 3 of reopening. Under Phase 3, indoor gatherings are limited to 50% occupancy with no more than 10,000 people, and outdoor gatherings are limited to 75% occupancy with no more than 10,000 people. Childcare facilities reopened with limits that vary by the age of children. This brought the entire state into Phase 3.
New Jersey (Democratic trifecta): The state increased outdoor gathering limits to 500 people. Youth day camps and summer programs reopened and NJ TRANSIT rail and light rail services resumed a full weekday schedule. Gov. Phil Murphy (D) also announced he was pausing further reopenings.
Ohio (Republican trifecta): On July 7, Gov. Mike DeWine (R) announced the Ohio Health Department would issue an indoor mask requirement on July 8 that will apply to seven counties.
Oregon (Democratic trifecta): Gov. Kate Brown (D) announced eight counties were on a COVID-19 watchlist. She said if the counties did not experience a downturn in coronavirus numbers, businesses might have to reclose and the state would impose more restrictive gathering limits.
North Carolina (divided government): A judge on the North Carolina Business Court ruled on July 7 that bowling alleys can reopen immediately. Gov. Roy Cooper (D) had closed them in March. Cooper filed for a stay until the Court of Appeals or Supreme Court can hear the case.
Pennsylvania (divided government): Lebanon, the final county that remained in the yellow phase of reopening, entered green on July 3. The green phase allows most businesses and functions to reopen under state restrictions, including salons, barbershops, spas, casinos, theaters, malls, and gyms. It also allows gatherings of up to 250 people. Gov. Tom Wolf (D) announced self-quarantine recommendations for travelers coming from 15 states.
Tennessee (Republican trifecta): On July 3, Gov. Bill Lee (R) signed an order allowing mayors in 89 counties to issue mask requirements.
West Virginia (Republican trifecta): On July 6, Gov. Jim Justice (R) announced that face coverings would be required in all indoor public spaces for everyone over the age of nine. The mandate went into effect at 12:01 a.m. July 7.
Vermont (divided government): On July 7, Gov. Phil Scott (R) released guidance for universities and colleges planning on reopening in the fall, including reducing capacity in dining halls and requiring all students to receive testing at the beginning of the year.
Connecticut, New Jersey, New York (Democratic trifectas): Govs. Lamont, Murphy, and Andrew Cuomo (D-N.Y.) announced on July 7 that visitors entering their states from Delaware, Kansas, and Oklahoma will be required to self-quarantine for 14 days. The three governors announced the joint travel advisory on June 24. The initial list included eight states. It now applies to 19 states.
Update on stay-at-home orders
Forty-three states issued orders directing residents to stay home except for essential activities and the closure or curtailment of businesses each state deemed nonessential. Seven states did not.
As of July 7, stay-at-home orders have ended in 41 states. Nineteen of those states have Republican governors and 22 have Democratic governors (including Wisconsin, where the state supreme court invalidated the stay-at-home order).
California and New Mexico, both of which have a Democratic governor, are the only remaining states with an active stay-at-home order.
Tracking industries: Travel restrictions
All 50 states are reopening in some way. Here, we give the status of one industry or activity across the states. Today's question: which states have implemented quarantine requirements or other restrictions on out-of-state travelers or returning residents?
On March 11, Alaska Gov. Mike Dunleavy (R) became the first governor to require out-of-state travelers to quarantine for 14 days. Since then, 23 governors or state agencies have imposed similar requirements on visitors and residents returning from travel. More recently, some states, like Hawaii and Maine, have begun to allow visitors to present a recent negative test result instead of quarantining.
For more on travel restrictions issued by state governments, click here.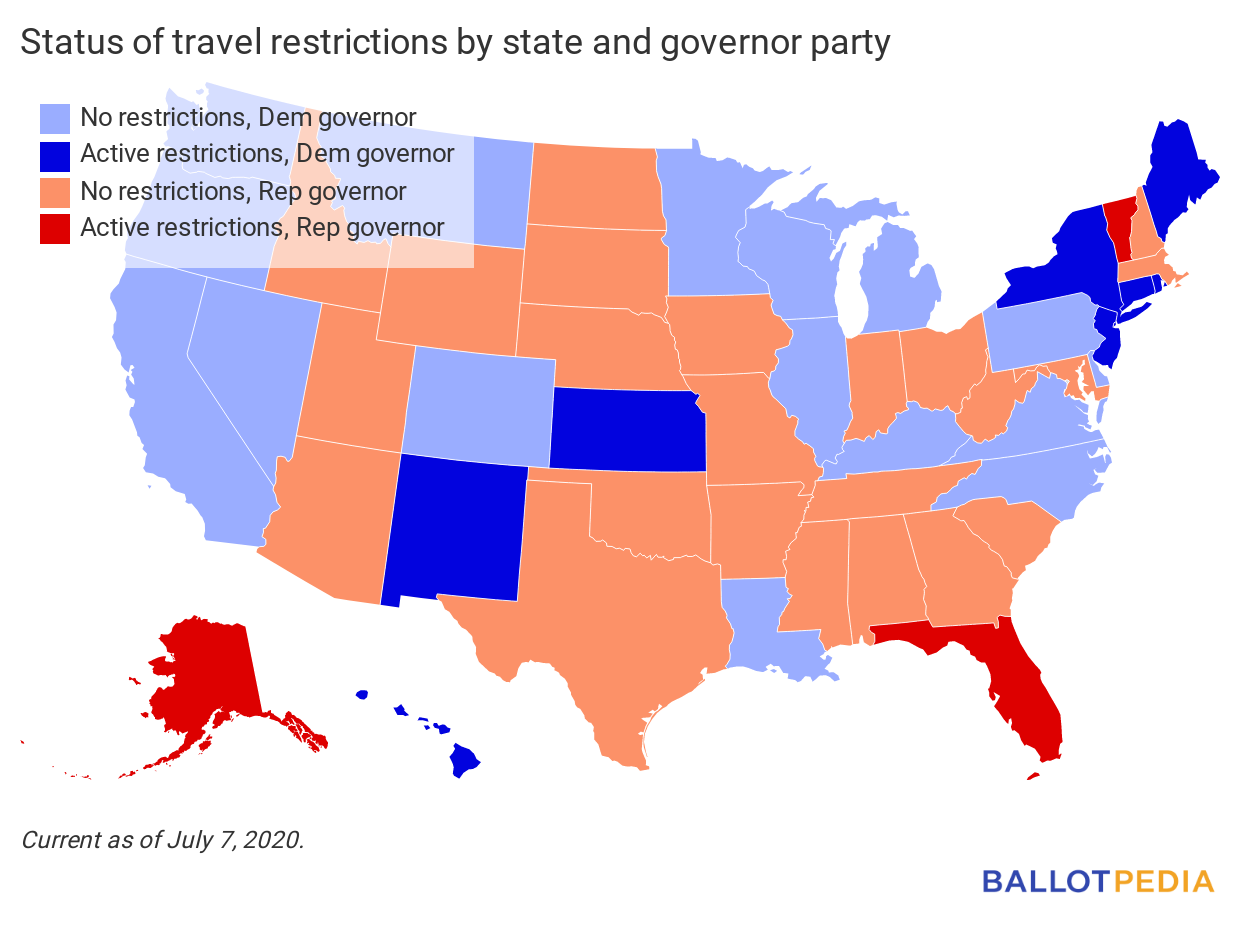 This is an in-depth summary of one of the latest reopening plans. Is there a plan you'd like us to feature? Reply to this email and let us know. Click a state below to read a previous Featured Plan.
On April 24, Gov. Pete Ricketts (R) announced he would ease some restrictions on businesses and houses of worship statewide and allow parts of the state to begin reopening on a regional basis beginning May 4.
Ricketts said, "Our plan is working. Certainly we have areas of hot spots we need to manage. If you take those out, Nebraska is doing very well. Overall, Nebraska is doing really, really well. We've slowed the spread of the virus."
Context
Gov. Ricketts did not issue a statewide stay-at-home order. On March 18, Ricketts issued a Directed Health Measure that placed limits on gatherings and restrictions on some businesses in four counties. Ricketts expanded the number of counties covered by the Directed Health Measure over the following weeks. By April 3, all counties in Nebraska were subject to the restrictions on gatherings and businesses laid out in the Directed Health Measure.
As of July 7, there had been 20,046 total positive cases of COVID-19 in Nebraska, and 283 confirmed deaths. As of July 2019, Nebraska's population was 1,934,408. Per 100,000 residents, there have been 1,036 positive cases and 14.6 deaths.
Nebraska is a Republican trifecta, with a Republican governor and Republican majority in the state Senate. Nebraska's legislature is a unicameral body, meaning that a party that controls the state Senate and the governorship establishes partisan control of state government.
Plan details
First Phase of Reopening
Nebraska began reopening on a limited and regional basis on May 4.
On that day, Gov. Ricketts relaxed restrictions on gatherings for houses of worship and wedding and funeral services, so long as social distancing guidelines were enforced. The cap on gatherings remained in place for receptions and other activities either before or after the service. Additionally, elective surgeries were allowed to resume statewide.
On May 4, Ricketts removed the original Directed Health Measure that had placed restrictions on gatherings and businesses in all counties. He created 19 different Directed Health Measures, one for each local, multi-county health department, to allow for a regional approach to reopening.
On that day, restrictions were eased on the following industries in districts under the authority of 10 local health departments.
Salons, including tattoo parlors, massage therapy, and hair and nail salons, were permitted to reopen, subject to the 10-person cap on gatherings. Both patrons and employees were required to wear masks.
Restaurants could resume indoor dining at 50% capacity. Buffets and salad bars were to remain closed. Bars were still limited to carryout or delivery services.
Childcare facilities could reopen with up to 15 kids per room. In the other nine districts, childcare services could only serve up to 10 kids per room.
On May 11, three more districts were placed under the less restrictive Directed Health Measure. An additional district was placed under the less restrictive Directed Health Measure on May 13. On May 18, Ricketts moved three more districts under the less restrictive order.
On May 21, Ricketts announced new Directed Health Measures that would further ease restrictions starting on June 1. Most of Nebraska entered Phase II of reopening on June 1. Four counties were moved into Phase I, which kept in place the restrictions under the previous Directed Health Measures.
Under Phase II, the following businesses or activities were allowed to reopen or resume:
Twenty-five patrons or 25% of rated occupancy (max. 3,000). This gathering limit applied to most non-restaurant or bar businesses, including gyms, salons, barbershops, and massage therapists.
Bars, taverns, and gentlemen's clubs could resume indoor services at 50% capacity. However, game areas were to be kept closed.
Non-contact team sports were allowed to resume. Games could resume on June 18. Contact sports remained prohibited. Rodeos were allowed to resume under the new gathering limits.
Schools could reopen weight rooms to student-athletes on June 1.
Drive-in movie theaters.
Venues and facilities with a capacity of more than 500 people were required to submit reopening plans to local health districts.
On June 15, Ricketts announced that 89 counties would advance from Phase II to Phase III on June 22. The four counties in Phase I would move to Phase II on that day.
Phase III brought with it the following changes:
Indoor occupancy restricted to 50%, with a max of 10,000. Outdoor occupancy restricted to 75% of the rated occupancy, with a max of 10,000.
Restaurants, bars, and gentlemen's clubs can operate at 100% occupancy.
In bars, taverns, and gentlemen's clubs, the maximum number of people in a party was increased from six to eight. Game areas can open, so long as they receive extra cleaning and sanitation.
Self-serve buffets and salad bars are still prohibited.
Gyms, salons, barbershops, massage therapy services, and tattoo parlors can operate at 75% capacity.
On July 6, Dakota, Hall, Hamilton, and Merrick counties were moved into Phase III.
As of July 7, Ricketts has not announced when the state will move into the fourth phase of reopening. However, the state has released an outline of Phase IV changes.
Indoor gatherings will be limited to 75% of the rated occupancy.
Outdoor gatherings will no longer be subject to an occupancy limit.
Bars and restaurants, childcare facilities, churches, gyms, fitness centers, health clubs, health spas, salons, barbershops, massage therapy services, tattoo parlors, sports, and wedding and funeral reception venues will no longer be subject to any restrictions under the Directed Health Measure. Those businesses and services will be recommended to continue following guidance released by the state.
Additional activity
In this section, we feature examples of activities by other federal, state, and local governments and influencers relevant to recovering from the pandemic.