Each day, we:
Track the status of reopening in all 50 states.
Compare the status of one industry or activity across the country.
Give you the latest stories on other reopening plans and lawsuits.
We've completed our 50-state review of school reopening plans. Starting today, we'll focus on the news. What's happening in the next 24 hours? What happened since our last edition? Want to know what happened yesterday? Click here.
Since our last edition
What is open in each state? For a continually updated article on reopening status in all 50 states, click here.
Florida (Republican trifecta): A representative for Department of Business and Professional Regulation Secretary Halsey Beshears said there was no clear timeline for when bars and breweries without food licenses would be allowed to serve alcohol for on-premise consumption. Such service has been suspended since June 26.
Idaho (Republican trifecta): Gov. Brad Little (R) announced the state accepted President Donald Trump's (R) partial extension of unemployment benefits. Individuals receiving at least $100 of weekly unemployment from the state and are unemployed because of the coronavirus will be eligible to receive an additional $300 per week from the federal government. The payments will be retroactive to Aug. 1.
Massachusetts (divided government): Gov. Charlie Baker (R) said he expected 70% of the state's school districts to open with either a hybrid or in-person model this fall, while 30% of the state's districts have presented plans with an online-only option.
Tennessee (Republican trifecta): On Aug. 17, Gov. Bill Lee (R) signed a bill protecting businesses, schools, and nursing homes from lawsuits related to damages caused by COVID-19. It makes it harder for parties to sue those entities for damages caused by COVID-19 but does not apply to cases of gross negligence or willful misconduct.
Utah (Republica trifecta): Gov. Gary Herbert (R) issued an executive order allowing cities and counties to adopt mask mandates without approval from the Utah Department of Health. The order also revised the terminology used in the state's reopening plan. Instead of calling the color-coded reopening phases "risk levels," they are now called "levels of restriction."
Connecticut, New Jersey, New York (Democratic trifectas): Govs. Ned Lamont (D-Conn.), Phil Murphy (D-N.J.), and Andrew Cuomo (D-N.Y.) announced on Aug. 18 that Delaware and Alaska had been added to the tristate quarantine list. Washington was removed from the list.
Tracking industries: Indoor gathering limits
All 50 states are reopening in some way. Here, we give the status of one industry or activity across the states. Today's question: what is the indoor gathering size limit in each state?
We last looked at indoor gathering size limits in the Aug. 11th edition of the newsletter. Since then, no states have increased or decreased their indoor gathering size limit.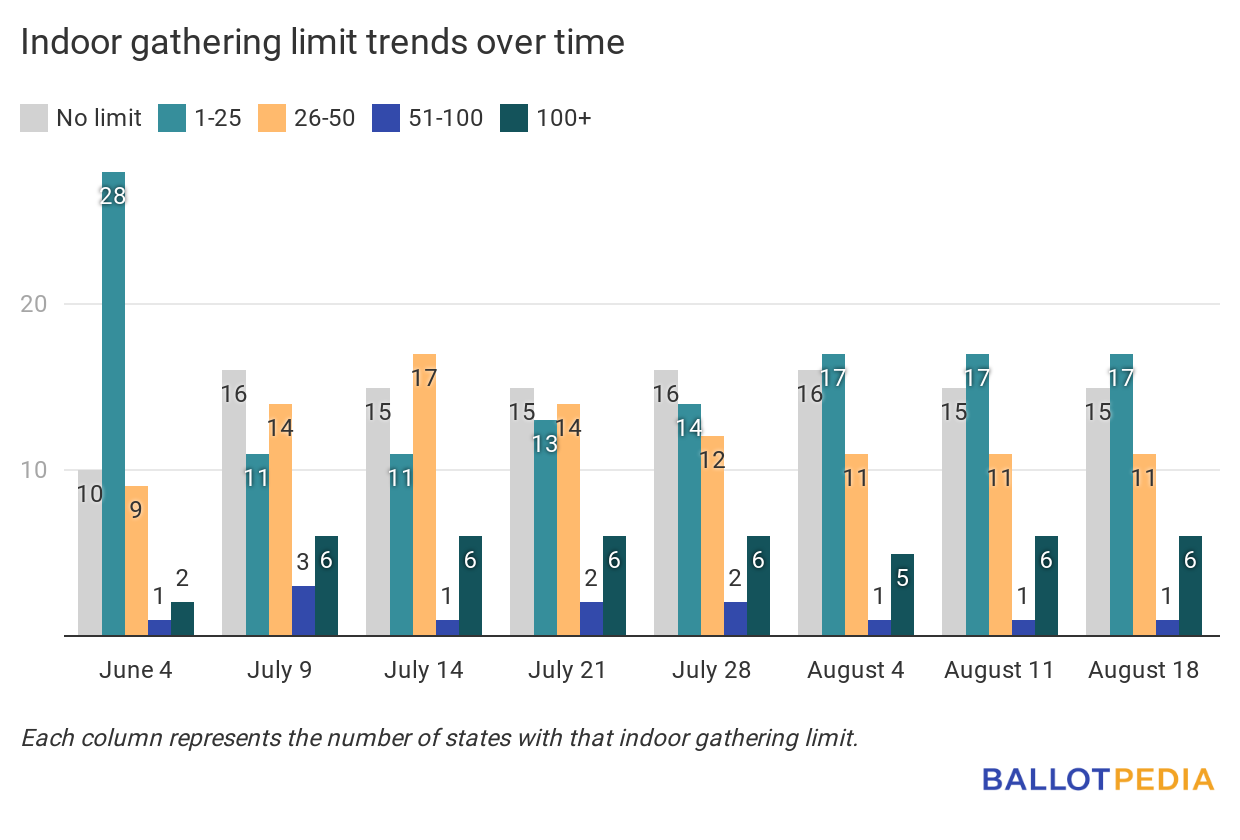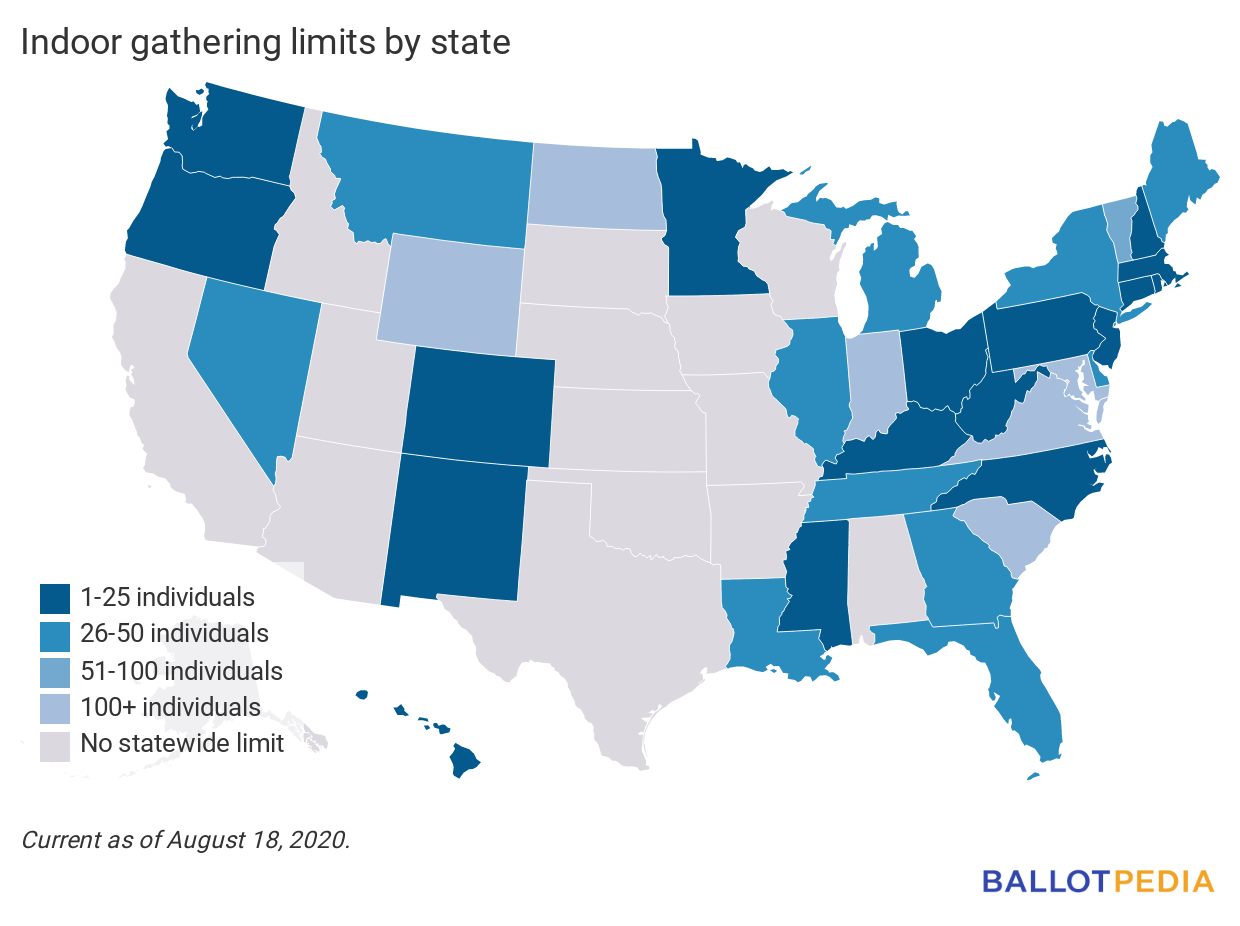 Additional activity
In this section, we feature examples of other federal, state, and local government activity, as well as influencers relevant to recovering from the pandemic.
On Aug. 14, Judge Mae A. D'Agostino of the U.S. District Court for the District of Northern New York dismissed a National Rifle Association (NRA) lawsuit challenging Gov. Andrew Cuomo's (D) statewide closure of gun stores. In its complaint, the NRA challenged Executive Order 202.8, which designated gun stores as non-essential businesses and, as such, temporarily closed them to slow the spread of COVID-19. The NRA alleged the closures made it effectively impossible to legally purchase a gun in the state, violating the Second Amendment. The organization also alleged the closure order was unconstitutionally vague, violating the right to due process. D'Agostino dismissed the suit, ruling that, absent direct harm to the NRA because of the closures, the NRA lacked standing because "an association cannot bring an action as the representative of its members." D'Agostino, appointed to the bench by President Barack Obama (D), did not address the merits of the NRA's case. The NRA said: "Although we respectfully disagree that the NRA lacked standing to pursue this case — then or now — we were pleased the action brought attention to an abuse of power against gun retailers." Cuomo adviser Rich Azzopardi said, "It's no surprise that yet another frivolous suit by the NRA has been laughed out of court."
Des Moines Public Schools finalized a school calendar that begins on Sept. 8 and ends on June 2. Superintendent Dr. Thomas Ahart recommended the school board adopt a 100% online model to begin the year, which would require a state waiver.
On Aug. 18, the Ingham County Health Department issued an emergency order restricting gatherings to no more than 25 people in East Lansing, Michigan. East Lansing is home to Michigan State University.