This week: Cavell drops out and endorses Mermell in MA-04, Two seek Democratic nod for Massachusetts Governor Council's only open seat, and R.I. National Organization for Women endorses Melanie DuPont over incumbent in Senate District 22 rematch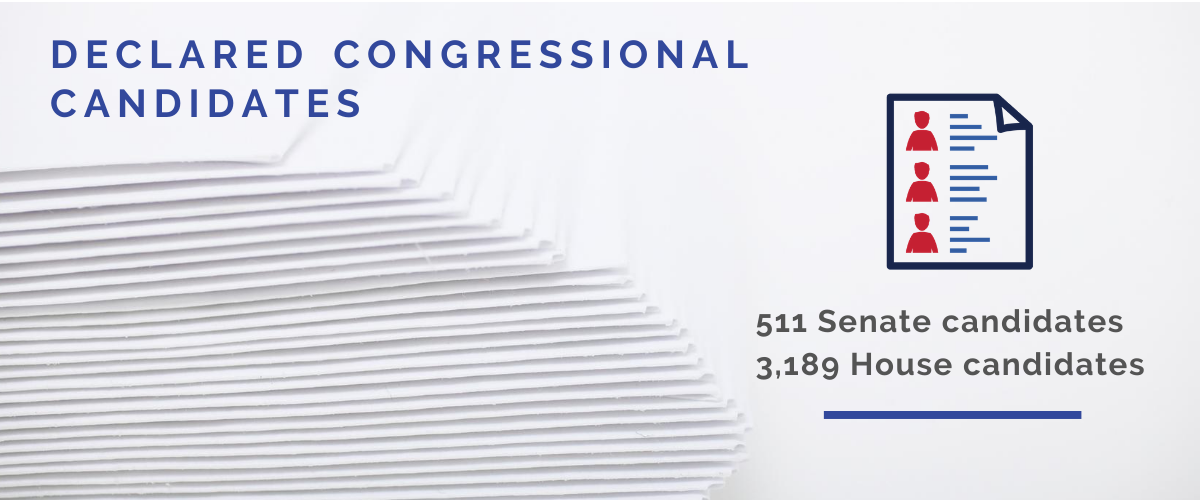 On the news
Where do Democratic and progressive pundits and commentators disagree? Each week, we bring you excerpts that highlight differing views.
On Biden Republicans
"I understand the impulse to marginalize voters who weren't with us in 2016—to castigate them for ignoring all the warning signs about Mr. Trump. I'm hardly known for being a 'forgive and forget' kind of guy. But vengeance would be shortsighted and self-defeating. Cultivating their support won't muddle our resolve so much as it will empower us to enact our agenda. While we may not always agree on every item, they'll be invaluable allies and coalition partners when we're working to protect the environment, expand economic opportunity to all parts of society, and reform the justice system.

"Much like in 2018, voters in 1978 were disappointed in the sitting president. Two years into President Carter's only term, Republicans claimed three additional Senate seats, and 15 seats in the House. In 1980, President Reagan turned what could have been a transactional arrangement with Reagan Democrats into a transformational moment. Joe Biden and the Democrats are now poised to do something similar. If in 2028 the Democratic nominee sees Biden Republicans as part of the Democratic Party's base, we will have made the most of this year's electoral opportunity."
Rahm Emanuel, The Wall Street Journal, Aug. 15, 2020
"After spending an entire primary contest attacking [Vermont Sen. Bernie] Sanders for not being a Democrat, the party has now given prominent speaking roles to five Republicans. …

"Even as the party increasingly highlights mere diversity and representation as solutions to the ills plaguing the United States, and contrasts itself to the naked racism of Trump's GOP, this year's DNC fails to deliver on this front too. Despite the complaints of both elected officials and advocacy groups, there will only be three Latino speakers and no Muslim speakers, two groups that have been particularly targeted by Trump. …

"Meanwhile, Alexandria Ocasio-Cortez, the thirty-year-old progressive insurgent popular among both Democrats and young people, is being given only sixty seconds to speak, in a prerecorded message. This, despite polling showing Democrats are more excited to hear her speak than to hear [former Ohio Gov. John] Kasich and the Clintons. …

"This is the modern Democratic Party under Joe Biden, a party dominated by figures who have spent their entire careers opposing what they claim to fight for now, and more concerned with building a coalition with well-off conservatives than its own young, progressive, and increasingly diverse voting base."
Branko Marcetic, Jacobin, Aug. 17, 2020
Election results
Florida's 15th Congressional District: Alan Cohn defeated Adam Hattersley, Jesse Philippe, and Kel Britvec. Cohn received 41% of the vote followed by Hattersley and Philippe with 33% and 26%, respectively. Cohn will face Scott Franklin (R) in the general election. Scott Franklin (R) defeated incumbent Rep. Ross Spano in the Republican primary.  Three race forecasters rated the general election as Lean Republican.
Florida's 18th Congressional District: Pam Keith defeated Oz Vazquez in the Democratic primary in Florida's 18th Congressional District. With 98% of precincts reporting,Keith had received 80% of the vote to Vazquez's 20%Incumbent Brian Mast (R) won his 2018 race by a margin of 8.6 percentage points.
Orange County Sheriff: Orange County, Florida, Sheriff John Mina (D) defeated four challengers to win the Democratic nomination for his first full term in an Aug. 18 primary. Mina received 54% of the vote, followed by Andrew Darling with 15% and Jose Lopez with 14%. Mina faces independent write-in candidates Tim Lucas Adams and Winston Johnson in the November general election. No Republican candidate filed for the office.
Orange County State Attorney: Monique Worrell won the Democratic nomination for Orange County State Attorney in a primary on Aug. 18. Worrell received 43% of the vote to Belvin Perry Jr.'s 31% and Deborah Barra's 19%. Worrell had endorsements from vice presidential nominee Kamala Harris (D) and incumbent Aramis Ayala (D), who is not seeking re-election. Worrell will face independent Jose Torroella in the November general election.
U.S. Congress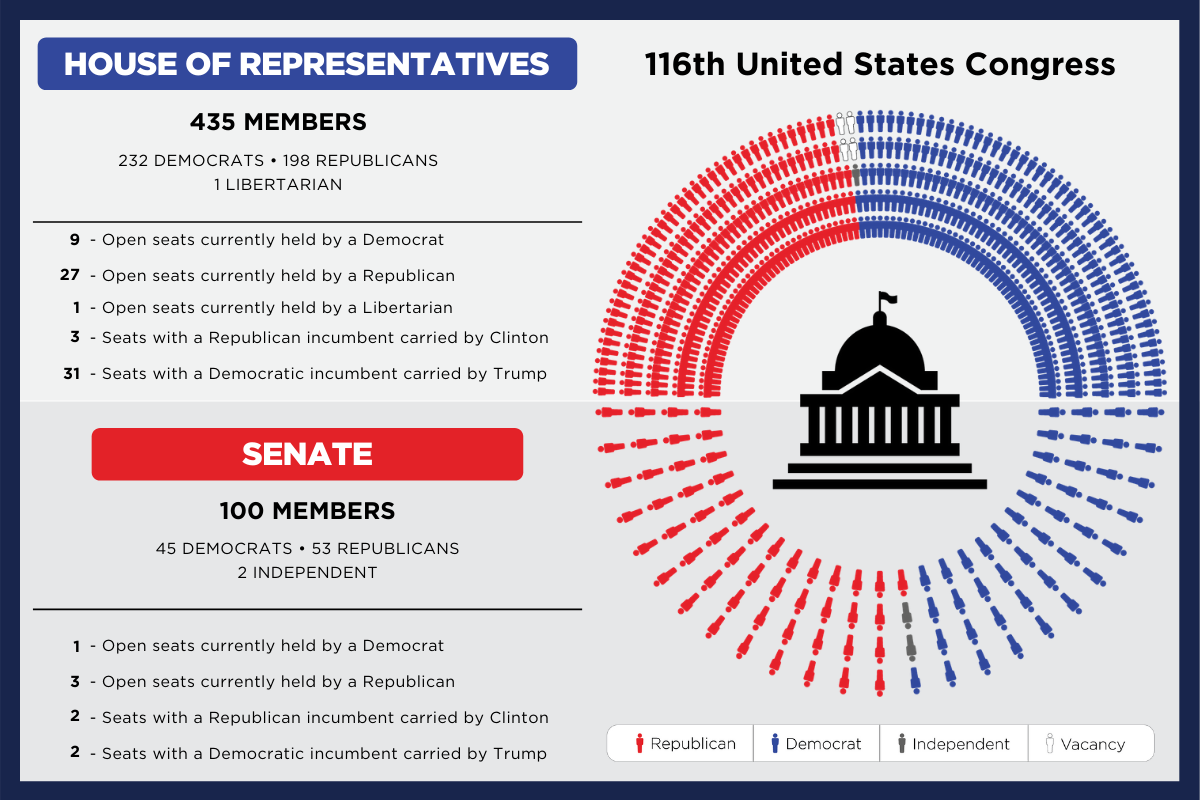 Cavell drops out, endorses Mermell in MA-04
Dave Cavell, a former speechwriter for President Barack Obama, withdrew from Massachusetts' 4th Congressional District primary and endorsed Jesse Mermell. Mermell served on the Brookline Select Board from 2007 to 2013.
State Attorney General Maura Healey (D) also endorsed Mermell, and a super PAC affiliated with the SEIU and the Massachusetts Teachers Association began airing an ad describing Mermell as a true progressive. 
While endorsing Mermell, Cavell criticized Jake Auchincloss, a Newton city councilor and former Republican also running in the primary. "Jake is the elephant in the room — pun intended. … One thing that has been abundantly clear is there is one candidate in this race who should not represent the Fourth District."
The Boston Globe editorial board endorsed Auchincloss. On Ballotpedia's Candidate Connection survey, Auchincloss listed one of his key messages as, "Results, not revolution."
Auchincloss and Mermell are among eight candidates vying for the Democratic nomination. Incumbent Joe Kennedy is running in the Democratic primary for U.S. Senate. Several candidates have released ads ahead of the Sept. 1 primary. A recent spot from Mermell touts her endorsements, including those above and from Rep. Ayanna Pressley (D-Mass.). 
Newton City Councilor Becky Grossman released an ad discussing prescription drug prices. Reps. Julian Castro (D-Texas) and Ro Khanna (D-Calif.) endorsed her. On Aug. 16, Grossman announced her campaign planned to sue the state of Massachusetts, asking the court to order the state to accept absentee ballots postmarked by Sept. 1 and received within 10 days of the primary.
Ihssane Leckey, a former Federal Reserve system regulator, said in an ad she's the only woman of color in the race and that "[w]e need leaders who represent our diversity and courage." Rep. Ilhan Omar (D-Minn.) and Our Revolution Massachusetts endorsed her. 
Chris Zannetos, founder of three tech and cybersecurity companies, released an ad saying he supports Joe Biden's healthcare plan. A narrator says, "Nearly every candidate for Congress in our area would eliminate private health insurance, except Chris Zannetos."
Also running are Alan Khazei, Natalia Linos, and Ben Sigel. Khazei, founder of the youth service corps City Year, led in fundraising as of June 30 with $1.6 million. Sen. Michael Bennet (D-Colo.) and Susan Rice, former national security adviser to Obama, endorsed Khazei.
Auchincloss was second in fundraising with $1.4 million.
All eight candidates submitted responses to Ballotpedia's candidate survey. Click their names below to see their responses.
The Intercept
questions allegations against Morse in MA-01 
As we reported last week, the College Democrats of Massachusetts alleged that Alex Morse, who is challenging Rep. Richard Neal in the 1st Congressional District, had inappropriate relationships with college students. The group published a letter saying Morse was not welcome at the group's future events. On Aug. 12, The Intercept's Ryan Grim and Daniel Boguslaw reported on online communications from members of the group. They wrote:
Timothy Ennis, the chief strategist for the UMass Amherst College Democrats, admitted in the chats that he was a "Neal Stan" and said he felt conflicted about involving the chapter of the College Democrats in a future attack on Morse. "But I need a job," concluded Ennis. "Neal will give me an internship." At the time, Ennis was president of the chapter, a post he held from April 2019 to April 2020, when he was term-limited out.
The article also reported on exchanges between member Andrew Abramson and Ennis. Abramson shared a screenshot of an Instagram exchange he had with Morse, and Ennis responded, "This will sink his campaign."
The College Democrats said its letter to Morse was not politically motivated and had nothing to do with Ennis' ambitions.
Morse said, "While I truly didn't think I'd done anything that would cause discomfort, I understand in a new way how my power as mayor and lecturer affects how I am received in social settings." He said at the first primary debate on Aug. 17 that the accusations were a smear.
Neal said his campaign had no involvement in the accusations, and the issue did not feature prominently at the debate. Neal said Morse, mayor of Holyoke, has missed several municipal meetings, while Morse said Neal has been absent from the district. Neal, chairman of the House Ways and Means Committee, touted the money brought into the district by the CARES Act that he helped author. Morse said the act was insufficient to address people's financial challenges.
The primary is Sept. 1.
State executives

Two seek Democratic nod for Massachusetts Governor Council's only open seat
Paul DePalo and Padraic Rafferty are seeking the Democratic nomination for District 7 of the Massachusetts Governor's Council this year. The position is currently the only vacancy on the eight-member council. In 2018, it was the only council district won by a Republican after incumbent Jennie Caissie (R) defeated DePalo 50-45%. Both DePalo and Rafferty completed Ballotpedia's Candidate Connections survey.
The Massachusetts Governor's Council is responsible for providing advice and consent for gubernatorial appointments, warrants for the state treasury, and pardons and commutations. It is an executive board made up of eight members who are elected to two-year terms in by-district elections, with the lieutenant governor serving as a ninth, ex officio, member.
DePalo was the Democratic nominee for the seat in 2018, losing to incumbent Jennie Caissie (R) 49.6% to 44.9%. Rafferty, an attorney and prosecutor, is making his first run for elected office.
When asked about his priorities, DePalo said: 
"Crime prevention starts in juvenile court: let's end the trauma-to-prison pipeline … Public safety includes tackling mental health and addiction: evidence-based diversion and rehabilitation saves lives, saves money, and reduces recidivism … Our state judges are only 11% people of color and 44% women."
In response to the same question, Rafferty said:
"I am personally passionate about ensuring the Court system provides equal justice for all and to continue to combat the Opioid Crisis; Ensuring that individuals in the criminal justice system are treated with compassion, dignity, and have avenues to accessible rehabilitation programs."
Click here to read DePalo's full responses and here to read Rafferty's full responses.
Feltes, Volinsky launch first television ads
Both Democratic candidates for governor of New Hampshire launched their initial television ads last week. Dan Feltes and Andru Volinsky are competing in the Democratic primary on Sept. 8.
Feltes, the State Senate Majority Leader, launched his ad Aug. 11. In the ad, Feltes said essential workers are keeping the country running and that he would focus on policies that help them pay bills.
Volinsky, a member of the executive council, began airing his ad Aug. 14. Volinsky's ad says he is the only true progressive in the race and that he has endorsements from the American Postal Workers Union and the state branches of the Sierra Club and the National Education Association.
Feltes and Volinsky are the only two candidates on the Sept. 8 Democratic primary ballot. The last Democrat to win the governor's race was Maggie Hassan (D) in 2014.
Legislatures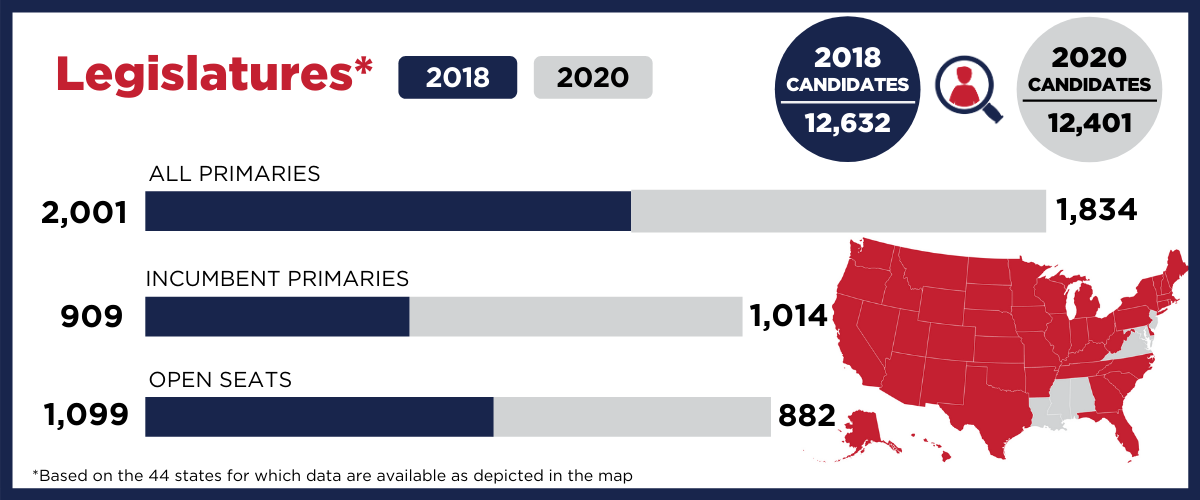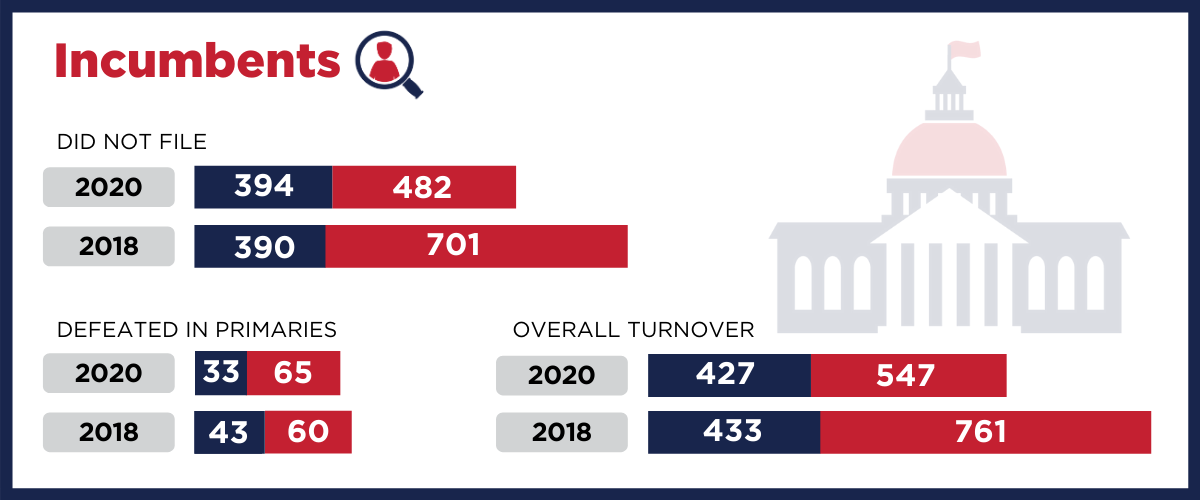 The number of incumbents who did not seek re-election is provided for the 44 states whose 2020 filing deadlines have already passed. The number of incumbents defeated in primaries is provided for the 36 states that had held state legislative primaries as of Aug. 17, 2020.
R.I. National Organization for Women endorses Melanie DuPont over incumbent in Senate District 22 rematch
On Aug. 11, the Rhode Island branch of the National Organization for Women (RI NOW) endorsed Melanie DuPont over incumbent Sen. Steve Archambault in the Senate District 22 Democratic primary. DuPont challenged Archambault in the 2018 primary, which Archambault won, 64-35%.
In 2019, DuPont co-founded the Rhode Island Political Cooperative, which describes itself as "a non-profit corporation that provides campaign services to progressive political candidates." We previously reported on the group on July 1 after they endorsed 17 state legislative candidates, who, according to the group's website, "are going to win a governing majority, vote out corrupt leadership, and restore power to the people."
Archambault, first elected in 2012, said, "My heart is in it. I continue to work hard for the people in the district." The Johnston Sun Rise's Jacob Marrocco wrote that Archambault "highlighted his legislative history when asked about the main issues in the race, saying he sticks to crafting and passing bills because 'that's what a senator does.'"
In the 2018 general election, Archambault defeated Gregory Tocco (R), 64-35%. The winner of the Sept. 8 primary will face Paul Santucci (R) and Stephen Tocco (I), the only other candidates running in the race. 
Mass. branches of AFL-CIO and Our Revolution split endorsements in 2nd Suffolk District
On Aug. 13, the Massachusetts AFL-CIO endorsed incumbent Rep. Dan Ryan in the 2nd Suffolk District's Democratic primary. On Aug. 14, Our Revolution Massachusetts endorsed Ryan's challenger, Damali Vidot. No other candidates are running, meaning the winner of the primary will likely win the general election.
The CommonWealth Magazine's Michael Jonas said, "Ryan leans toward pragmatic approaches to issues that Vidot says demand bolder, outside-the-box thinking."
Ryan has represented the 2nd Suffolk District since 2014. In its endorsement, the AFL-CIO said, "We are proud to support candidates who have demonstrated a commitment to the values and principles of the labor movement." The Massachusetts Nurses Association and local branches of the United Steelworkers and Teamsters have also endorsed Ryan's campaign.
Vidot currently serves as a city councilor in Chelsea. On its Facebook page, Our Revolution Massachusetts says "We are developing a grassroots-based democratic progressive political organization in Massachusetts." Additionally, the Sierra Club, Sunrise, and the Democratic Socialists of America have endorsed Vidot.
The primary is Sept. 1.
Aaron Coleman defeats incumbent Rep. Stan Frownfelter in Kansas' House District 37
On Aug. 17, The Kansas City Star reported that challenger Aaron Coleman defeated incumbent Rep. Stan Frownfelter in the House District 37 Democratic primary. Coleman won 50.4% of the vote to Frownfelter's 49.6%, a margin of 14 votes. 
In his Candidate Connection survey submitted to Ballotpedia, Coleman said he was running "because I believe in a Kansas that works for every citizen, and not policies drafted by Statehouse lobbyists."
The Associated Press' John Hanna wrote that Coleman "has been disowned by some Democrats for his incendiary social media posts and because he abused girls online when he was 14 years old."  In response, Coleman said, "I made serious mistakes in middle school and I deeply regret and apologize for them. I've grown up a great deal since then."
Since no other candidates are running, Coleman's name will be the only one appearing on the general election ballot. On Aug. 18, Frownfelter announced he would conduct a write-in campaign for the general election. 
Power players
"We evaluate the races and seek to be a 'tipping point' in close elections. We choose candidates who have solid credentials, a proven record of being able (in these partisan times) to work across the aisle and get things done. We have problem solvers who put the interests of the country first, and firmly believe what Bill Clinton once said: 'There is nothing wrong with America that cannot be cured by what is right in America.'" – United for a Stronger America website
United for a Stronger America PAC, officially named Frontline USA, is a leadership political action committee sponsored by Rep. Adam Schiff (D-Calif.). The PAC's earliest Federal Election Commission filings date back to 2005, 4 years after Schiff first assumed office. 
United for a Stronger America PAC has reported $2,005,508 in donations this election cycle and has spent $1,900,089. Among its largest campaign contributions were $33,533 to Rep. Xochitl Torres Small (D), who is running for reelection in New Mexico's 2nd Congressional District, $32,575 to Rep. Katie Porter (D), who is running for reelection in California's 45th Congressional District, and $31,000 to Rep. Lucy McBath (D), who is running for re-election in Georgia's 6th Congressional District.
Click the following links to view United for a Stronger America's endorsed incumbents and new candidates.