Welcome to Documenting America's Path to Recovery, where we track the status of reopening in all 50 states.

Today we look at Connecticut's decision to stay in Phase Two of reopening, Arkansas's decision to start in-person instruction at schools on Aug. 24, travel restrictions, and much more. Want to know what happened yesterday? Click here.
The next 72 hours
What is changing in the next 72 hours?
Since our last edition
What is open in each state? For a continually updated article on reopening status in all 50 states, click here.
Tracking industries: Travel restrictions
Every Friday, we'll take a closer look at the restrictions governors and state agencies have placed on interstate travelers, including a recap of the week's travel-related news. To see our full coverage of travel restrictions enacted in response to the coronavirus pandemic, click here.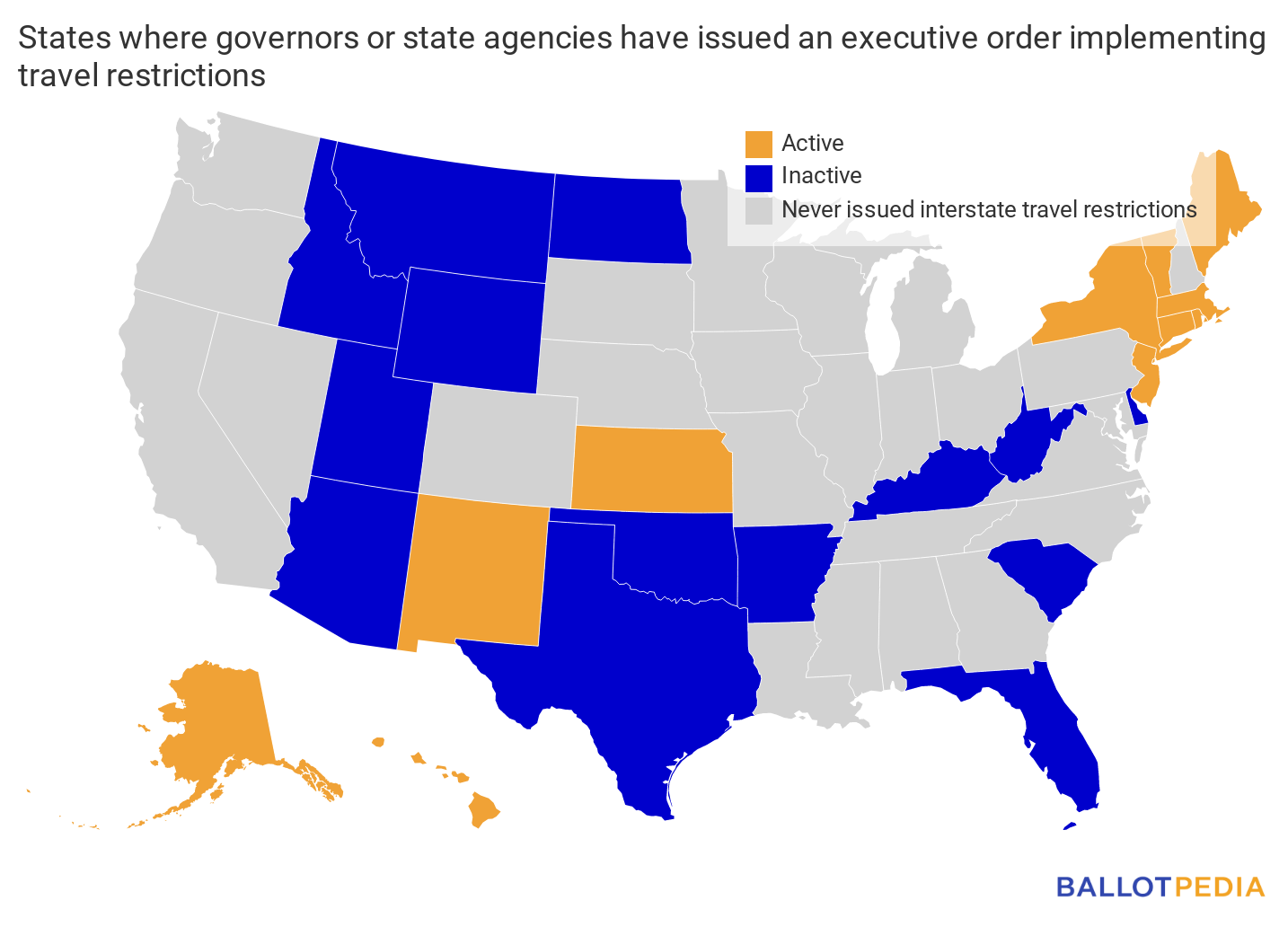 Overview 
To date, 25 states issued at least one executive order restricting interstate travel. Of the 25 executive orders issued by governors or state agencies placing restrictions on out-of-state visitors, at least 14 have been rescinded. Eleven states have active travel restrictions.
Weekly recap
Additional activity
In this section, we feature examples of other federal, state, and local government activity, private industry responses, and lawsuits related to the pandemic.
On Aug. 17, Judge Martin L.C. Feldman of the U.S. District Court for the Eastern District of Louisiana rejected a request from several New Orleans and Houma bar owners to declare Gov. John Bel Edwards' (D) order closing bars in response to the COVID-19 pandemic unconstitutional. In their complaint, the bar owners challenged sections of Proclamations 89 JBE 2020 and 96 JBE 2020, arguing the orders unconstitutionally failed to provide a rational basis for distinguishing between bars—which have been closed—and restaurants that have bars within them, which have been allowed to reopen. The bar owners alleged the orders violated due process, equal protection, and freedom from unlawful takings, under both the U.S. and Louisiana constitutions. In his order, Feldman, an appointee of Ronald Reagan (R), wrote, "Between democratically accountable state officials and a federal court, who decides what measures best protect Louisianans during a global pandemic? The answer is state officials." As a result, Feldman wrote, "the Court is compelled to conclude that Governor Edwards' ban of on-site consumption of food or drinks at 'bars' bears a 'real or substantial relation' to the goal of slowing the spread of COVID-19 and is not 'beyond all question' a violation of the bar owners' constitutional rights." In a statement, Gov. Edwards said: "I am pleased that Judge Feldman upheld bar restrictions, which is one of the critical mitigation measures put in place to slow the spread of COVID-19 in Louisiana to protect and save lives." On Aug. 18, the bar owners filed an appeal with the U.S. Court of Appeals for the Fifth Circuit.