Welcome to Documenting America's Path to Recovery, where we track the status of reopening in all 50 states.

Today we look at schools in Arkansas returning to in-person instruction, Pennsylvania's application for federal unemployment benefits, mask mandates, and much more. Want to know what happened Friday? Click here.
Since our last edition
What is open in each state? For a continually updated article on reopening status in all 50 states, click here.
Daily feature: Face coverings
All 50 states are reopening in some way. Here, we give the status of one industry or activity across the states. Today's question: in which states must you wear a face covering in public?
We last looked at face coverings in the Aug. 17th edition of the newsletter. Since then, no new states have adopted a statewide public mask mandate or let a face covering requirement expire.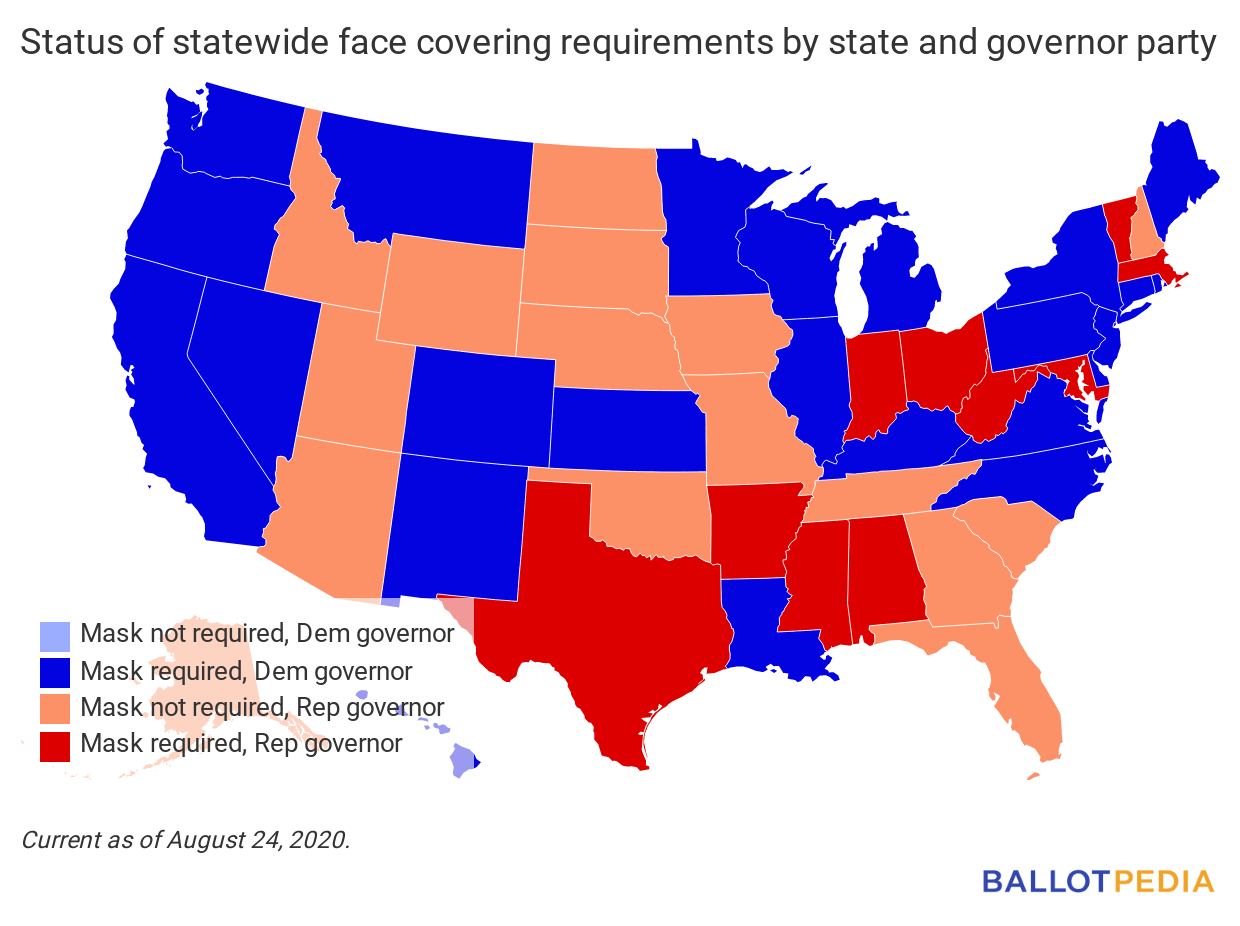 Additional activity
In this section, we feature examples of other federal, state, and local government activity, private industry responses, and lawsuits related to the pandemic.
On Aug. 21, Public Health Madison and Dane County issued an emergency order requiring county schools to start the year with fully virtual learning for grades 3-12. The order took effect at 12:01 a.m. on Aug. 24. Private and parochial schools were set to begin their school years in the county on Aug. 24.
On Aug. 21, Bloomington, Indiana, Mayor John Hamilton issued an executive order setting the indoor gathering size limit to 15 people within city limits. Hamilton said the order was the result of photos and videos shared on social media that showed students at Indiana University engaged in large social gatherings without masks or social distancing.
On Aug. 21, Judge Barbara Rothstein of the U.S. District Court for the Western District of Washington granted Washington Attorney General Bob Ferguson's (D) request to block a U.S. Department of Education interim final rule regulating distribution of roughly $13.5 billion in Coronavirus Aid, Relief, and Economic Security Act (CARES Act) aid. In its complaint, the state argued that U.S. Secretary of Education Betsy DeVos had violated "the Administrative Procedure Act (APA), separation of powers, and the Spending Clause in the United States Constitution," when she issued a rule "contrary to the clear, express statutory language of the CARES Act." The state said the rule, if implemented, would prevent Washington's public elementary and secondary schools from receiving emergency relief funds, as it would "either limit which public schools can use the funds, or reallocate significant funds to private schools regardless of student need." Rothstein ruled in the state's favor, finding that "private schools [would] receive a larger share of CARES Act funding than they would under a straight-forward application" of the Act's poverty-based formula. Rothstein said the rule "was in excess of statutory authority and not in accordance with law." Neither party has publicly commented on the ruling. Rothstein was appointed to the bench by President Jimmy Carter (D).