Welcome to Documenting America's Path to Recovery, where we track the status of reopening in all 50 states. Today we look at when gyms can reopen in New York, the end of a ban on nursing home visits in West Virginia, school reopenings, and much more. Want to know what happened yesterday? Click here.
The next 24 hours
What is changing in the next 24 hours?
Illinois (Democratic trifecta): New mitigation orders will take effect for Region 7 (Will and Kankakee counties) on Aug. 26. As part of the new restrictions, bars and restaurants will not be able to offer indoor dining, social events and gatherings will be limited to 25 people or 25% of a room's capacity (whichever is less), and casinos will have to close no later than 11 p.m. each night.
Since our last edition
What is open in each state? For a continually updated article on reopening status in all 50 states, click here.
California (Democratic trifecta): Orange, Mono, and Sierra counties were removed from the state's coronavirus watchlist. Each county had decreases in new cases, transmission rates, and hospitalizations for three consecutive days. Removal from the watchlist begins a 14-day monitoring window before schools can reopen and certain industries such as gyms and personal care businesses can reopen.
Florida (Republican trifecta): Florida Second Circuit Court Judge Charles Dodson issued a temporary injunction against Education Commissioner Richard Corcoran's order requiring schools to open for in-person instruction by the end of August. Dodson said Corcoran's order is "unconstitutional to the extent that it arbitrarily disregards safety, denies local school boards' decision making with respect to reopening brick and mortar schools, and conditions funding on an approved reopening plan with a start date in August."
Maryland (divided government): The state school board delayed a vote on a requirement that districts offer at least 3.5 hours of live online instruction while campuses remain closed. Chairman Clarence Crawford said the board would consider the matter at a special meeting on Sept. 1.
New Jersey (Democratic trifecta): Gov. Phil Murphy (D) released regional COVID-19 metrics to help schools and school districts make reopening decisions. Murphy said the state considers all six regions safe for school reopenings, but maintained that districts need the flexibility to meet the needs of their communities.
New York (Democratic trifecta): Gyms and state-defined low-risk cultural institutions (like museums and aquariums) began reopening on Aug. 24.
Rhode Island (Democratic trifecta): Gov. Gina Raimondo (D) announced the Facilities Readiness Team will inspect every public school in the state to ensure compliance with Department of Health guidelines before reopening. Public schools statewide are set to reopen on Sept. 9 for teachers and Sept. 14 for students.
Vermont (divided government): On Aug. 24, Gov. Phil Scott (R) announced that the Federal Emergency Management Agency (FEMA) had approved the state's application for an additional $300 per week for individuals receiving unemployment benefits. President Donald Trump (R) signed an executive order on Aug. 8 that allows funds in the Lost Wage Assistance (LWA) program to be used to bolster state unemployment insurance programs.
West Virginia (Republican trifecta): On Aug. 24, Gov. Jim Justice (R) rescinded a ban on nursing home visitations in 53 counties. He banned nursing home visitations statewide on Aug. 12 following a spate of outbreaks. Nursing home visitations will remain prohibited in Monroe and Logan counties, which have more coronavirus cases.
Daily feature: Schools
All 50 states closed schools to in-person instruction at some point during the 2019-2020 academic year. Beginning in May 2020, schools in certain states began to reopen. In which states are schools allowed to open? In which states are they ordered to remain closed?
The current status of school reopenings is as follows:
Four states (N.M., R.I., Vt., W.V.) have a state-ordered school closure
Two states (Calif., Hawaii) have a state-ordered regional school closure
Three states (Del., N.C., Va.) are open for hybrid or remote instruction only
Four states (Ark., Iowa, Mo., Texas) have state-ordered in-person instruction
Thirty-seven states have reopenings that vary by school or district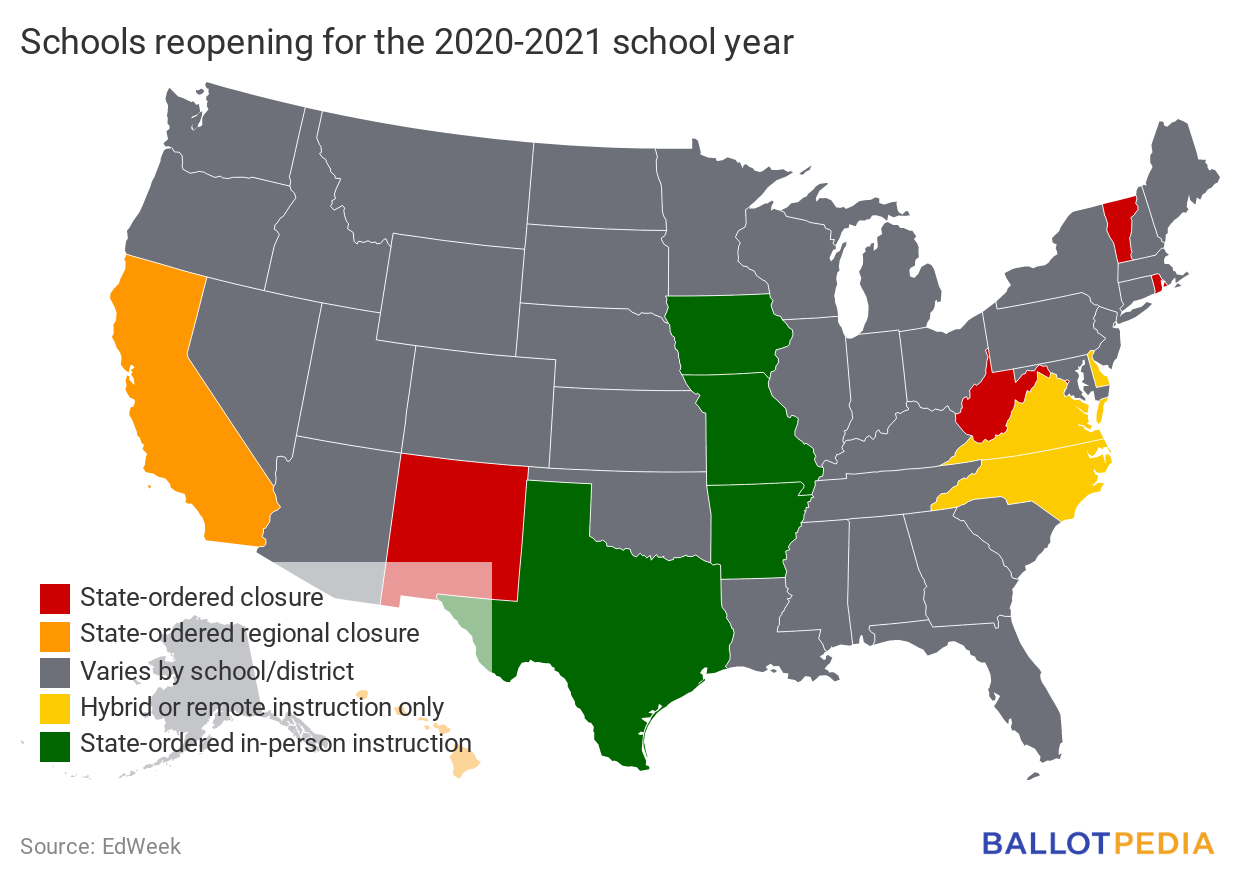 Additional activity
In this section, we feature examples of other federal, state, and local government activity, private industry responses, and lawsuits related to the pandemic.