Welcome to Documenting America's Path to Recovery, where we track the status of reopening in all 50 states. Today we look at California's new color-coded reopening system, an update in the lawsuit over reopening Florida schools, mask mandates, and much more. Want to know what happened Friday? Click here.
The next 24 hours
What is changing in the next 24 hours?
New Jersey (Democratic trifecta): Gyms and some indoor amusement facilities (like indoor water and amusement park attractions) will be able to reopen starting Sept. 1. Murphy also announced indoor dining services and movie theaters will be able to reopen starting Sept. 4.
Since our last edition
What is open in each state? For a continually updated article on reopening status in all 50 states, click here.
California (Democratic trifecta): On Aug. 28, Gov. Gavin Newsom (D) released a new color-coded reopening plan. Counties will be classified as one of four colors based on coronavirus spread in each county. They are, in decreasing order of severity, purple, red, orange, and yellow. Different business restrictions will apply to each of the color levels.
Connecticut (Democratic trifecta): On Aug. 31, schools were allowed to reopen for in-person instruction. Schools in the state were initially closed on March 16.
Florida (Republican trifecta): On Aug. 28, Florida's First District Court of Appeals put a hold on Leon County Judge Charles Dodson's ruling that Education Commissioner Richard Corcoran's order requiring schools to open for in-person instruction was unconstitutional.
Massachusetts (divided government): On Aug. 28, Gov. Charlie Baker (R) signed an executive order allowing already-licensed after-school and out-of-school programs to operate during the school day. State Secretary of Education James Peyser said, "[W]e know that remote learning will be part of the educational experience for many students this fall, so it's critical that we enable parents, after-school providers, and community organizations to offer additional childcare options and learning supports when students are unable to attend school in person.
New Mexico (Democratic trifecta): Health Secretary Kathyleen Kunklel extended the state's stay-at-home public health order and Gov. Michelle Lujan Grisham (D) extended and revised the state's emergency executive order. Both orders are effective from Aug. 29 through Sept. 18. Under the revised emergency order, indoor dining services will be permitted at restaurants and bars at 25% capacity. Church gathering capacity will be increased from 25% to 40%, and other gatherings of up to 10 people will be allowed. Museums with static (non-interactive) displays will also be able to resume operations.
North Carolina (divided government): On Aug. 31, a representative for Gov. Roy Cooper (D) said the governor was expected to make an announcement about reopening some businesses and lifting restrictions on Sept. 1.
Oklahoma (Republican trifecta): On Aug. 28, Gov. Kevin Stitt (R) issued an emergency order extending the statewide state of emergency for 30 days. Stitt first declared a state of emergency on March 15.
Rhode Island (Democratic trifecta): Gov. Gina Raimondo (D) announced every public school district in the state except Providence and Central Falls will be permitted to resume in-person instruction when schools reopen for the 2020-2021 academic year. Raimondo said in-person classes are still scheduled to start Sept. 14. Raimondo also signed an executive order extending Phase III of the state's reopening plan.
Daily feature: Face coverings
We last looked at face coverings in the Aug. 24th edition of the newsletter. Since then, no new states have adopted a statewide public mask mandate or let a face covering requirement expire.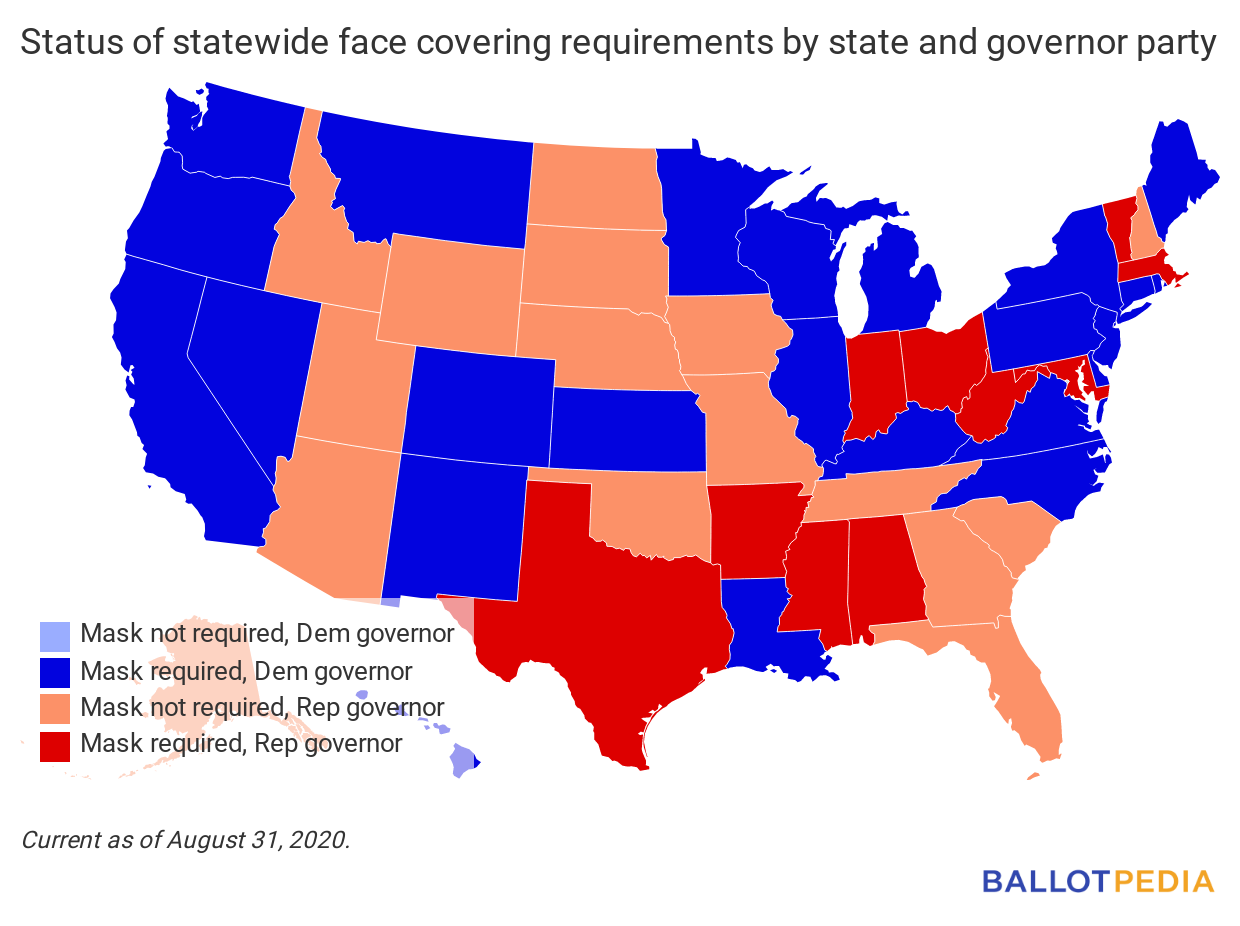 Additional activity
In this section, we feature examples of other federal, state, and local government activity, private industry responses, and lawsuits related to the pandemic.
On Aug. 25, a group of businesses filed suit in the U.S. District Court for the Southern District of New York challenging restrictions that prevent venues from hosting ticketed live music events and other events with cover charges. Venues are also barred from advertising live entertainment. The plaintiffs argue that the New York Liquor Authority rule "is not just unworkable, it is unconstitutional." The plaintiffs allege the rule violates the constitutional guarantees of free speech, procedural and substantive due process, and state agency rulemaking procedures. Justin Kantor, the New York Independent Venue Association co-chair, said, "These venues are doing everything possible to safely reopen and offer work to both artists and employees, even if it is at a financial loss, only to have New York state impose knee-jerk regulations that have now added unnecessary and unlawful restraints to our already devastated industry." The New York Liquor Authority has not commented publicly on the suit, which has been assigned to Judge Gregory H. Woods, an appointee of President Barack Obama (D).