Welcome to Documenting America's Path to Recovery, where we track the status of reopening in all 50 states. Today we look at the announcement of a new phase of reopening in North Carolina, the extension of Mississippi's mask mandate, school reopenings, and much more. Want to know what happened yesterday? Click here.
Since our last edition
What is open in each state? For a continually updated article on reopening status in all 50 states, click here.
California (Democratic trifecta): Gov. Gavin Newsom (D) signed legislation extending the moratorium on evictions through Jan. 31, 2021, as long as renters pay at least 25% of their rent and file a declaration with their landlord.
Kentucky (divided government): Gov. Andy Beshear (D) announced childcare centers can raise class sizes from 10 to 15 children, effective immediately.
Maryland (divided government): The state Board of Education approved new minimum requirements for instruction. Schools must be open at least 180 days and offer at least six hours of instruction, of which 3.5 hours must be synchronous instruction (all students taught at the same time) for grades K-12.
Mississippi (Republican trifecta): Gov. Tate Reeves (R) extended the state's executive order requiring individuals to wear masks in indoor public spaces and bars to close at 11 p.m. every night. The order expands school sporting and extracurricular events (like school performances) to 25% capacity. Previously, only two attendees per participating student were permitted.
Nevada (Democratic trifecta): Gov. Steve Sisolak (D) extended the moratorium on evictions for 45 days through Oct. 15. Sisolak also announced an additional $10 million in federal relief funds for short-term rental assistance.
New York (Democratic trifecta): Gov. Andrew Cuomo (D) announced new guidelines for agritourism businesses and activities like corn mazes, hayrides, and pick-your-own produce farms.
North Dakota (Republican trifecta): On Sept. 1, Gov. Doug Burgum (R) announced that the Federal Emergency Management Agency (FEMA) approved the state's application to participate in the Lost Wages Assistance program (LWA). The LWA allows eligible individuals to receive an additional $300 a week in unemployment benefits. President Donald Trump (R) signed an executive order on Aug. 8 allowing funds in the Lost Wage Assistance (LWA) program to be used to bolster state unemployment insurance programs.
North Carolina (divided government): On Sept. 1, Gov. Roy Cooper (D) announced he would ease some coronavirus restrictions as part of a new phase of reopening, dubbed Phase 2.5, which goes into effect on Sept. 4. Under Phase 2.5, the limit on gatherings will increase to 25 people indoors and 50 people outdoors. Museums and aquariums can reopen at 50% capacity. Gyms and indoor exercise facilities can reopen at 30% capacity. Several restrictions, like the ban on bars and movie theaters, will remain in effect.
West Virginia (Republican trifecta): On Aug. 31, Gov. Jim Justice (R) announced that student athletes in counties with between 10 and 24.9 cases per 100,000 could begin playing sports immediately if they test negative for coronavirus. Currently, three counties are in that range, which the state designates as "orange" in its color-coded risk assessment system.
Daily feature: Schools
All 50 states closed schools to in-person instruction at some point during the 2019-2020 academic year. Beginning in May 2020, schools in certain states began to reopen. In which states are schools allowed to open? In which states are they ordered to remain closed?
The current status of school reopenings is as follows:
Four states (N.M., R.I., Vt., W.V.) have a state-ordered school closure
Two states (Calif., Hawaii) have a state-ordered regional school closure
Three states (Del., N.C., Va.) are open for hybrid or remote instruction only
Five states (Ark., Fla., Iowa, Mo., Texas) have state-ordered in-person instruction
Thirty-six states have reopenings that vary by school or district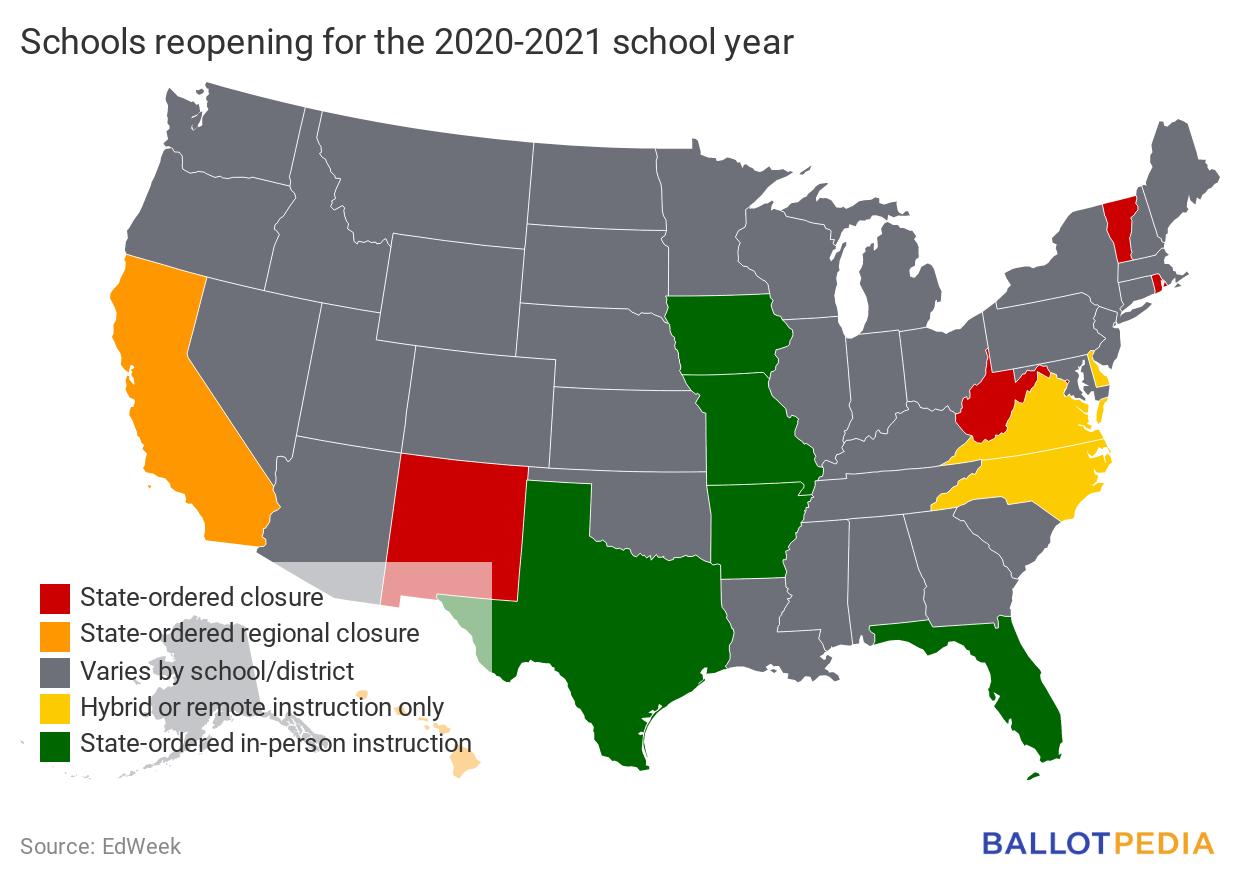 Additional activity
In this section, we feature examples of other federal, state, and local government activity, private industry responses, and lawsuits related to the pandemic.
The Anchorage Assembly announced that meetings will be open to the public again. Up to 60 individuals will be allowed to watch meetings and give in-person testimony. Attendees must pass a forehead temperature check, fill out a contact tracing log, wear masks, and maintain social distancing.
New York City delayed the reopening of schools for 11 days. Mayor Bill de Blasio (D) said the delay would give teachers additional time to prepare for in-person instruction.
On Aug. 24, a Las Vegas hotel, after being fined for hosting an "Evangelicals for Trump" event, filed suit in the Clark County District Court seeking an order invalidating Gov. Steve Sisolak's (D) ban on gatherings of more than 50 people. In its complaint, the Ahern Hotel argues that Sisolak's Directive 21, which allows restaurants and casinos to operate at 50% capacity while limiting other gatherings to a maximum of 50 people, "is unreasonable because there is no rational basis for treating" businesses that host events differently than "similarly situated non-essential business." The hotel says the disparity is an "unlawful, arbitrary, capricious" and "clearly erroneous" violation of its rights to equal protection and due process. The hotel is seeking a court order allowing convention centers, hotels, and restaurants to host events if they meet other health and safety standards under Phase II of Nevada's Reopening Response Plan. The city and state have not commented on the suit.