Welcome to Documenting America's Path to Recovery, where we track the status of reopening in all 50 states. Today we look at the reopening of bars in Florida, legislation in Ohio providing immunity from coronavirus-related lawsuits, mask mandates, and more. Want to know what happened Friday? Click here.
Since our last edition
What is open in each state? For a continually updated article on reopening status in all 50 states, click here.
Daily feature: Face coverings
We last looked at face coverings in the Aug. 31st edition of the newsletter. Since then, no new states have adopted a statewide public mask mandate or let a face covering requirement expire.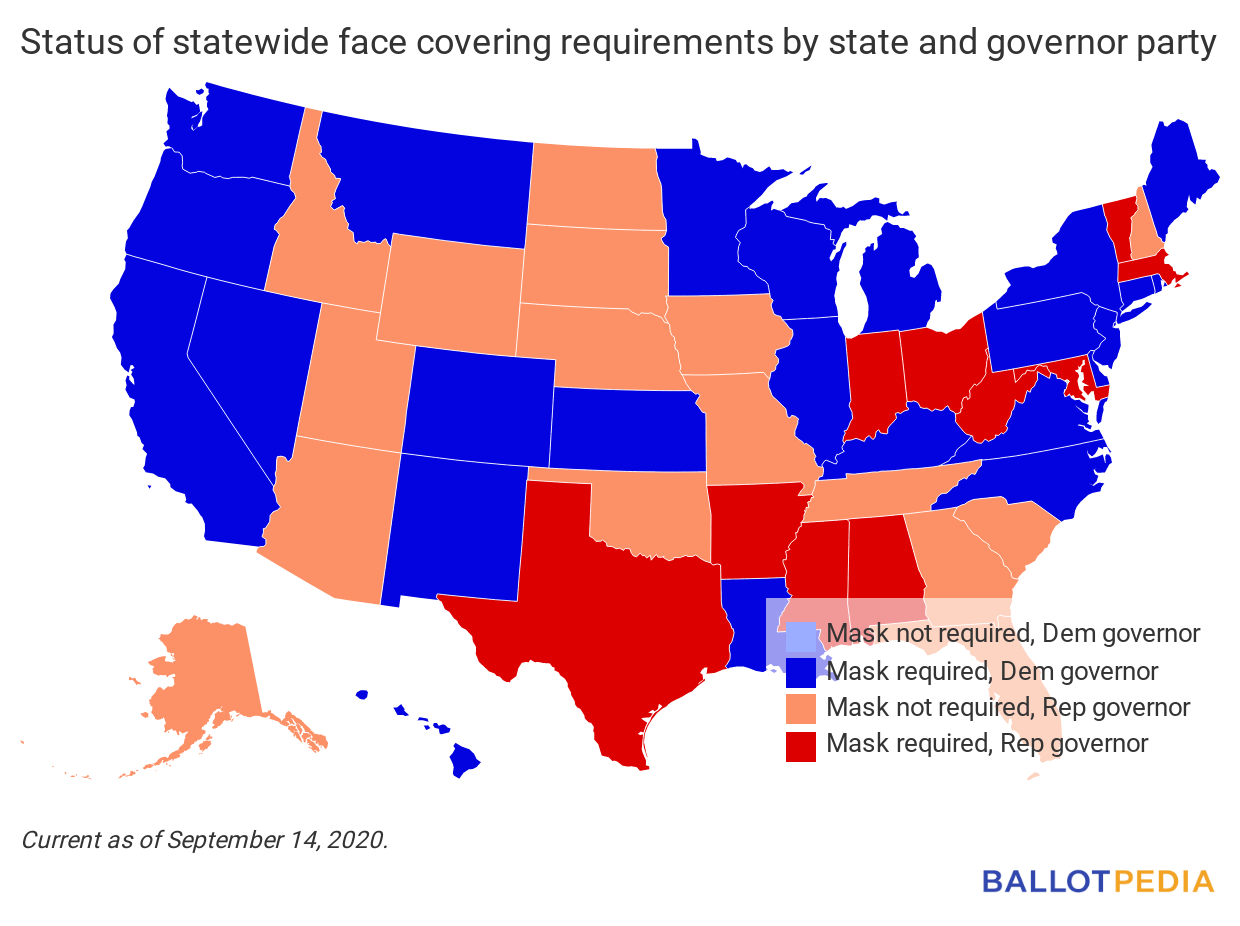 Additional activity
In this section, we feature examples of other federal, state, and local government activity, private industry responses, and lawsuits related to the pandemic.
Just Born Quality Confections, the producers of marshmallow peeps candies, announced it would not produce Halloween, Christmas, or Valentine's Day candies in order to meet the expected demand for Easter. The non-Easter seasonal candies are expected to return to stores for Halloween 2021.
On Sept. 3, a three-judge panel of the U.S. Court of Appeals for the Seventh Circuit refused the Illinois Republican Party's request to block Governor J.B. Pritzker's (D) COVID-19 restrictions on the size of political gatherings. In its appeal, the state party claimed Pritzker's orders unconstitutionally imposed a content-based limitation on speech because it allowed religious gatherings to exceed the 50-person limit. The state party also alleged Pritzker has selectively enforced his restrictions on political gathers when he permitted, supported, and participated in a Black Lives Matter protest.
The Seventh Circuit panel disagreed, finding that precedent "does not compel the Governor to treat all gatherings alike." The panel further concluded that "free exercise of religion enjoys express constitutional protection, and the Governor was entitled to carve out some room for religion, even while he declined to do so for other activities." Finally, the court emphasized that re-subjecting religious gatherings to the mandatory cap would "leave the Republicans no better off than they are today." U.S. Circuit Chief Judge Diane Wood, an appointee of President Bill Clinton (D), and Judges Amy St. Eve and Amy Coney Barrett, appointees of President Donald Trump (R), sat on the panel and were unanimous in their decision. Daniel Suhr, counsel for the Republican Party, said, "We are disappointed in the decision, respectfully disagree with it, and are considering our options." Pritzker has not yet made a statement.