Welcome to Documenting America's Path to Recovery, where we track the status of reopening in all 50 states. Today we look at West Virginia's addition of a new category in the school reopening system, why Delaware courts have resumed issuing failure to appear warrants, school reopenings, and more. Want to know what happened yesterday? Click here.
Since our last edition
What is open in each state? For a continually updated article on reopening status in all 50 states, click here.
California (Democratic trifecta): The California Attractions and Parks Association (CAPA) issued a statement asking Gov. Gavin Newsom (D) to release guidelines to allow amusement parks to reopen. CAPA represents parks including Disneyland, Universal Studios, Knott's Berry Farm, and Legoland.
Connecticut (Democratic trifecta): Gov. Ned Lamont (D) explained how he wanted schools to handle positive coronavirus cases. "Especially for K through 8, we're trying to keep that fourth grade class unto itself as a pod as a cohort. So that if there happens to be an infection in that one class, it's just those 20 students and that teacher who would have to quarantine — not the entire middle school or not the entire school," he said. Lamont's remarks came after several schools in the state fully closed after learning of one positive coronavirus case.
Delaware (Democratic trifecta): Courts in Delaware resumed issuing failure to appear warrants for individuals who do not show up for court dates. The state suspended issuing such warrants in March 2020. Delaware courts will enter Phase Three of reopening in October, increasing staffing levels to 75% capacity.
Rhode Island (Democratic trifecta): In-person K-12 classes were allowed to resume statewide on Sept. 14. Cumberland and Warwick school districts are starting the school year fully remotely. Most school districts resumed with a hybrid schedule.
West Virginia (Republican trifecta): On Tuesday, Sept. 15, Gov. Jim Justice (R) announced he was adding a new color—gold—to the color-coding system that determines how schools can reopen. Counties with between 10 and 14.9 COVID-19 cases per 100,000 people will be classified as gold. While in-person learning is allowed in gold counties, there are limits on gatherings and sports travel.
Daily feature: Schools
All 50 states closed schools to in-person instruction at some point during the 2019-2020 academic year. Beginning in May 2020, schools in certain states began to reopen. In which states are schools allowed to open? In which states are they ordered to remain closed?
The current status of school reopenings is as follows:
Washington, D.C., has a district-ordered school closure

2016-17 enrollment: 85,850 students (0.17% of students nationwide)

Five states (Calif., Hawaii, N.M., Ore., W.V.) have a state-ordered regional school closure

2016-17 enrollment: 7,679,753 students (15.18% of students nationwide)

Two states (Del., Va.) are open for hybrid or remote instruction only

2016-17 enrollment: 1,686,326 students (3.33% of students nationwide)

Four states (Ark., Fla., Iowa, Texas) have state-ordered in-person instruction

2016-17 enrollment: 9,180,918 students (18.15% of students nationwide)

Thirty-nine states have reopenings that vary by school or district

2016-17 enrollment: 31,955,012 students (63.17% of students nationwide)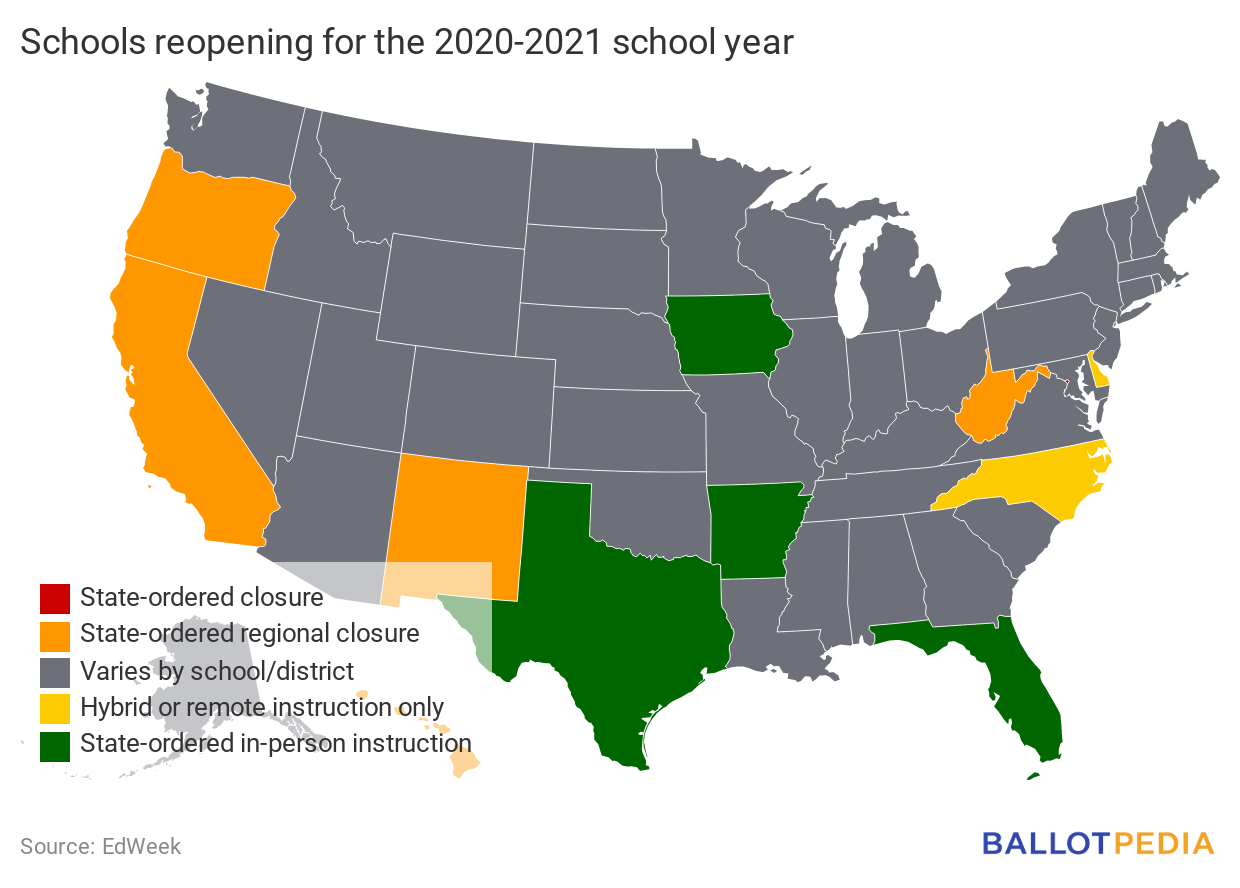 Additional activity
In this section, we feature examples of other federal, state, and local government activity, private industry responses, and lawsuits related to the pandemic.