Welcome to Documenting America's Path to Recovery, where we track the status of reopening in all 50 states. Today we look at outdoor venue reopenings in North Carolina, the easing of international travel restrictions in North Dakota, school reopenings, and more. Want to know what happened yesterday? Click here.
Since our last edition
What is open in each state? For a continually updated article on reopening status in all 50 states, click here.
Wisconsin (divided government): Gov. Tony Evers (D) extended the state's mask requirement and public health emergency through Nov. 21.
Daily feature: Schools
All 50 states closed schools to in-person instruction at some point during the 2019-2020 academic year. Beginning in May 2020, schools in certain states began to reopen. In which states are schools allowed to open? In which states are they ordered to remain closed?
The current status of school reopenings is as follows:
Washington, D.C., has a district-ordered school closure

2016-17 enrollment: 85,850 students (0.17% of students nationwide)

Five states (Calif., Hawaii, N.M., Ore., W.V.) have a state-ordered regional school closure

2016-17 enrollment: 7,679,753 students (15.18% of students nationwide)

Two states (Del., N.C.) are open for hybrid or remote instruction only

2016-17 enrollment: 1,686,326 students (3.33% of students nationwide)

Four states (Ark., Fla.*, Iowa, Texas) have state-ordered in-person instruction

2016-17 enrollment: 9,180,918 students (18.15% of students nationwide)
*Note: Three counties in South Florida are not at the same phase of reopening as the rest of the state and are not affected by the emergency order to open schools.

Thirty-nine states have reopenings that vary by school or district

2016-17 enrollment: 31,955,012 students (63.17% of students nationwide)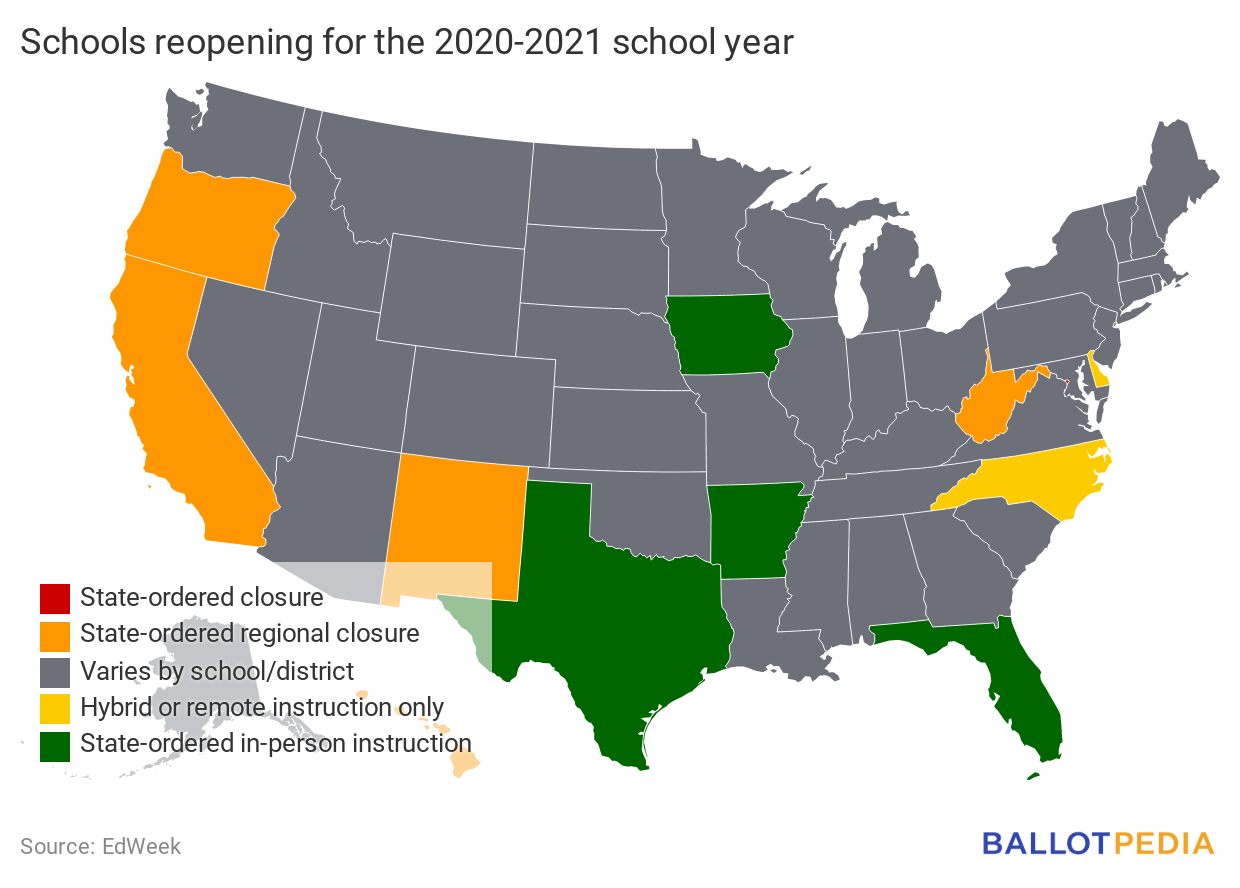 Additional activity
In this section, we feature examples of other federal, state, and local government activity, private industry responses, and lawsuits related to the pandemic.
Miami-Dade County Public Schools Superintendent Alberto Carvalho proposed a staggered school reopening plan that would return in-person learning beginning Sept. 30. On Sept. 30, students in pre-k through 1st grade and those with special needs would begin in-person instruction. Grades 2-6 and 9-10 would return on Oct. 5, followed by grades 7-8 and 11-12 on Oct. 7.
On Sept. 16, a University of Washington (UW) student filed a class-action lawsuit seeking tuition reimbursement for campus closures. In the complaint, filed in King County Superior Court, UW graduate student Alexander Barry argues that "[d]espite sending students home, transitioning to online instruction, and closing its campuses, the University of Washington continued to charge for tuition … as if nothing changed, continuing to reap the financial benefit of millions of dollars from students." The suit alleges the university's "failure to provide in-person instruction and shutdown of campus facilities amounts to a material breach of the contract." The complaint alleges that contract law, constitutional guarantees, and "good conscience require that the University of Washington return a portion of the monies paid in tuition and fees." In a statement, UW representative Victor Balta said university officials "understand and share the frustration and disappointment that students and their families are experiencing as we navigate the unprecedented limitations presented by the COVID-19 pandemic," but declined to comment directly on the pending litigation. The judge assigned to the case has yet to be announced.