Welcome to Documenting America's Path to Recovery, where we track the status of reopening in all 50 states. Today we look at an Oregon county's move into Phase 2 of reopening, the easing of restrictions on indoor entertainment venues in Michigan, mask mandates, and more. Want to know what happened Friday? Click here.
The next 24 hours
What is changing in the next 24 hours?
Since our last edition
What is open in each state? For a continually updated article on reopening status in all 50 states, click here.
Michigan (divided government): On Sept. 25, Gov. Gretchen Whitmer (D) announced that movie theaters, performance venues, ice rinks, and other indoor entertainment venues can reopen on Oct. 9. On that date, Whitmer will also ease indoor and outdoor gathering limits, allowing up to 30 people per 1,000 square feet or 30 percent of fixed seating capacity, with a maximum of 1,000 people, at non-residential outdoor gatherings.
Daily feature: Face coverings
We last looked at face coverings in the Sept. 21 edition of the newsletter. Since then, no new states have adopted a statewide public mask mandate or let a face covering requirement expire.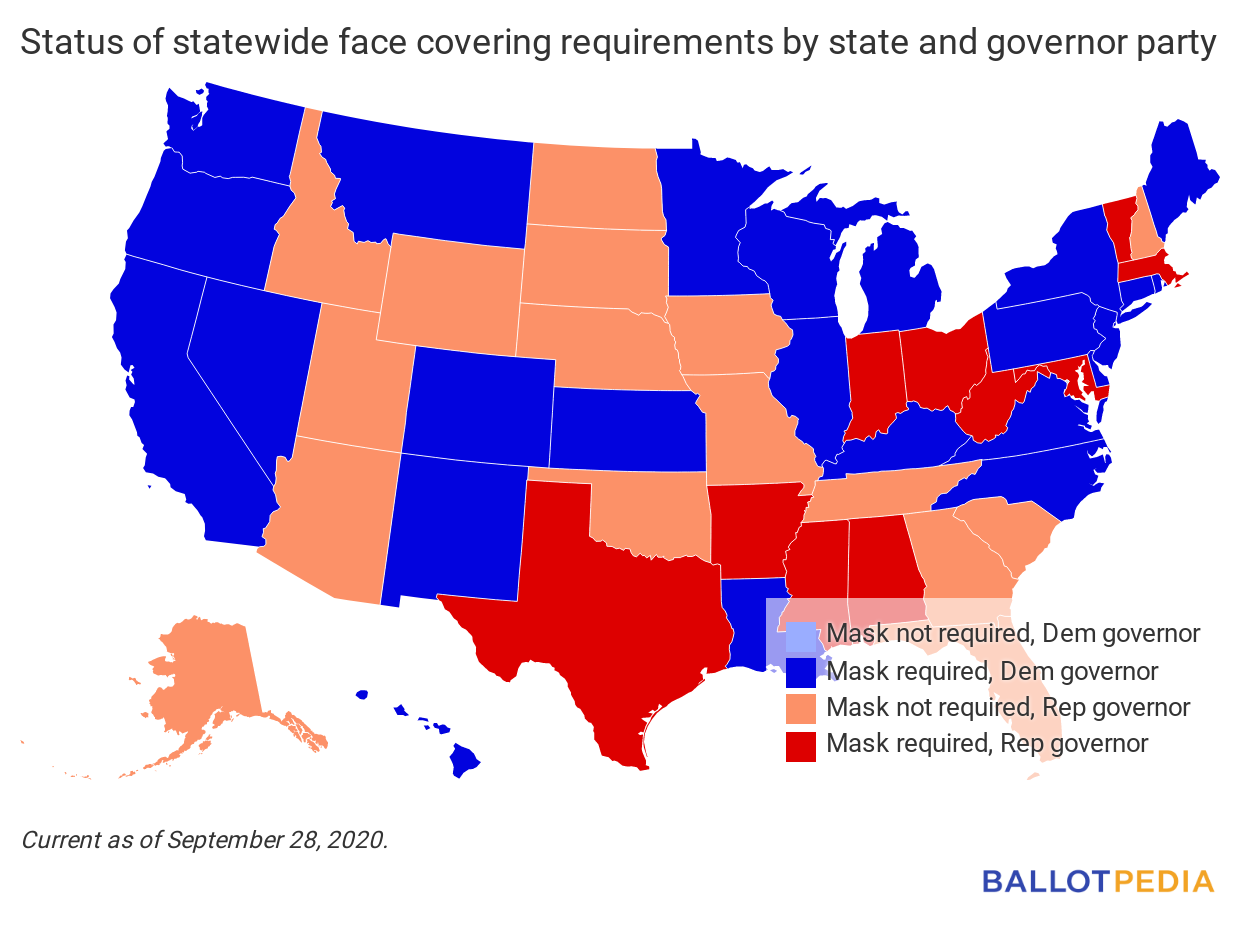 Additional activity
In this section, we feature examples of other federal, state, and local government activity, private industry responses, and lawsuits related to the pandemic. 
On Sept. 17, a Wisconsin poll worker who was fired from his position after refusing to wear a mask sued his local city clerk and Gov. Tony Evers (D) in the La Crosse County Circuit Court. In his complaint, poll worker Nicholas Newman asks the court to declare Evers' Executive Order No. 82 and Emergency Order No. 1 unlawful. The orders declared a public health emergency and mandated masks statewide, respectively. Newman alleges Evers' mask mandate exceeds "his statutory and constitutional power, and is therefore unlawful, void and unenforceable." Newman also says the order exempts him from wearing a face covering because he "is an individual who has trouble breathing" and "also has a medical condition which makes it dangerous for him to wear a mask for an extended period of time." A representative for Evers said, "that masks can save lives, and Gov. Evers continues to ask everyone to do their part to help prevent the spread of COVID-19 by wearing a mask." The case has been assigned to Judge Ramona A. Gonzalez.