Welcome to Documenting America's Path to Recovery, where we track the status of reopening in all 50 states. Today we look at new reopening guidelines for towns in Massachusetts, the recently signed state budget in New Jersey, school reopenings, and more. Want to know what happened yesterday? Click here.
Since our last edition
What is open in each state? For a continually updated article on reopening status in all 50 states, click here.
Iowa (Republican trifecta): On Sept. 29, Gov. Kim Reynolds (R) announced that workers and children in daycares and schools no longer need to quarantine if they come into contact with a person with COVID-19 while wearing a mask. According to the guidance, only the infected individual with COVID-19 will need to quarantine.
Massachusetts (divided government): On Sept. 29, Gov. Charlie Baker (R) announced that lower-risk communities in Massachusetts, defined as towns with an average daily case rate of between zero and eight cases per 100,000 people, will be permitted to move to Step 2, Phase 3 of reopening beginning on Oct. 5. In order to advance to Step 2, towns will need to have maintained their lower-risk status for three weeks or longer. Communities with more than eight cases per 100,000 people will remain in Step 1. The Baker administration also said that outdoor gatherings of up to 100 people will be permitted in Step 2, Phase 3 communities. Gatherings in communities in Step 1 will be limited to 50 people.
New Jersey (Democratic trifecta): Gov. Phil Murphy (D) signed a $32.7 billion budget for the period from Oct. 1, 2020, through Jun. 30, 2021. Murphy said the state needed to close a $5.28 billion budget gap due to the coronavirus.
Oregon (Democratic trifecta): Lincoln County is moving to Phase 2 of reopening starting on Sept. 29.
Tennessee (Republican trifecta): In a call with state legislators on Sept. 29, Gov. Bill Lee (R) said he would renew the COVID-19 state of emergency, which expires on Sept. 30, and remove all remaining coronavirus restrictions on businesses. As of this writing, Lee had not released the order.
Daily feature: Schools
All 50 states closed schools to in-person instruction at some point during the 2019-2020 academic year. Beginning in May 2020, schools in certain states began to reopen. In which states are schools allowed to open? In which states are they ordered to remain closed?
The current status of school reopenings is as follows:
Washington, D.C., has a district-ordered school closure

2016-17 enrollment: 85,850 students (0.17% of students nationwide)

Five states (Calif., Hawaii, N.M., Ore., W.V.) have a state-ordered regional school closure

2016-17 enrollment: 7,679,753 students (15.18% of students nationwide)

Two states (Del., N.C.) are open for hybrid or remote instruction only

2016-17 enrollment: 1,686,326 students (3.33% of students nationwide)

Four states (Ark., Fla.*, Iowa, Texas) have state-ordered in-person instruction

2016-17 enrollment: 9,180,918 students (18.15% of students nationwide)
*Note: Three counties in South Florida are not at the same phase of reopening as the rest of the state and the emergency order to reopen schools does not affect them. 

Thirty-nine states have reopenings that vary by school or district

2016-17 enrollment: 31,955,012 students (63.17% of students nationwide)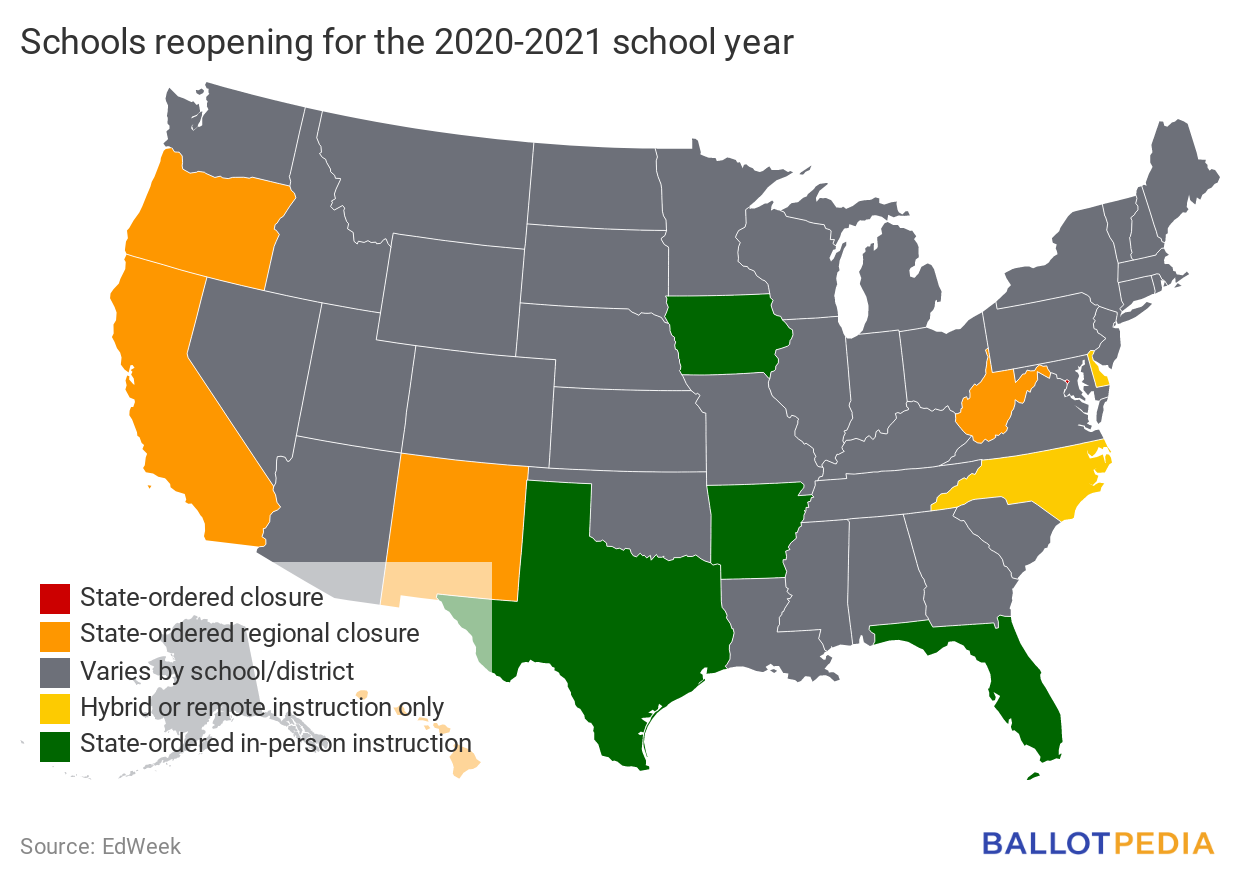 Additional activity
In this section, we feature examples of other federal, state, and local government activity, private industry responses, and lawsuits related to the pandemic.
Ike's Korner Grille v. South Carolina: On Sept. 20, a Spartanburg County restaurant sued the state of South Carolina and Gov. Henry McMaster (R), alleging McMaster's COVID-19 executive orders "are not authorized by the laws of South Carolina and violate the South Carolina Constitution." Ike's Korner Grille has received multiple notices for violating mandatory safety measures. The Grille's owners allege the orders pose "the threat of lasting and permanent harm" to its "business and personal liberty by the restrictive micro-managing of operations." Plaintiffs also allege McMaster's orders exceed the statutory time-limit for a state of emergency and unconstitutionally "usurp the legislative power of the General Assembly." A representative from McMaster's office said, "[The] governor is confident in the constitutionality of the targeted, deliberate and limited measures that have been put in place to help stop the spread of the virus." The case is pending in the Spartanburg County Court of Common Pleas.