Welcome to Documenting America's Path to Recovery, where we track the status of reopening in all 50 states. Today we look at new guidelines for private gatherings in California, the extension of a mask mandate in Colorado, school reopenings, and more. Want to know what happened yesterday? Click here.
Since our last edition
What is open in each state? For a continually updated article on reopening status in all 50 states, click here.
Daily feature: Schools
All 50 states closed schools to in-person instruction at some point during the 2019-2020 academic year. Beginning in May 2020, schools in certain states began to reopen. In which states are schools allowed to open? In which states are they ordered to remain closed?
The current status of school reopenings is as follows:
Washington, D.C., has a district-ordered school closure.

2016-17 enrollment: 85,850 students (0.17% of students nationwide)

Seven states (Calif., Del., Hawaii, N.C., N.M., Ore., W.V.) have state-ordered regional school closures, require closures for certain grade levels, or allow hybrid instruction only.

2016-17 enrollment: 9,366,079 students (18.51% of students nationwide)

Four states (Ark., Fla.*, Iowa, Texas) have state-ordered in-person instruction.

2016-17 enrollment: 9,180,918 students (18.15% of students nationwide)
*Note: Three counties in South Florida are not at the same phase of reopening as the rest of the state and the emergency order to reopen schools does not affect them.

Thirty-nine states have reopenings that vary by school or district.

2016-17 enrollment: 31,955,012 students (63.17% of students nationwide)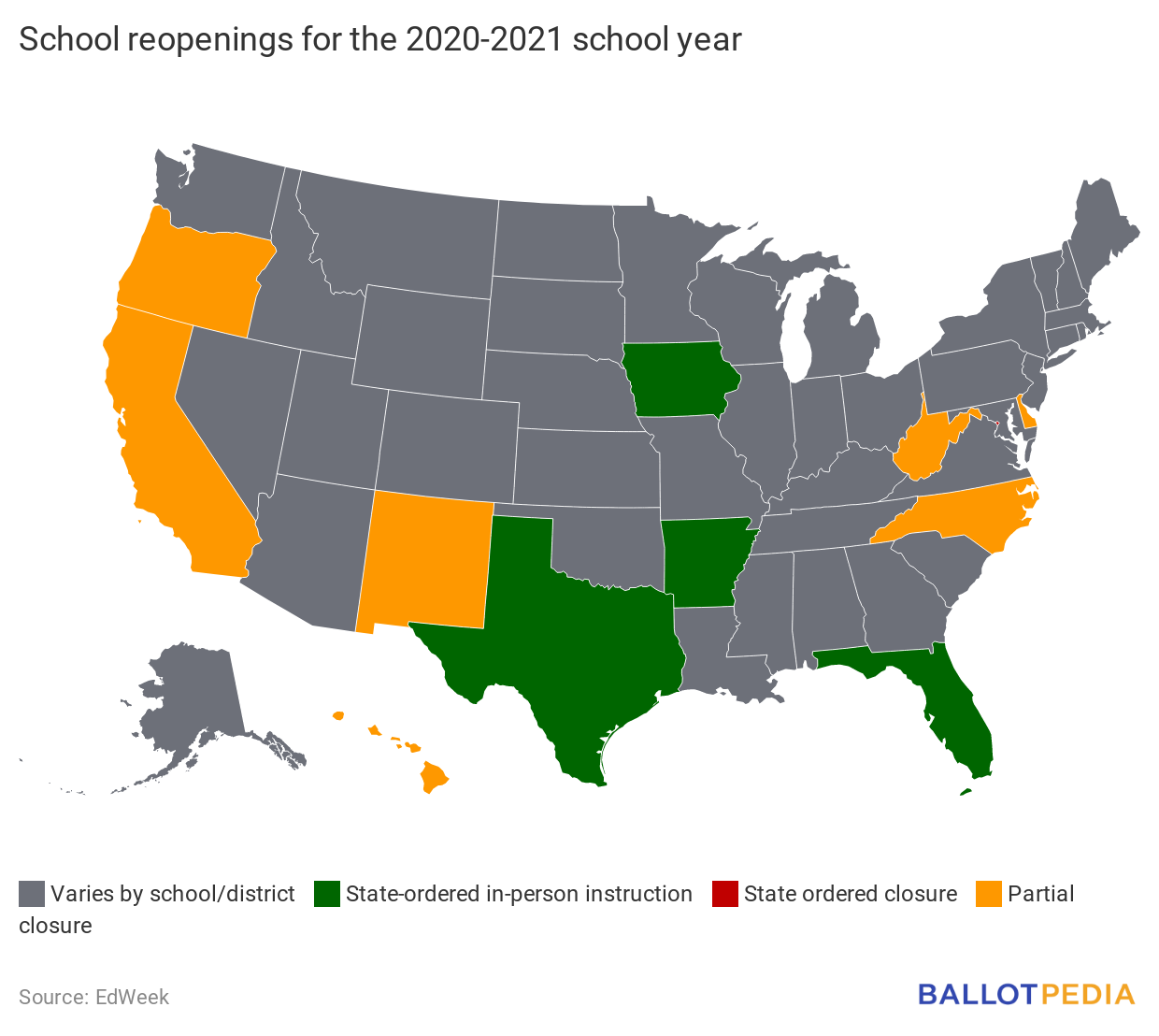 Additional activity
In this section, we feature examples of other federal, state, and local government activity, private industry responses, and lawsuits related to the pandemic.

On Oct. 8, New York officials closed a Brooklyn law firm after an increase in Covid-19 infection rates near its office. The law firm sued Gov. Andrew Cuomo (D) and New York City Mayor Bill DeBlasio (D) in the U.S. District Court for the Eastern District of New York. The firm, which is in an area deemed a "red-zone" under the state's "cluster action initiative," alleges there is "no scientific or other rational basis" for classifying certain parts of the state in this manner. The suit "seeks recovery for deprivations sustained by Plaintiff, and for violations committed by Defendants while acting under color of state law against Plaintiff's rights and privileges guaranteed by" the U.S. Constitution. In a statement, Richard Azzopardi, a representative for Gov. Cuomo, said, "We're focused on breaking this cluster and saving lives. Being unhappy is better than being sick or dead." The case has not yet been assigned to a judge.