Welcome to Documenting America's Path to Recovery, where we track the status of reopening in all 50 states. Today we look at Maryland's vaccine distribution plan, new restrictions in parts of Illinois, school reopenings, and more. Want to know what happened yesterday? Click here.
Since our last edition
What is open in each state? For a continually updated article on reopening status in all 50 states, click here.
Illinois (Democratic trifecta): Gov. J.B. Pritzker (D) announced mitigation policies will be implemented in Region 5, starting Oct. 22. Bars and restaurants will not be able to offer indoor service, and outdoor service will have to close by 11 p.m. every night. Gatherings will be limited to the lesser of 25 people or 25% of a room's capacity.
Maryland (divided government): On Tuesday, Oct. 20, Gov. Larry Hogan released a draft of the state's plan for distributing a coronavirus vaccine once one becomes available. The plan was submitted to the Centers for Disease Control and Prevention (CDC) last week.
Tennessee (Republican trifecta): On Tuesday, Oct. 20, Gov. Bill Lee (R) announced he would be extending the executive order that allows local governments to impose mask requirements through the end of the year.
Daily feature: Schools
All 50 states closed schools to in-person instruction at some point during the 2019-2020 academic year. Beginning in May 2020, schools in certain states began to reopen. In which states are schools allowed to open? In which states are they ordered to remain closed?
We last looked at school reopenings and closures in the Oct. 13 edition of the newsletter. Since then, no states have adopted new statewide orders. The current status of school reopenings is as follows:
Washington, D.C., has a district-ordered school closure.

2016-17 enrollment: 85,850 students (0.17% of students nationwide)

Seven states (Calif., Del., Hawaii, N.C., N.M., Ore., W.V.) have state-ordered regional school closures, require closures for certain grade levels, or allow hybrid instruction only.

2016-17 enrollment: 9,366,079 students (18.51% of students nationwide)

Four states (Ark., Fla.*, Iowa, Texas) have state-ordered in-person instruction.

2016-17 enrollment: 9,180,918 students (18.15% of students nationwide)
*Note: Three counties in South Florida are not at the same phase of reopening as the rest of the state and the emergency order to reopen schools does not affect them.

Thirty-nine states have reopenings that vary by school or district.

2016-17 enrollment: 31,955,012 students (63.17% of students nationwide)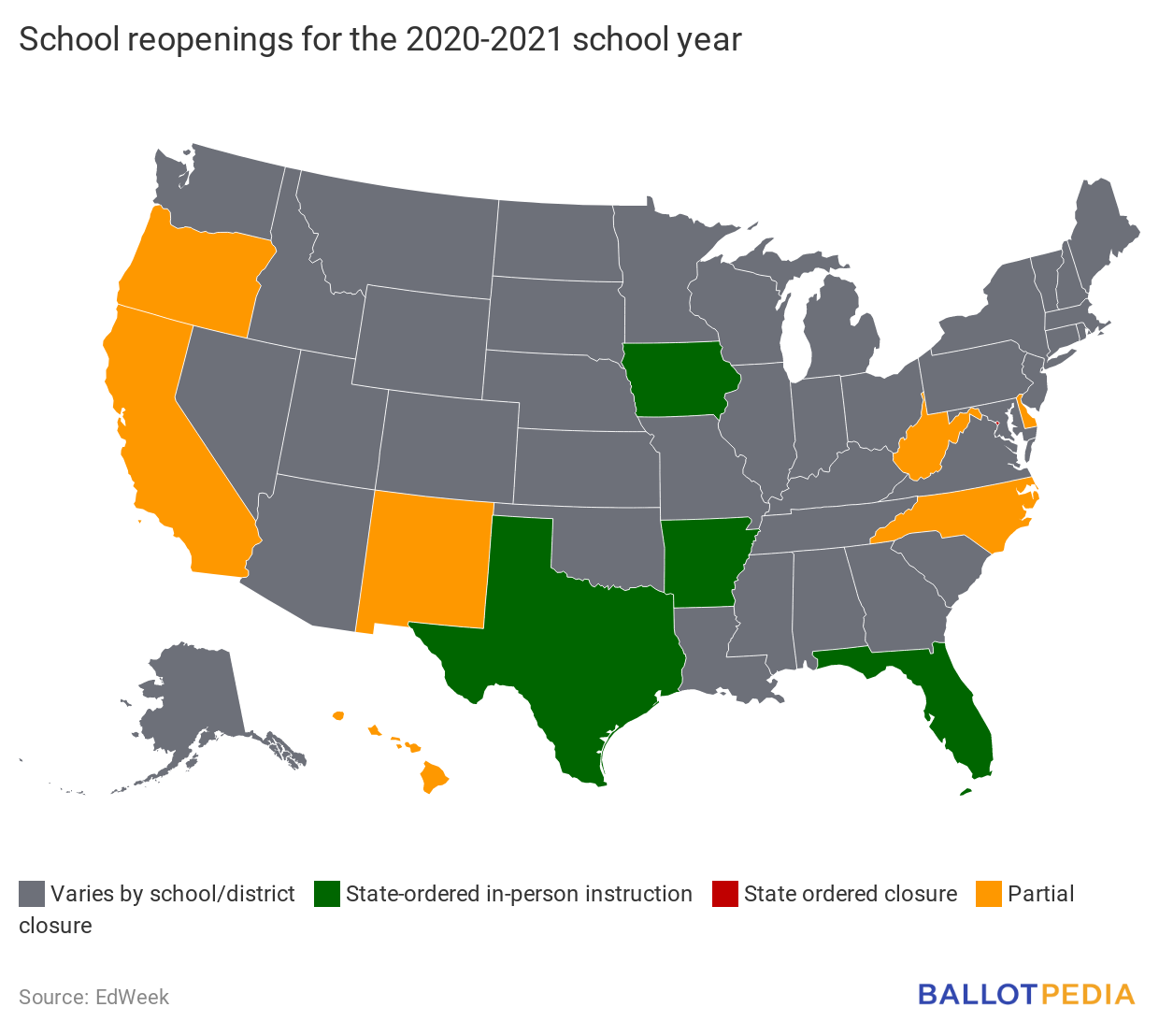 Additional activity
In this section, we feature examples of other federal, state, and local government activity, private industry responses, and lawsuits related to the pandemic.
On Oct. 16, Judge Nicholas Garaufis of the U.S. District Court for the Eastern District of New York declined to block Gov. Andrew Cuomo's (D) COVID-19 gathering-size restrictions on places of worship. The lawsuit stems from a policy that imposes regional capacity restrictions on nonessential businesses and gatherings. In higher-risk "red" and "orange zones," in-person gatherings are limited to the lesser of 10 people or 25% of capacity and the lesser of 25 people or 33% of capacity, respectively. In its complaint, the Diocese of Brooklyn alleged Cuomo's order "plainly and unconstitutionally targets religious practice." In his ruling, Garaufis, a Bill Clinton (D) appointee, found that the "public interest analysis, and accordingly the balance of the equities, cuts in favor of the State, which is trying to contain a deadly and highly contagious disease." In a statement, the Diocese said it "is extremely disappointed" by the ruling and would "continue to advocate for places of worship to be classified as essential, for there is nothing more necessary today than a community of believers, united in prayer, asking the Lord to end this pandemic." Caitlin Girouard, Cuomo's press secretary, said, "We will let the decision speak for itself." The Diocese has filed a notice of appeal with the U.S. Court of Appeals for the Second Circuit.
The Hoover Dam is reopening to visitors starting Oct. 20. The visitor center tours and exhibits are still closed.