Welcome to Documenting America's Path to Recovery, where we track the status of reopening in all 50 states. We will be switching over to our elections schedule starting next week as we prepare to cover the Nov. 3 general. For the next two weeks, we will only send out Documenting America's Path to Recovery on Tuesdays and Fridays. Our next edition will be Oct. 27.

Today we look at a Louisiana House of Representatives petition to lift the state's emergency order, an updated nursing home visitation order in Florida, travel restrictions, and more. Want to know what happened yesterday? Click here.
The next 72 hours
What is changing in the next 72 hours?
Illinois (Democratic trifecta): Gov. J.B. Pritzker (D) announced mitigation policies will be implemented in Region 1 starting Oct. 25. The restrictions will limit party sizes at bars and restaurants to six people, and it will prohibit professional, social, cultural, and religious gatherings of more than 10 people. Mitigation policies are also being implemented in Regions 7 and 8, effective Oct. 23. In those regions, bars and restaurants will not be able to offer indoor service, and outdoor service will have to close by 11 p.m. every night. Gatherings will be limited to the lesser of 25 people or 25% of a room's capacity.
Since our last edition
What is open in each state? For a continually updated article on reopening status in all 50 states, click here.
Florida (Republican trifecta): Gov. Ron DeSantis (R) ordered nursing homes and assisted living facilities to allow children to visit residents indoors. His order also allows outdoor visits regardless of a facility's case count, as long as visitors and residents social distance and wear masks. DeSantis said residents would also be allowed to leave facilities for overnight visits with family.
Louisiana (divided government):

Gov. John Bel Edwards (D) amended the state's coronavirus emergency order to allow high school sports in outdoor stadiums to expand capacity to 50% from 25% in parishes with a two-week average positivity of less than five percent.
Republicans in the state House of Representatives filed a petition that could suspend Gov. Edwards' emergency order (including mask mandates and business restrictions) for seven days if it takes effect. Louisiana law requires the governor to lift an emergency order if a majority of members in either chamber of the state's legislature file a petition to rescind the order (a majority in Louisiana's House is 53 members). Gov. Edwards said the law allowing the legislature to overturn an executive order by petition is unconstitutional, so the matter is expected to go to court. We will provide an update in a future edition when more information is available.
Maryland (divided government): Gov. Larry Hogan (R) announced the allocation of $250 million from the state's Rainy Day Fund for grants and loans to small businesses and nonprofits.
New Mexico (Democratic trifecta): Gov. Michelle Lujan Grisham (D) amended the state's coronavirus emergency order. The new order requires restaurants to complete the state's Safe Certification training program no later than Oct. 30 if they wish to continue offering indoor dining at 25% capacity beyond that date. Restaurants that do not complete the certification will still be able to offer outdoor service at 75% capacity. The order also requires retail establishments to close by 10 p.m. every night and shuts down state museums and historical sites.
Utah (Republican trifecta): Leaders in the Utah Legislature announced that daily, rapid testing for lawmakers and staffers would occur when the 2021 session begins in January. Plexiglass dividers will also be installed between desks on the floor.
Daily feature: Travel restrictions
Every Friday, we take a closer look at the restrictions governors and state agencies have placed on interstate travelers, including a recap of the week's travel-related news. To see our full coverage of travel restrictions enacted in response to the coronavirus pandemic, click here.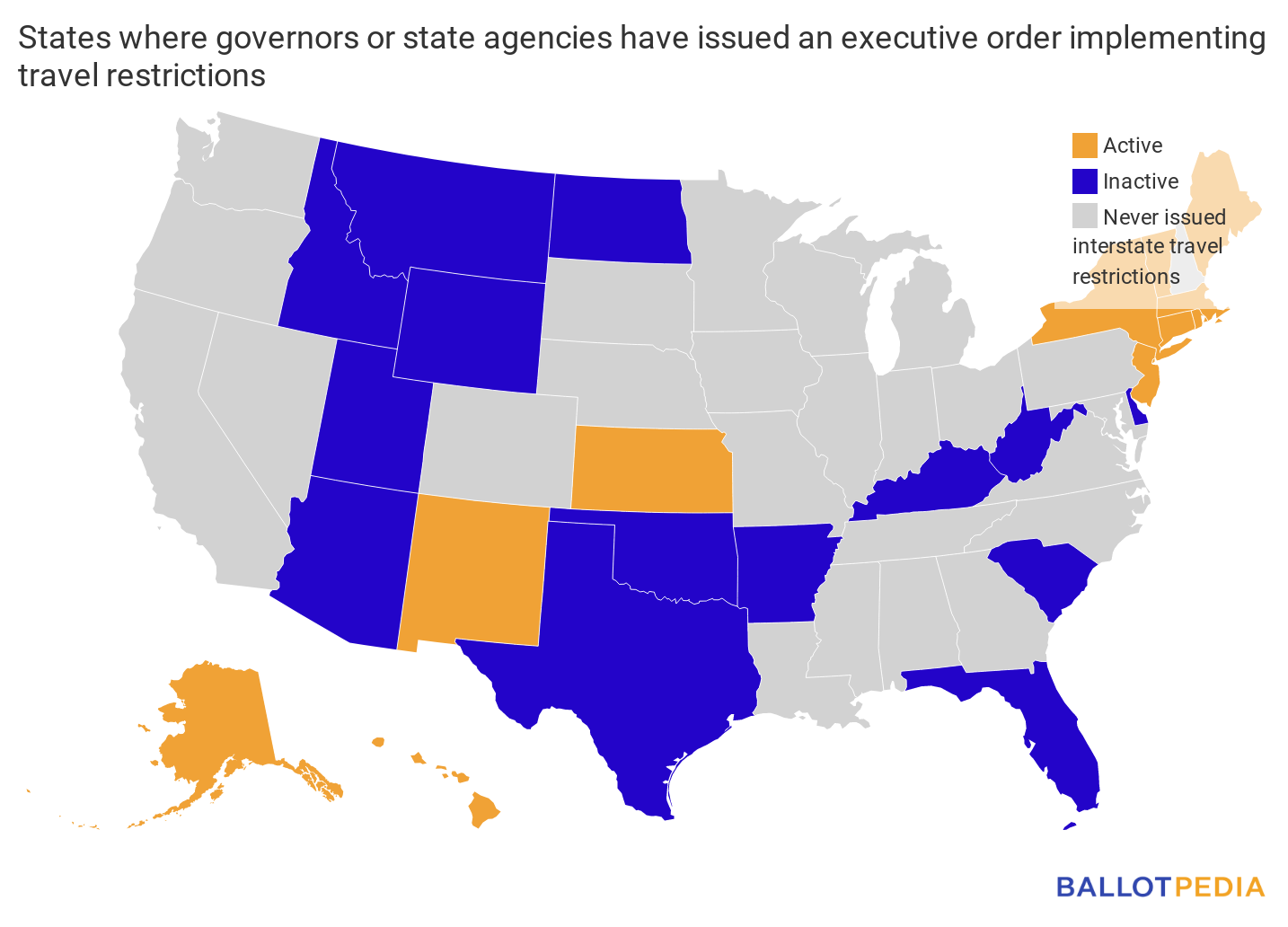 Overview
To date, 25 states issued at least one executive order restricting interstate travel. Of the 25 executive orders governors or state agencies issued restricting out-of-state visitors, at least 14 have been rescinded. Eleven states have active travel restrictions.
Weekly recap
On Oct. 20, Govs. Ned Lamont (D-Conn.), Phil Murphy (D-N.J.), and Andrew Cuomo (D-N.Y.) announced that Arizona and Maryland had been added to the tristate quarantine list. The governors advised against traveling between their three states but agreed not to mandate self-quarantines for travel between Connecticut, New York, and New Jersey. New Jersey also removed Delaware from its quarantine list, breaking with Connecticut and New York. To date, the list includes 40 states and territories. New Jersey's list contains 39 states and territories.