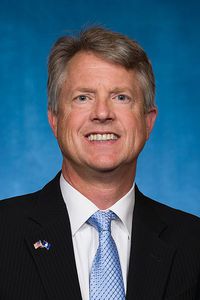 Roger Marshall (R) defeated Barbara Bollier (D) and Jason Buckley (L) in the U.S. Senate election in Kansas. Retiring incumbent Pat Roberts (R) left the seat open.
Marshall was elected to the U.S. House in 2016. Bollier was a Republican when she served in the state House and when she was elected to the state Senate in 2016. She switched her affiliation to Democrat in December 2018. Both Bollier and Marshall are doctors.
No Democrat appeared on the 2014 general election ballot, and Roberts won re-election with 53% of the vote to independent Greg Orman's 43%. In 2018, Kansas elected Democratic Gov. Laura Kelly, who defeated Kris Kobach (R) 48% to 43%.
Thirty-five of 100 Senate seats are up for election. Republicans have a 53-47 majority. Of the 35 seats up, 23 are held by Republicans and 12 by Democrats, giving Republicans greater partisan risk this year. Democrats need to win a net four seats to win an outright majority in the chamber.